February 18, 2020 | Last Updated on March 23, 2023 by Patricia Valbrun
Making this Twice Baked Sweet Potato in the oven is so easy and comes out perfectly sweet and fluffy on the inside with this foolproof recipe.
This Twice Baked Sweet Potatoes is a good alternative side dish for lunch or dinner . If you love Sweet Potato Pie or Southern Baked Yams you'll enjoy this !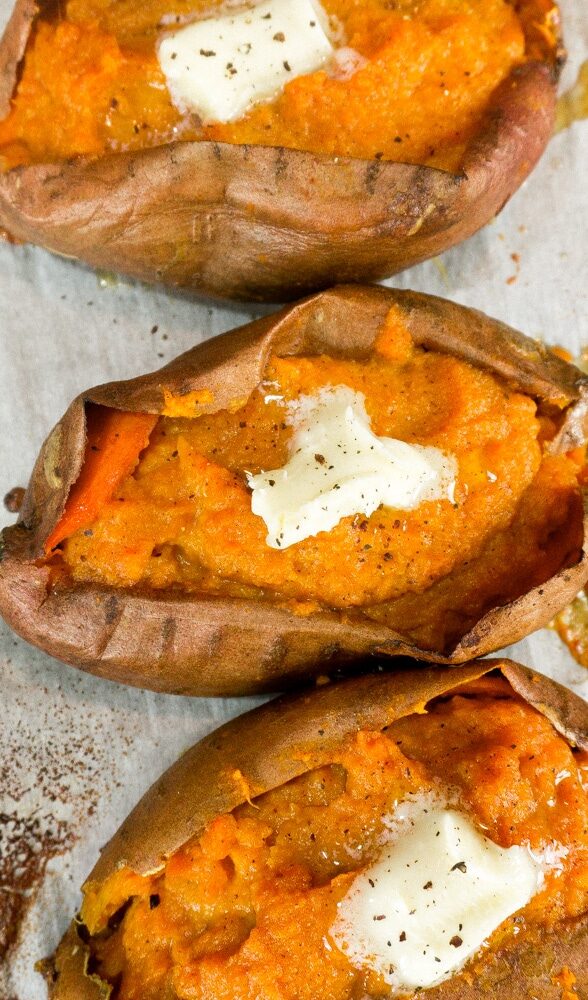 How To Bake Sweet Potatoes – 3 Steps
Roasting sweet potatoes in the oven brings out their natural flavor and sweetness. Adding in the extra's bring this sweet potatoes recipe to another level.
Wash The Sweet Potatoes. While sweet potatoes have been given a rinse before arriving at the supermarket, they're definitely not clean.
To ensure you don't end up with dirt and debris in your meal, make sure to give them a good scrub. Then I blot them dry with a paper towel.
Poke The Sweet Potatoes. Sweet potatoes build up heat and steam while cooking.
To prevent the sweet potato from bursting it's necessary to give it a few pokes to ensure this air can escape and it cooks evenly. You can poke the sweet potato 4-5 times with a fork or sharp knife.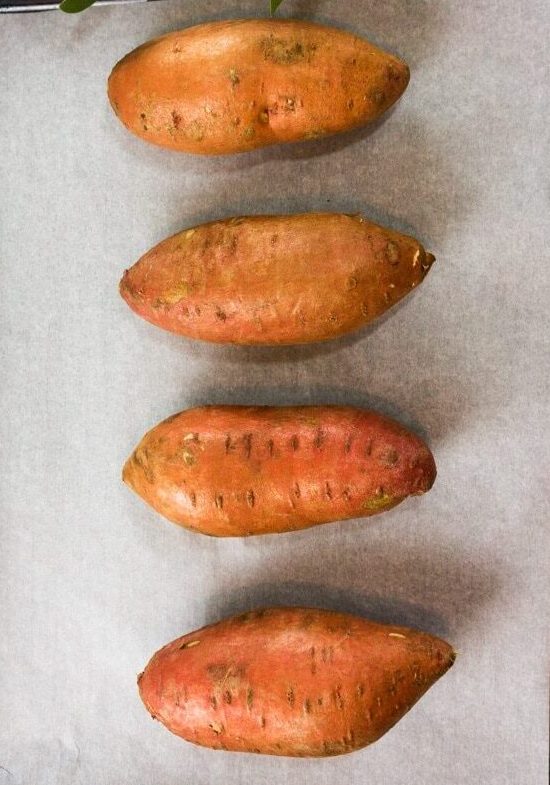 Bake The Sweet Potatoes. Lay the sweet potato on a baking tray and cook for approximately one hour at 450 degrees Fahrenheit. Because sweet potatoes are not always uniform in shape and size, you may need to cook them a little bit less or a little bit longer, depending on size.
You can tell if your sweet potato is cooked through if it pierces easily with a knife.
How To Make Twice Baked Sweet Potatoes
Once the sweet potatoes has cooled down. In a large mixing bowl scoop out the sweet potatoes into a bowl.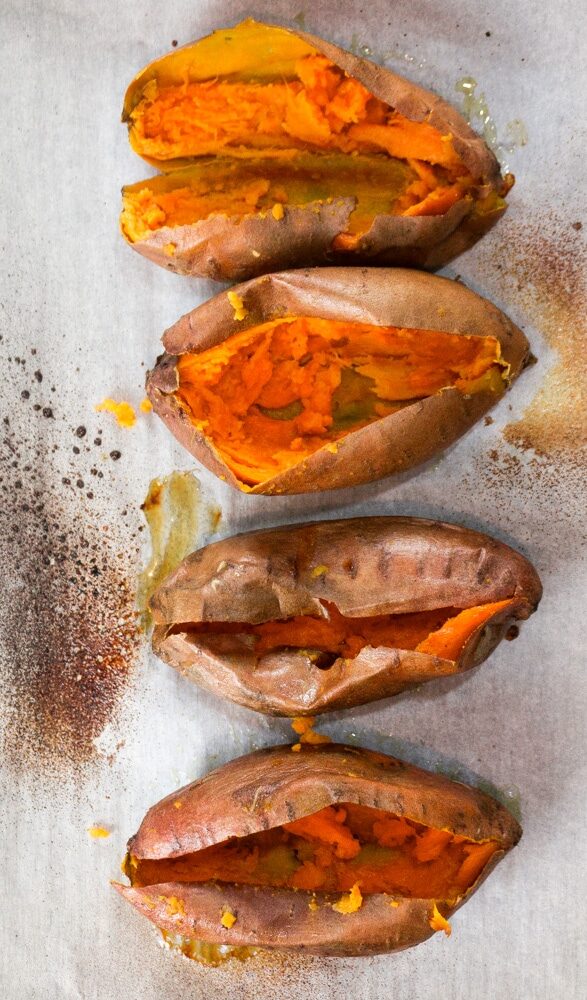 Add the filling inside of a mixing bowl with the rest of the ingredients such as, almond milk, brown sugar, cinnamon, nutmeg, orange juice, vanilla extract and salt.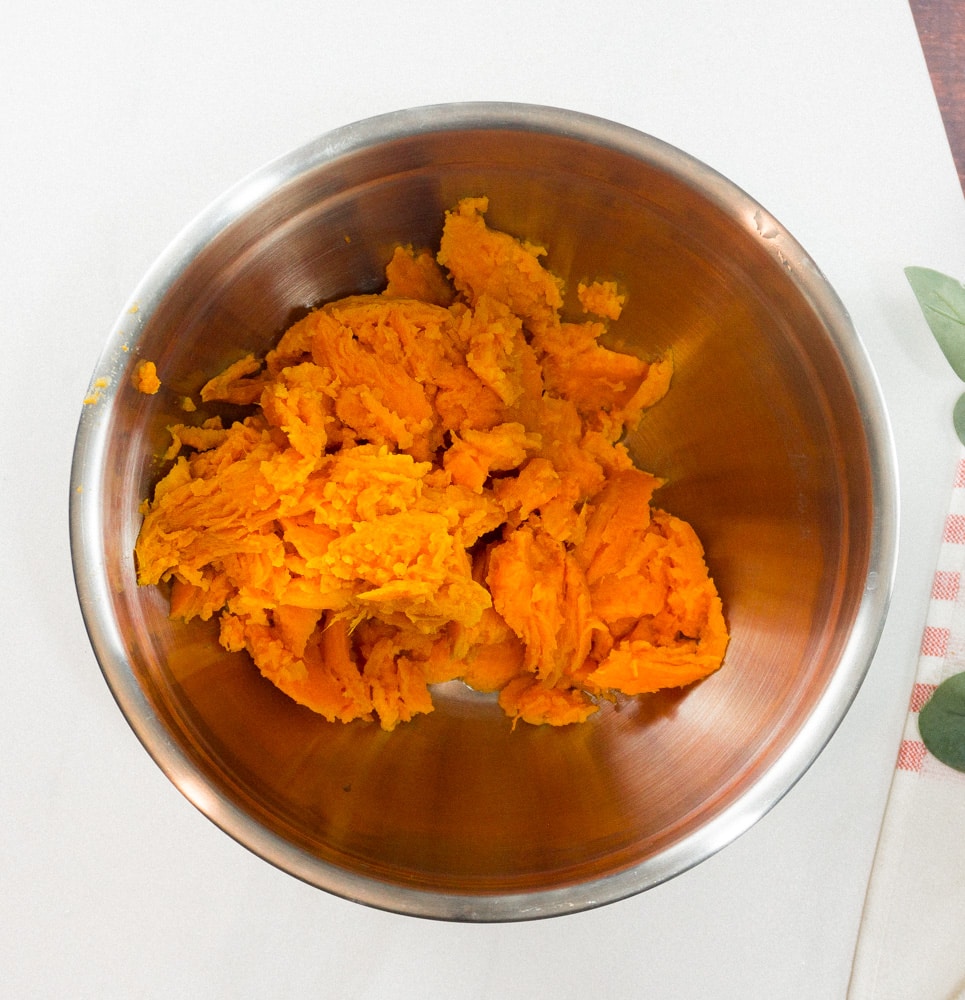 Using a hand mixer blend the ingredients together, then add the filling back into the sweet potato cups. Bake on 350F for 20-30 minutes or until you see the top browning.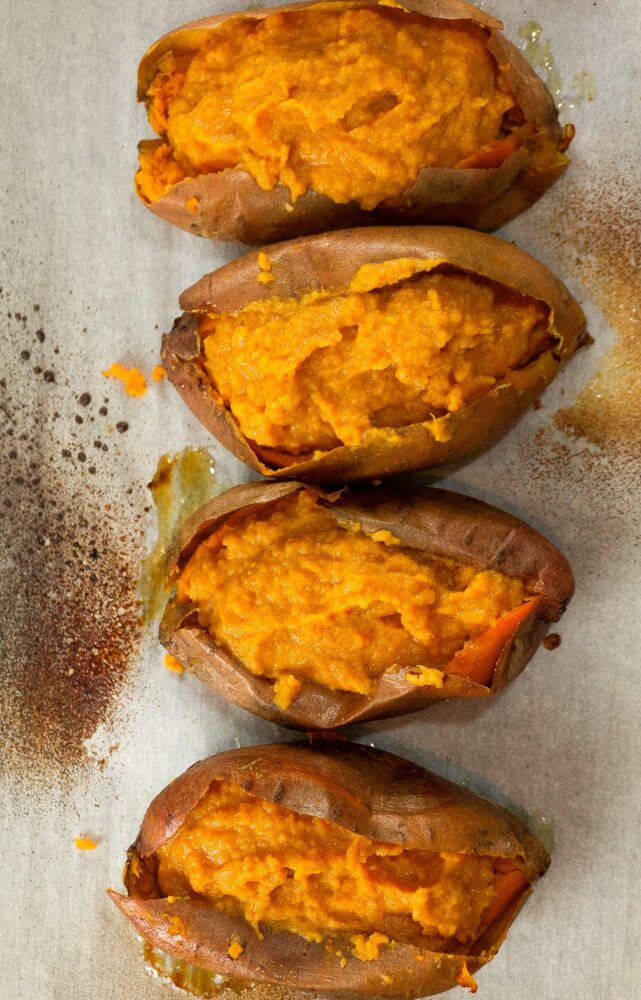 Lastly, Add butter on top and garnish with cracked black pepper and salt, Enjoy!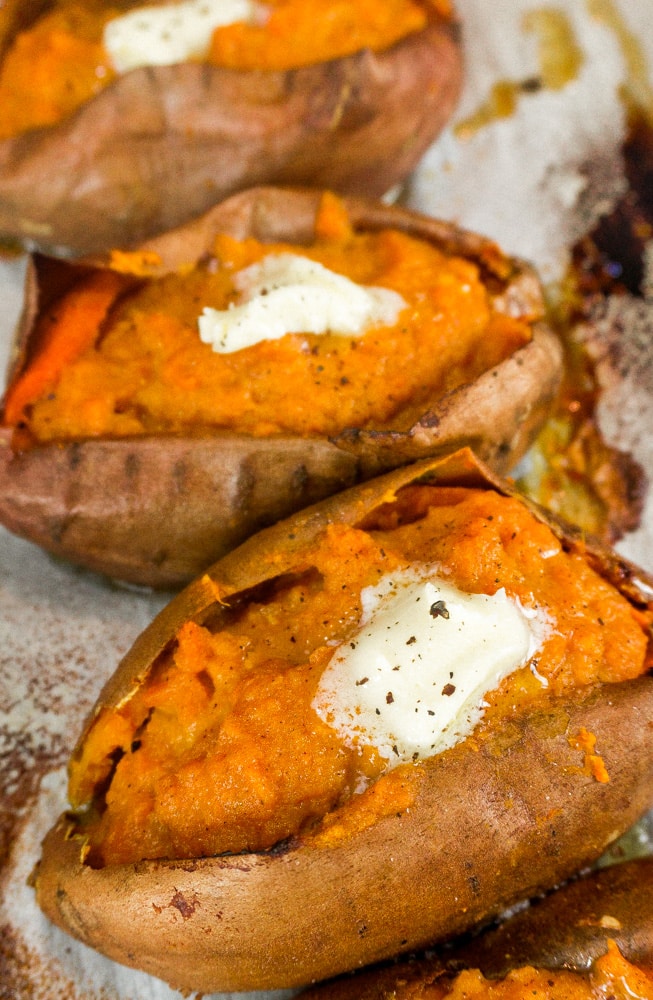 A Few Tips For Baked Sweet Potatoes
Baked sweet potatoes can let out a little juice when baked. This can start to caramelize on your baking tray, making it more difficult to clean up. To prevent this, line your baking tray with parchment paper.
It's not necessary to oil the outside of your sweet potato or wrap it in aluminum foil. The sweet potato will bake just fine on a baking tray all on its own.
While mother nature gives us sweet potatoes in various shapes and sizes, if you're cooking more than one potato in the oven try to keep them about the same size. No matter if that's all small ones or all large ones.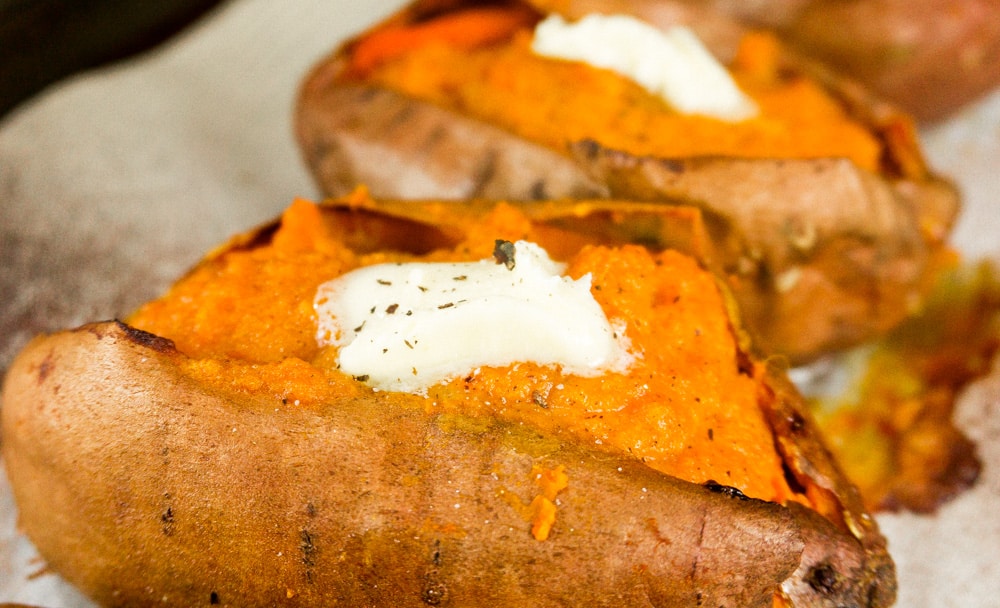 Would you like to see more? SUBSCRIBE to receive the more recipes! Also, follow me on FACEBOOK, PINTEREST, INSTAGRAM, YOUTUBE or TWITTER.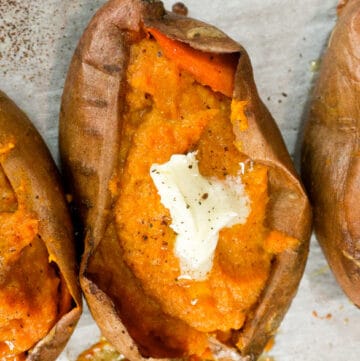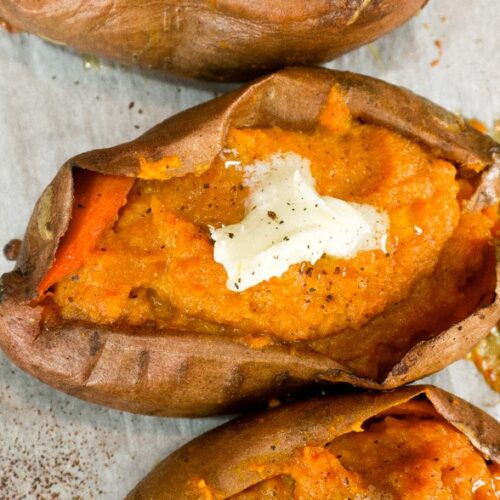 Twice Baked Sweet Potato
Making this Twice Baked Sweet Potato in the oven is so easy and comes out perfectly sweet and fluffy on the inside with this foolproof recipe.
Ingredients
4

lrg

sweet potatoes

1

tablespoon

olive oil

3

tablespoon

brown sugar

1/2

cup

almond milk

4

tablespoon

unsalted butter

1/2

teaspoon

vanilla

1/2

teaspoon

cinnamon

1/2

teaspoon

nutmeg

1/4

teaspoon

cayenne pepper

2

tablespoons

orange juice

dash

salt
Instructions
Wash and scrub the sweet potatoes, hand dry with paper towel and poke holes around the potatoes with a fork.

Add the sweet potatoes on a baking tray and Baked on 450F for 45minutes -1 hour.

Once the sweet potatoes are done, allow them to cool. After that, remove the insides and put the sweet potatoes inside a large bowl.

Using an electric mixer, mix the sweet potatoes to remove any lumps or string. Then, add unsalted butter, brown sugar, almond milk, nutmeg, cinnamon, vanilla, orange juice, salt and blend all together.

Then add in the sweet potato filling bake into the skin bowls- making sure to not overfill.Bake on 350F for 20-30 minutes allow to cool and , enjoy.
Subscribe to My Youtube
Subscribe to My Youtube Channel to recieve updates on New Videos and Recipes !
How did you like this recipe? Leave a comment and let me know what you think. Looking for another appetizer recipe ? Try this Buffalo Cauliflower next!