December 31, 2019 | Last Updated on July 30, 2020 by Patricia Valbrun
Southern Candied Yams are a wonderful fall side dish. Thick sweet potato slices are covered in a butter and sugar mixture and baked until soft. They are wonderfully sweet and flavored with a little cinnamon, ginger, nutmeg, and vanilla.
These candied yams are a welcome addition to a holiday meal or a Sunday supper. I love to pair this with Southern Macaroni and Chesse and Collard Greens!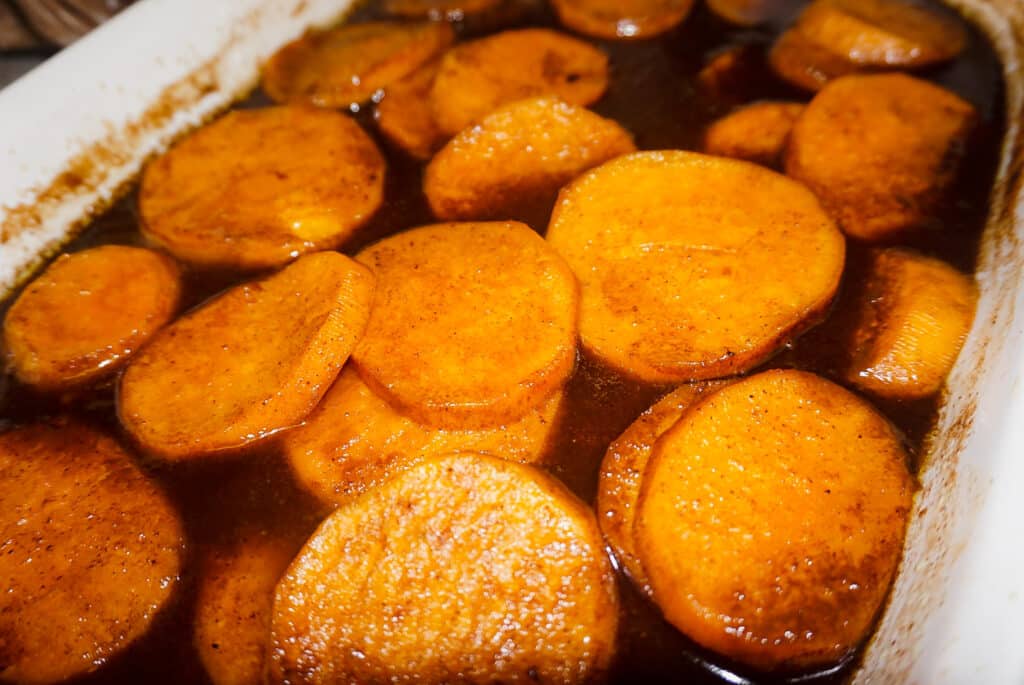 I'm so excited to share this recipe with you all. It's so simple and so worth it!! If you're a Southern Candied Yam lover then you will adore the taste of these sweet, buttery, cinnamony baked yams!
HOW TO MAKE SOUTHERN CANDIED YAMS
I buy similar sizes of sweet potatoes so that they all cook evenly at the same time. 
It's a simple well-seasoned candied sweet yams recipe. Basically, wash, cut and peel the sweet potatoes. Put your sweet potatoes inside a buttered baking dish and set them to the side.
In a small pot on low medium heat, add the butter, white sugar, brown sugar, heavy cream, vanilla extract and all your spices. Let it come to a simmer until the sugar and butter has dissolved into the mixture.
Pour the mixture over the sweet potatoes and bake for an hour covered, last 20 minutes uncovered.
These are oven baked allowing it to slow cook. This way you can keep an eye on it and occasionally stir in between time to make sure all the sweet potatoes cook in the sauce. 
Lastly, candied yams are a wonderful inexpensive side dish.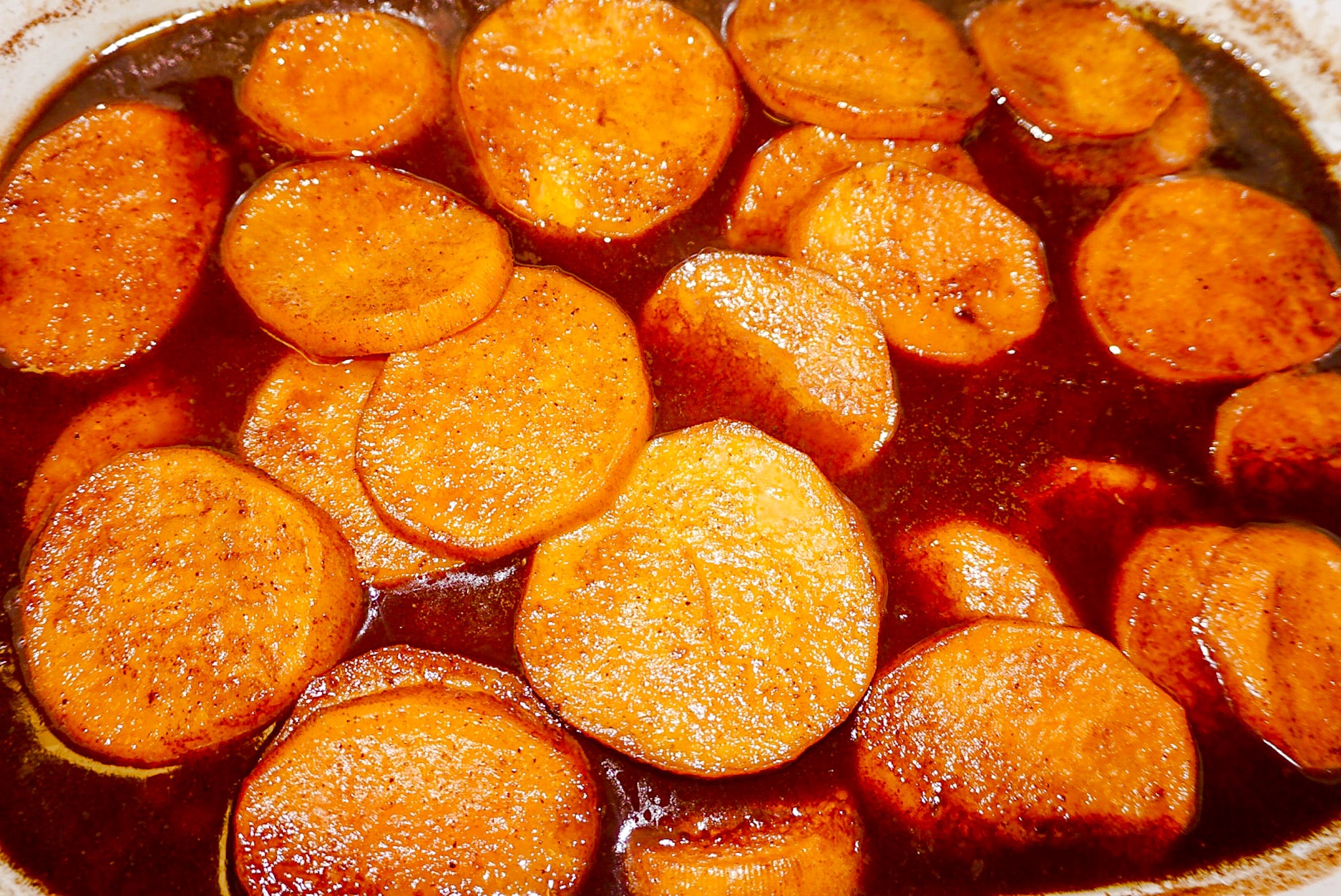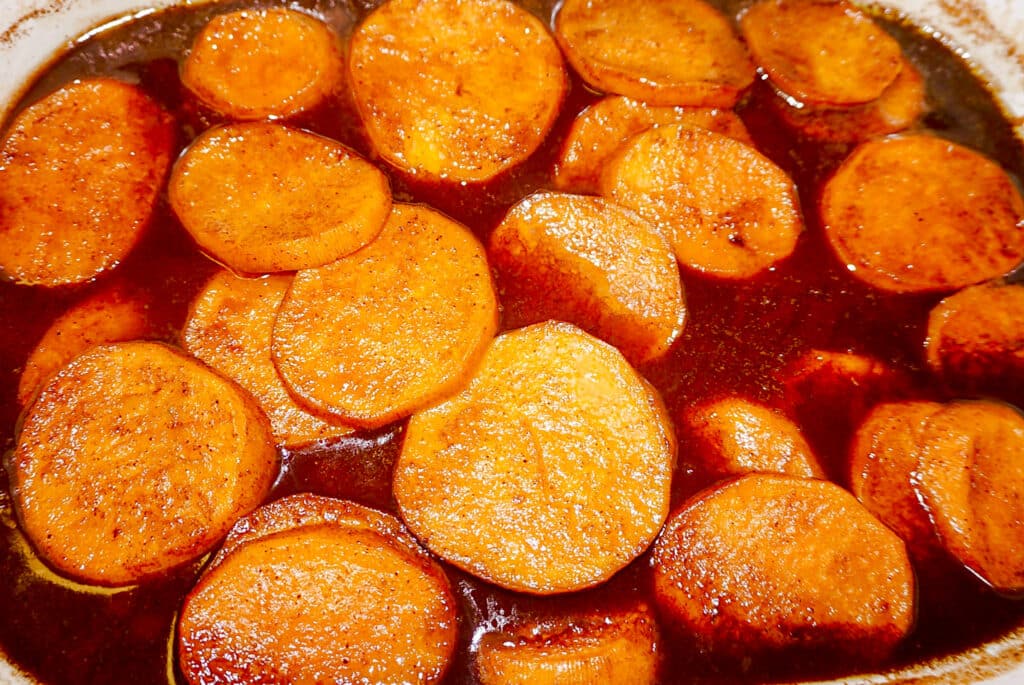 TIPS TO MAKE OVENBAKED CANDIED YAMS
This can be made up to 3 days in advance. The flavors will be even better! Store with an airtight lid in the refrigerator. Heat it up in the oven until warmed through.
Look for long thick sweet potato to get a bang for your buck and you won't have to buy so many.
Try to cut the yams the same size into 1/2-inch slices.
Once the candied yams are done, carefully stir them into the sauce. If you stir to roughly the yams may break apart but no worries. They'll still be super tasty!
To test their doneness, take one out and taste it. If it's still a bit hard. Let it cook a bit longer.
This dish is best served warm.
Would you like to see more? SUBSCRIBE to receive the more recipes! Also, follow me on FACEBOOK, YOUTUBE,PINTEREST, INSTAGRAM or TWITTER.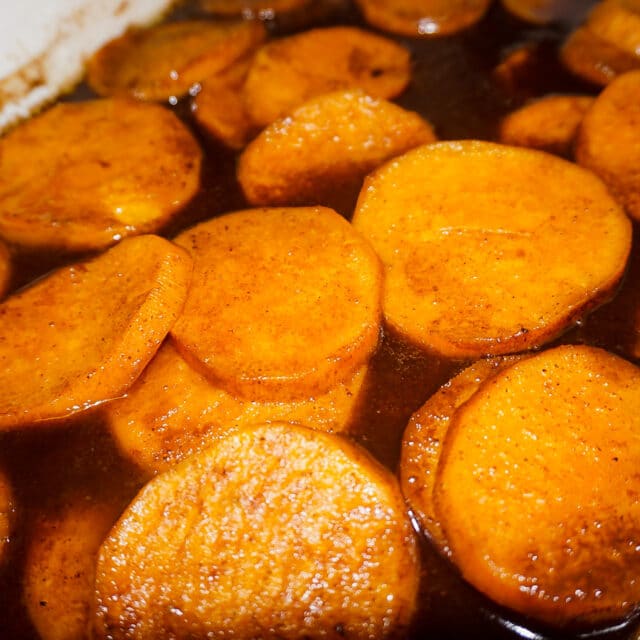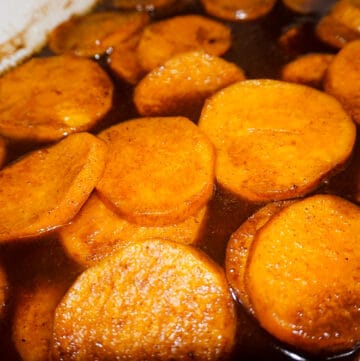 Southern Candied Yams
These Southern Candied Yams are juicy, sweet and tender loving delicious!
Ingredients
4-5

sweet potatoes

medium

1

stick unsalted butter

1

cup

white sugar

1

cup

brown sugar

1/4

cup

heavy whip cream

3

tsp

cinnamon

1/2

tsp

nutmeg

1/8

tsp

ground cloves

1/8

tsp

ginger

1 1/2

tbsp

real maple syrup

1/2

tbsp

vanilla extract
Instructions
Start by washing, peeling then cutting your sweet potatoes in your desired shape. Place sweet potatoes inside your buttered baking dish and set aside.

Heat up a small pan. On low high heat melt butter then add sugar, brown sugar, heavy cream, ginger, nutmeg, cloves, maple syrup and vanilla extract. Allow to simmer for 5 minutes until the sugar has melted into the butter.

Once sugar and butter has disloved in the mixture, pour it over the sweet potatoes.

Bake on 350F 1 hour 40 minutes covered 20 minutes uncovered , enjoy !
Subscribe to My Youtube
Subscribe to My Youtube Channel to recieve updates on New Videos and Recipes !
Did you enjoy this Southern Side Dish recipe? Leave a comment and let me know what you think. You can find more side dish recipes here.