February 26, 2020 | Last Updated on March 18, 2020 by Patricia Valbrun
This recipe for Oven Roasted Brussel Sprouts with Bacon will really be The Best Brussels Sprouts of Your Life with only a handful of ingredients!
Serve this delicious recipe with anything from holiday dinners to Citrus and Rosemary Butterfly Chicken with a side of Baked Lemon Pepper Chicken for a family meal everyone will love!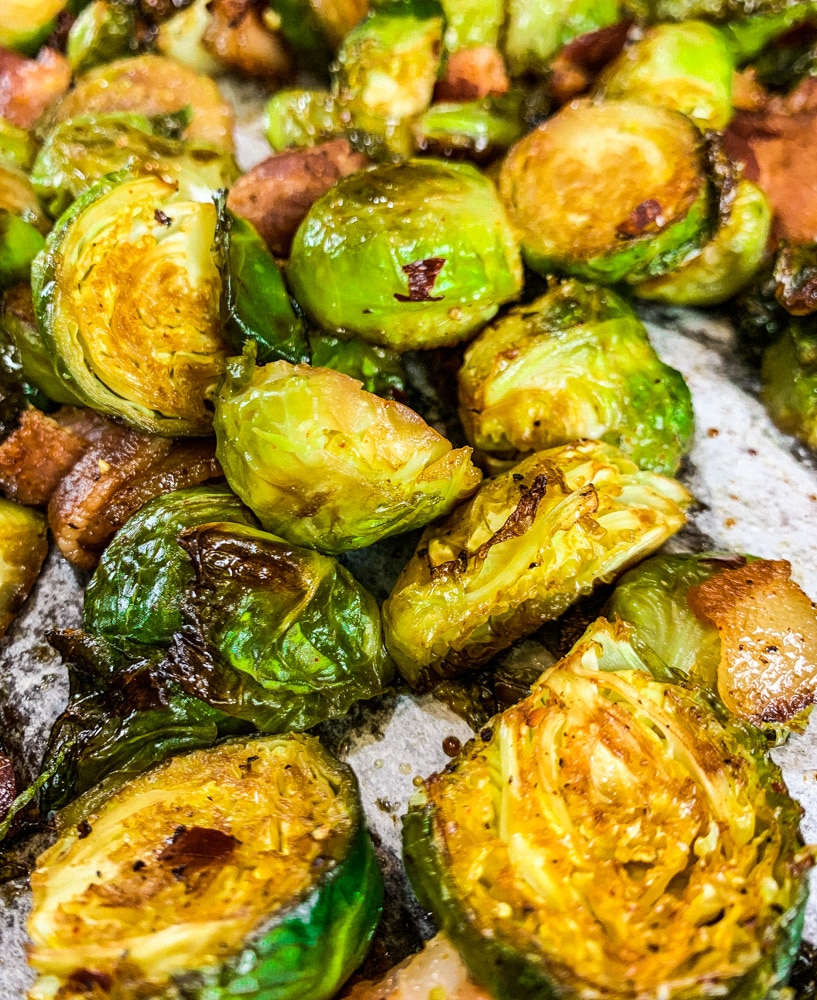 I love the texture of these, cooked to crispy perfection. All of those yummy, caramelized pieces make it taste so delicious! The bacon totally changes the flavor. I added this one day on a whim, and I have never made it any other way since. I also tried turkey sausage and it was just as good!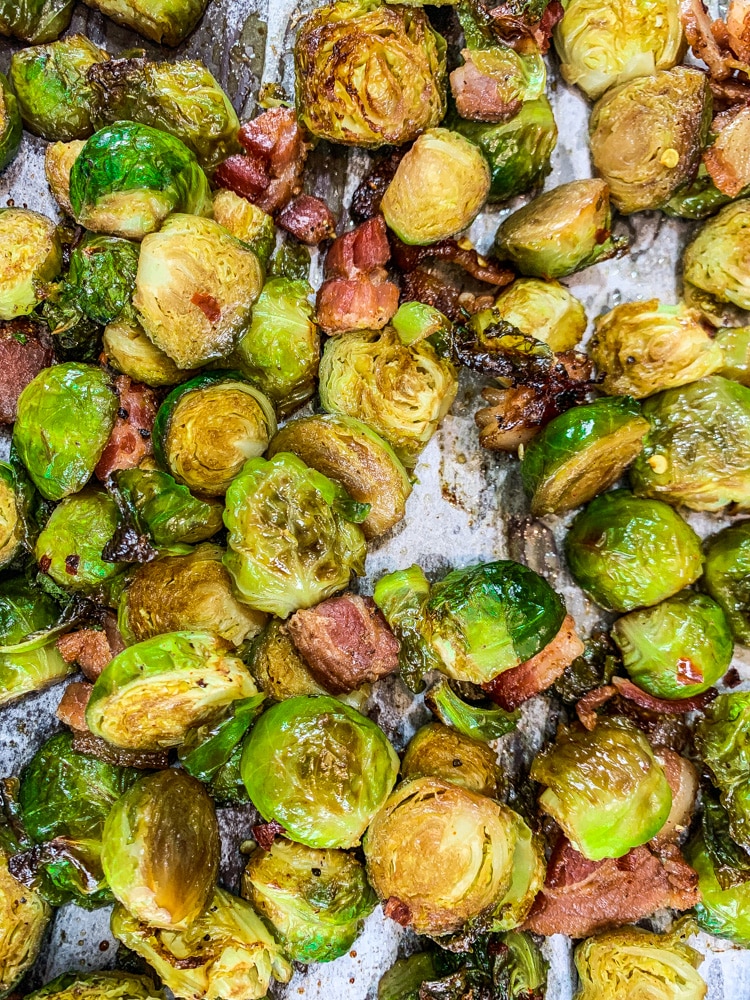 How to Roast Brussels Sprouts
Here are a few tips and tricks that will ensure your roasted Brussels sprouts turn out perfectly, every time.
1) Choosing your Brussels sprouts. Look for bright green Brussels sprouts with intact outer leaves that are firm. Store unused Brussels sprouts in a bag in the vegetable drawer. They should keep well for 7 to 10 days.
2) How to Clean Brussel Sprouts: A simple rinse off of the outside to remove any surface dirt will do. Remove any leaves that are bruised, discolored or torn.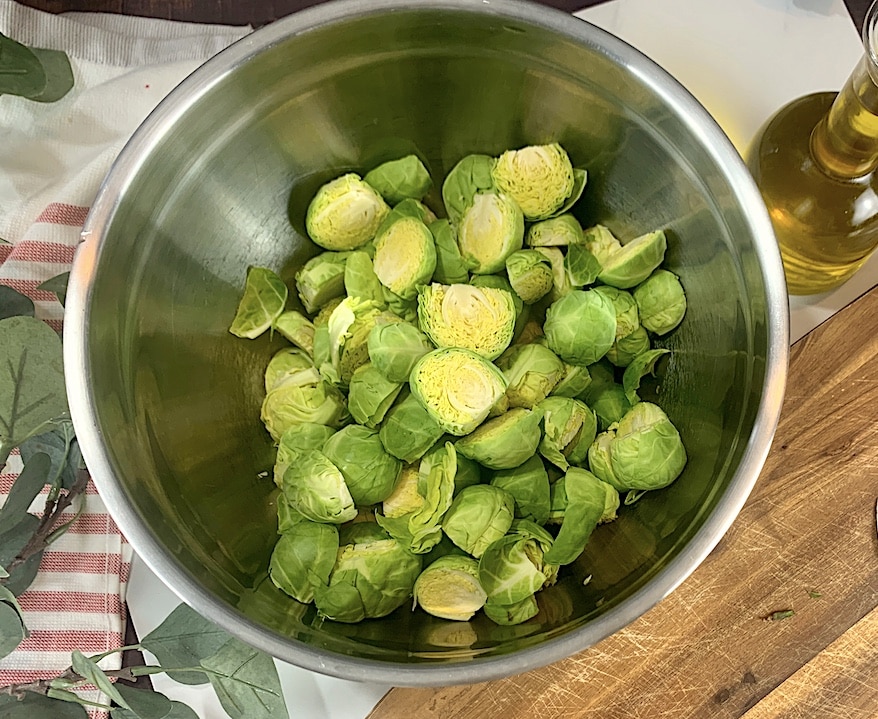 3) Don't overcrowd the pan. Brussels sprouts need some breathing room on the pan, or they'll produce so much steam that they never crisp up. Use a large pan to create enough space for Brussel sprouts
4) Baking the sprouts. Roast brussel sprouts at 375F which is high enough to get crispy, golden edges, but not so high that the olive oil burns on the pan and creates bitter flavors.
6) Roast for 17 to 20 minutes. Don't stop too soon! In fact, if you're wondering if you have burned your sprouts, they're probably just right. Roast the Brussels sprouts until they are deeply golden on the flat sides and offer little resistance when pierced through by a fork.
Tip: Here is my favorite large, rimmed baking sheet (they're called Nordic Ware Natural Aluminum Commercial Baker's Big Sheet).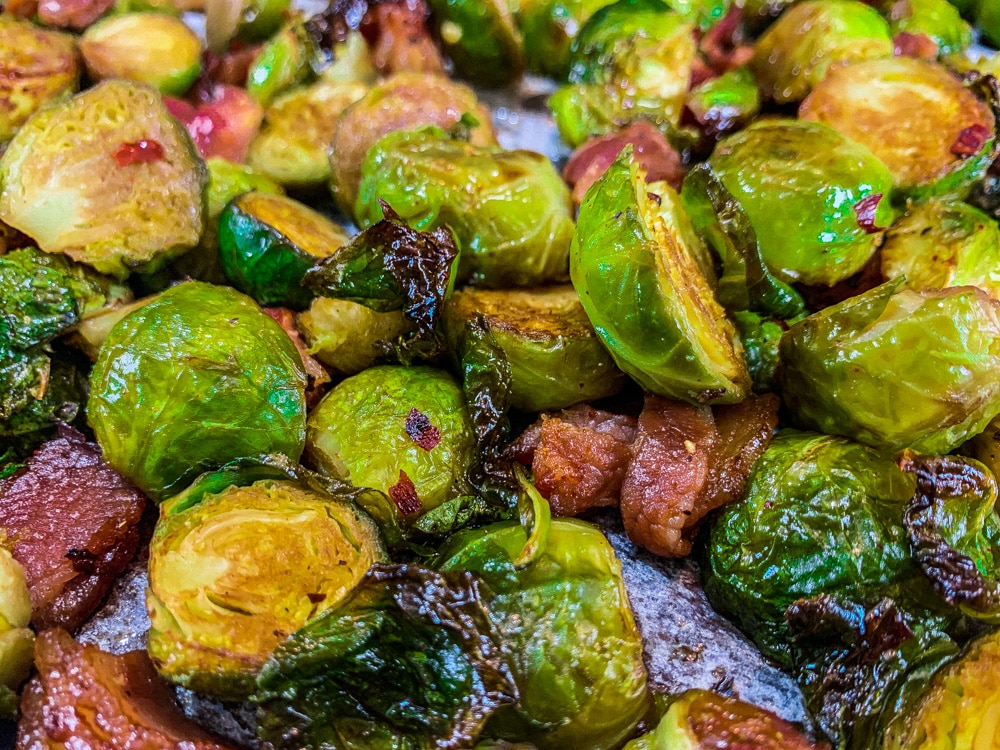 Would you like to see more? SUBSCRIBE to receive the more recipes! Also, follow me on FACEBOOK, PINTEREST, INSTAGRAM, YOUTUBE or TWITTER.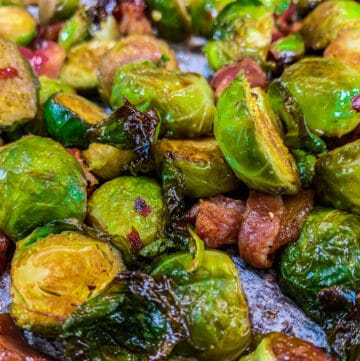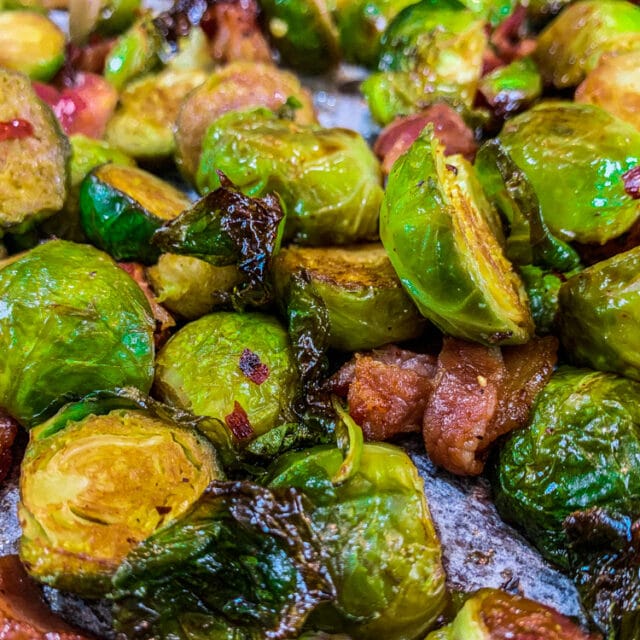 Oven Roasted Brussel Sprouts with Bacon
This recipe for Oven Roasted Brussel Sprouts with Bacon will really be The Best Brussels Sprouts of Your Life with only a handful of ingredients!
Ingredients
1

pound

Brussel sprouts

1

tbsp

olive oil

1/2

tsp

salt

2

tbsp

soy sauce

3

tbsp

brown sugar

1/2

tsp

pepper flakes

1/2

tsp

cayenne pepper

4

strips bacon
Instructions
Preheat oven to 375F.

Trim and clean the brussel sprouts by removing the ends or the leaves that are not substainable.

In a large bowl add brussel sprouts, olive oil, soy sauce, salt and pepper, brown sugar, bacon, cayenne pepper, pepper flakes and toss everything together.

Bake for 17-20 minutes until crisp and enjoy !
Subscribe to My Youtube
Subscribe to My Youtube Channel to recieve updates on New Videos and Recipes !
How did you like this recipe? Leave a comment and let me know what you think. Looking for another to pair with is one ? Try these Teriyaki Chicken next!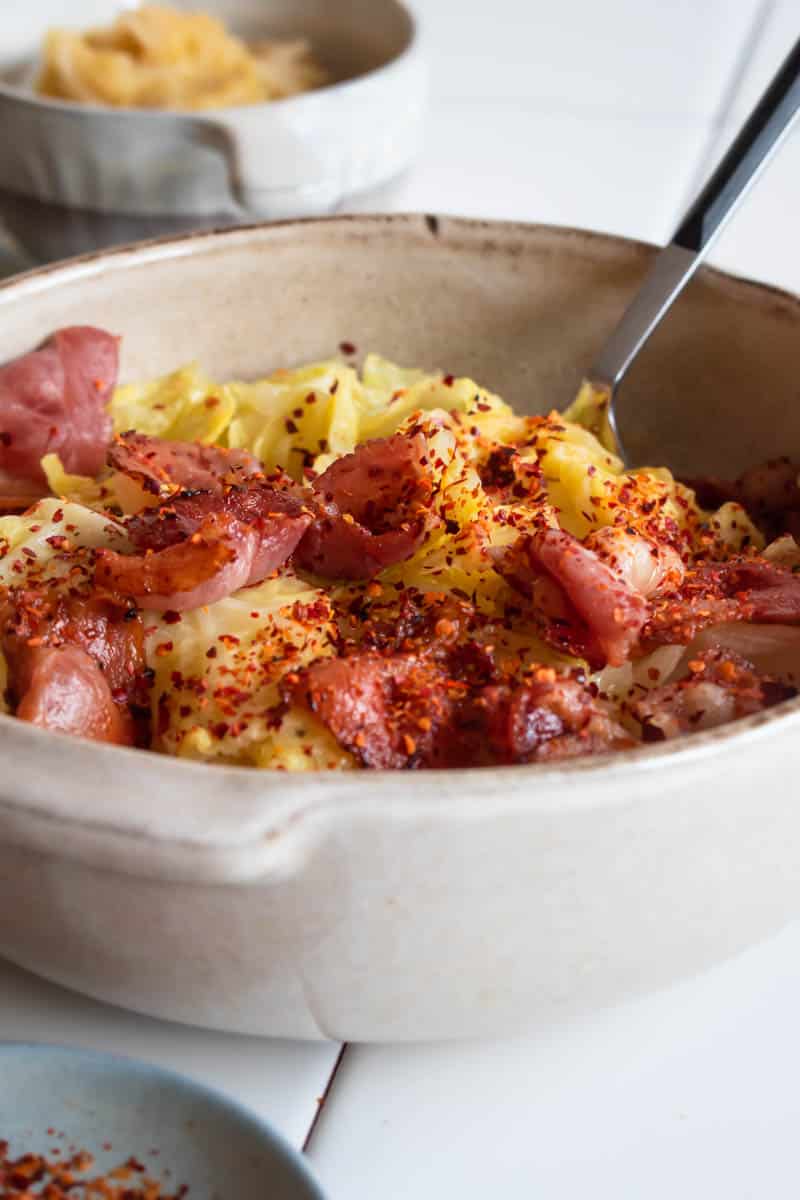 This southern style Smoked Turkey Bacon Cabbage is so delicious, full of flavor and super…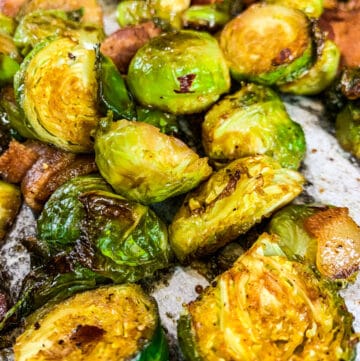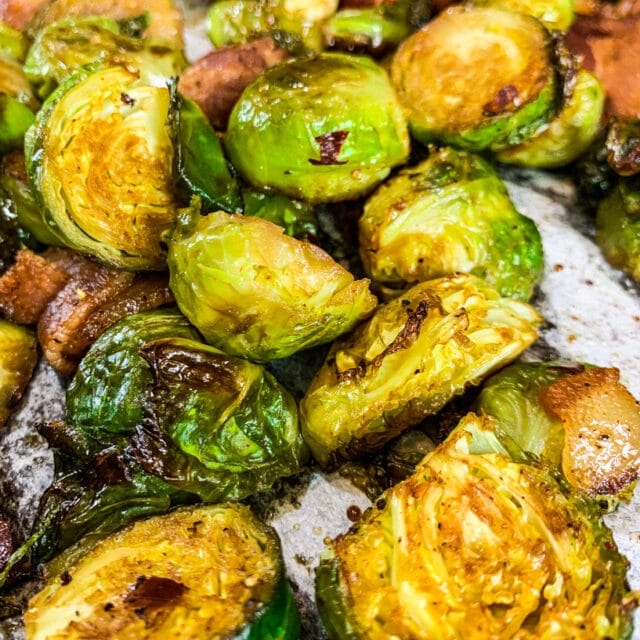 This recipe for Oven Roasted Brussel Sprouts with Bacon will really be The Best Brussels Sprouts…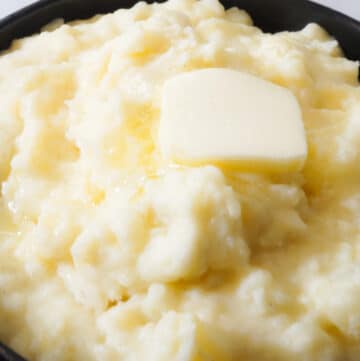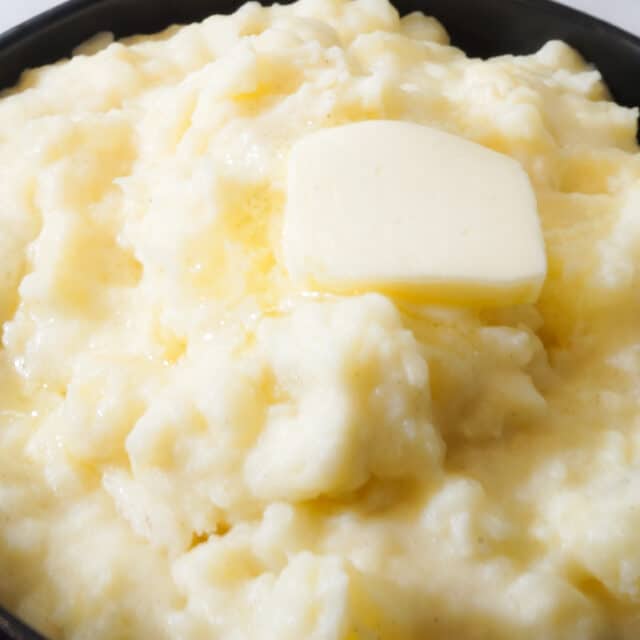 My all-time favorite Creamiest Mashed Potatoes recipe. These homemade mashed potatoes are perfectly rich and…