January 3, 2020 | Last Updated on February 16, 2021 by Patricia Valbrun
A Light and Fluffy Chocolate Pancake Recipe topped with homemade Strawberry Cream Cheese drizzle. These easy chocolate pancakes are the perfect chocolate lovers' brunch for Saturday morning breakfast.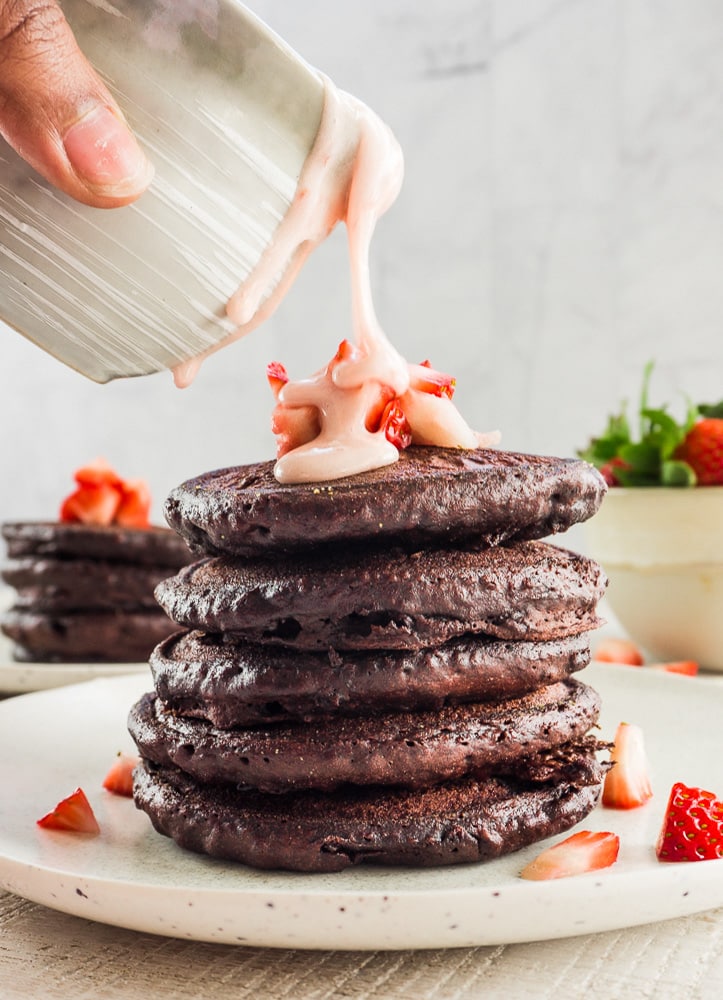 Pancakes are one of my favorites in so many ways. Fluffy Chocolate Pancakes covered in a cream cheese white chocolate lemon drizzle. I mean brunch has never been so good and yet so easy. Easy to make and just enough to feed a crowd. So put on your cooking hat and let's get cooking!
HOW TO MAKE FLUFFY CHOCOLATE PANCAKES
The key to making perfect fluffy chocolate pancake recipe with strawberry cream cheese is to not overmix the batter or press down on the pancakes. You will know the pancakes are ready to be flipped when you see small bubbles on top of the pancakes.
When making pancakes, waffles or french toast I don't like to skimp out on the fruit because that's what make the pancakes taste so fresh. Whether it be a compo or fresh fruit right on top with homemade syrup of just whip cream, I'll take it any way.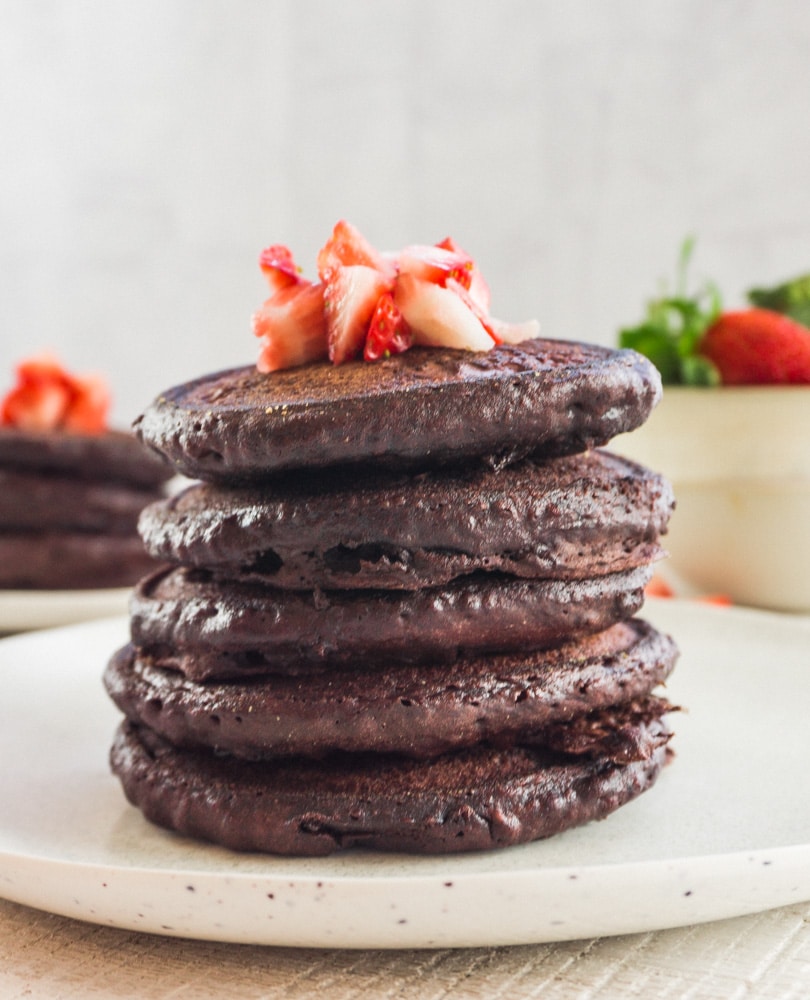 Can you add WATER instead of MILK to pancake mix?
Most of the time pancake mixes that call for you to add water, also have a non-fat powdered milk, in the mix. Which is why technically all you need is water for the milk. However, if you want to make them richer in flavor or more moist you can use milk.
What makes pancakes LIGHT & FLUFFY?
Pancakes get fluffy when the baking soda or baking powder react with the salt and gluten in the batter, it creates bubbles in the pancake mix when stirring and when your cooking them on the stove. This leads to light and fluffy pancakes.
CAN I FREEZE PANCAKES?
These pancakes do wonderfully when frozen and reheated! You can either layer parchment paper between the pancakes when you freeze them so they don't stick to each other, or you can lay the pancakes out individually onto a parchment lined baking sheet and freeze them that way. Once frozen, pop them all into an airtight container or bag.
HOW TO REHEAT PANCAKES
To reheat them, microwave one pancake for about 20 seconds. Personally, I like to thaw mines out in the refrigerator overnight that way it's a quick grab and go but if it's a last-minute thing you can surely pop them right out the freezer into the microwave. Either way, these reheat beautifully and remain delish.
TIPS FOR FLUFFY HOMEMADE PANCAKES:
● Don't over mix. Be sure not to over mix your pancake batter so that you don't get tough, dense pancakes. Lumps are ok.
● Use a flat cooking surface. For a nice looking pancake, cook on a flat surface. A griddle is preferable.
● Make smaller pancakes. Don't make your pancakes too large, or they'll be difficult to flip.
● When to flip a pancake: Your pancakes are ready to be flipped when you see plenty of bubbles coming through the surface and the edges are set.
● Pancake mix-in ideas: Mix ins make these even more fun! Try adding sprinkles, chocolate chips or fresh fruit to your batter.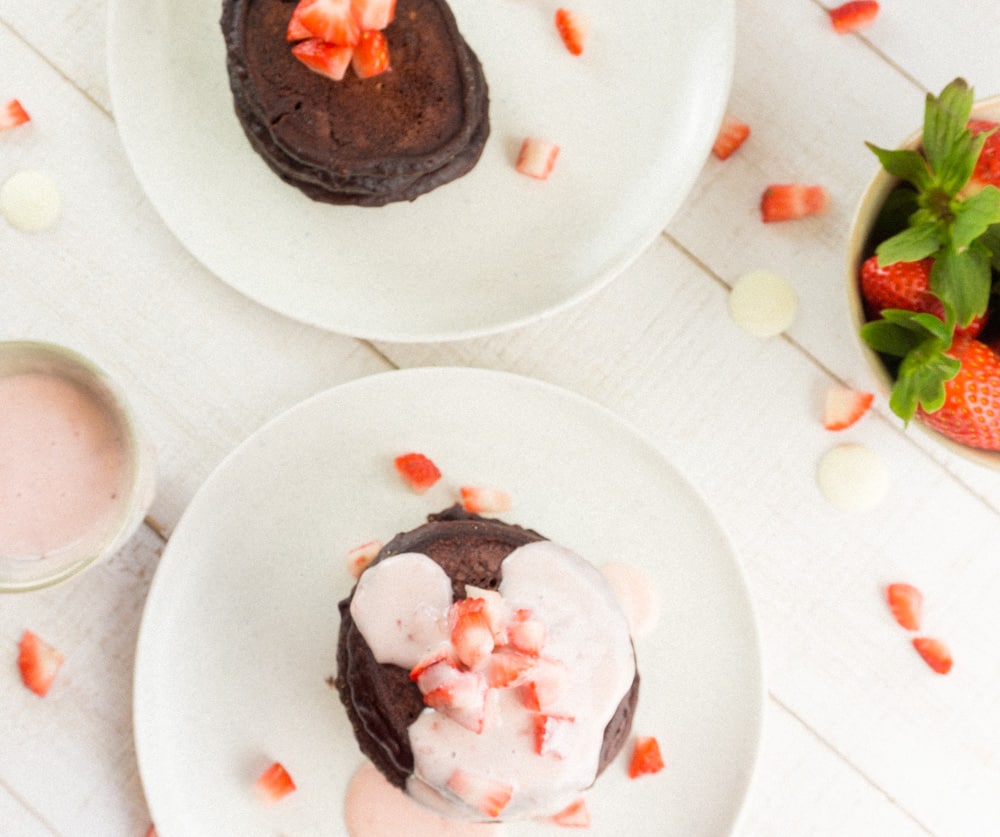 White Chocolate Strawberry Drizzle
This white chocolate strawberry cream cheese drizzle compliments these chocolate pancakes so well. Chocolate with a blend of strawberry, cream cheese, and a drop of lemon elusion. This frosting was made for my Strawberry Cupcakes and Red Velvet Cake.
You can also find the full recipe here !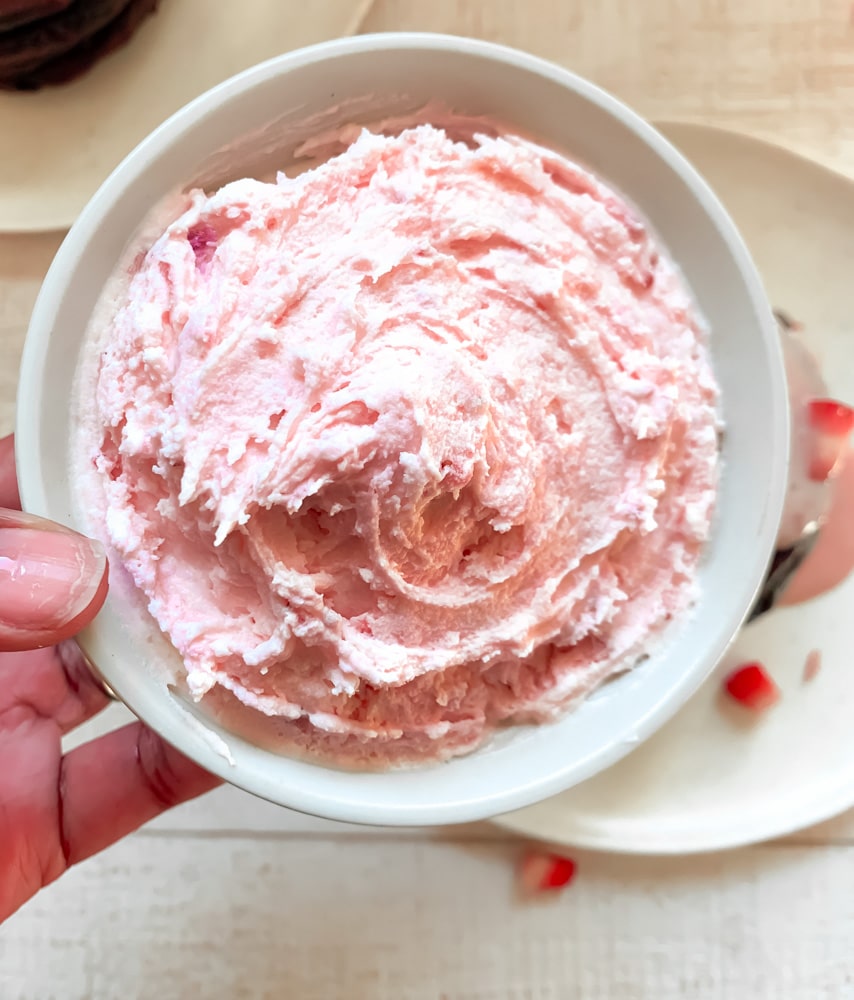 You can use many other options as stated below but I promise that you will love this one. The frosting was made in a big batch because it was a left over from my cupcakes so make sure you make it in a small batch and you warm it in the microwave for 5 secs to soften.
What are the best toppings for pancakes?
1. Fresh Fruit – You can never go wrong with fresh berries or banana.
2. Chocolate Chips or Nutella – This is for the chocolate lovers!
3. Strawberry or Berry Compote – Essentially a compote is a fresh fruit simmered in a saucepan with water and a sweetener until it thickens.
4. Whipped Cream, Cream Cheese – Adding a creamy element on top of your pancakes can sometimes be the thing that takes the flavor over the top.
5. Bacon & Salted Carmel – This is perfect for that sweey and salty or savory bite along with that sweet fluffy pancake recipe.
Would you like to see more? SUBSCRIBE to receive the more recipes! Also, follow me on FACEBOOK, PINTEREST, INSTAGRAM, YOUTUBE or TWITTER.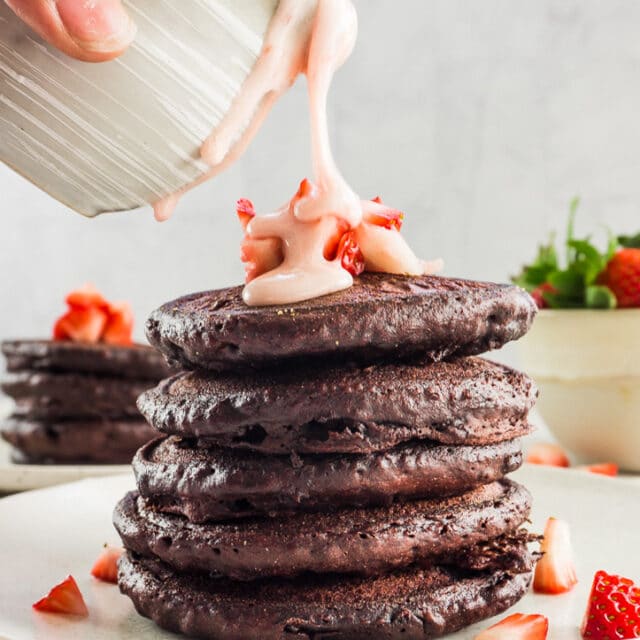 Fluffy Chocolate Pancake Recipe with Strawberry Cream Cheese
A Light and Fluffy Chocolate Pancake Recipe topped with homemade Strawberry Cream Cheese drizzle. These easy chocolate pancakes are the perfect chocolate lovers' brunch for Saturday morning breakfast.
Ingredients
2

cups

Krusteaz Buttermilk Pancake Mix

1 1/3

cup

water

1/2

tbsp

vanilla extract

1

tsp

cinnamon

1/4

cup

cocoa powder
White Chocolate Strawberry Frosting
1/2

cup

unsalted butter

soften

1/2

cup

strawberry pure

1/2

cup

powder sugar

1

tsp

vanilla extract

1/4

cup

white chocolate

melted

pink food coloring gel
Instructions
To a medium bowl, add Krusteaz Buttermilk Pancake Mix water, vanilla, cinnamon and cocoa powder. Whisk together until smooth.

Heat a large griddle to medium high heat. (I like to use nonstick)

Pour 1/4 cup of the mixture onto hot griddle. Cook until bubbly, then flip and cook until the center is cooked 1-2 minutes.

Serve with white chocolate strawberry topping.

Optional: top with maple syrup
Subscribe to My Youtube
Subscribe to My Youtube Channel to recieve updates on New Videos and Recipes !
How did you like this recipe? Leave a comment and let me know what you think. Looking for another Dessert Recipe ? Try these Rum Cake next!