July 30, 2021 | Last Updated on March 14, 2023 by Patricia Valbrun
Breakfast Potatoes Skillet is the best go-to side dish for breakfast. Nothing says comfort food like the savory home-cooked goodness of pan-fried potatoes.
These breakfast potatoes made in a skillet is so easy and will become your go-to breakfast potatoes recipe for company and Saturday mornings! Breakfast Potatoes are one to feed a small family or large crowd on a friendly budget.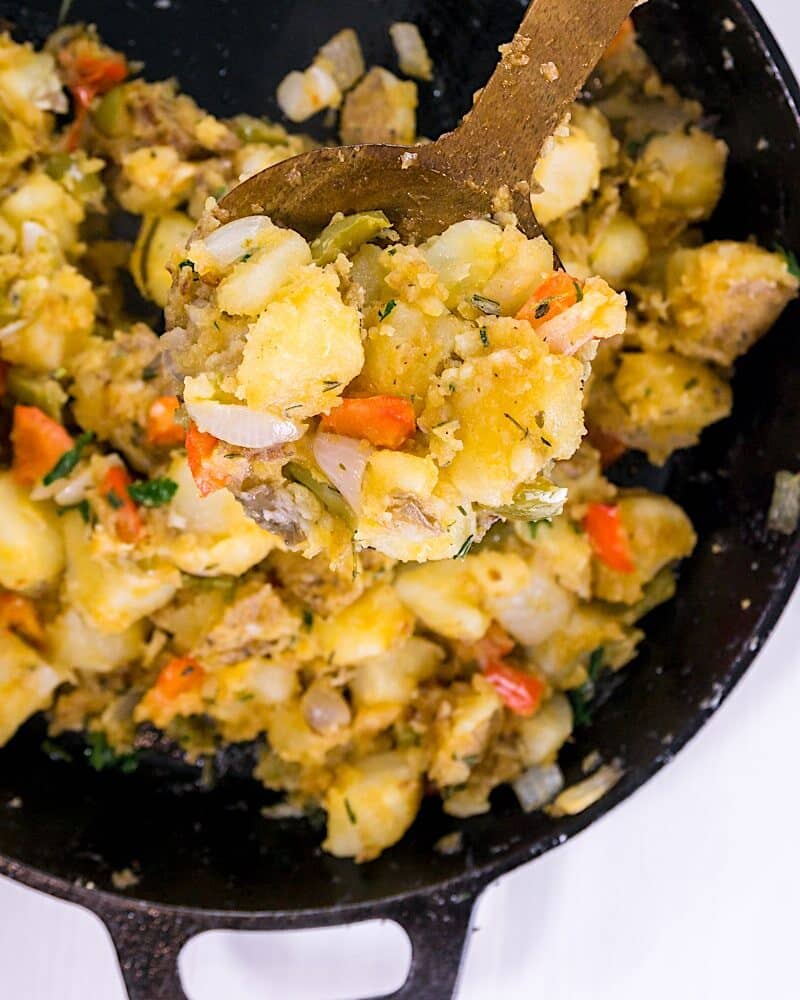 Ingredients for Breakfast Potatoes
Potatoes: For this recipe, you'll want to use russet potatoes for the best texture. You can also use red potatoes if you prefer.
Oil: To help fry the potatoes, you'll need a couple tablespoons of olive oil.
Seasonings: To add flavor to the potatoes, use a pinch of cumin powder, paprika, all purpose seasoning, following chili oil. You'll also need kosher salt and black pepper.
Fresh herbs: These are optional, but adding a stem of rosemary, a few sprigs of fresh thyme, and a smashed clove of garlic can help infuse the flavors into the oil before frying the potatoes.
Let's Make Savory Breakfast Potatoes
They're easy to whip up and can be pre-made ahead of time, so they take less time in the morning, and they're perfect with a side of steak and eggs.
Rinse and peel potatoes. Dice them into 1/2″ thick cubes.
Boil the potatoes for a few minutes until they are tender enough to poke with a fork.
Pan fry thyme, rosemary, and garlic cloves until fragrance is released, then remove.
In the same pan, add your potatoes and seasoning (per recipes below).
Following with your chili oil. Chop up the rosemary and thyme and use as topping on the potatoes.
Garnish with parsley.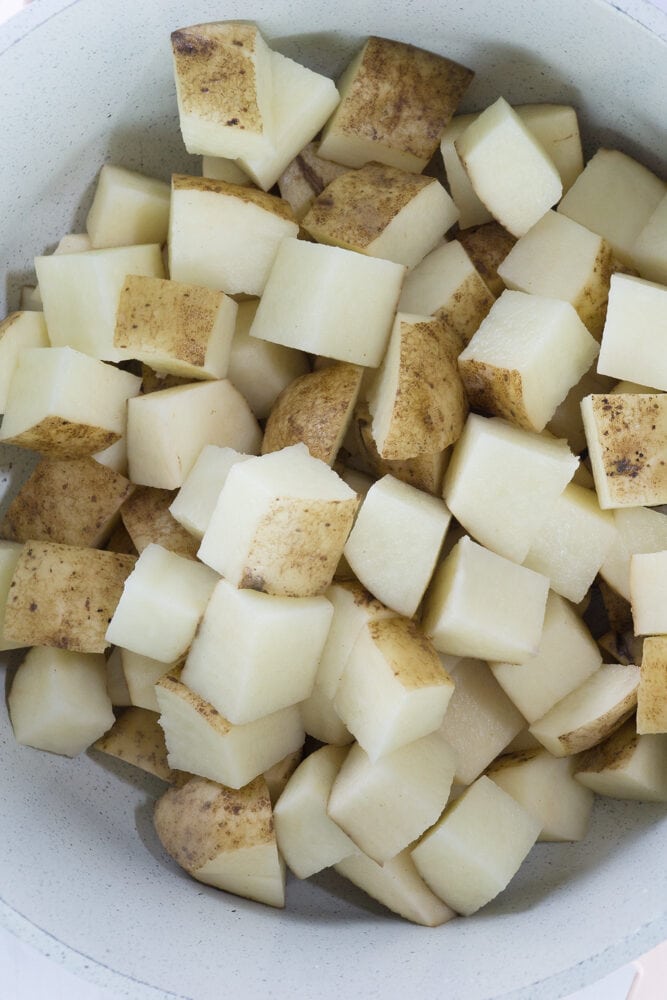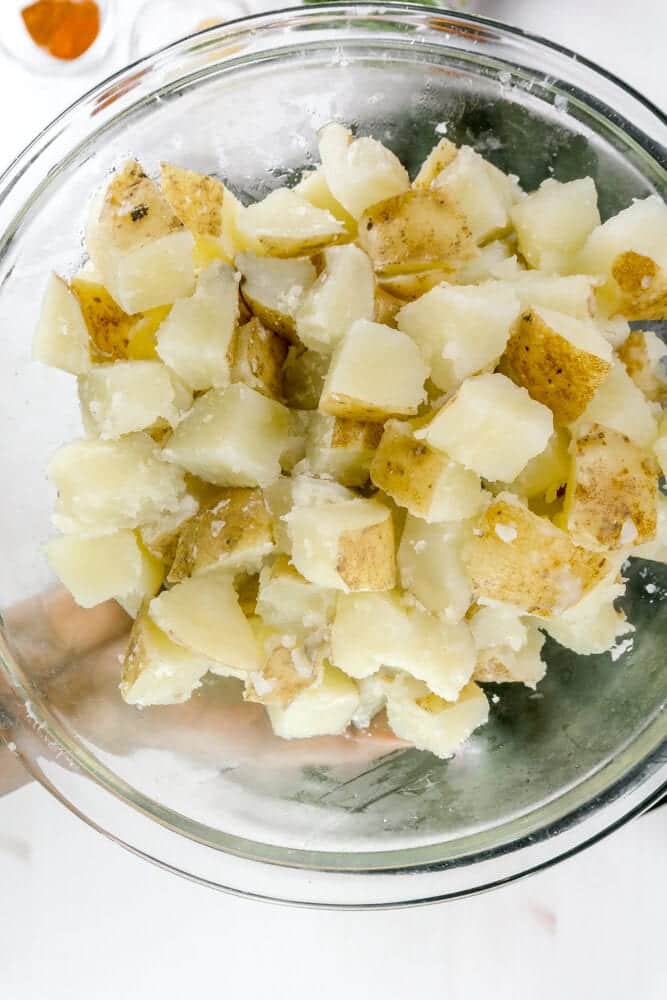 After Boiled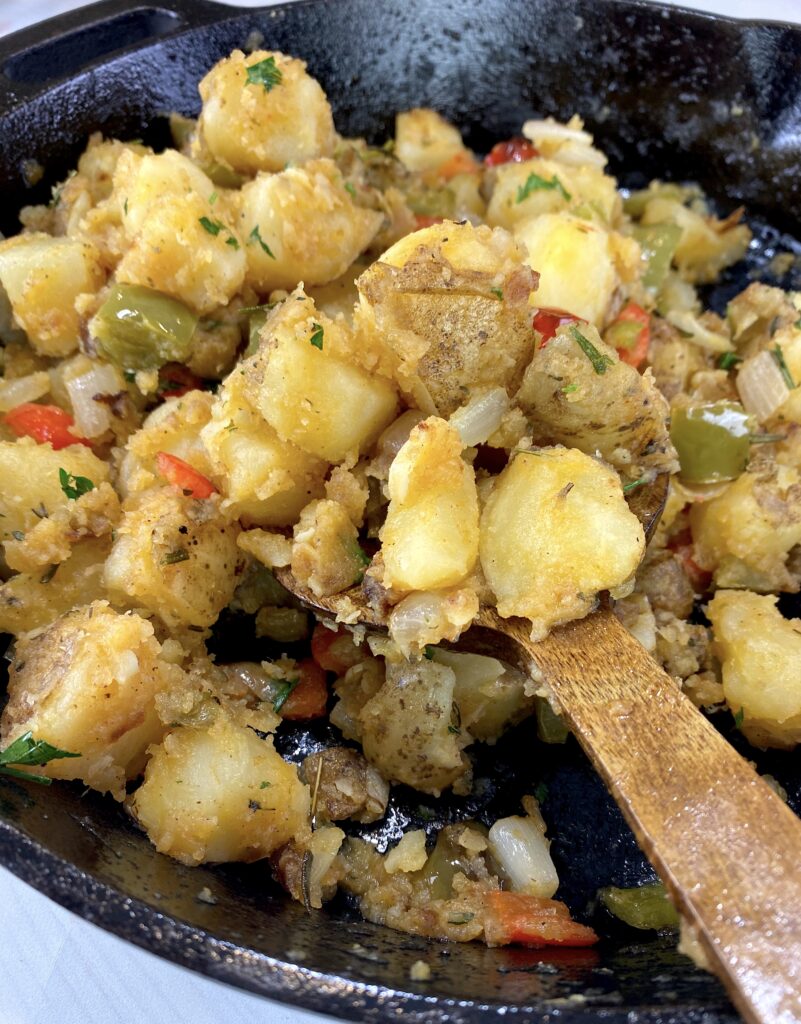 Is Cast Iron Good For Frying Potatoes?
Cast iron is definitely a good option for frying potatoes. The heavy-duty construction of cast iron skillets makes them ideal for high-heat cooking methods like frying. They can also hold a consistent temperature, which is important for achieving a crispy, golden brown exterior on your potatoes.
Is It Better To Boil Potatoes Before Frying?
It is generally a good idea to boil potatoes before frying them. Boiling the potatoes helps to soften them and cook them through, which makes it easier to get a crispy exterior when you fry them. It also helps to reduce the amount of oil that is absorbed by the potatoes during the frying process.
Why Should You Soak Potatoes Before Frying?
Soaking potatoes before frying them can help to remove excess starch, which can lead to a crispier texture. It can also help to remove some of the excess moisture from the potatoes, which can help to prevent them from becoming soggy when they are fried.
To soak potatoes, simply place them in a bowl of cold water for at least 15-30 minutes before cooking. Drain and pat them dry before frying.
How to Reheat Potatoes
Reheating in the microwave or oven is an option. For microwave reheat for a minute. Oven reheats at 350°F for about 15 minutes. If warming for longer it may change the texture of the potatoes.
Tips on Making Breakfast Potatoes

How not to overcook potatoes ? Try not to over-boil the potatoes as they will become too soft. Boil for 10 minutes on high heat, no longer. You can also steam the potatoes using a steam basket as an option instead of boiling to help keep the texture.
How to infuse your oil ? Boost flavor in your oil by cooking down garlic cloves and fresh herbs such as, thyme and rosemary.
How to give your potatoes color? Add color to your potatoes by using paprika, chili powder, and chili oil.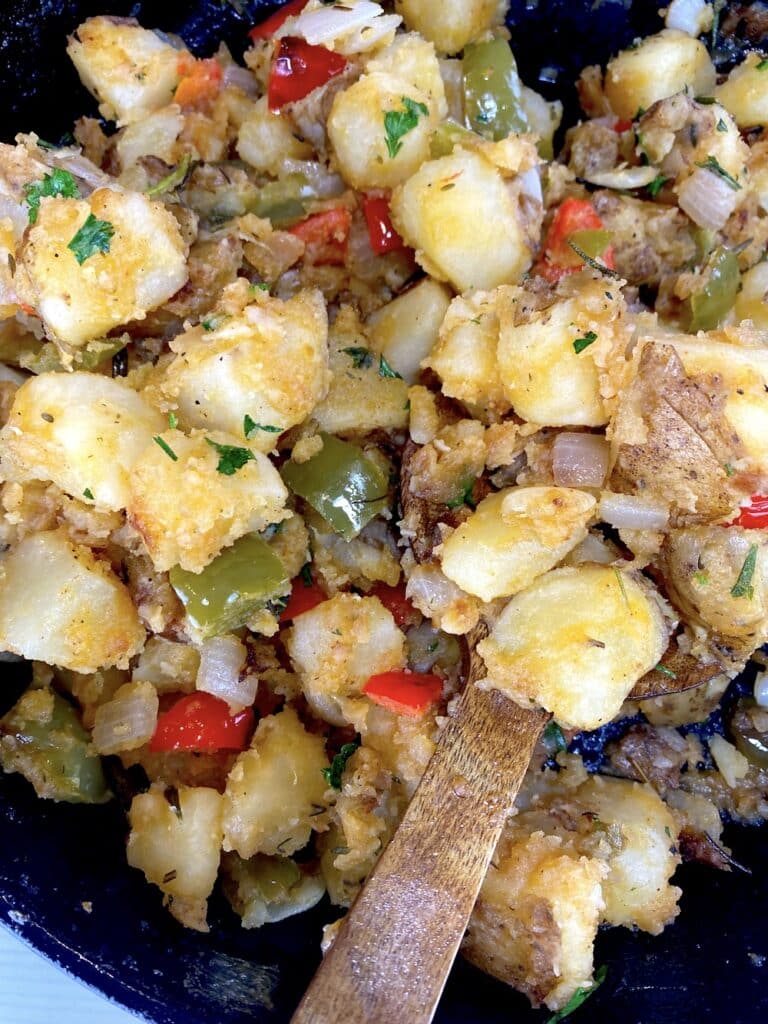 MORE POTATOE RECIPES
Would you like to see more? SUBSCRIBE to receive the more recipes! Also, follow me on FACEBOOK, PINTEREST, INSTAGRAM, YOUTUBE or TWITTER.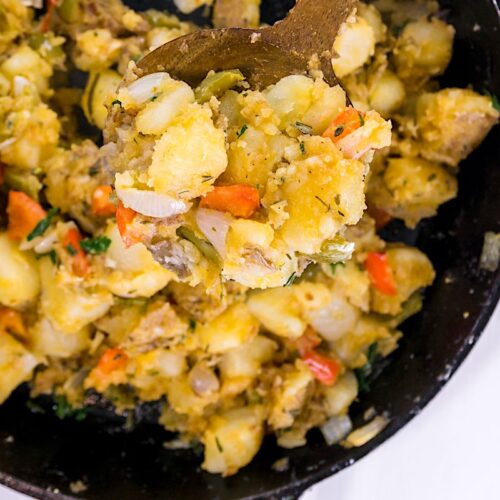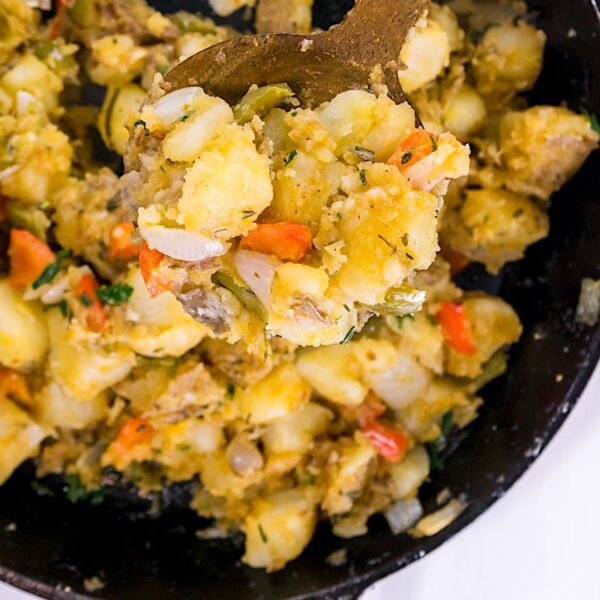 Breakfast Potatoes Stove Top
Breakfast Potatoes Skillet is the best go-to side dish for breakfast. Nothing says comfort food like the savory home-cooked goodness of pan-fried potatoes.
Ingredients
7

russet potatoes

Water enough to cover potatoes

1/2

tablespoon

salt
Infused Garlic Herb Oil
1/3

cup

olive oil

5

garlic cloves

2

rosemary stems

2

thyme stems

1

cup

onions

1 1/2

cup

bell pepper

green, yellow, or red

1/4

teaspoon

cumin

1/4

teaspoon

chile powder

1/4

teaspoon

paprika

1 1/2

teaspoon

all-purpose seasoning

2

tablespoons

chili oil

Pepper to taste
Instructions
Start by preparing the potatoes. Cut them into quarters and place them in a large pot. Cover the potatoes with water and add 1/2 tablespoon of salt. Bring the water to a boil and then reduce the heat to a simmer. Cook the potatoes until they are tender, about 15-20 minutes.

While the potatoes are cooking, prepare the infused garlic and herb oil. Heat 1/3 cup of olive oil in a small saucepan over medium heat. Add the 5 garlic cloves and the 2 rosemary stems to the oil and cook for a few minutes until the garlic is fragrant. Remove the pan from the heat and let the oil cool.

When the potatoes are done, drain them and set them aside. In a large skillet, heat 2 tablespoons of chili oil over medium-high heat. Add the onions and bell peppers to the skillet and cook until they are soft and starting to brown, about 5-7 minutes.

Add the cooked potatoes to the skillet with the onions and peppers. Sprinkle 1/4 teaspoon of salt, 1/4 teaspoon of cumin, 1/4 teaspoon of chile powder, 1/4 teaspoon of paprika, and 1 1/2 teaspoons of Tony's seasoning over the top of the potatoes.

Stir everything together until the potatoes are well coated with the spices. Reduce the heat to medium and cook for an additional 5-7 minutes, or until the potatoes are crispy and browned on the outside.

Season the skillet with pepper to taste and serve hot. Enjoy!
Nutrition
Serving:
4
g
|
Calories:
552
kcal
|
Carbohydrates:
76
g
|
Protein:
9
g
|
Fat:
26
g
|
Saturated Fat:
4
g
|
Polyunsaturated Fat:
3
g
|
Monounsaturated Fat:
18
g
|
Sodium:
898
mg
|
Potassium:
1751
mg
|
Fiber:
7
g
|
Sugar:
6
g
|
Vitamin A:
1803
IU
|
Vitamin C:
97
mg
|
Calcium:
71
mg
|
Iron:
4
mg
Subscribe to My Youtube
Subscribe to My Youtube Channel to recieve updates on New Videos and Recipes !
How did you like this recipe? Leave a comment and let me know what you think. Looking for another appetizer recipe ? Try this Buffalo Cauliflower next!