January 28, 2020 | Last Updated on February 5, 2021 by Patricia Valbrun
The Best Moist White Cake recipe! Each slice is moist, fluffy, and so delicious. This cake is soft and delicate, yet sturdy enough for layering.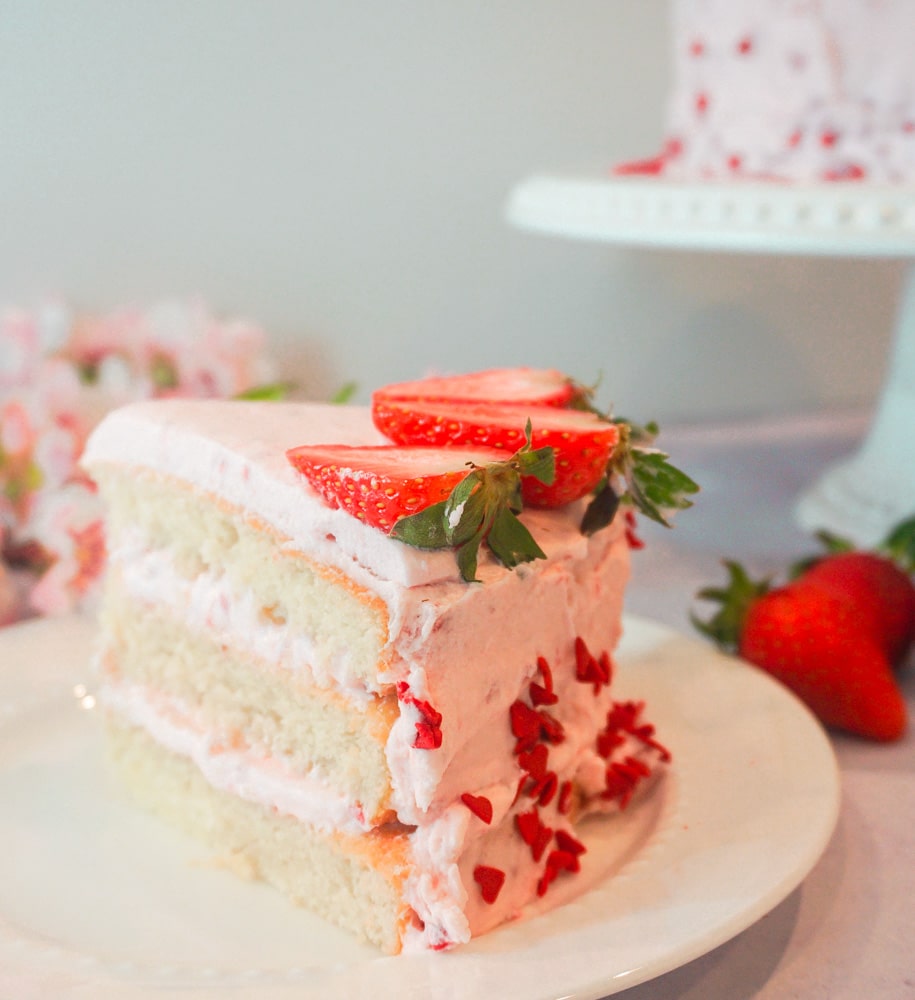 How to Make Best Moist White Cake
There are several ways to ensure a perfectly delicious moist white cake. Yes, they take an extra few minutes to do, but if you want your cake to turn out the best, don't skip these steps.
Why cake flour. What is the difference between cake flour and all-purpose flour? Cake flour has less protein which means it won't develop gluten strands as much you mix it. This is important to ensure a soft cake. You can use all-purpose flour, but it may change the texture and you will also have to do some adjustments to the recipe.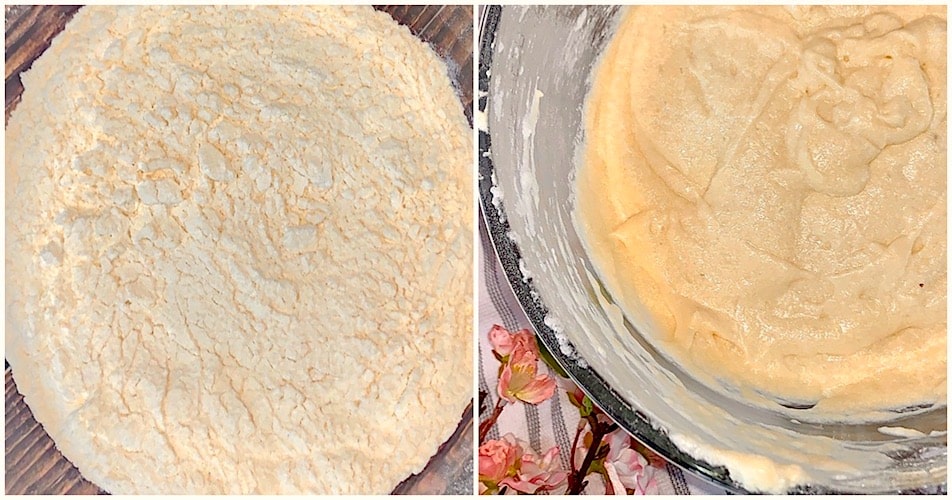 Measure the flour carefully. Simply spoon the flour into the measuring cup, then level it off with a knife. Don't pack the flour into the measuring cup or the cake will be dry!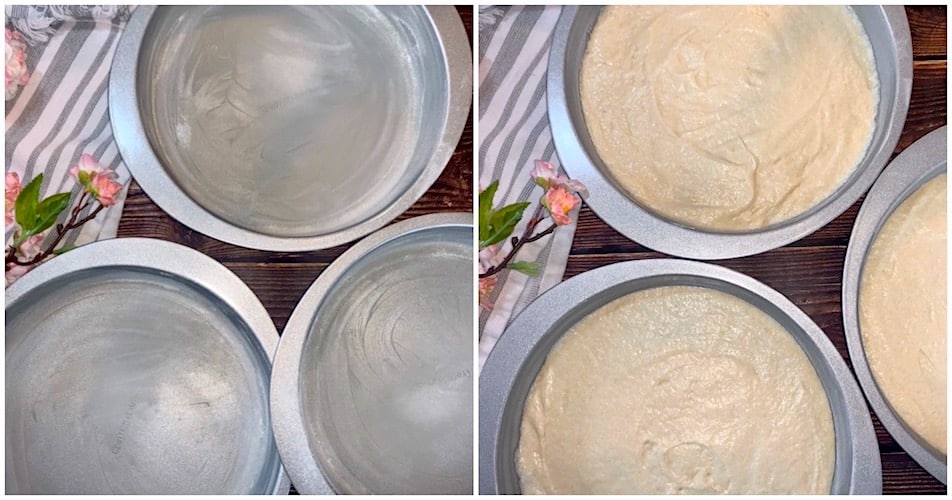 Beat the egg whites into soft peaks.This is a white cake so it calls for only egg whites…no yolks. Yolks will give the cake a yellow tinge. The first step in this recipe calls for beating the egg whites until they hold stiff peaks. You'll then set those aside and fold them in at the very end. This step will help the cake to be fluffy and light.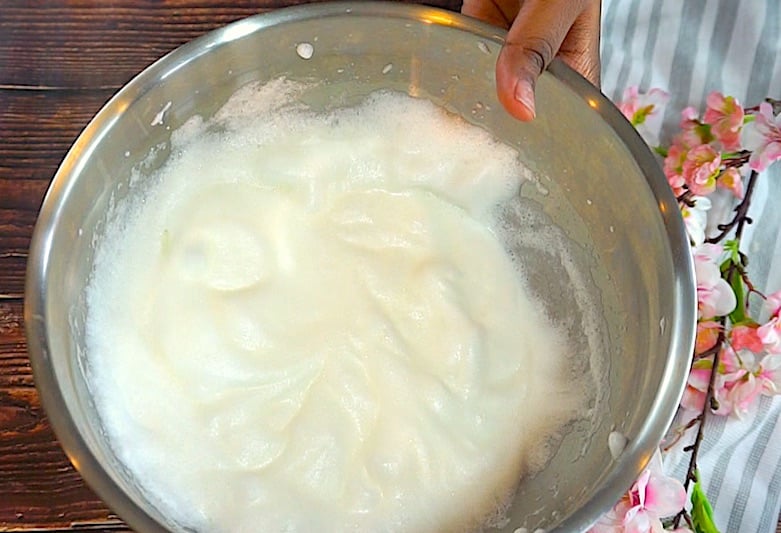 Don't open the oven too soon. This is where a light in the oven comes in handy. You don't want to overcook the cakes so you open the oven door to peek on them often. I get it. I want to do that too. But don't. Turn on the oven light and look at the cakes while they are baking. Don't open the door until the cakes "look" done. If you open the door too soon, the cakes may fall. Only open the oven door when the cakes are ready to test.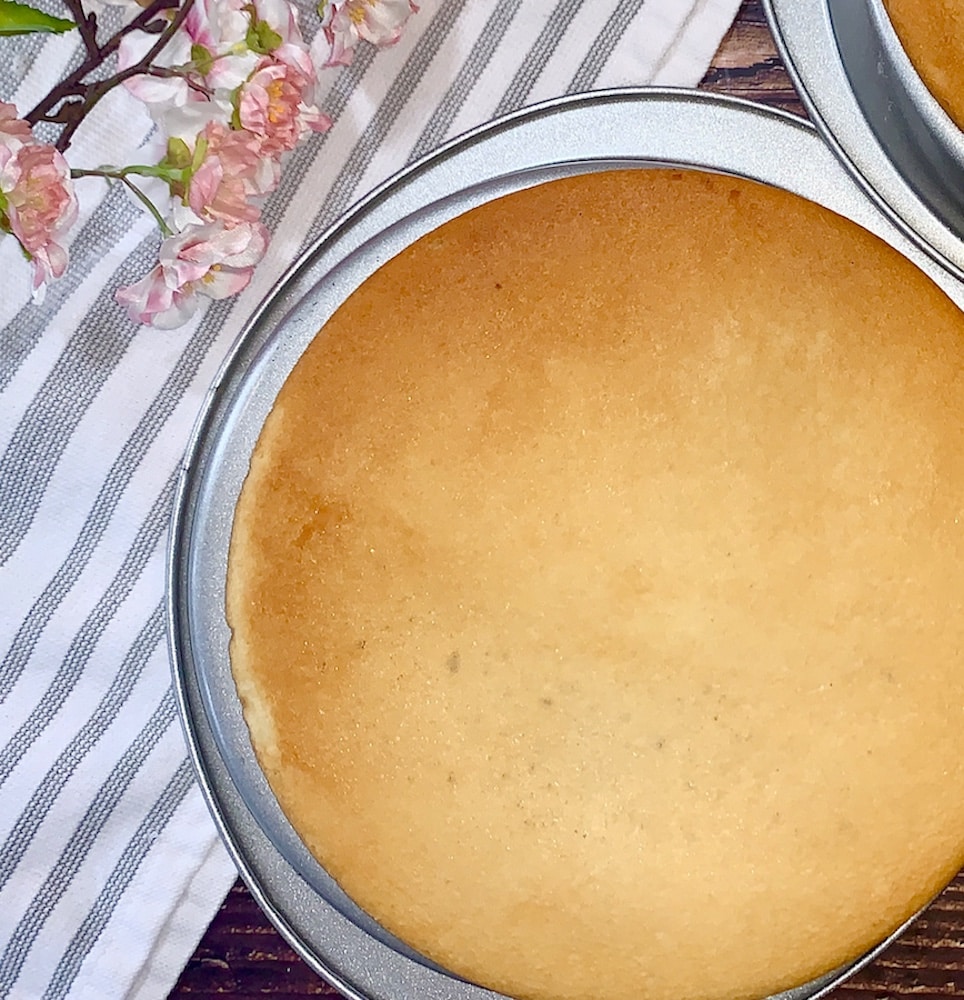 How to make Strawberry Lemon Cream Cheese Frosting
This is one of my favorite frostings. Even though I've made a few changes, I also used this recipe in my Red Velvet cake, check it out here.
1. In a small pot, add strawberries, sugar and a splash of water. Cook the mixture down until it creates sort of a thick paste then cool for 15 minutes in the refrigerator.
2. Mix the butter in a mixing bowl until it more of a white pale color, while slowly adding in the powder sugar and cream cheese.
3. Next, add the lemon elusion and strawberry paste. Blend all together until everything is well combined.
4. Store in the refrigerator until ready to frost, remove 10 minutes before.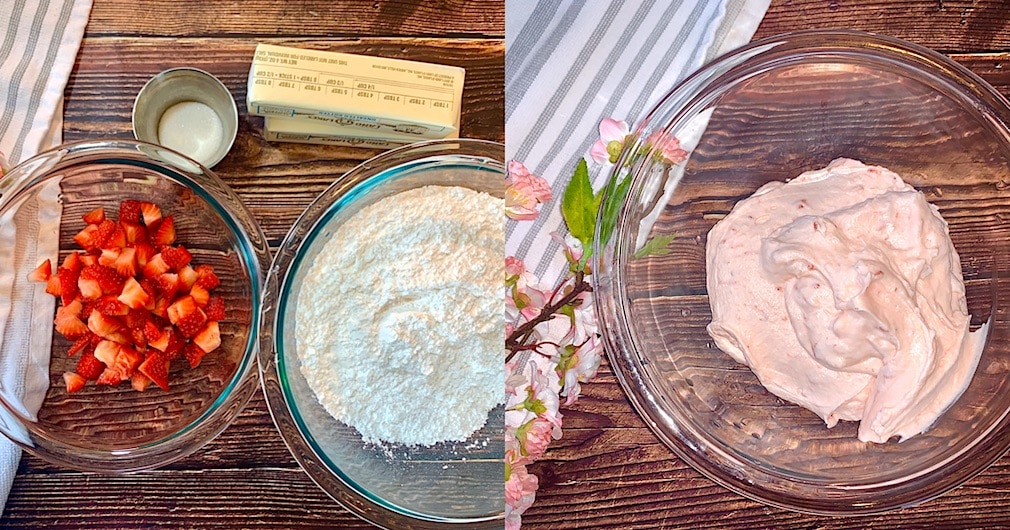 BAKING TIPS FOR WHITE CAKE
Make sure to bring all of your ingredients (butter, buttermilk, and egg whites) to room temperature before getting started.
Be sure to cream the butter and sugar together until light in color and fluffy. This step may take about 4-5 minutes.
Alternate mixing the dry ingredients and the buttermilk + vanilla into the creamed butter and sugar. This will help to prevent overmixing and create a lighter cake.
Gently fold the egg whites in until they're just combined, you want to avoid overmixing them into the cake batter.
HOW TO STORE WHITE CAKE WITH CREAM CHEESE FROSTING
If you have any leftovers, put it inside of a covered cake container, up to a week if it lasts that long (im sure it wont because its that good). Sit out for 30 minutes before serving.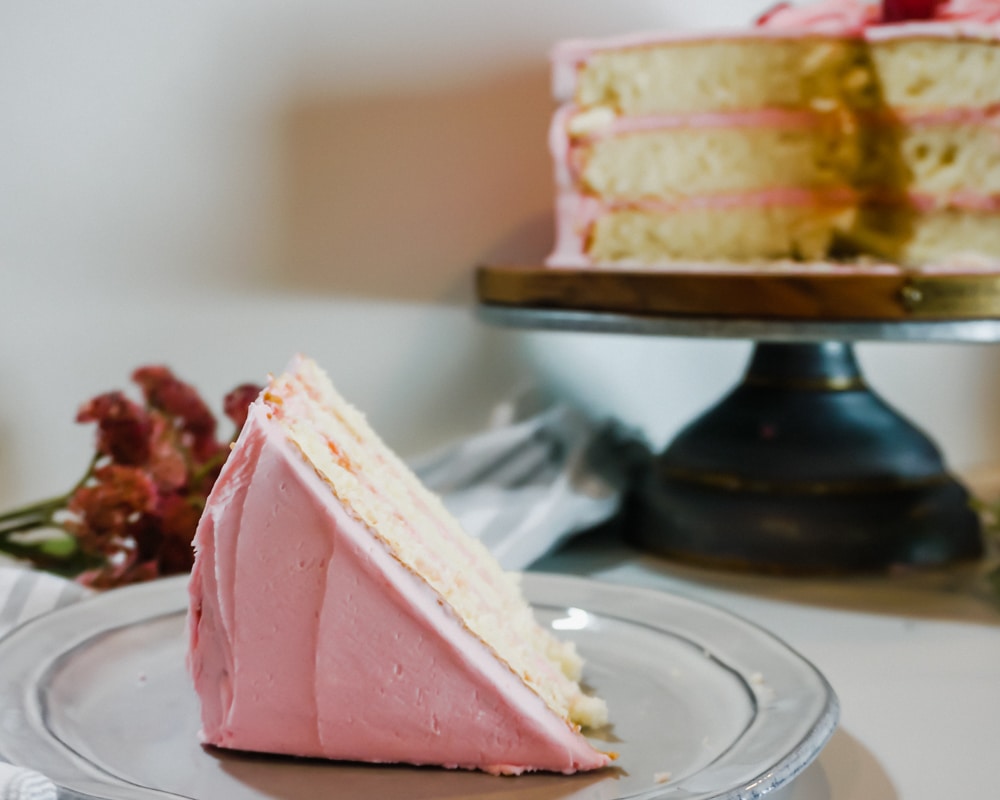 CAN I MAKE THIS RECIPE INTO CUPCAKES?
Yes! Fill each cupcake liner about 3/4 full (don't over-fill) and bake on 350F for about 18 minutes (for mini cupcakes, bake for 14-15 minutes). This recipe will yield approximately 30 standard sized cupcakes.
Enjoy!
Would you like to see more? SUBSCRIBE to receive the more recipes! Also, follow me on FACEBOOK, PINTEREST, INSTAGRAM, YOUTUBE or TWITTER.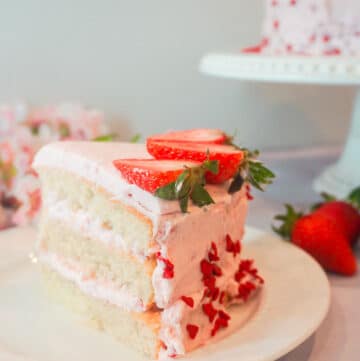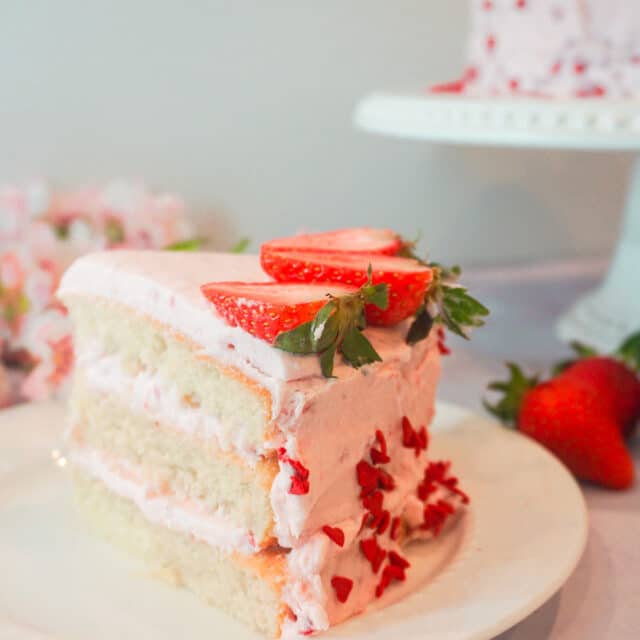 Best Moist White Cake
The Best Moist White Cake recipe! Each slice is moist, fluffy, and so delicious. This cake is soft and delicate, yet sturdy enough for layering. 
Ingredients
3

cups

cake flour

2

tsp

baking powder

1/2

tsp

salt

2

sticks

butter

soften

1

cup

sugar

6

egg whites

1

cup

buttermilk

1

tbsp

vanilla extract

1/2

tbsp

almond extract
Strawberry Lemon Cream Cheese Frosting
2

sticks unsalted butter

soften

2 1/2

cup

powder sugar

12

oz

cream cheese

soften

1

tbsp

lemon emulsion

or lemon extract

2

cups

strawberries

minced

2

tbsp

sugar

splash of water
Instructions
Preheat oven on 350F.

In a medium bowl add cake flour, baking powder and salt.

Inside of a mixing bowl, cream the butter and slowly add the sugar. Mix until it reaches a pale color.

In small batches alternate adding in the flour and butter milk, mixing the batter on a low speed making sure you don't over mix. Then add the vanilla and almond extract.

With a hand mixer frost the eggwhites into soft peeks, it takes just about 5 minutes or so. Fold half of the eggs ion at a time into the batter until its all gone.

Grease 9 inch baking pans with soften butter and flour so the cake does not stick to the pan. Next, Pour the batter evenly in each pan. Bake on 350 F for 15-20 minutes .

While the cake is cooking, add the diced strawberries, sugar and splash of water into a small pot. Cook the strawberries down for about 7 minutes until all the liquid has evaporated and the strawberry has formed into a thick base. Cool for 10 minutes in the refrigerator.

Cream the unsalted butter while adding in the powder sugar and cream cheese slowly. Then, add in the strawberry pure, lemon elusion, mix until well combined. Cool in the refrigerator until the cake is ready to frost. Remove the frosting 10 minutes before using.

Once the cake is cooled, frost cakes in your preferred styling and enjoy !
Nutrition
Subscribe to My Youtube
Subscribe to My Youtube Channel to recieve updates on New Videos and Recipes !
How did you like this recipe? Leave a comment and let me know what you think. Looking for another Dessert Recipe ? Try these Rum Cake next!