January 4, 2020 | Last Updated on February 15, 2022 by Patricia Valbrun
Jamaican Brown Stew Chicken is a traditional Caribbean dish. It has a savory brown sauce that you can pair with rice, sweet plantains, and a side salad.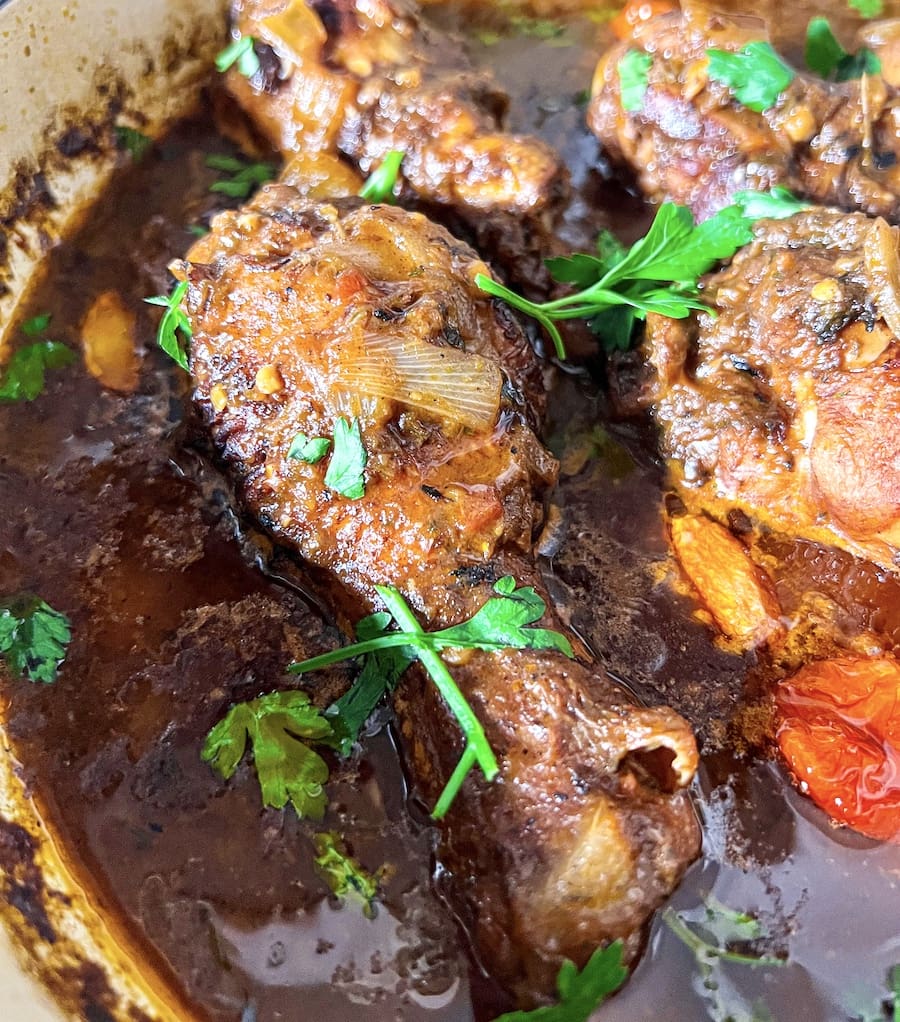 If you're looking to try out a new stew chicken recipe to be served at dinner, then this dish is a must-try! It's seasoned with different spices such as allspice creating a rich and flavorful taste that surely everyone will love.
How To Make Brown Stew Chicken Recipe
Rinse chicken with lemon and vinegar. By rinsing the chicken in lemon and vinegar, it will remove the "fleshy" smell and make the chicken meat tastes fresher. Find out how I clean chicken here.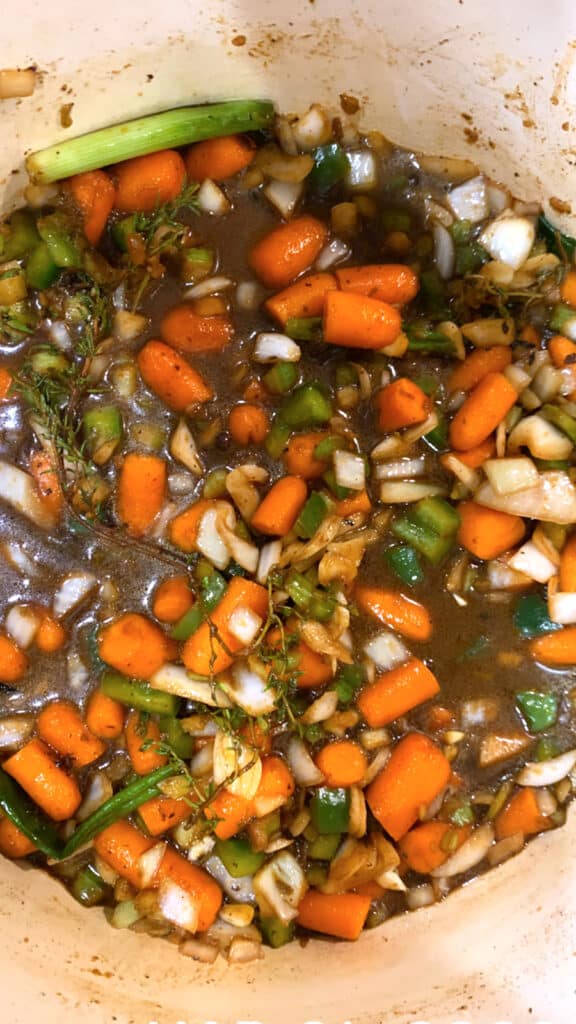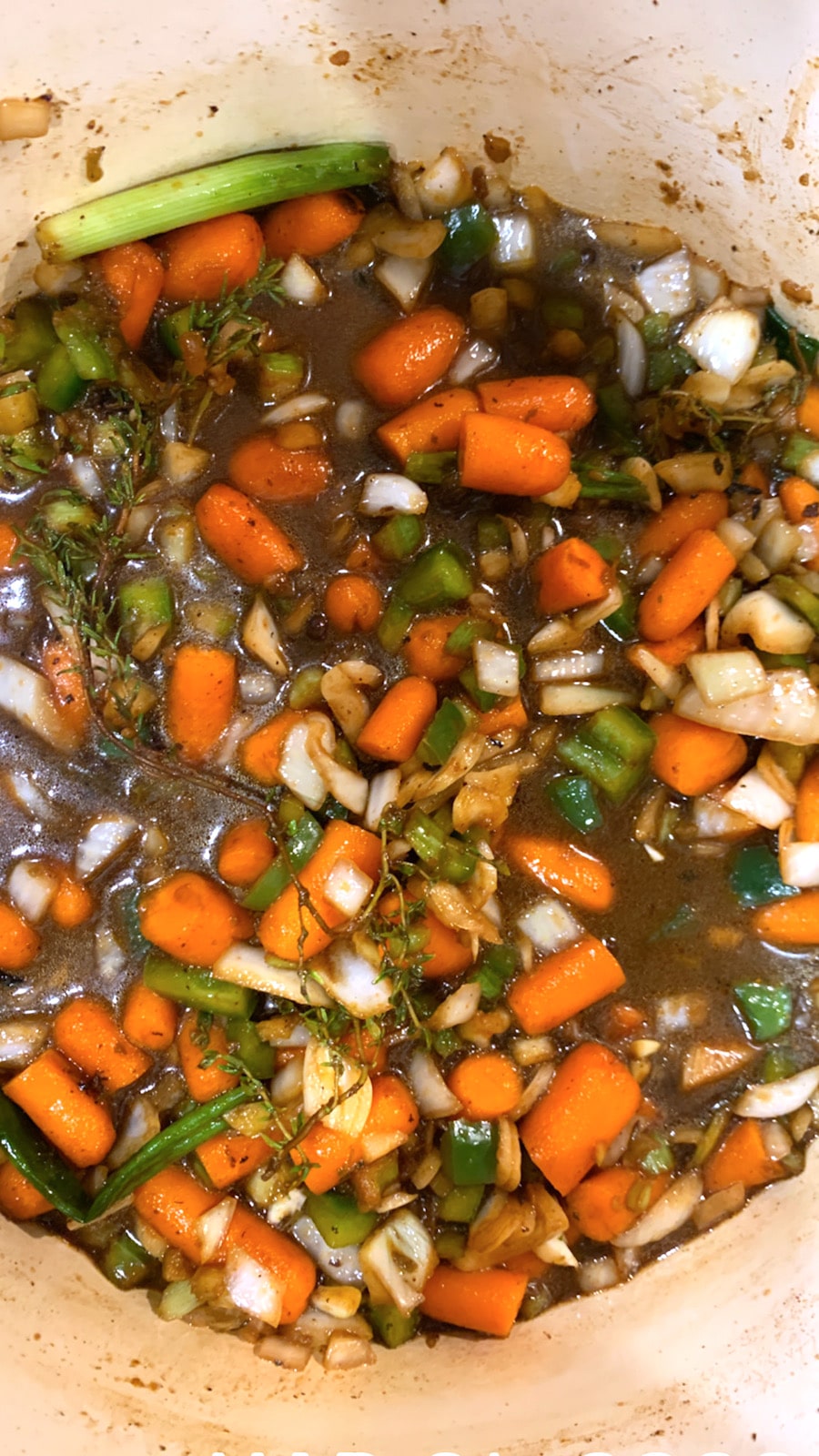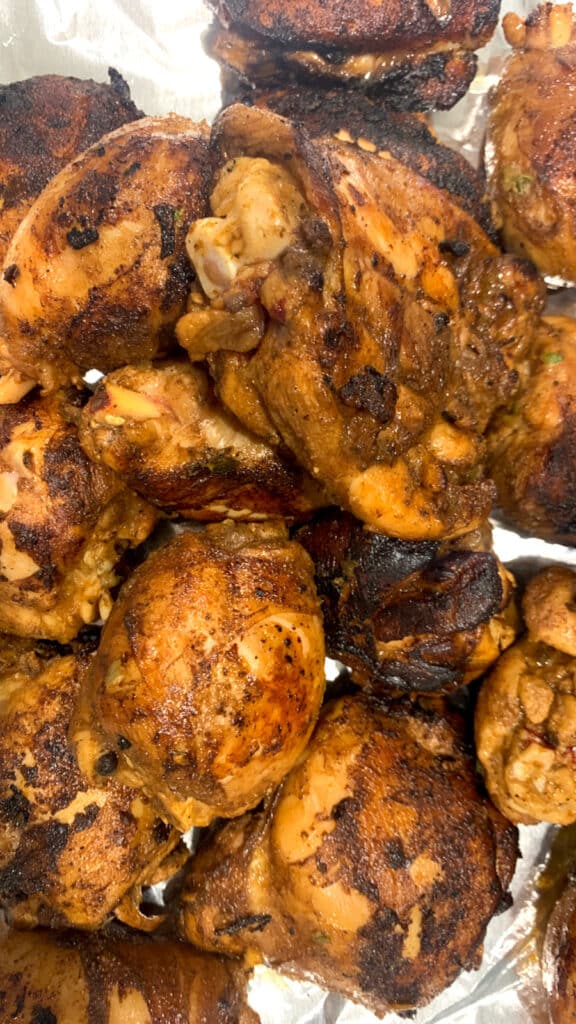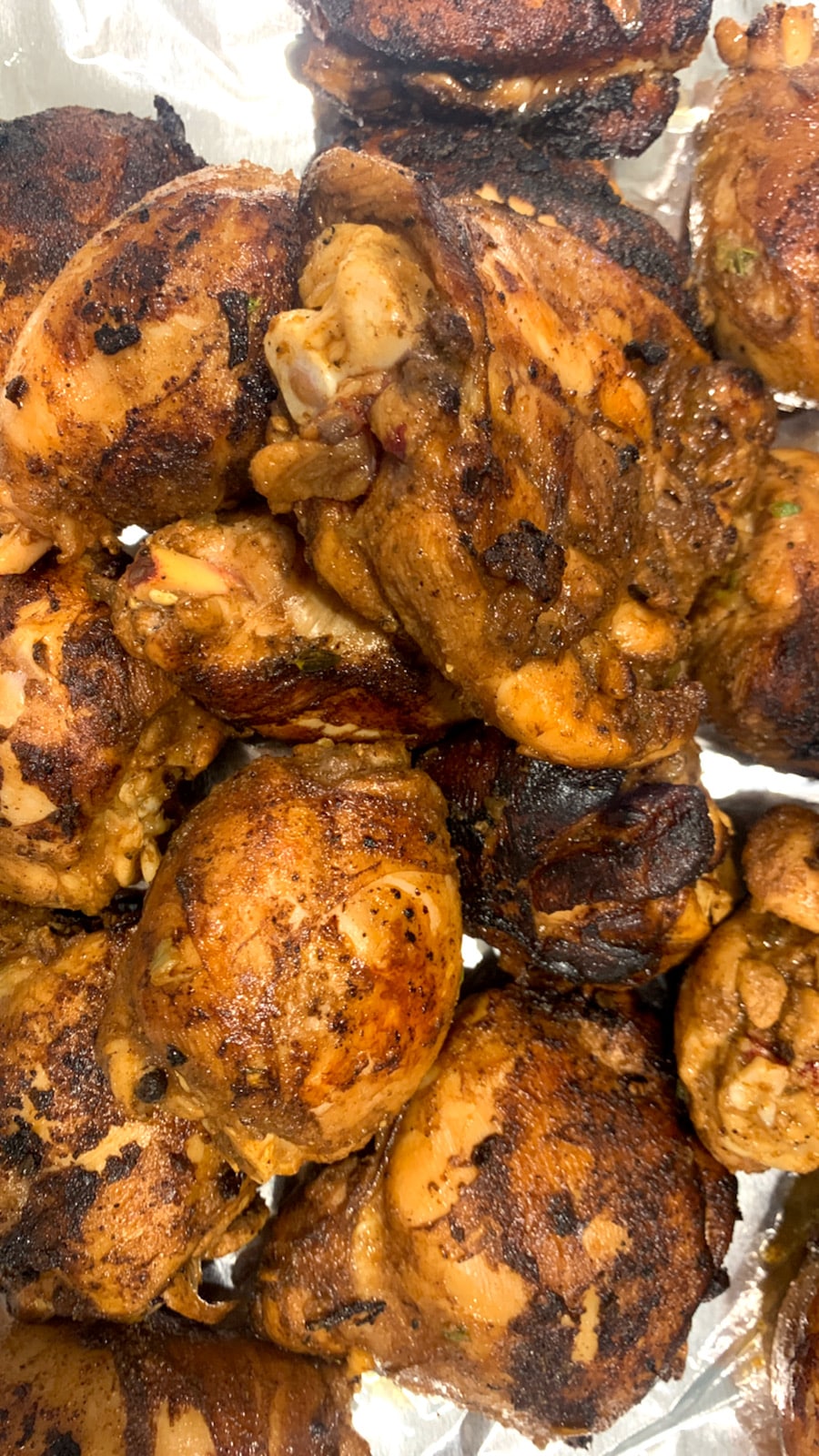 Make the stew more flavorful by seasoning it very well and marinating for 3 hours or overnight, make sure to remove the cloves before cooking it.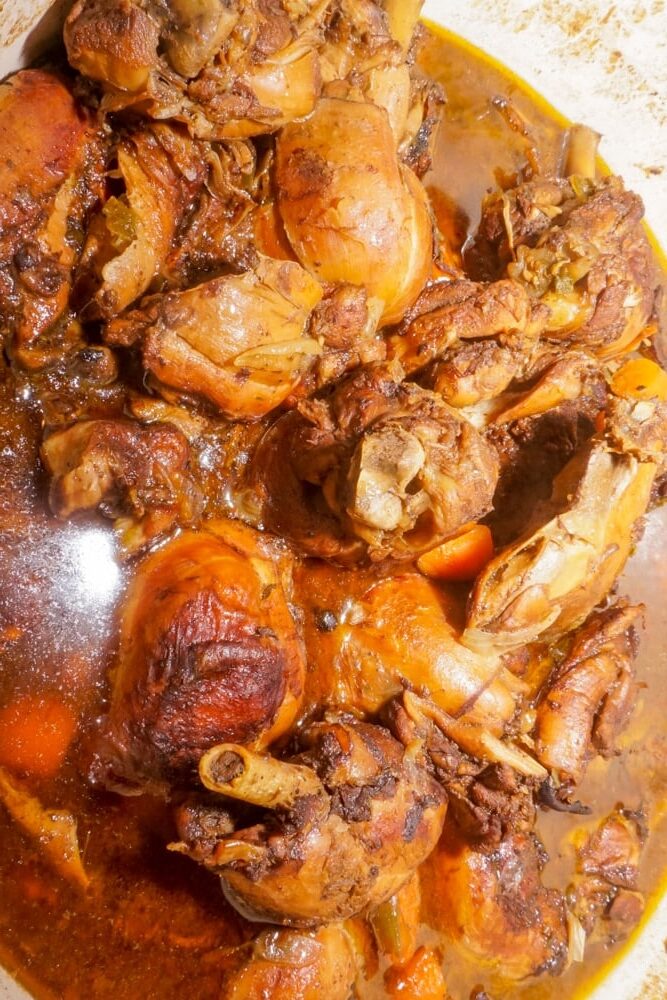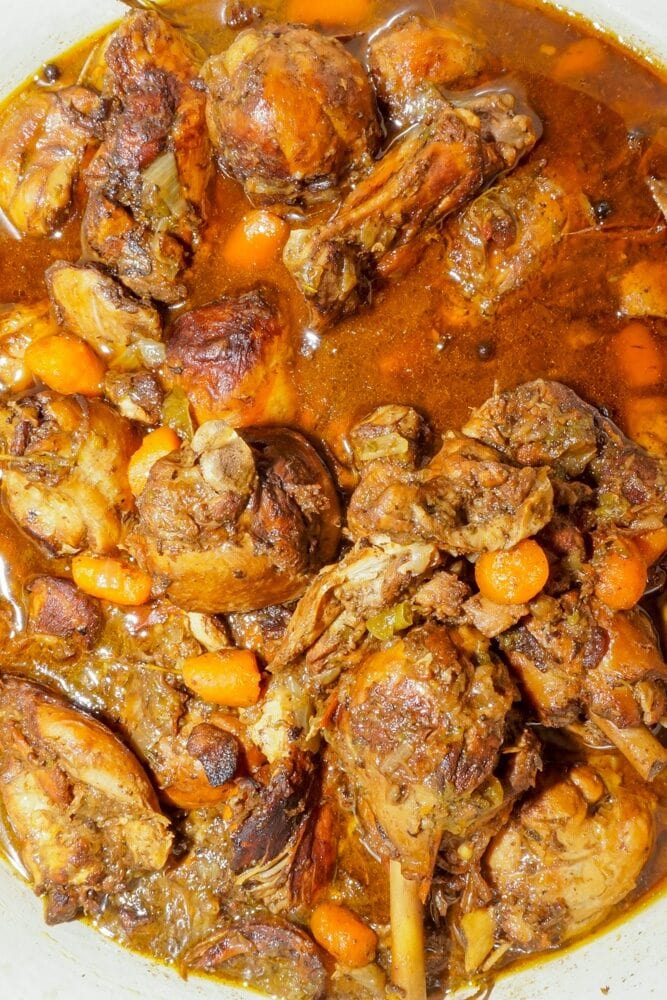 Cook the chicken first with the skin side down first to get that browning effect, once the chicken is done, cook the vegetable in the same pan. Make sure to scrape the bottom and mix it with the veggies to get all the spices.
Add salt to taste, this will bring out the taste of the dish more.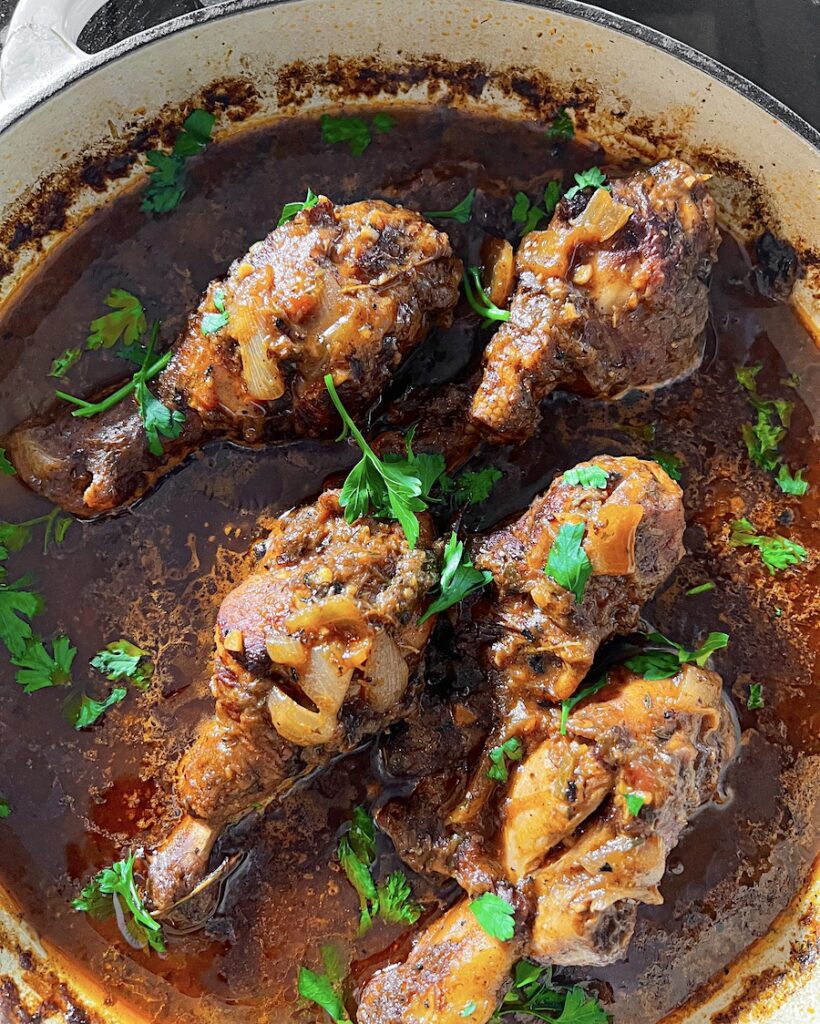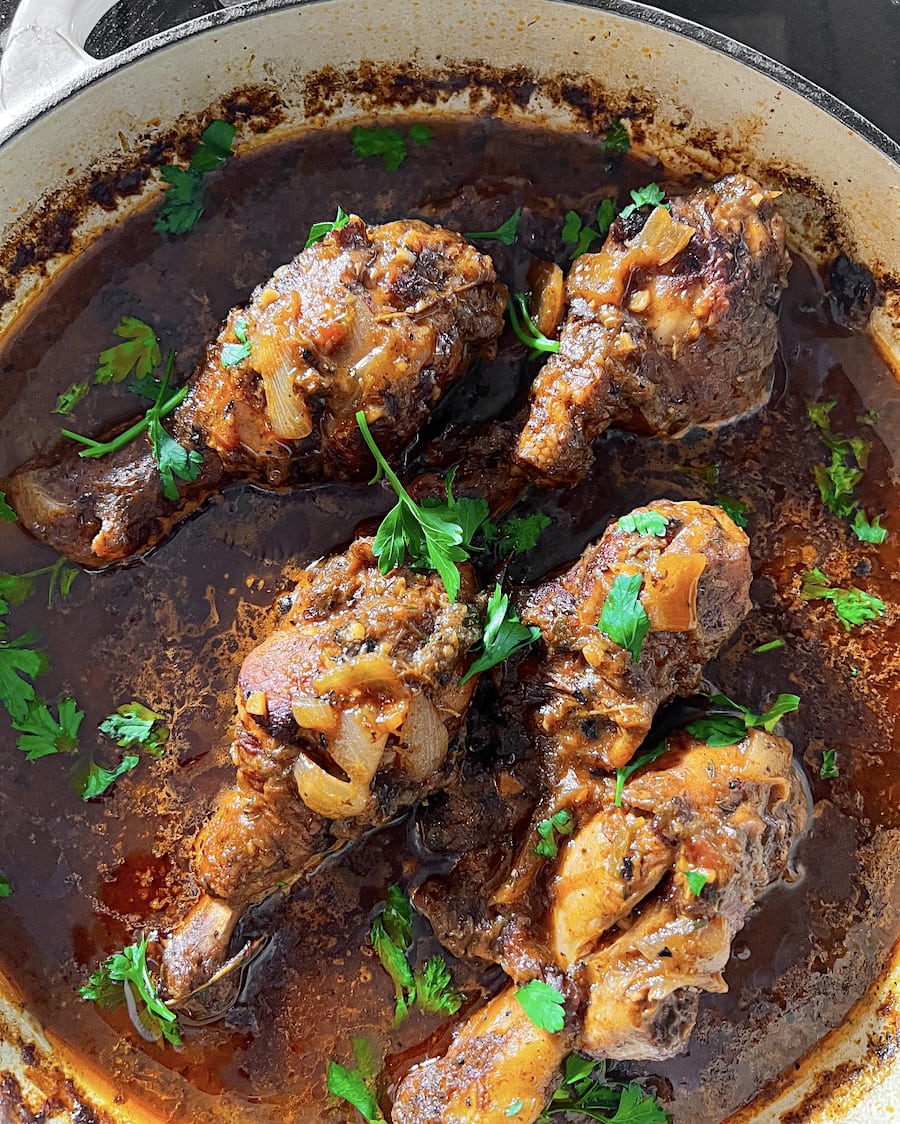 How to Marinate Brown Stew Chicken
1. Marinating chicken helps add so much flavor to the meat!
2. Herbs and Vegetables- thyme, scallion, bay leaves, garlic, bell pepper, onion, tomatoes, carrots, scotch bonnet pepper.
3. Season is important to this dish so don't skimp out! It adds all the flavor so season well. I use my favorite – adobo, knors, paprika, recaito or epis, browning, garlic, allspice, jerk seasoning, cloves, salt, and pepper.
4. Epis is a Caribbean vegetable blend used to cook rice and marinate meats. Find out how I make Epis here.
What is Browning Sauce? How to make Browning Sauce
I chose not to thicken the browning sauce being that I liked the thickness it had from simply simmering away with those peppers but you can certainly add in some flour, cornstarch for your desired thickness. Totally a personal preference!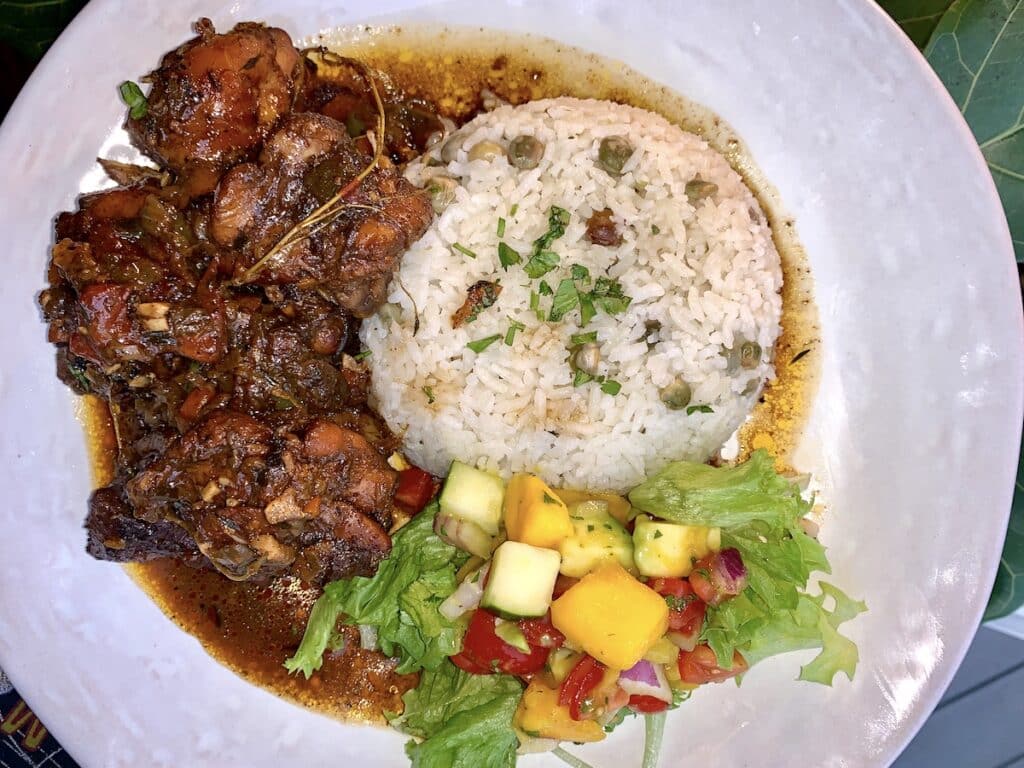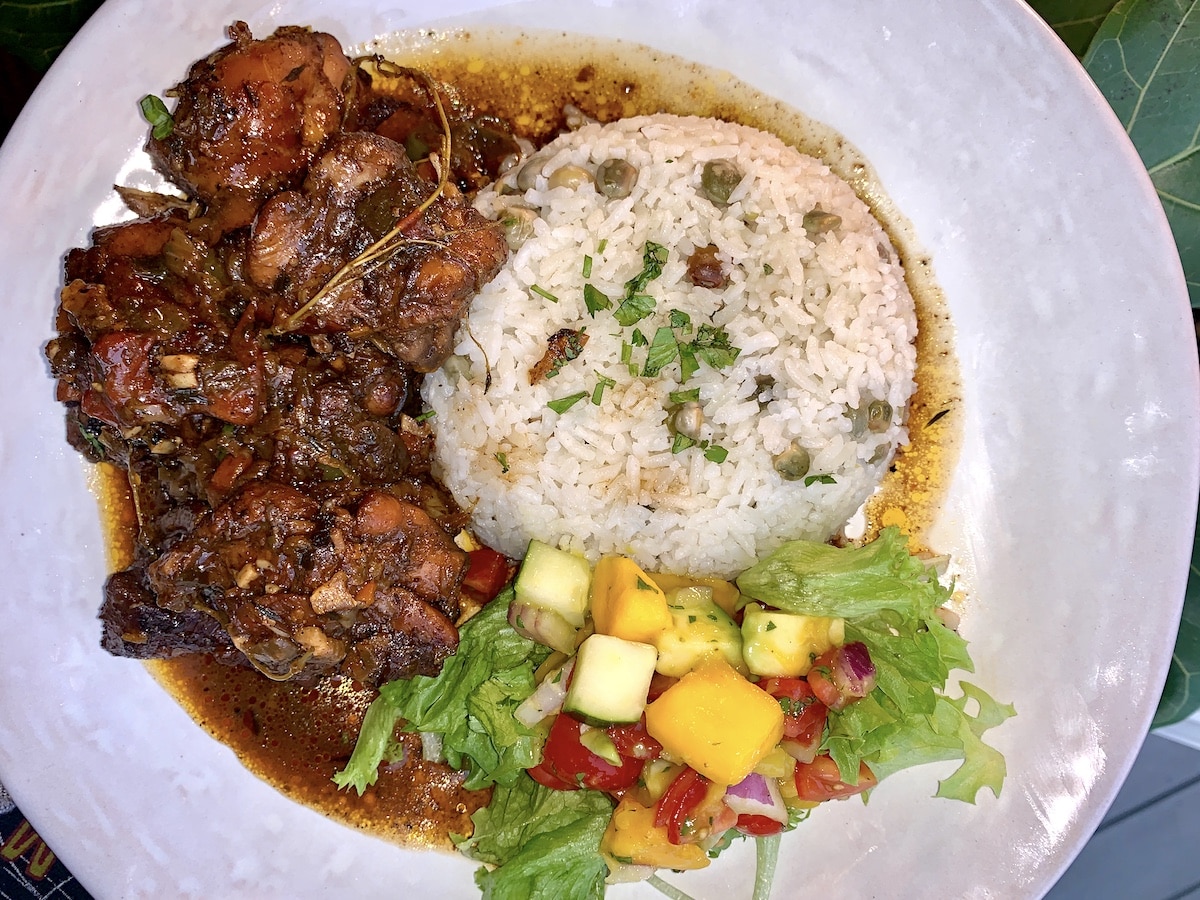 What to Serve with Brown Stew Chicken:
Would you like to see more? SUBSCRIBE to receive the more recipes! Also, follow me on FACEBOOK, PINTEREST, INSTAGRAM or TWITTER.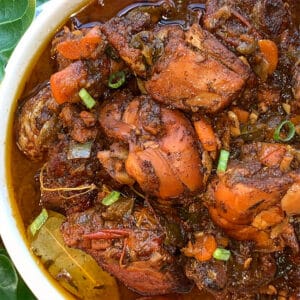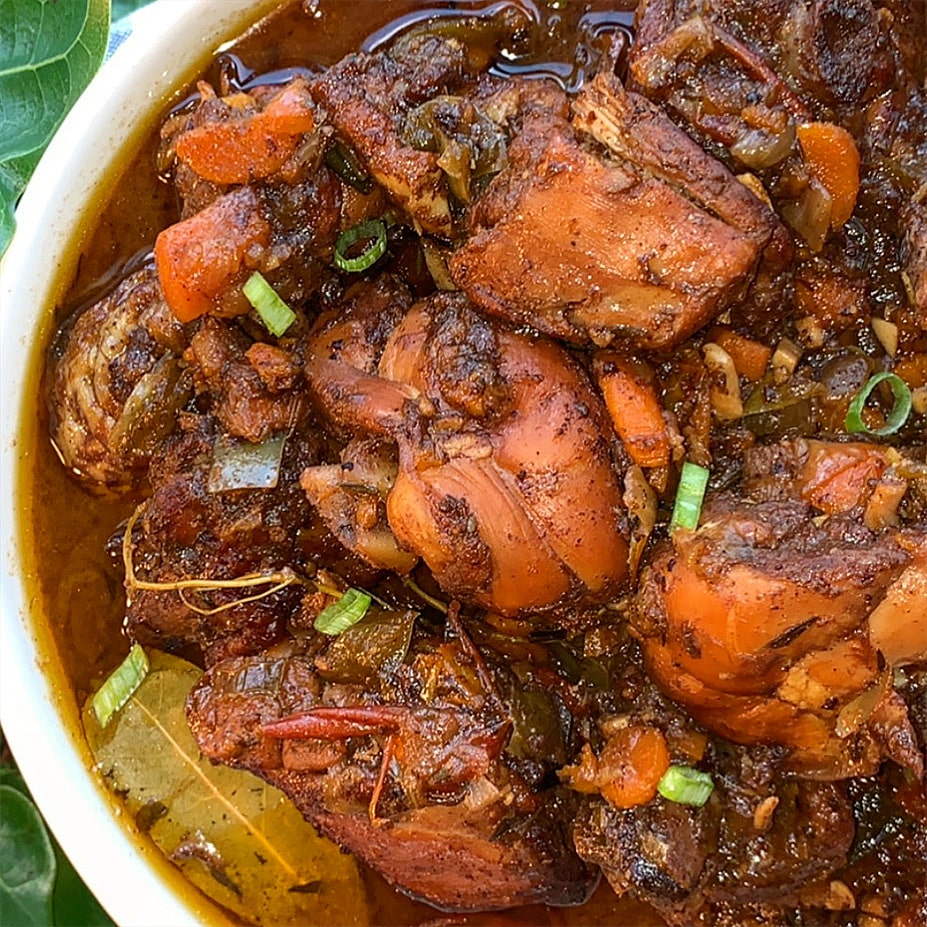 Jamaican Brown Stew Chicken
Jamaican Brown Stew Chicken is a traditional Caribbean dish. It has a savory brown sauce that you can pair with rice, sweet plantains, and a side salad
Ingredients
1

Chicken legs

4 drums 4 thighs
Seasoning
1

tbsp

Adobo

1

tbsp

Knors seasoning

1/2

tbsp

Paprika

3

tbsp

Recaito

1-2

tbsp

Browning sauce

1/2

tbsp

Garlic

1

tbsp

Allspice

1

tbsp

Jerk seasoning

10

cloves

Salt & Pepper
Vegatables
1/2

White Onion

1/2

Bell pepper

1

Carrot

1

Tomato

4

green onions

4

garlic cloves

5

Thyme
ADD ONS
2 1/2

cups

Water

1/3

cup

Oil

1

bonnet pepper

2

bay leaves

1

tbsp

molasses

2

tbs

honey
Instructions
Clean chicken with lemon and vinegar .

Season chicken with all seasonings and chopped veggies and marinate for 2 hours.

Add 1/3 cup of oil to pan on medium heat fry the chicken without the vegetables it marinating in until a nice brown color ( be careful to not burn chicken. Reserve veggies in fridge until chicken is done .

Boil 2 1/2 cups of water and reserve for later.

Once chicken is done drying. Add vegetables that chicken was marinating in to the pot . Cook with lid on for 5 mins and scrub the grit from the bottom of the pan add a little water if needed to bring in the flavor.

Add chicken back to the pot and add 2 cups of the boiling hot water you reserved

Add more salt and pepper to taste . Bay leaves, all spice, garlic, pepper and molasses and cook for 20 mins covered .

After 20 mins add honey and let cook for another 10-15 mins.
Subscribe to My Youtube
Subscribe to My Youtube Channel to recieve updates on New Videos and Recipes !
How did you like this recipe? Leave a comment and let me know what you think. Looking for another chicken recipe? Try this Curry Chicken next!