This southern style Smoked Turkey Bacon Cabbage is so delicious, full of flavor and super easy to make just using a few ingredients. This dish can easily be paired with Southern Macaroni and Cheese, Sweet Chili Salmon or Southern Catfish.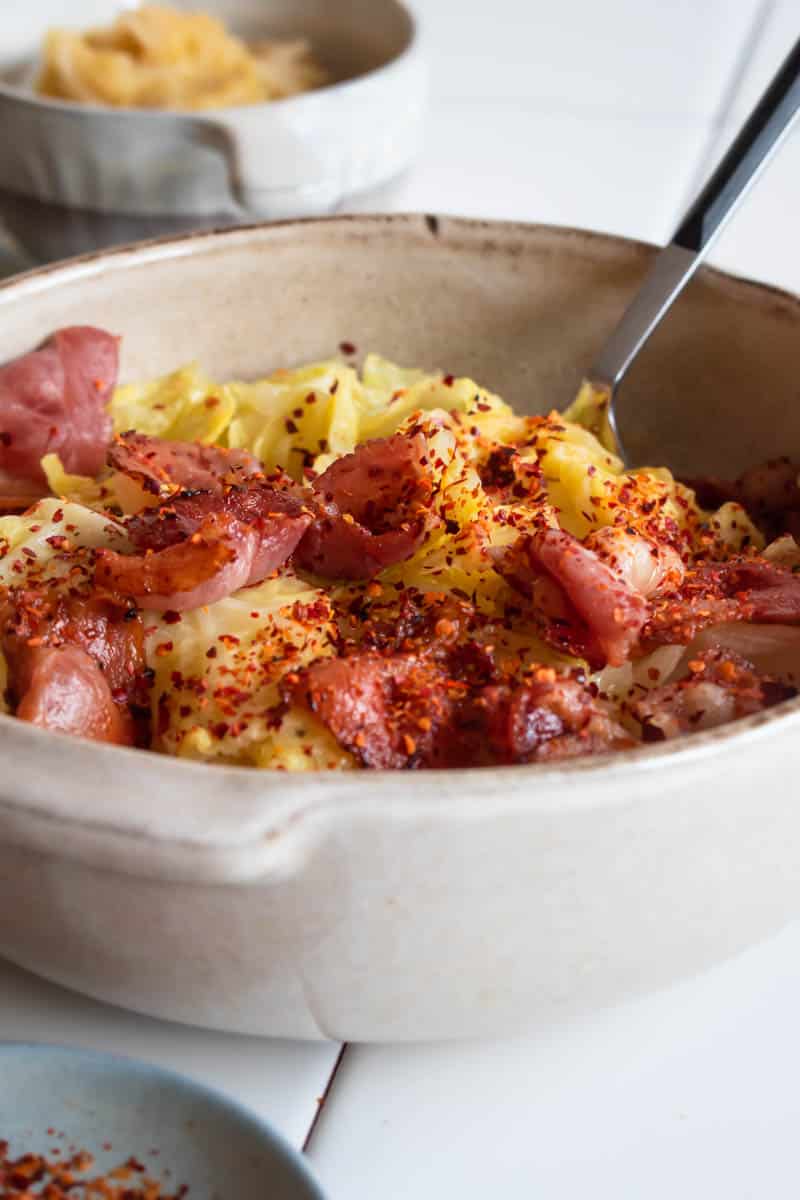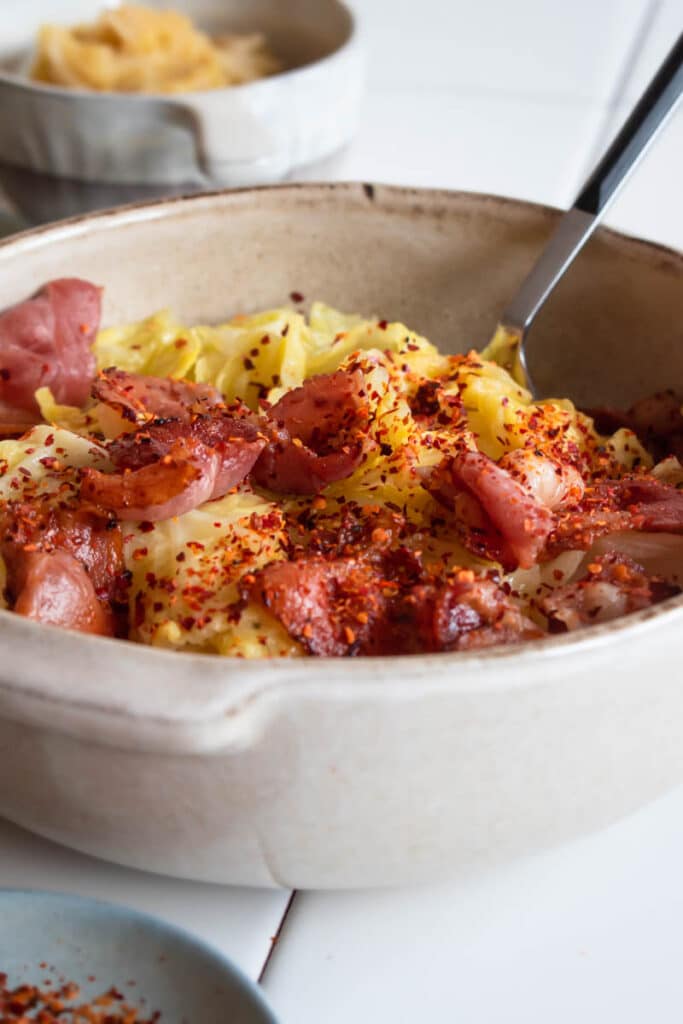 This cabbage is one of my husbands favorites so you just might see me making it again with a little tweaks here and there. I hope you all enjoy this just as much as we did !
How to make Smoked Turkey Cabbage ?
The great thing about this recipe is that it's fast and easy. Here's how you make it:
1. Prep the cabbage, onion and garlic. Cut the cabbage in half, slice out the core and chop into thin slices. Then chop the onion and minced the garlic cloves.
2. Cook the turkey bacon. Add butter to a large skillet over medium-high heat. Sauté the onions for a minute or until starting to soften.
3. Cook the cabbage. Add butter to your pan, sauté garlic and onion for 5 mins until translucent then add chicken stock and cabbage.
4. Season. Sprinkle salt, pepper, hot sauce, seasoning salt, pepper flakes, onion powder, garlic powder.
Serve. Remove the skillet from heat and serve immediately.
Its important to not boil the cabbage but to steam it or it will be soggy. Get yourself a large pot, add just enough water to steam the vegetables. Cover and cook on medium heat and watch all your " I dont like vegetables" kids life change forever. Yes its that good !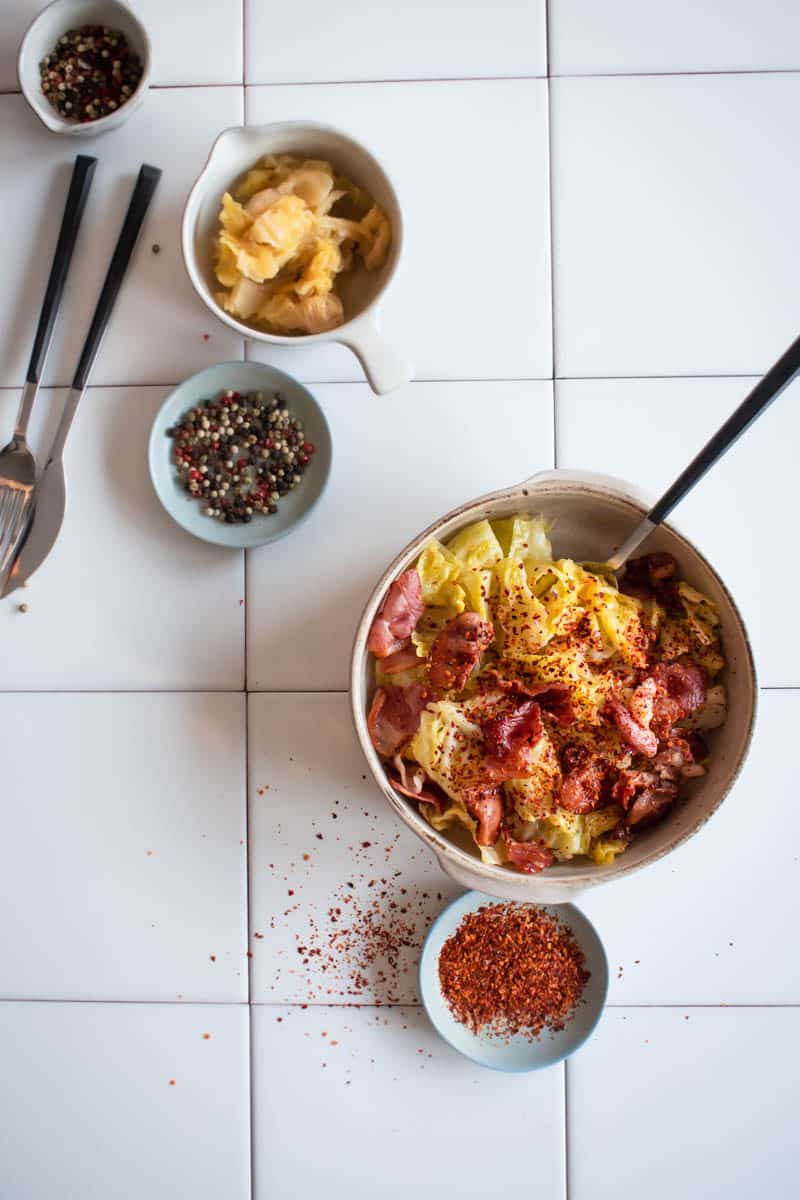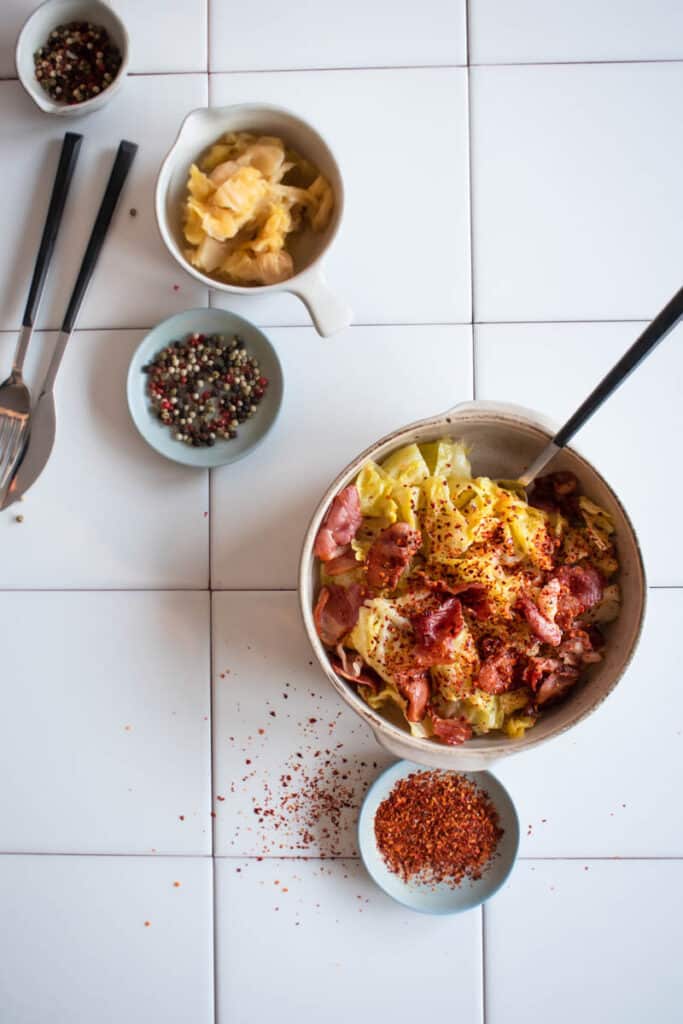 What type of Cabbge to use?
Cabbage comes in many forms, from savoy to green to red. But for this southern style cabbage recipe, you'll want to grab a head of green cabbage. This is commonly used across various recipes, from salads to slaws to stir-fries.
Cabbage should feel heavy in size, with tightly packed leaves. You'll also want to avoid any signs of discoloration as it might mean the vegetable has gone bad.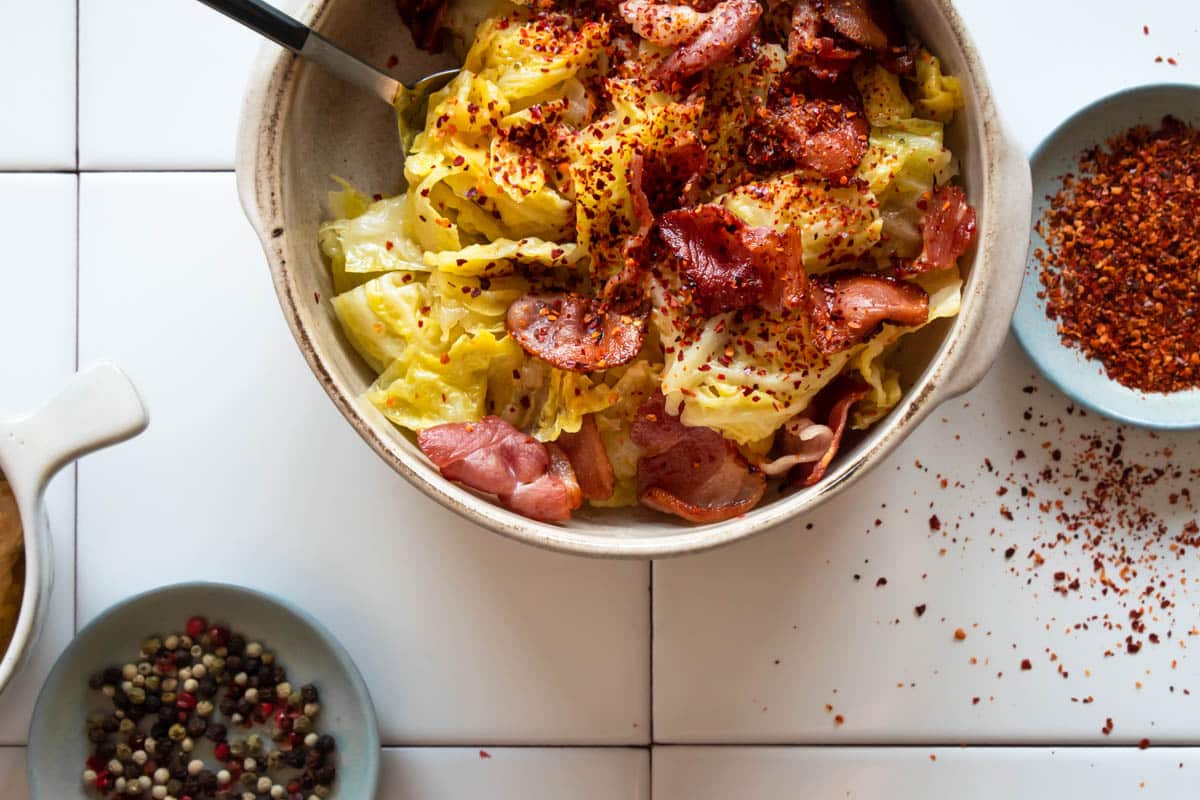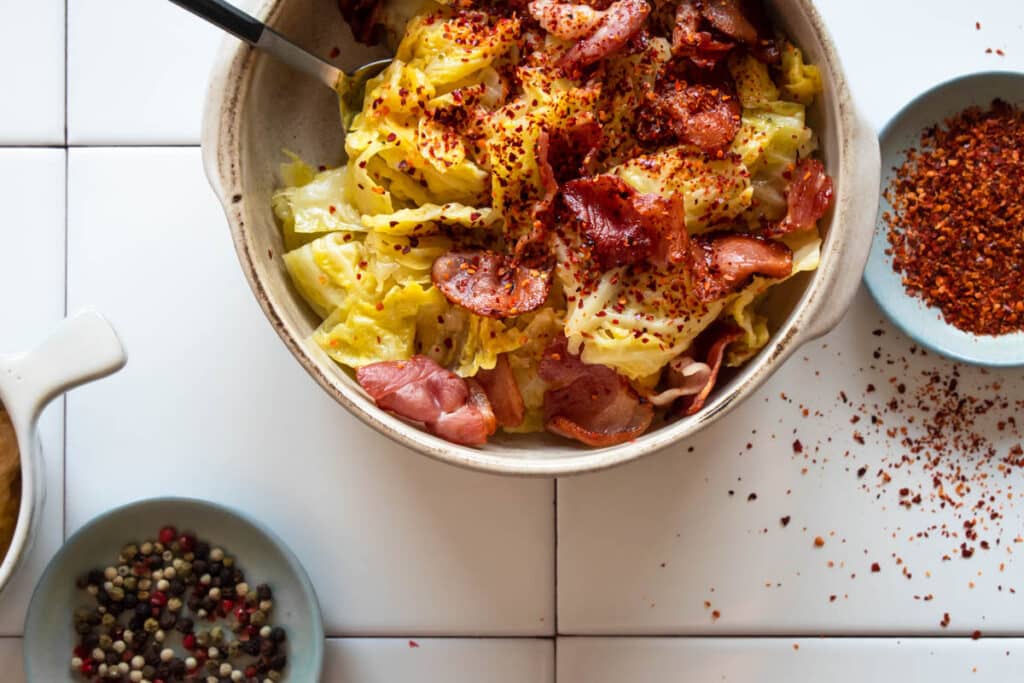 Tips on Cabbage Recipe
You can always use what works for you . Your technique of cooking cabbage is what makes or breaks this dish.
• Wash and cut cabbage ahead of time to save yourself some time.
• Steam cabbage, if you boil it the cabbage will be soggy.
• Add vinegar if you want more of a tangy taste.
• Store cabbage inside tight container and store inside the refrigerator for 3-5 days.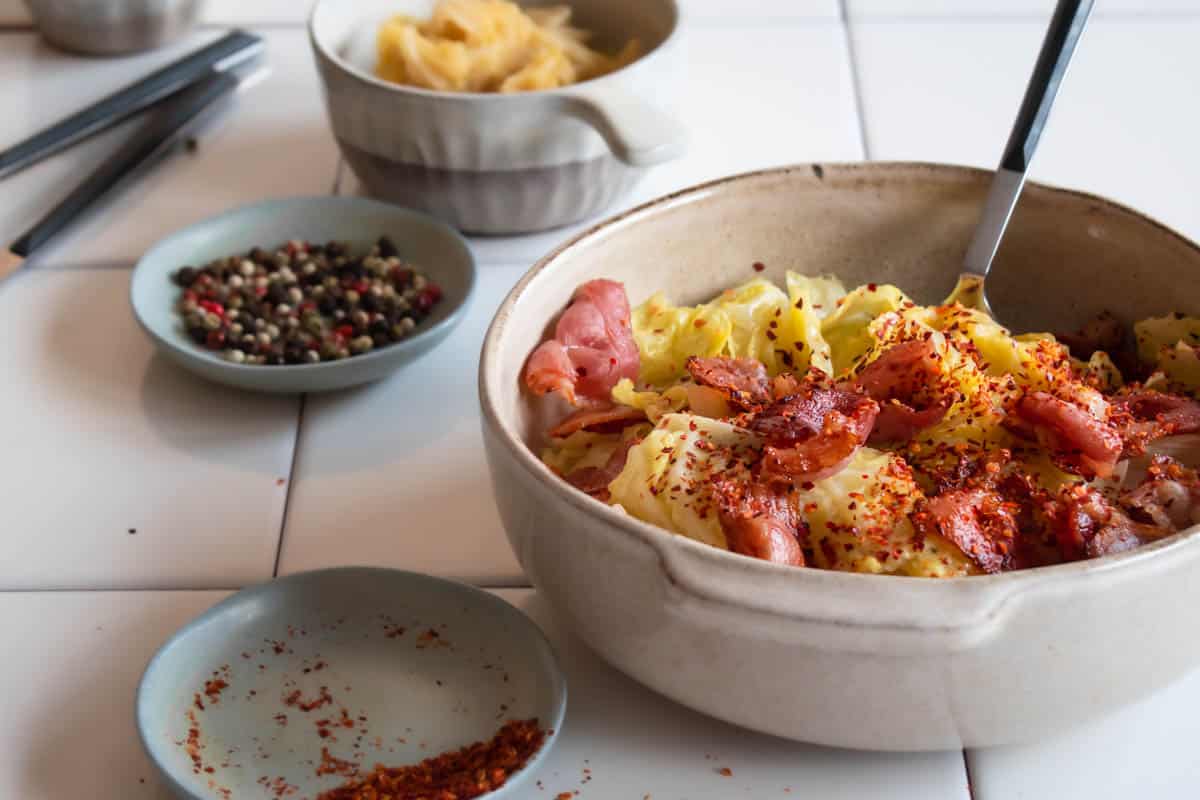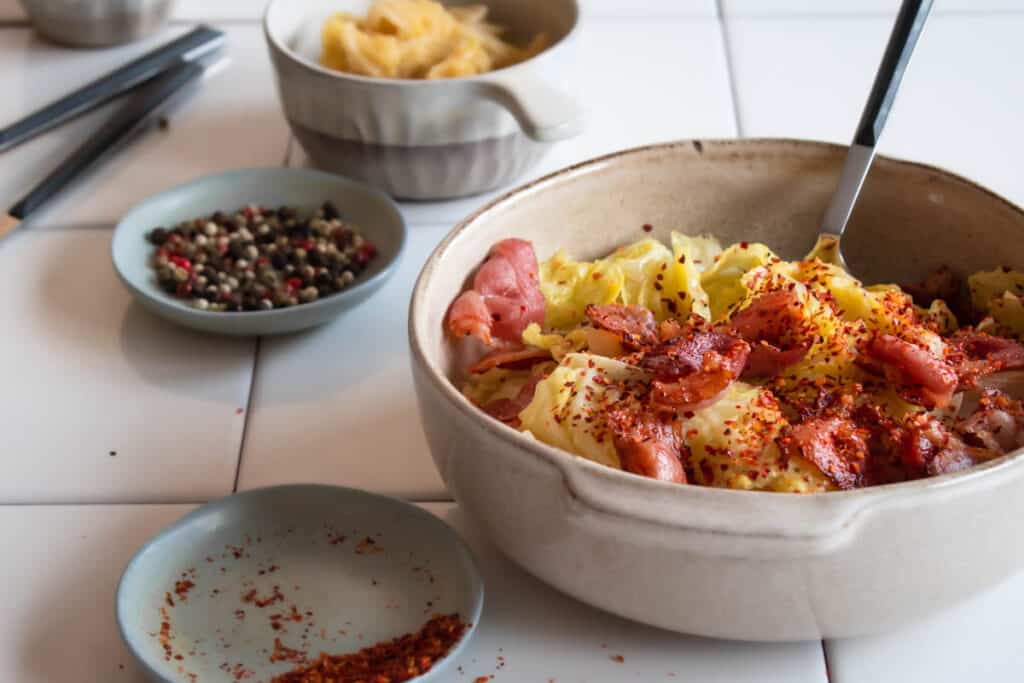 Would you like to see more? SUBSCRIBE to receive the more recipes! Also, follow me on FACEBOOK, PINTEREST, INSTAGRAM, YOUTUBE or TWITTER.
Southern Cabbage
Southern Cabbage with Smoked Turkey Bacon
Ingredients
1

Cabbage

2

tbsp

Olive oil

1

pack

Turkey bacon

2

tbsp

Butter

1

small

Onion

chopped

2

cloves

Garlic

minced

2

cups

Chicken broth

1

tbsp

Hot sauce

1/2

tsp

All purpose seasoning

1/2

tsp

Red pepper flakes

1

tsp

Onion powder

1

tsp

Garlic powder

1/2

tbsp

Sugar

1/2

tsp

Salt

1/2

tsp

Pepper
Instructions
In a large pot add olive oil. Fry chopped turkey bacon until its nice and crispy and set aside.

Using the same pot. Add butter to your pan, sauté minced garlic and chopped onion for 5 mins until translucent, while scrapping the bits at the bottom of the pan.

Add 2 cups chicken broth and cabbage. Allow the cabbage to steam for 10-15 mins on medium heat.

Next add turkey and all seasoning, salt, pepper, hot sauce, seasoning salt, pepper flakes, onion powder, garlic powder, sugar mix everything together.

Serve hot .
Subscribe to My Youtube
Subscribe to My Youtube Channel to recieve updates on New Videos and Recipes !
Leave a comment and let me know what you think. Looking for another to pair with is one ? Try these Plantains next!