January 8, 2020 | Last Updated on May 13, 2021 by Patricia Valbrun
These Pineapple Jerk Chicken Kabobs are a colorful and tasty meal for any season! It's easy to make and tastes heavenly. Marinated in a pineapple jerk seasoning this recipe is perfect for spring or summer meals outdoors with family and friends!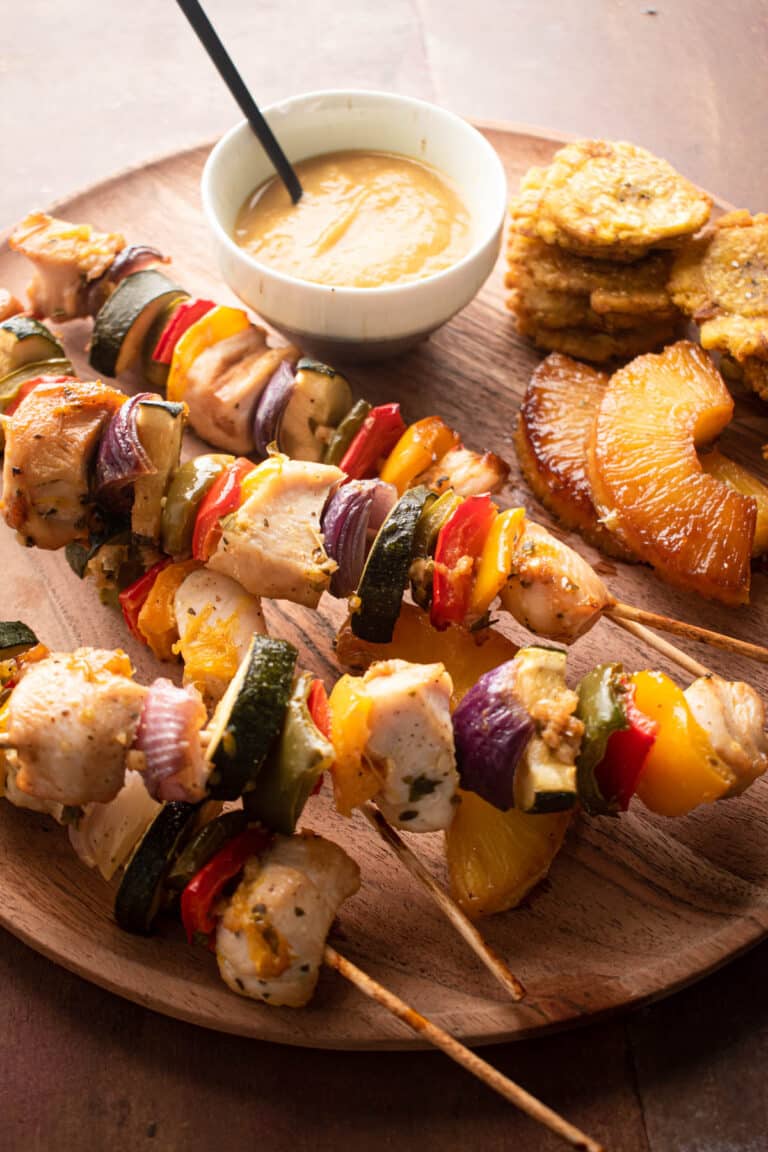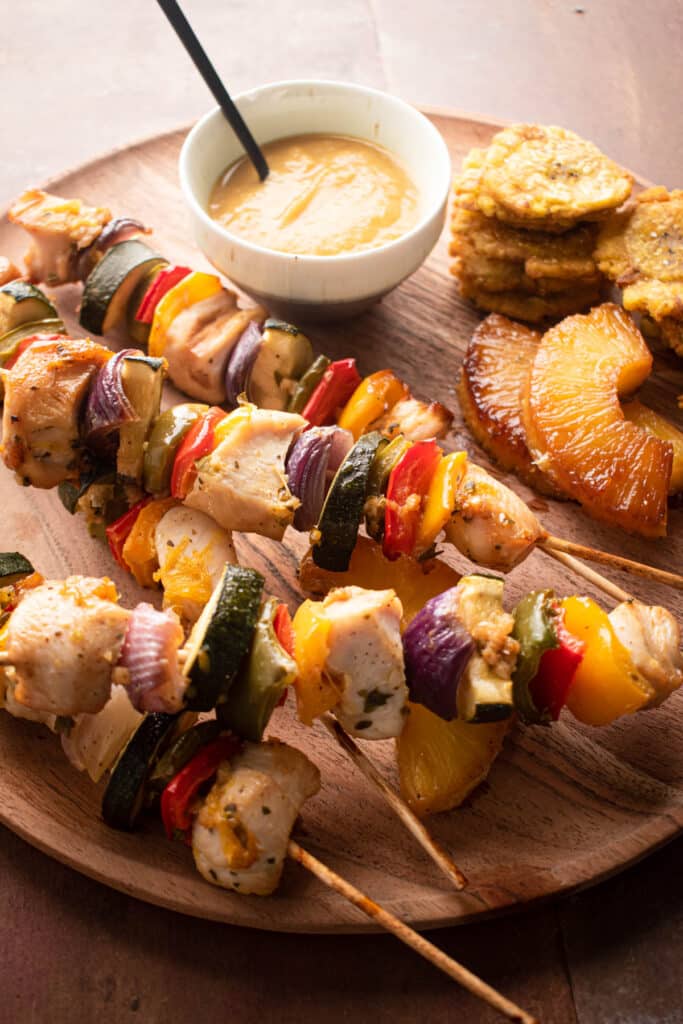 These Pineapple Jerk Chicken Kabobs tastes like a party in your mouth! With juicy pineapple, colorful bell peppers, zucchini, and savory onion; these chicken kabobs are fresh with a kick of jerk season that helps combine all these flavors together; making this dish utterly delicious and perfect for entertaining.
How to make Jerk Chicken Kabobs
Preparation: Getting these Jerk chicken Kabobs together is all kinds of awesome. You can make them in a pretty pattern or personalize it. I gathered them by size and kept it going until I ran out.
Marinate: Marinating the meat helps add so much flavor! You can use any type of marinade you like but for these kabobs, we will be using jerk seasoning to give it a Caribbean vibe.
Fruit + Meat: Pineapples can be a great fruit to use with meats . It's kind of like eating rice and chicken inside of a pineapple bowl. Yes, fruit is good with meat just like it is on pizza so just do it, pineapple with anything is wonderful!
Oven Baked vs Grilled: The struggle is real if you live up north around this time because it's cold and just not the best time to get on the grill but that's okay, get your ovens ready to bake these bad boys. Now, if you live further south or anywhere, where it's warmer around the winter time, enjoy grilling these kabobs and getting that perfect grill mark that we all love.
Pretty Colors: These Oven Baked Jerk Chicken Kabobs are so colorful and pretty! They're get your family and friends together eye-popping Instagram worthy.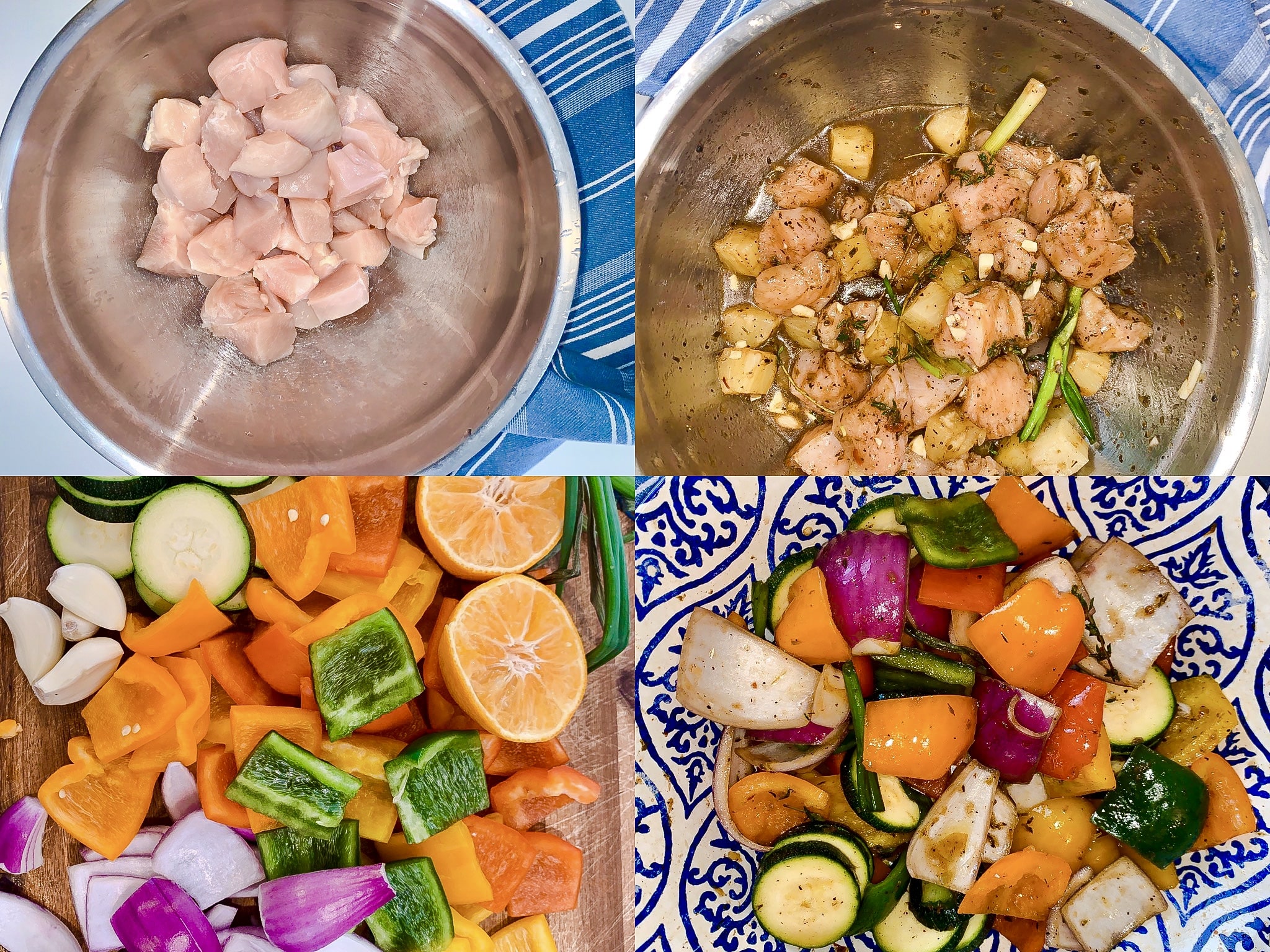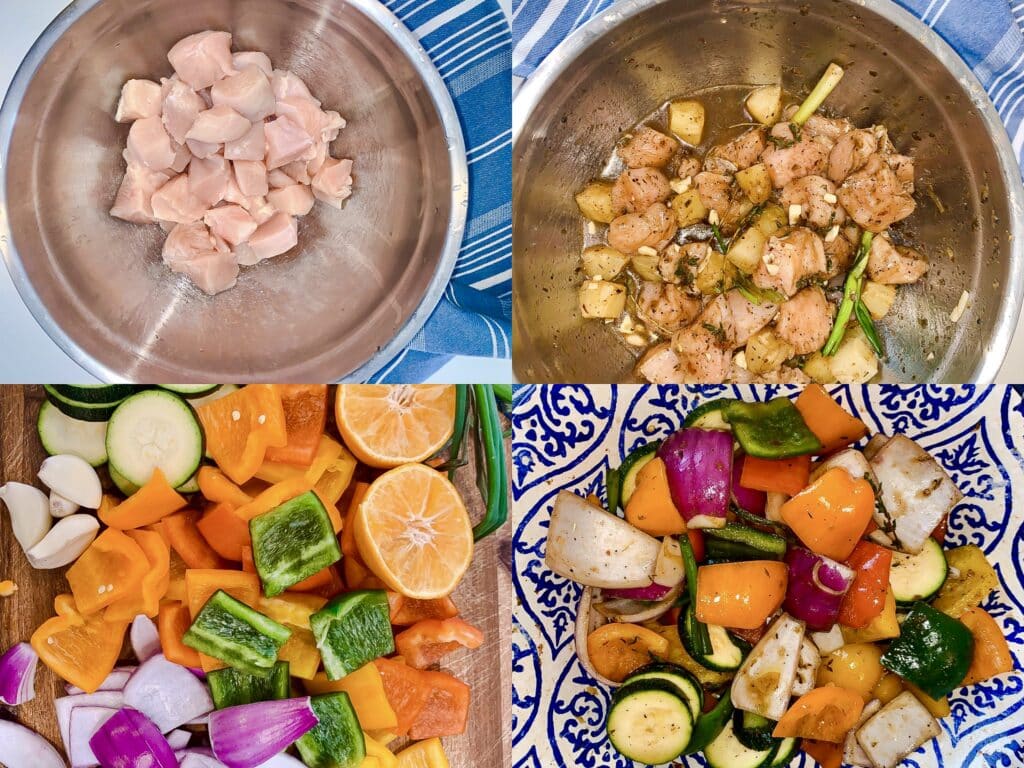 Pineapple Jerk Chicken Recipe
As for the Pineapple Jerk Chicken Kabobs recipe itself, it's super simple. First, whip up the marinade ahead of time by combining the spices and various oils and juices. The chicken needs some time in order for the marinade to be absorbed. While the kebobs are in the oven, save the marinade to baste. You're going to use it for the Jerk Pineapple Sauce.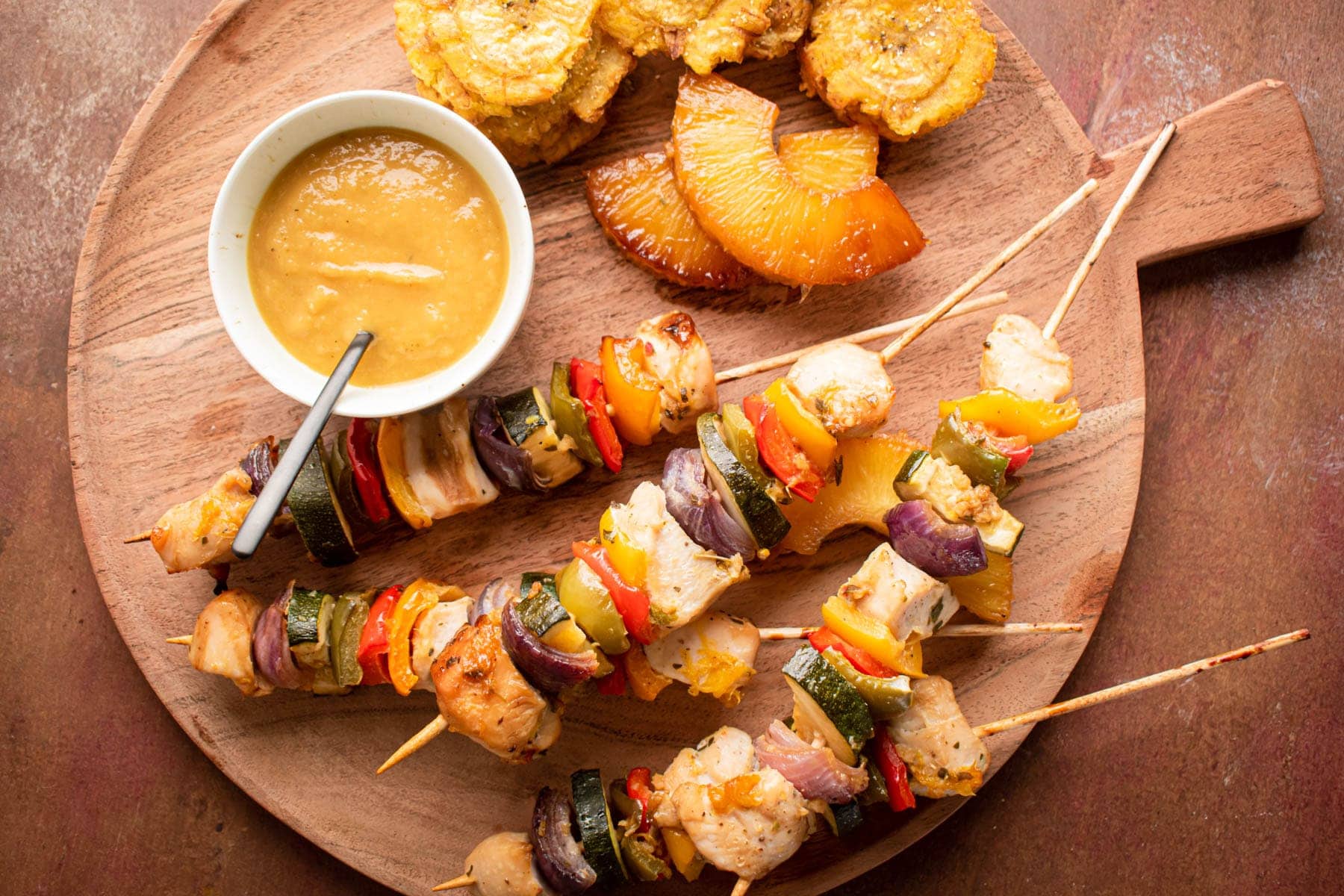 Important: One more important thing to note, make sure you soak the skewers in advance to placing them in the oven or on the grill. If they're not soaked enough, the wooden skewers will burn.
Ready to heat up your oven? Proceed to thread the chicken, peppers, zucchini, onions, and pineapple on the skewers. Lay the pineapples on your baking tray to allow them to roast. Don't forget to baste! Bake the chicken – this process will take about 15-20 minutes. Remove from the oven!
Jerk Pineapple Sauce
 Jerk Pineapple Sauce is made of jerk seasoning, pineapples, cloves, garlic, onion, green onion, soy sauce, brown sugar, and all the rest of the ingredients listed below.
A Marinate is a blend of herbs and seasonings. This mixture is made to add moisture to meats, fish, etc. when baking, grilling, or frying. The longer the marinade sits, the more it allows the flavors to release and become one with each other, which helped with making this amazing Jerk Pineapple Sauce.
First, you want to add all the marinade that is leftover from the chicken and vegetables inside of a blender removing all the pimento seed, trust me you do not want those pimento seeds inside your sauce.
Throw in those roasted pineapples to help boost the flavor and blend altogether.
Heat up a small pot, add honey, water, orange juice, barbeque sauce and allow to simmer and thicken. If you want the sauce thicker you can add cornstarch or some more pineapples. If you're worried about the sauce being too sweet, reduce the amount of honey.
You have enough options to make it your own so enjoy!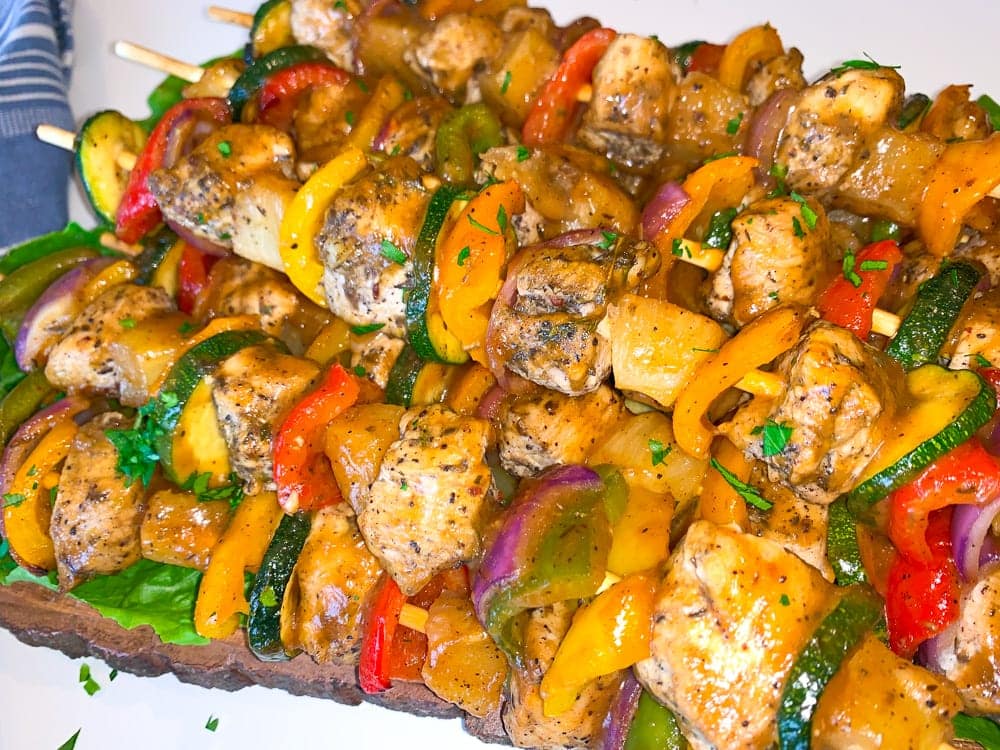 What is Jerk Seasoning?
In this recipe, we used Walkers Wood Jerk Seasoning. This seasoning is a Jamaican spice blend, typically made of various spices like cayenne, paprika, cumin, cinnamon, red pepper flakes, allspice, and some sugar. Jerk Seasoning has a sweet and spicy flavor which is perfect for recipes like this.
Expert Tips
Want to make the best Pineapple Jerk Chicken Kabobs? Here are some tips that can help you make the tastiest chicken kabobs:
Leave a space between the pieces of each skewer, this way the skewers will cook evenly.
To get the most of the flavor, marinate it overnight or even longer. This will promote the marinade to seep in the meat more, giving it more flavor.
Substitute the can of pineapple and pineapple juice into a fresh pineapple, this will give you a more authentic taste, and not only that, Pineapple is loaded with nutrients so if you want to make it more nutritious, this is the way to go.
If you don't like Pineapple and still want that Tropical kick, you can substitute Pineapple with Mango or Peach.
Serve it with buttered basmati or coconut rice for a complete meal! However, if you're not fond of rice, you can also eat it with corn on the cob.

Would you like to see more? SUBSCRIBE to receive the more recipes! Also, follow me on FACEBOOK, PINTEREST, INSTAGRAM or TWITTER.

Pineapple Jerk Chicken Kabobs

These Pineapple Jerk Chicken Kabobs are a colorful and tasty meal for any season and so very easy to make!

Ingredients

4

chicken breast cut in cubes

14

skewers

2 1/2

tbsp

jerk season

walkers wood

6

pimento seeds

2

tbsp

soy sauce

4

garlic cloves

minced

2

scallions

6

thyme

springs

1

tbsp

brown sugar

1/4

cup

orange juice

1

tbsp

olive oil

1

can

pineapple

1/2

cup

pineapple juice

black pepper

Vegetables

1

Zucchini

1

red onion

1

red bell pepper

1

orange bell pepper

1/2

orange bell pepper

12

green bell pepper

1/4

cup

orange juice

1/2

cup

pineapple juice

1

tbsp

jerk season

walkers wood

1 1/2

tbsp

jerk seasoning salt

3

pimento seeds

2

springs thyme

1

tbsp

soy sauce

olive oil

Jerk Pineapple Glaze

Marinate sauce

remove pimento seeds

Water

Honey

Orange juice

Roasted Pineapples

BBQ sauce

Instructions

In a large bowl add chicken and clean with water, lemon and vinegar. Remove liquid then cut chicken into cubes.

Marinate Chicken

In the same bowl add chicken and all marinade ingredients such as walkerswood jerk seasoning pimento seeds,soy sauce, garlic, scallions, thyme, brown sugar, orange juice, olive oil, pineapple, pineapple juice,black pepper. Mix all together and marinate inside the refrigerator for 30 minutes.

While the chicken is marinating set skewers in water for 30 minutes – hour.

Vegetables

Cut all vegetables in the same size so everything cooks evenly. In a large bowl add all vegetables and all marinate ingredient. Remove liquid and set aside for later. Marinate vegetables in the refrigerator for 30 minutes.

Once chicken and vegetables are done marinating place on skewers in your desired order. Repeat until all chicken and vegetables are done.

Set a tray with alluminun foil and place pineapple on tray and chicken kabobs on top. If you run out of space on the first trey use a second tray add the marinate from the chicken to the tray.

Cook kabobs for 15-20 minutes.Removing any thyme and garlic on the kabobs so it doesnt burn. If you cook any longer then this time the chicken will be overcook. Rotate 10 minutes in and baste with marinade.

Pineapple Jerk Sauce

In a blender, add left over marinade from the tray and vegetables with roasted pineapple. Blend until well combined.

In a small pan on medium low heat, add the sauce that we just blended, honey, water, orange juice and bbq sauce. Simmer until it thickens.

Baste chicken with sauce and enjoy !

Nutrition

Serving:

6

g

|

Calories:

484

kcal

|

Carbohydrates:

73

g

|

Protein:

32

g

|

Fat:

10

g

|

Saturated Fat:

2

g

|

Polyunsaturated Fat:

7

g

|

Cholesterol:

69

mg

|

Sodium:

770

mg

|

Fiber:

12

g

|

Sugar:

47

g

Subscribe to My Youtube

Subscribe to My Youtube Channel to recieve updates on New Videos and Recipes !

How did you like this recipe? Leave a comment and let me know what you think. Looking for another chicken recipe? Try this Teriyaki Chicken next!