March 18, 2020 | Last Updated on January 14, 2023 by Patricia Valbrun
The best grilled Easy Flank Steak Recipe ever for delicious juicy flank steak or skirt steak with chimichurri. Perfect easy recipe for indoor pan grilled flank steak for steak salad, steak tacos, quesadillas, and more!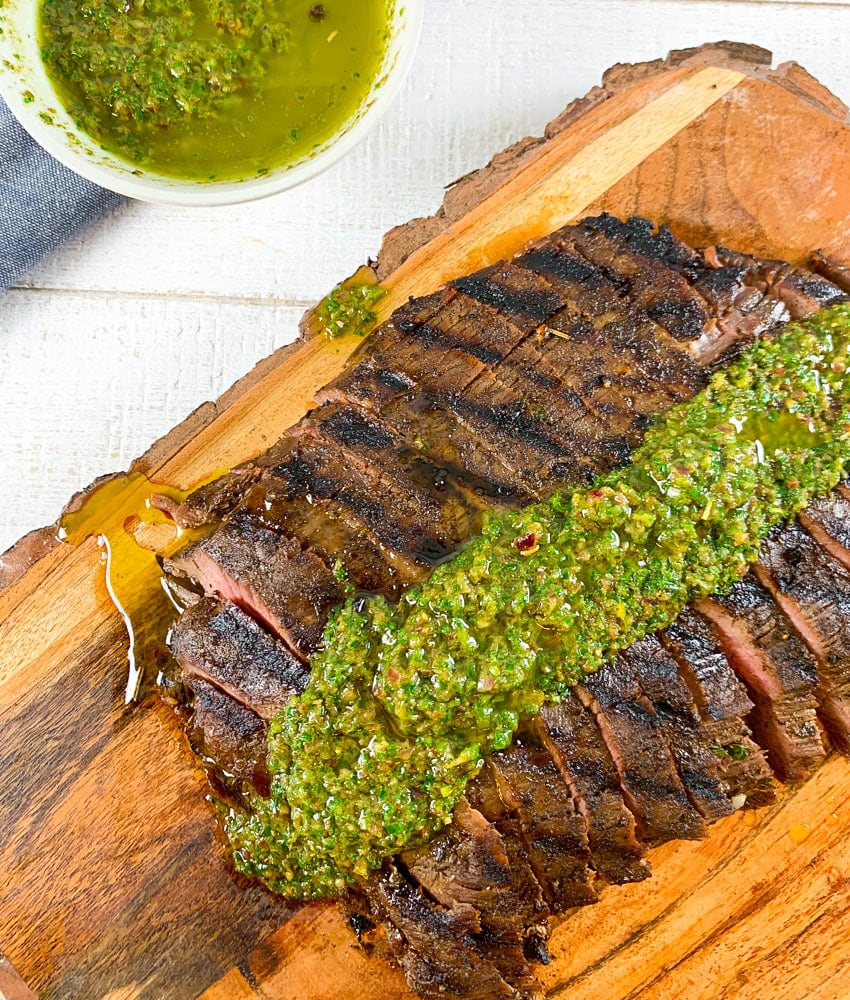 I enjoy grilling indoors, especially when I'm doing quick meals. There's no need for turning on the gas to your outdoor grill and waiting for it to come to temperature. Instead, you can easily grab your pan grill, make sure the pan is hot as possible and get to cooking. Grilling outdoors flank steak might be the way, or so you thought.
How To Pan Grill Flank Steak
I know what you're thinking. It's not likely to grill indoors but why not? When you live up north with cold weather around mid February, this is the best way to grill. This steak is still left well-seasoned and cooked to perfection.
FLANK STEAK. You can purchase the best Flank steak Costco for a good price. Size and thickness vary on how many people you're feeding but you may need to purchase more than one if feeding more than four people. Also keep in mind if grilling on a pan you don't want the steak too large.
VEGETABLES. Cut your vegetables such as your, green onions, red onions, garlic, small enough to allow the juices to release in the meat while marinating. Add it to the meat.
SEASONINGS/HERBS. Next add your seasonings to the meat, thyme, rosemary, chinese spice, pimento seeds and jerk seasoning wet marinate and dry jerk seasoning. Make sure you release some of the thyme off the stems.
SOY SAUCE. is a flavor enhancer and helps break down the meat to add/ hold favor and juiciness.
OLIVE OIL. put over steak before grilling as it helps in raising the temperature on the surface of the meat from the heat source for a quicker and better sear.
MARINATE. You will receive dept of flavor in the meat by allowing it to marinate in its juicy for 2 hours or more.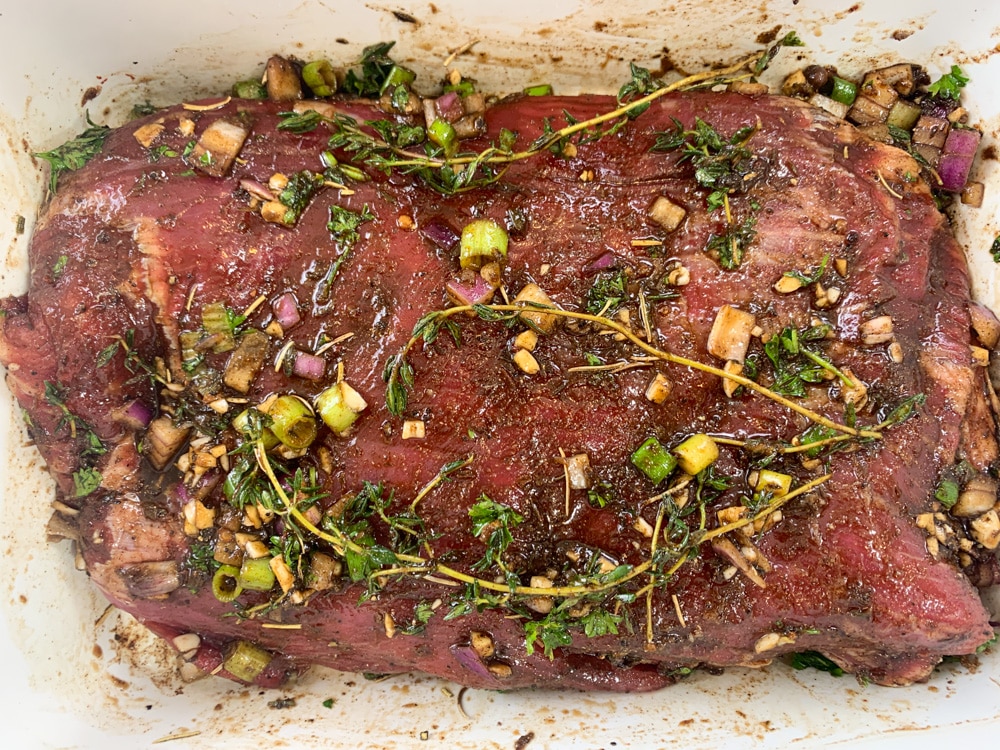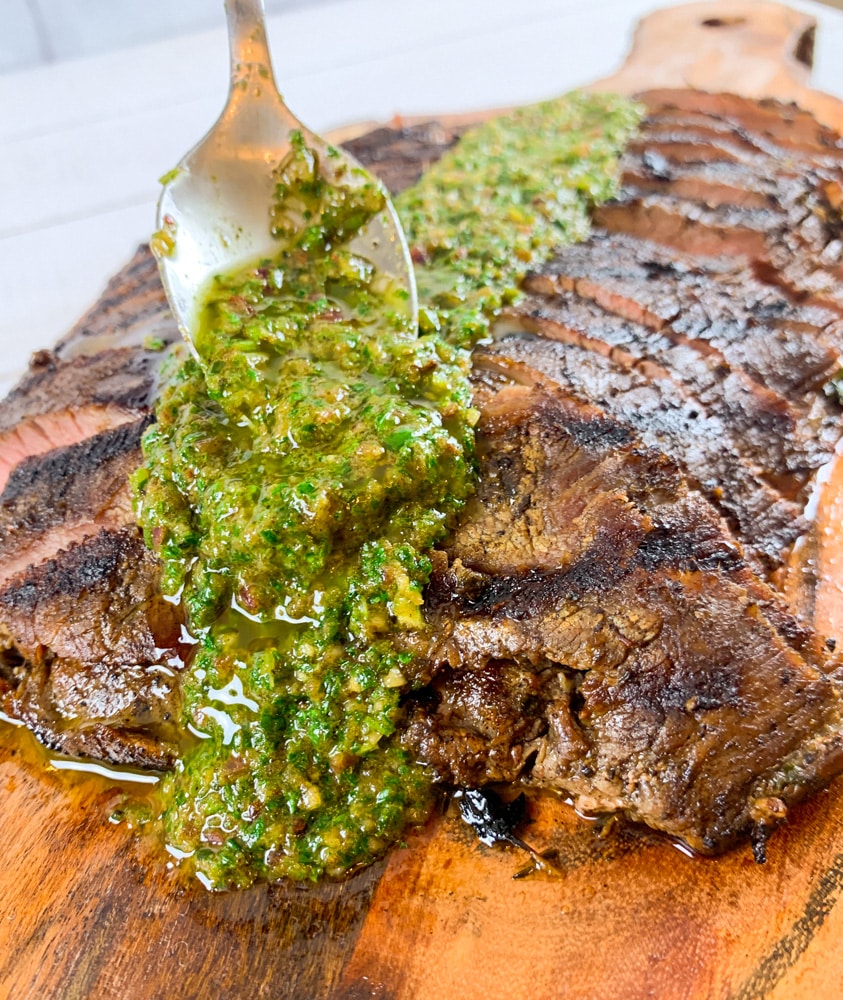 What Is Flank Steak?
Flank steak is delicious for quesadillas, fajitas, stir fry, homemade cheesesteak, flank steak pinwheels or just sliced on its own with some fresh vegetables.
What Is The Best Way To Cook Flank Steak?
Flank steak is known for being tough, which certainly can be the case if not cooked properly.
Flank steak is the best when marinated but, unlike any other tougher cuts of steak, it's also beautiful on the grill. Either indoor or outdoor you will have just about the same results.
GRILL PAN. Using an Emeril Grill Pan on high heat. Sear the steak for 8 minutes on each side for medium well to well done results. If you like your steak a little more medium cook it at a lower time and so on.
How To Cut Flank Steak
Flank steak is a chewy steak, and is much easier to chew if it is sliced against the grain.
Cutting steak"against the grain" means you're cutting through the long fibers of the meat, cut flank steaks and skirt steaks across the width of the steak, not down the length of steak (so you have lots of thin strips instead of just a few super long strips.)
Homemade Chimichurri – How to Make Chimichurri?
Chimichurri is the best sauce to add on flank steaks. I recently discovered how good it is and had to make my own version that will best compliment this dish. Using the left-over marinade, I added olive oil, pepper flakes, salt, lemon juice parsley and cilantro to get the perfect sauce.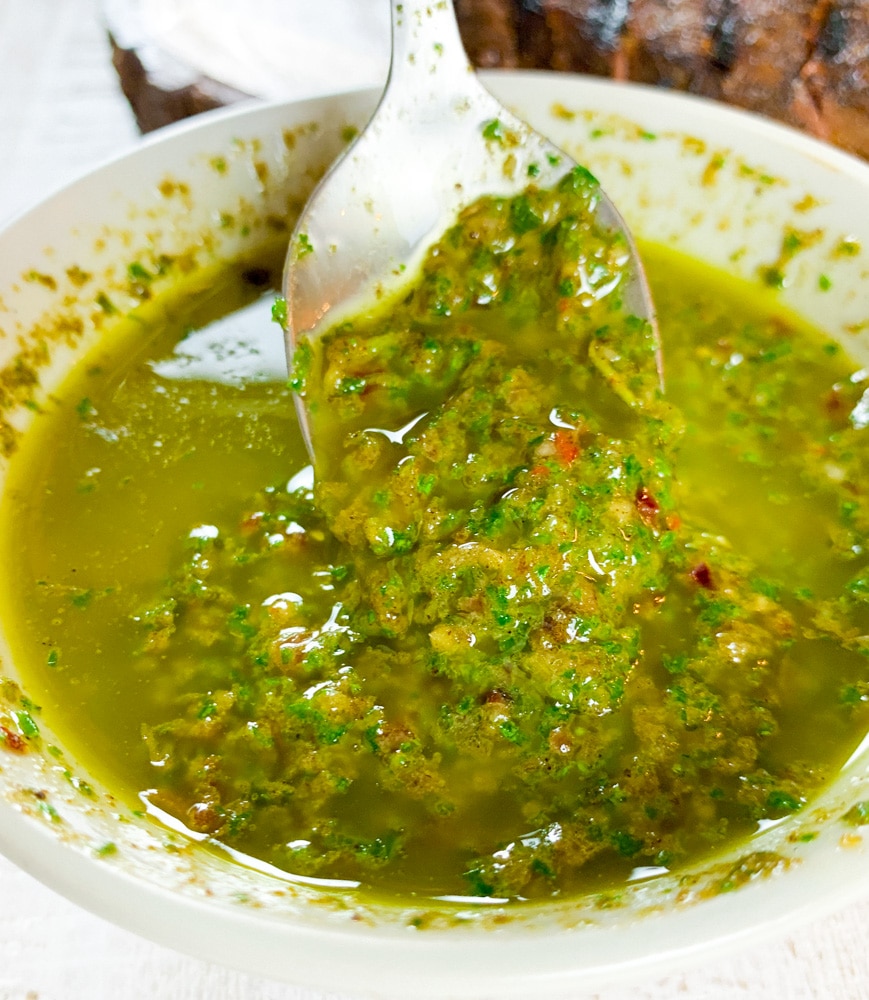 Grilled Flank Steak Marinade Recipe Ideas
I'm adding tons of delicious juicy flavor to this flank steak with a simple jerk marinade. The jerk seasoning adds a kick and also enhances the salt flavoring in this dish. I have many jerk marinades that can be used if you want to take this up a notch like PINEAPPLE JERK CHICKEN KABOBS.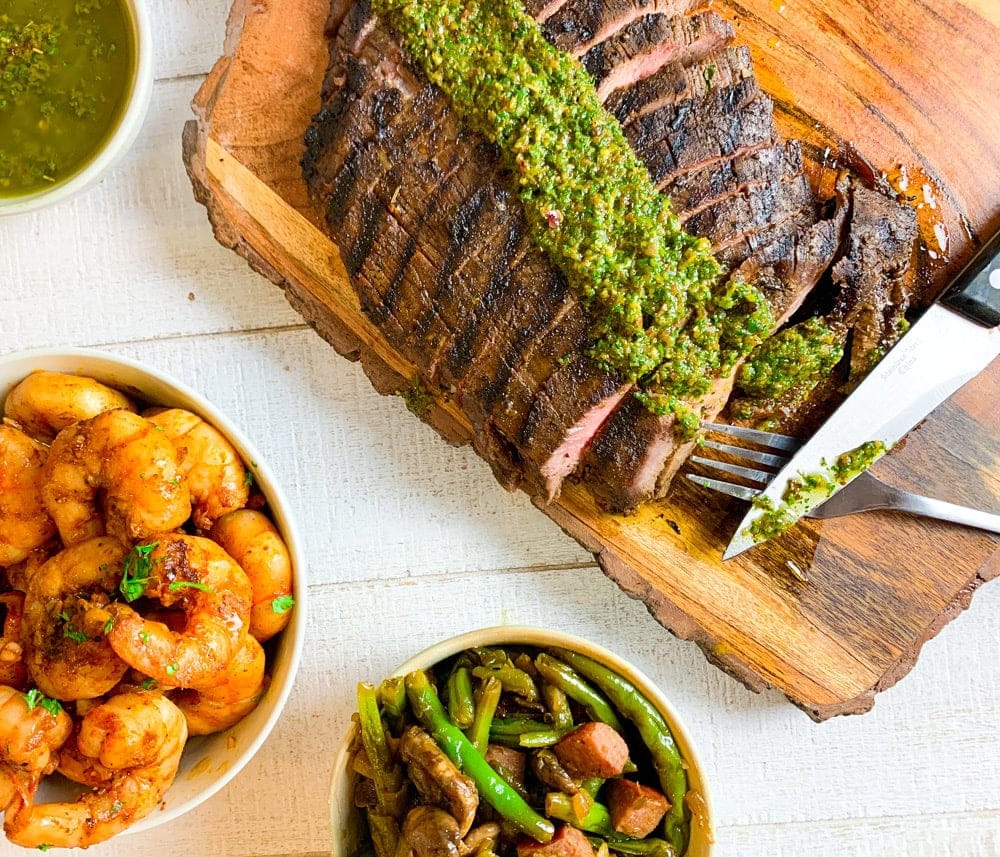 What to Serve With Flank Steak:
Oven Roasted Brussel Sprouts with Bacon
Would you like to see more? SUBSCRIBE to receive the more recipes! Also, follow me on FACEBOOK, PINTEREST, INSTAGRAM, YOUTUBE or TWITTER.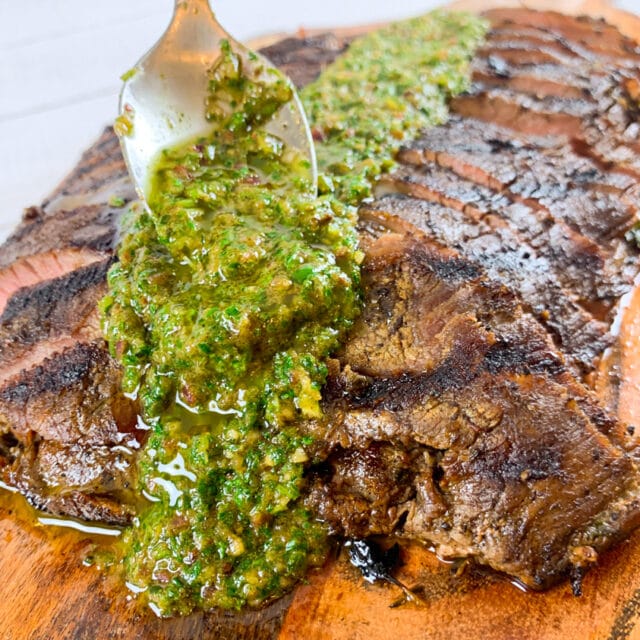 Easy Flank Steak Recipe
The best grilled Easy Flank Steak Recipe ever for delicious juicy flank steak or skirt steak with chimichurri. Perfect easy recipe for indoor pan grilled flank steak for steak salad, steak tacos, quesadillas, and more!
Ingredients
Flank Steak

2

Scallions

3

Garlic

cloves

2

tbsp

Soy sauce

6

Thyme

springs

1

tbsp

Jerk seasoning

1

tbsp

Chinese spice

5

Pimento seeds

1

tbsp

Jerk seasoning marinade

wet

1

tsp

Rosemary

salt & pepper

to taste
Chimichurri Sauce
Marinade from steak

left over

1/2

cup

Parsley

1/4

cup

Cilantro

1/2

cup

Olive oil

1

tbsp

Pepper flakes

1/2

Lemon juice

half of lemon

Salt
Instructions
Add the steak to a baking dish for marinating.

Cut the garlic cloves, red onion, scallions in small cuts to helps release the juices and add it to the steak.

Next, add all your seasonings such as, jerk seasoning dry and wet marinade, pimento seeds, Chinese spice, rosemary, thyme and salt and pepper.

Lastly, add soy sauce and olive oil. Mix everything together making sure you're pressing the seasoning into the meat and coating both sides.

Marinate the meat inside the fridge for 2-24 hours. Remove from the fridge and let it sit out and come to room temperature for 20-30 minutes before grilling.

Heat up your grill pan on high heat and sear the steak for 8 minutes on each side for medium well to well done result. DO NOT MOVE IT! Until its ready to be flipped.

Allow to sit for 20 minutes before cutting. Enjoy !
Nutrition
Serving:
4
g
|
Calories:
352
kcal
|
Carbohydrates:
7
g
|
Protein:
15
g
|
Fat:
31
g
|
Saturated Fat:
5
g
|
Polyunsaturated Fat:
3
g
|
Monounsaturated Fat:
21
g
|
Cholesterol:
34
mg
|
Sodium:
606
mg
|
Potassium:
416
mg
|
Fiber:
3
g
|
Sugar:
1
g
|
Vitamin A:
2026
IU
|
Vitamin C:
22
mg
|
Calcium:
68
mg
|
Iron:
4
mg
Subscribe to My Youtube
Subscribe to My Youtube Channel to recieve updates on New Videos and Recipes !
How did you like this recipe? Leave a comment and let me know what you think. Looking for another to pair with is one ? Try Easy Stir Fried Rice next!