December 31, 2019 | Last Updated on February 9, 2021 by Patricia Valbrun
My all-time favorite Creamiest Mashed Potatoes recipe. These homemade mashed potatoes are perfectly rich and creamy, full of great flavor, easy to make, and always a crowd pleaser.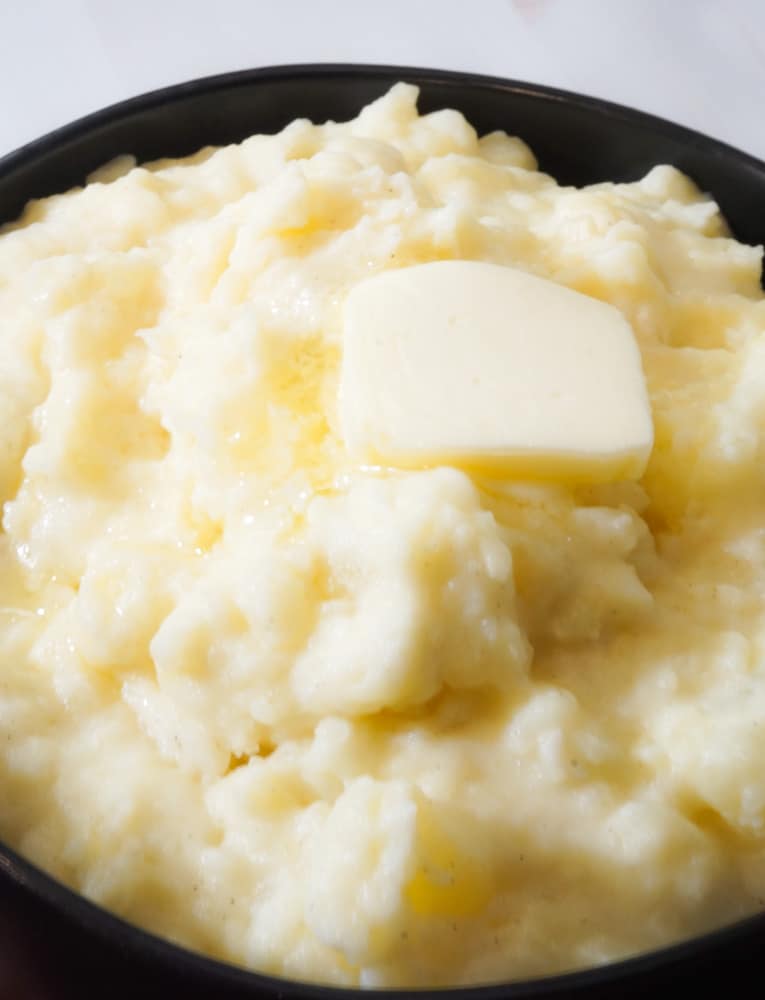 The Creamist Mashed Potatoes ever are made using buttery Yukon Gold potatoes, cream cheese, butter, half and half, salt, and white pepper. This is a classic recipe, perfect for any gathering, Easter, and everything in between! I love to pair this dish with Bourbon Meat Loaf, Baked Lemon Pepper Chicken or Honey Garlic Salmon.
How to make Mashed Potatoes
Prepare the potatoes: thoroughly wash the potatoes. After rinsing the potatoes, add to a pot with salt and garlic cloves. Next, boil then simmer until the potatoes are fork tender. Drain the water.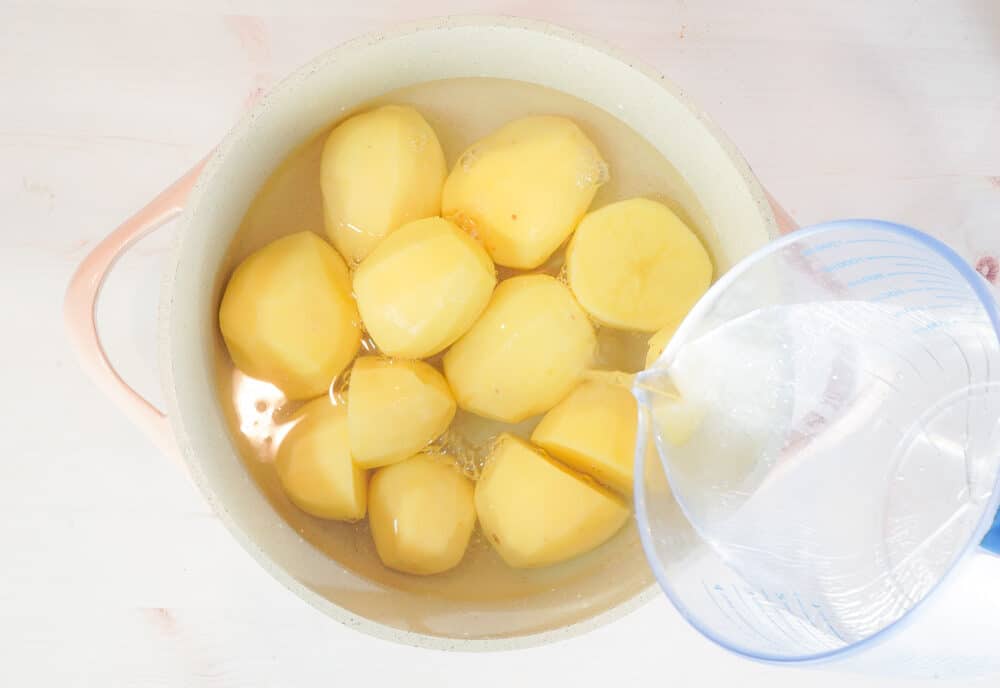 Use a potato masher: Mash potatoes with a masher. Avoid using a blender or food processor; this can make your potatoes gluey.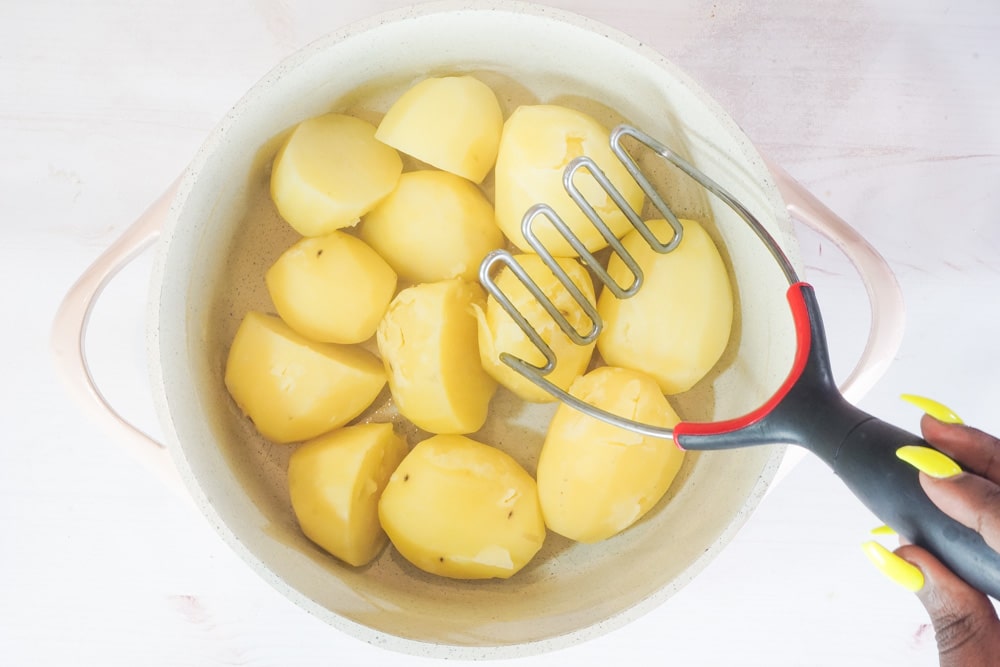 Roasted Garlic: Roast garlic in aluminum foil 400f for 45 minutes.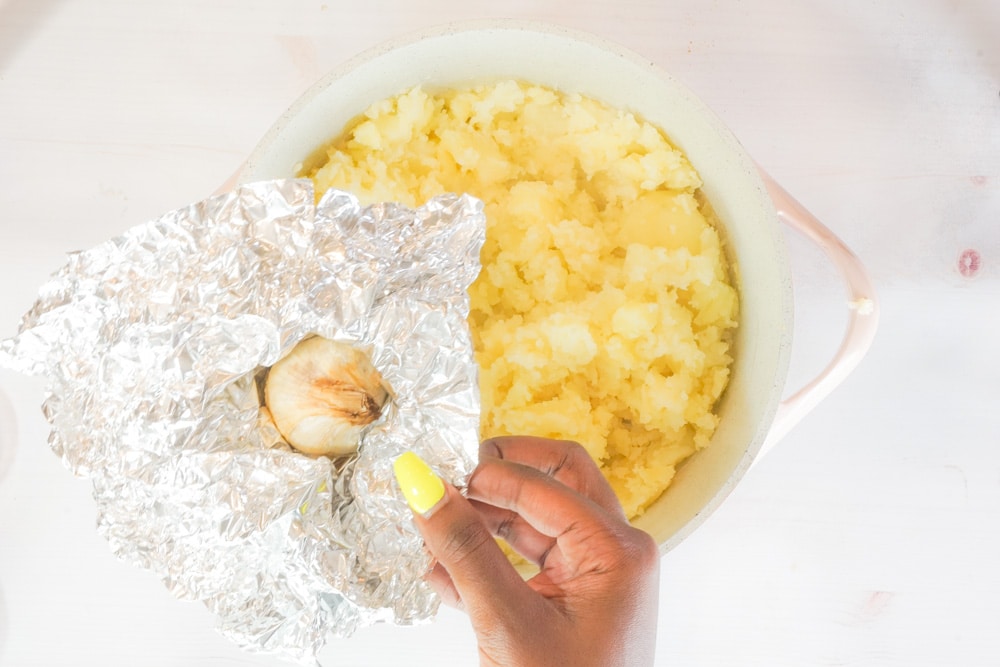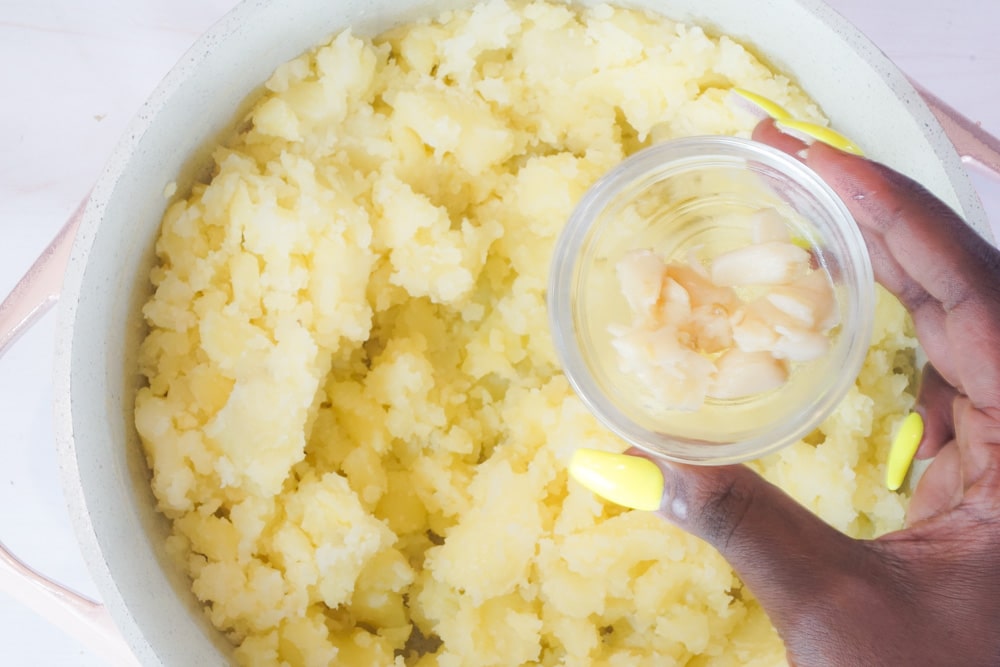 Soften Butter: Mix in the soften butter. This is going to help add that creamy texture to the potatoes.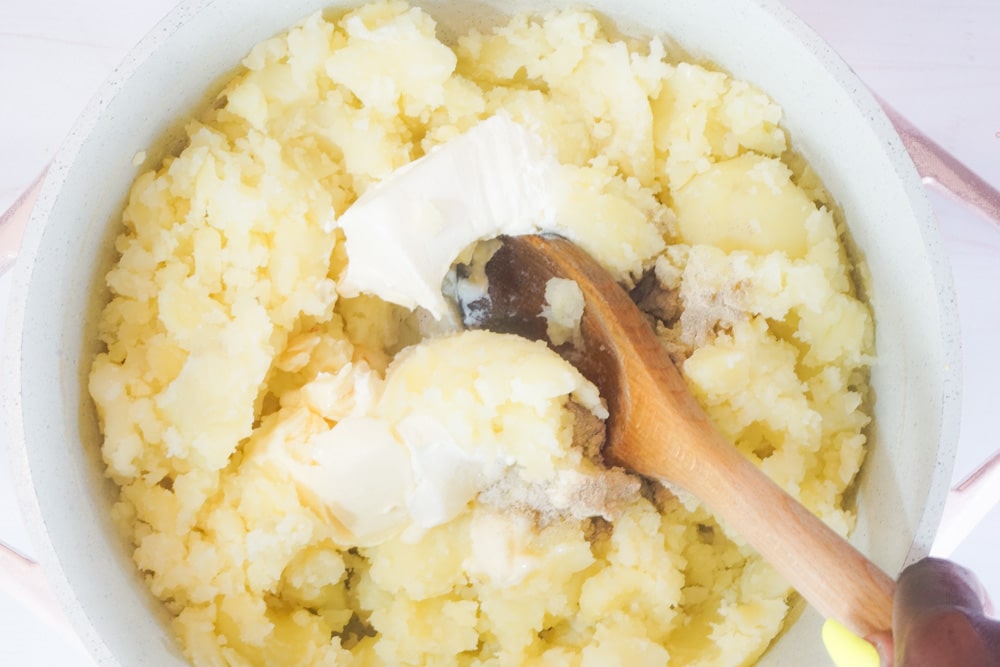 Don't forget salt and white pepper: these two unassuming ingredients make all the difference in your mashed potatoes. Taste the mashed potatoes a few times before serving and make sure to adjust the salt and pepper to perfection.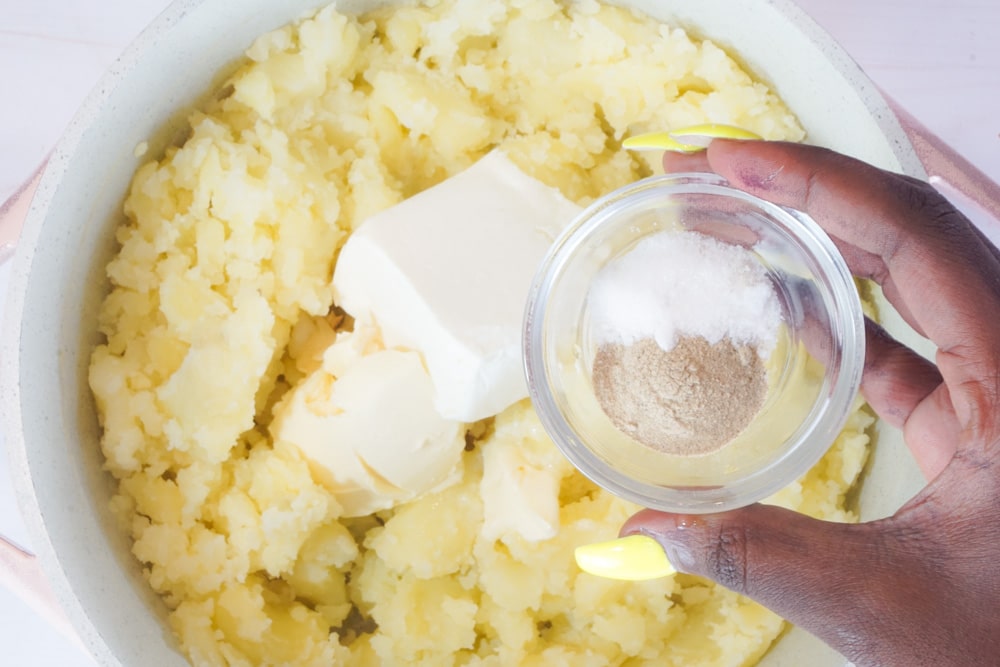 Half N Half/ Cream Cheese: Finally, Stir in the half and half and cream cheese into the potatoes with a spoon until smooth.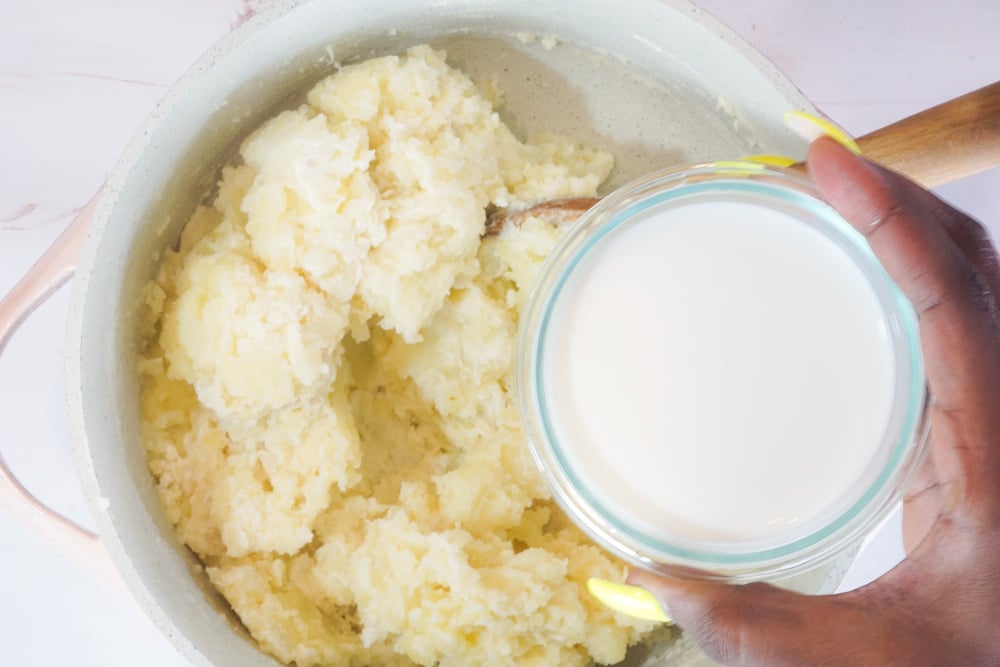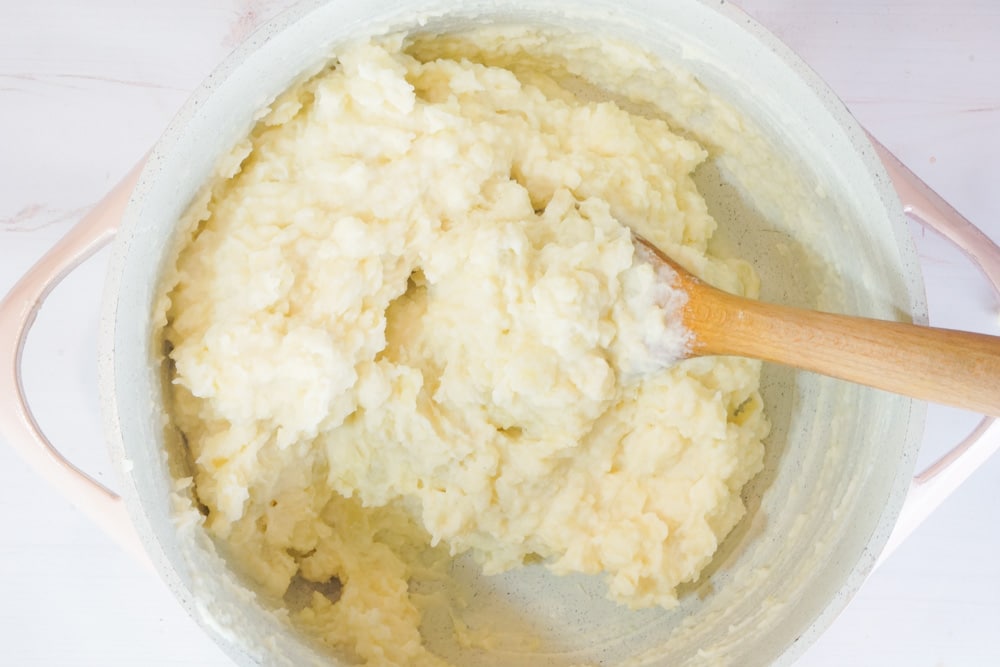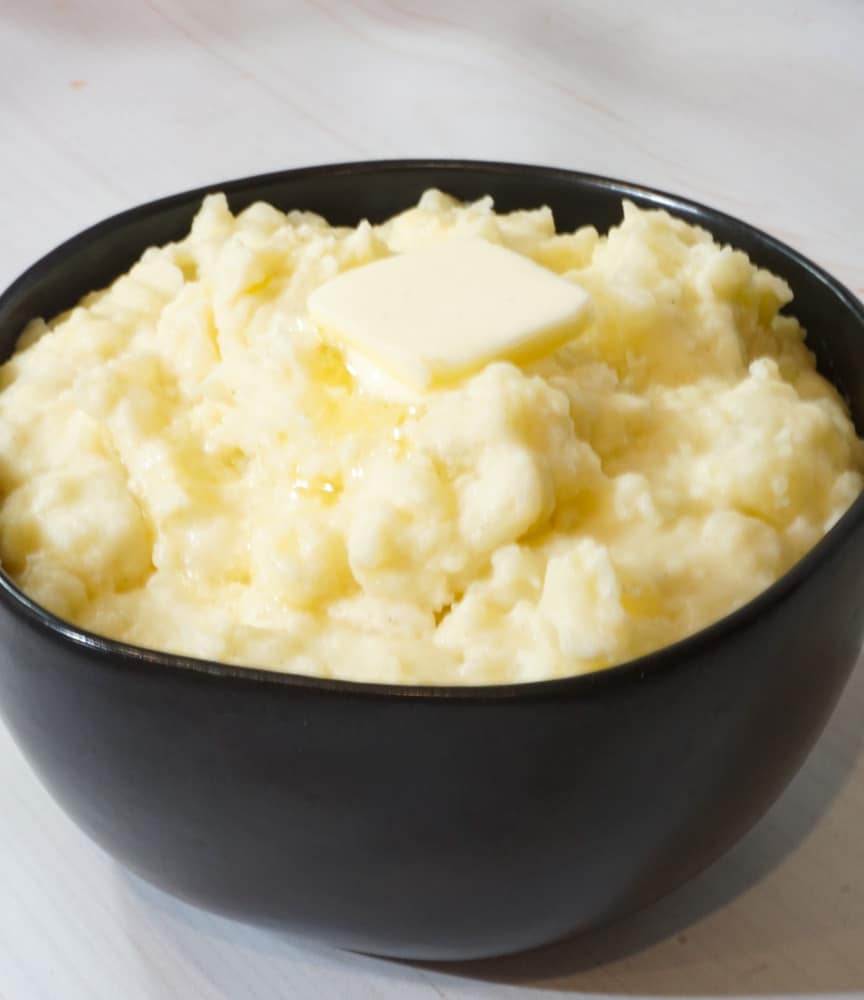 Serve hot and enjoy!
Tips on Mashed Potatoes
The potatoes you use matter! For fluffy potatoes, use starchy potatoes, like Russets or Yukon Golds. Or best option: use a combination of both!
Use high quality butter: a good brand of butter goes a long way for these potatoes! Also, you can use unsalted butter which will allow you to ultimately decide how much salt goes into the potatoes.
Can I Reheat Mashed Potatoes?
Yes! You can even make ahead and frezze mashed potatoes. Just make sure that you don't skimp on the butter or cream. It's the fat that helps the potatoes reheat well.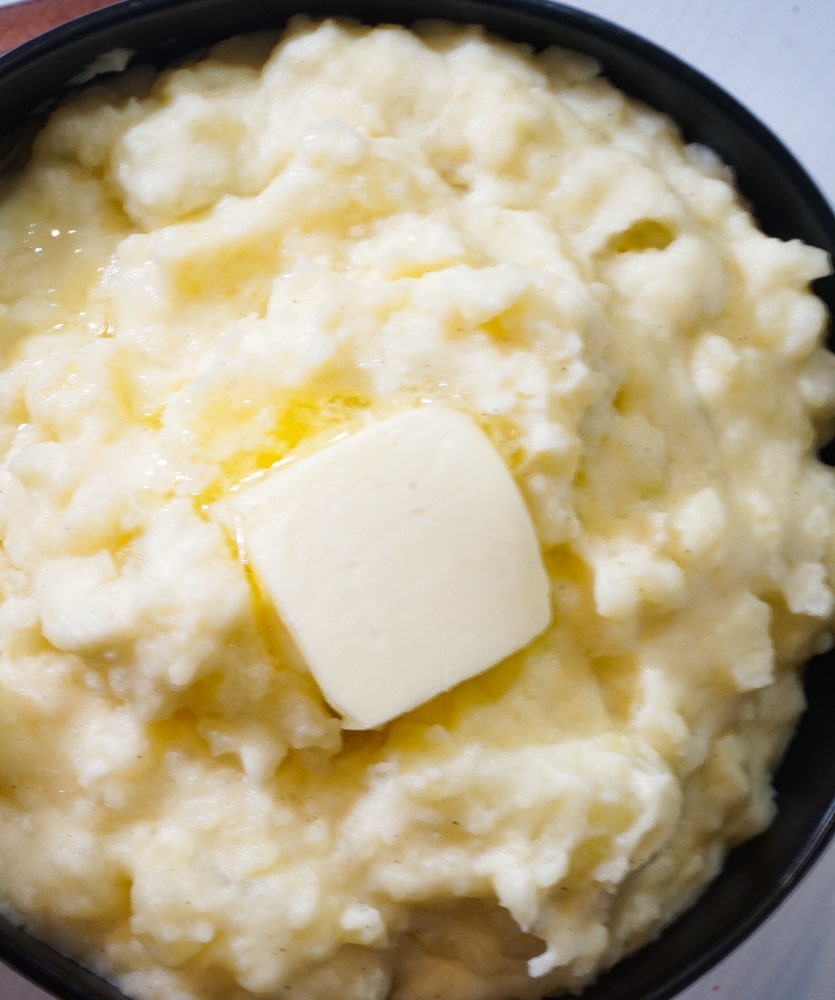 Our favorite way to reheat mashed potatoes is to just put them in the microwave (covered) for a couple minutes, and then give them a good stir before serving.
Would you like to see more? SUBSCRIBE to receive the more recipes! Also, follow me on FACEBOOK, PINTEREST, INSTAGRAM or TWITTER.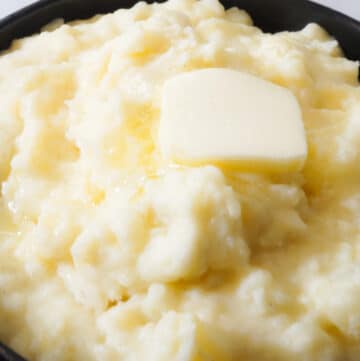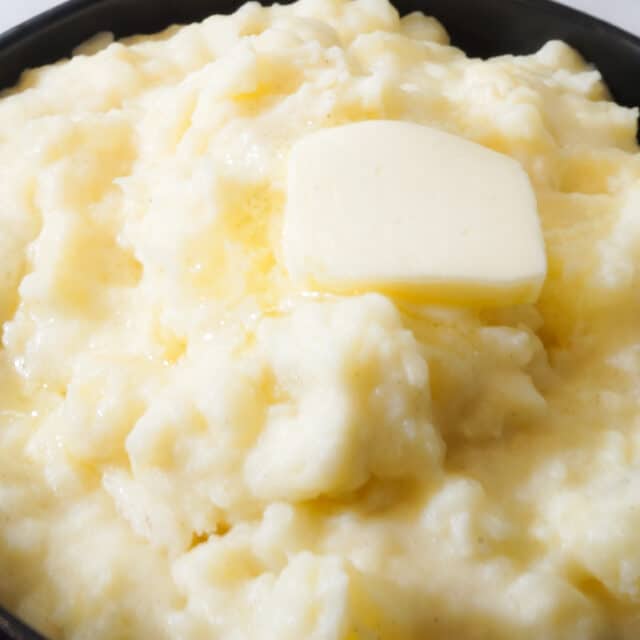 Creamiest Mashed Potatoes
It's a creamy, delicious and easy to make side dish!
Ingredients
3

lb

butter potatoes

4

garlic cloves

Water

enough to cover potatoes

1/2

cup

cream cheese

1

cup

half and half

1

tsp

white pepper

7

tbsp

butter

2

tsp

salt
Instructions
In a large bot add potatoes unpeeled, garlic cloves and enough water to cover potoates to cook evenly. Cook potatoes for 15 minutes or until soft enough to insert a knife. Once the potatoes are done drain out the water.

In the same pot mash the potatoes with a masher then add butter, salt, white pepper, half n half and cream cheese. Mix until well combined
Subscribe to My Youtube
Subscribe to My Youtube Channel to recieve updates on New Videos and Recipes !
Did you enjoy this recipe? Leave a comment and let me know what you think. You can find more recipes like this one here.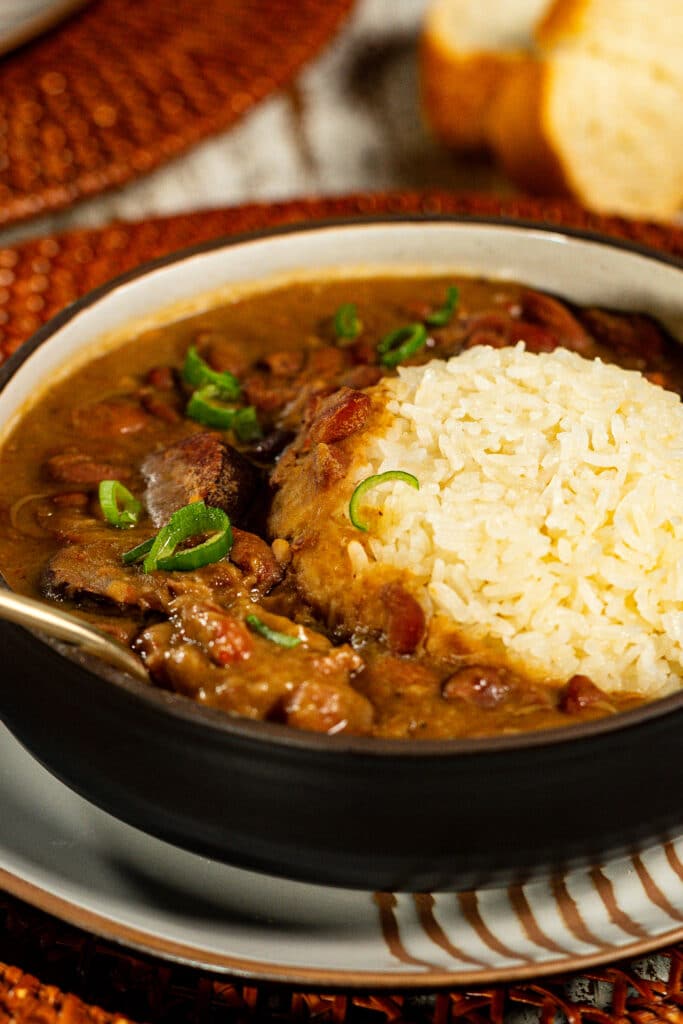 A pot of this Authentic Louisiana-style Red Beans and Rice epitomizes comfort. Tender beans, tons of aromatics,…