July 23, 2021 | Last Updated on January 8, 2023 by Patricia Valbrun
These Southern Fried Porkchops are a classic, comforting meal that will transport you to the heart of the south. The juicy, tender porkchops are deep fried to perfection for a satisfying and delicious dinner that the whole family will love.
Serve them with your choice of sides, such as mashed potatoes, gravy, and collard greens, for a satisfying and nostalgically delicious meal.
There's nothing quite like a plate of perfectly crispy, golden brown Southern Fried Porkchops to bring back memories of home cooking and family dinners. These mouthwatering porkchops are coated in a flavorful mixture of spices and flour, and then deep fried until they are tender and juicy on the inside and crispy on the outside.
How to Make Southern Fried Pork Chop
To get the breading to stick to the chops, they will be quickly coated in a seasoned egg mixture and then dredged in flour. The egg and flour mixture really helps the breading stick!
Dab the pork chops with a paper towel to absorb any moisture. (This also helps the egg mixture to stick.)
Season pork chops with

epis (green seasoning)

.
Create seasoned egg mixture and flour mixture (per recipe below)
Dip in egg and dredge in flour.
Fry porkchops 350F for 8-10 minutes until golden brown.
We are using bone-in Pork chops but if preferred you can use boneless pork chops. Because we are frying the pork chops, the bone-in chops will be juicier and more flavorful (they usually have a little more fat on them), which is crucial to cooking a good pork chop!
The bone -in the pork chops will also slow down the cooking process just a tad bit, which will help it from overcooking and drying out.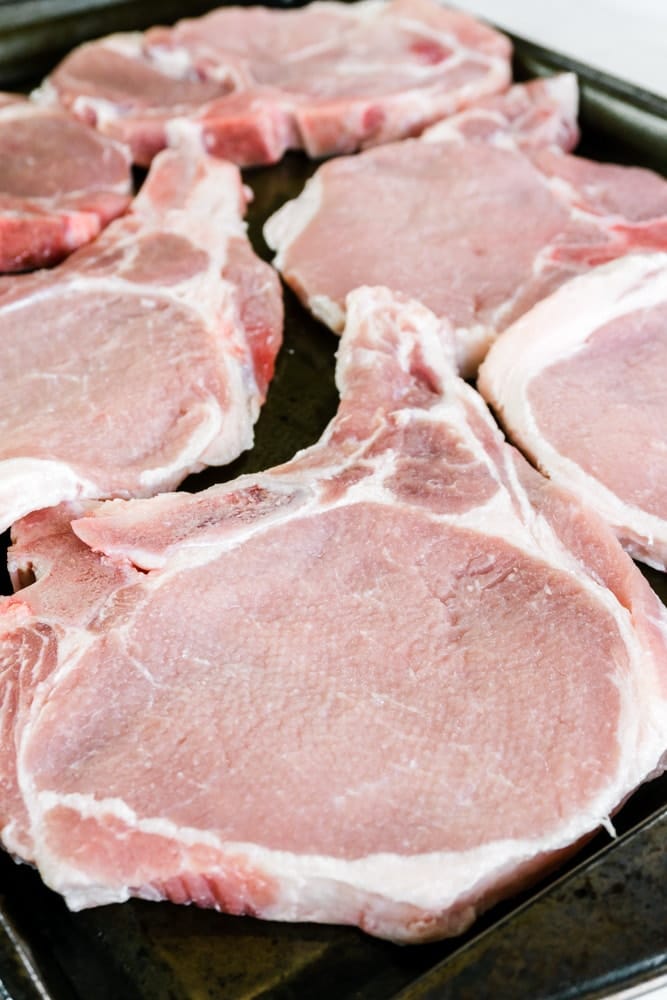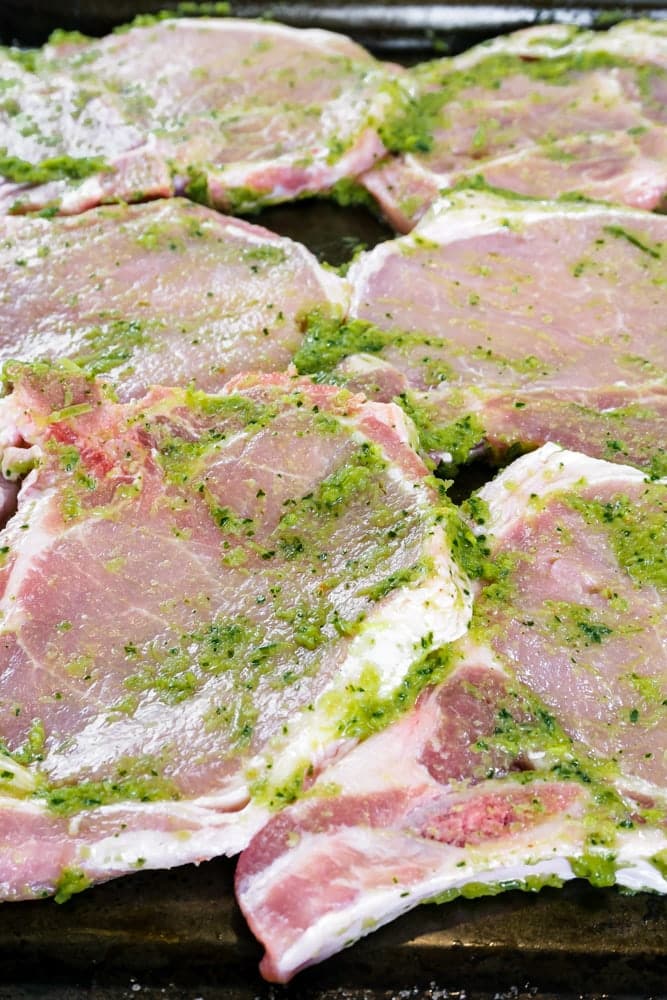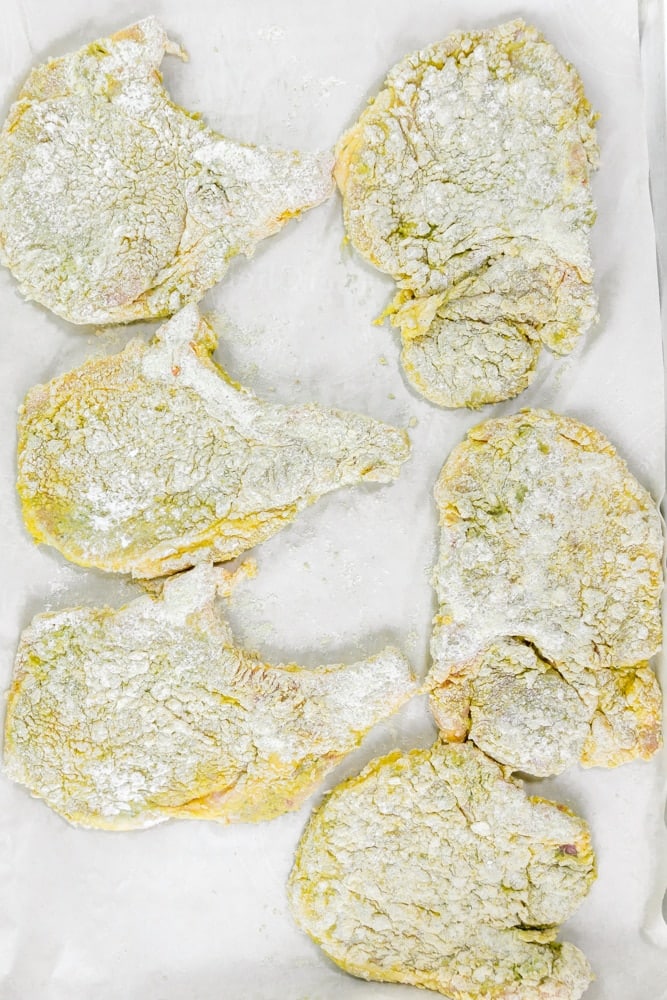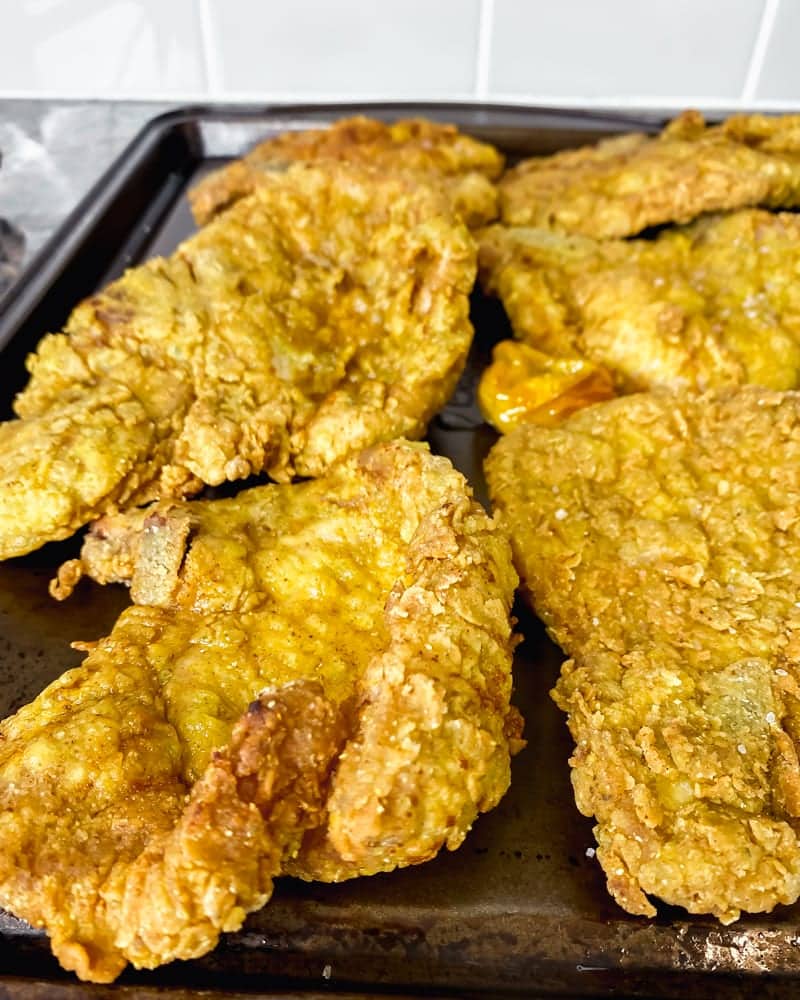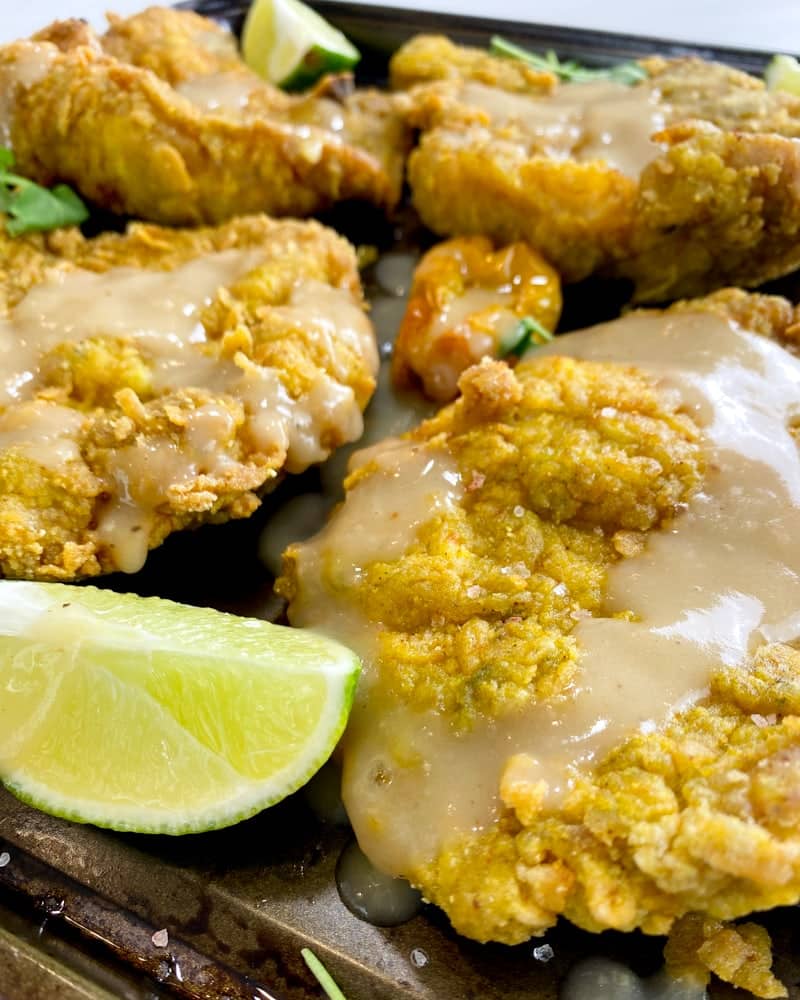 Best Spices to Season Meat
My favorite species to season pork chops or any other meats like chicken, beef, lamb, etc., are epis (green seasoning), onion powder, garlic powder, adobo, or tony's seasoning paprika and curry.
Epis (green seasoning) and Curry powder are essential to this dish because that's where you get flavor and color. Epis for taste, curry powder for color.
What Is The Best Type Of Pan To Use For Frying The Pork Chops?
A heavy bottom pan, such as a cast iron skillet, is a good choice for frying pork chops as it heats evenly and can retain heat well. This can help to prevent the pork chops from burning or becoming overcooked, and can result in a more evenly cooked, crispy, and delicious final product.
How Do You Know When Pork Chops Are Done Frying?
When frying you'll easily be able to tell when the porkchops are done because they will float to the top of your pan. Using a heavy bottom pan to carry the heat like a Cast Iron skillet is also very important.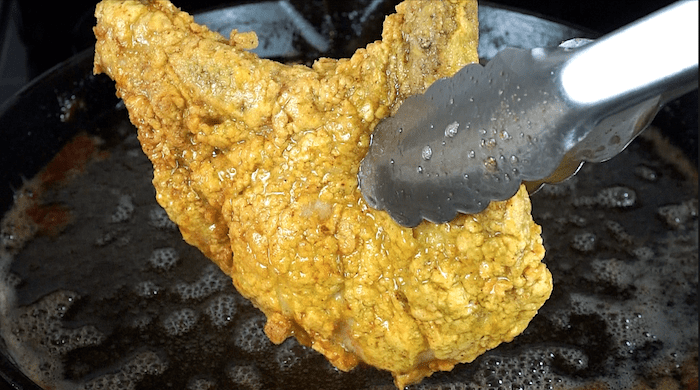 How to Reheat Fried Porkchops
Reheating breaded pork chops is easy! Keep them in the refrigerator covered until ready to reheat.
Oven. Place them on a greased baking sheet and warm them in the oven for about 15 minutes at 350 degrees
Microwave. You can reheat in the microwave but they will stay crispier on the outside if they are reheated in the oven.
Should You Soak Pork Chops In Milk Before Frying?
Soaking pork chops in milk before frying can help to tenderize the meat and add moisture, which can help to prevent the pork chops from drying out during cooking. To soak pork chops in milk, place them in a shallow dish and cover them with milk. Let them soak for at least 30 minutes, or up to several hours, before breading and frying them.
What is The Secret To Making Tender Pork Chops? There are several factors that can contribute to tender pork chops:
Choose the right cut: Look for pork chops that are well-marbled with fat, as these will be more tender and flavorful.
Brine the pork chops: Soaking the pork chops in a mixture of water, salt, and sometimes sugar before cooking can help to add moisture and flavor to the meat.
Don't overcook: Be sure to use a meat thermometer to ensure that the internal temperature of the pork chops reaches at least 145 degrees Fahrenheit for medium-rare, or 160 degrees Fahrenheit for medium. Overcooking can cause the pork chops to become tough and dry.
Let the pork chops rest: Allowing the pork chops to rest for a few minutes after cooking can help to distribute the juices and keep the meat tender.
Most Questions Asked
How do you get the perfect crust on pork chops?
To get the perfect crust on your chops make sure the pork chops are completed dried after cleaning/rising or if you choose to not wash your meat use a paper towel to absorb any liquid on the meat.
Why does breading fall off pork chops?
Breading can fall off when your oil is not hot enough or the meat is too wet.
How to tenderize porkchops?
If you think your raw pork chops are kind of tough to start off with, you can use a mallet to break down the meat and make them much more tender prior to the marinating and cooking process.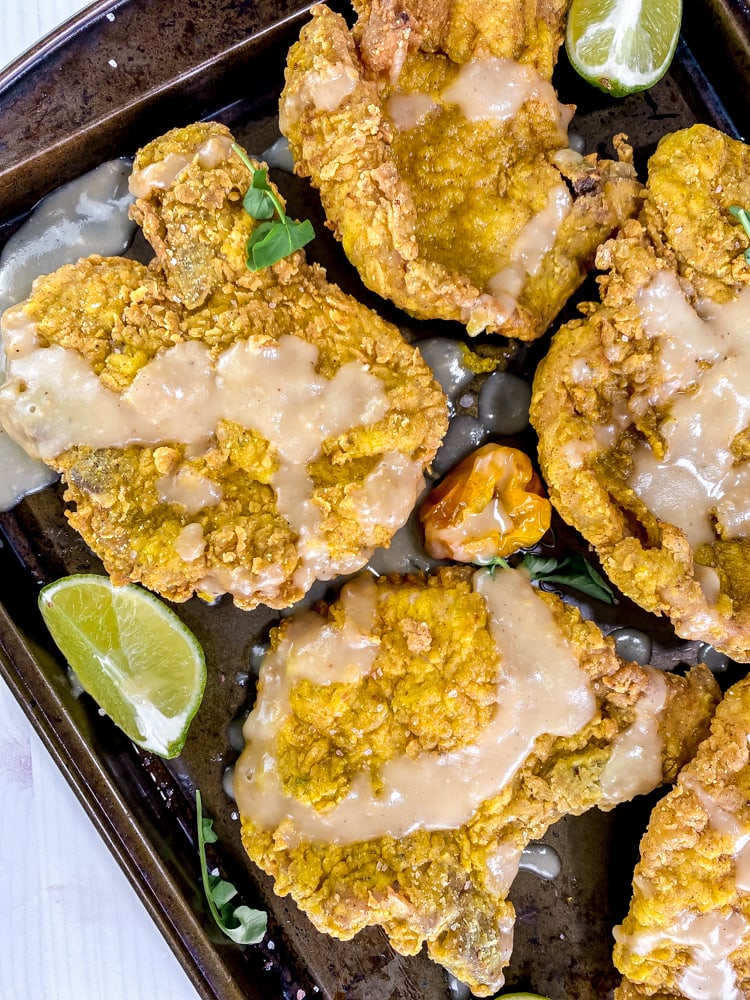 What To Serve With Porkchops
Would you like to see more? SUBSCRIBE to receive the more recipes! Also, follow me on FACEBOOK, PINTEREST, INSTAGRAM, YOUTUBE or TWITTER.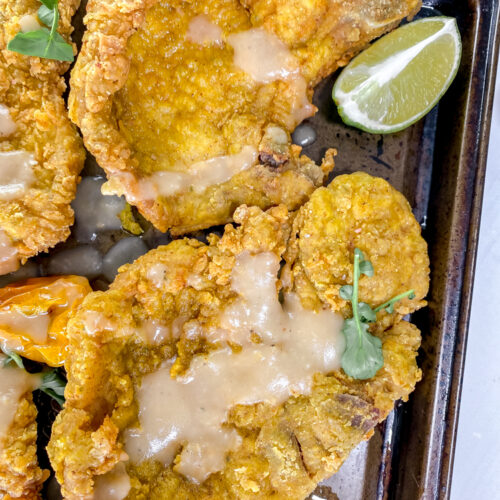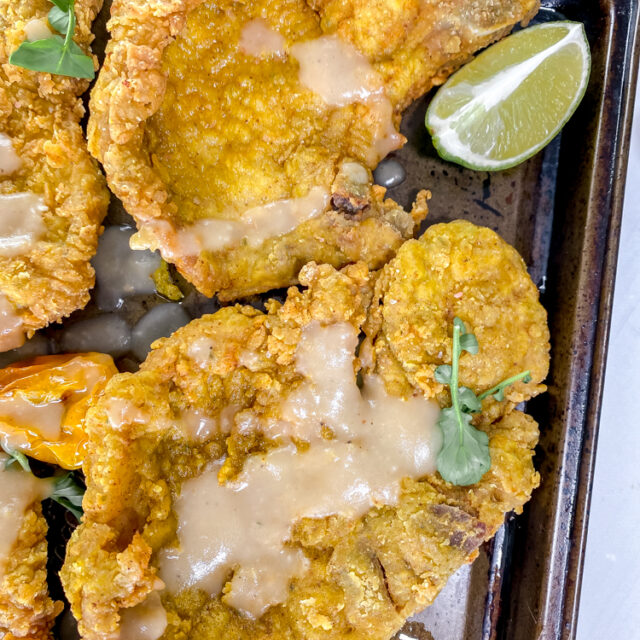 Southern Fried Pork Chops Recipe
Southern Fried Porkchops are a classic, comforting meal that will transport you to the heart of the south.
Ingredients
peanut oil

6

pork chops

1/4 inches thin cut

4

tablespoon

epis

green seasoning
Flour Mixture
1 1/2

cups

all purpose flour

1

cup

louisiana classic fry

breading mix

1/2

teaspoon

paprika

1

teaspoon

curry

1/4

teaspoon

allpsice
Egg Mixture
3

eggs

1/2

teaspoon

paprika

2

teaspoon

adobo

3

tablespoon

mustard
Instructions
Clean and rinse the pork chops, and pat them dry with a paper towel.

Season the pork chops with epis seasoning and refrigerate them until you are ready to cook.

In a bowl, mix together all-purpose flour, Louisiana classic fry seasoning, adobo seasoning, paprika, allspice, and curry.

In another bowl, whisk together eggs, adobo, paprika, and mustard.

Dip the pork chops in the egg mixture, coating all sides, and then lightly dredge in the flour mixture, pressing the flour into the meat to help it adhere.

Heat peanut oil in a heavy bottom pan, such as a cast iron skillet, until it reaches a temperature of 350 degrees Fahrenheit.

Carefully add the breaded pork chops to the pan and fry until they are crispy and golden brown, about 4-5 minutes on each side.

Serve the pork chops warm, and enjoy!"
Nutrition
Serving:
6
g
|
Calories:
363
kcal
|
Carbohydrates:
25
g
|
Protein:
35
g
|
Fat:
12
g
|
Saturated Fat:
4
g
|
Polyunsaturated Fat:
2
g
|
Monounsaturated Fat:
5
g
|
Trans Fat:
0.1
g
|
Cholesterol:
172
mg
|
Sodium:
465
mg
|
Potassium:
580
mg
|
Fiber:
1
g
|
Sugar:
0.4
g
|
Vitamin A:
290
IU
|
Vitamin C:
1
mg
|
Calcium:
34
mg
|
Iron:
3
mg
Subscribe to My Youtube
Subscribe to My Youtube Channel to recieve updates on New Videos and Recipes !
How did you like this recipe? Leave a comment and let me know what you think. Looking for another Southern recipe ? Try Southern Shrimp & Grits next!