August 11, 2020 | Last Updated on September 26, 2023 by Patricia Valbrun
Classic Southern Banana Pudding has been a cherished staple in southern homes for generations. It offers a delightful fusion of creamy textures, bold flavors, and the irresistible allure of ripe golden bananas.
Each spoonful isn't just dessert – it's a nostalgic trip through time.If you want an easy, no-bake dessert, try this Classic Southern Banana Pudding Recipe!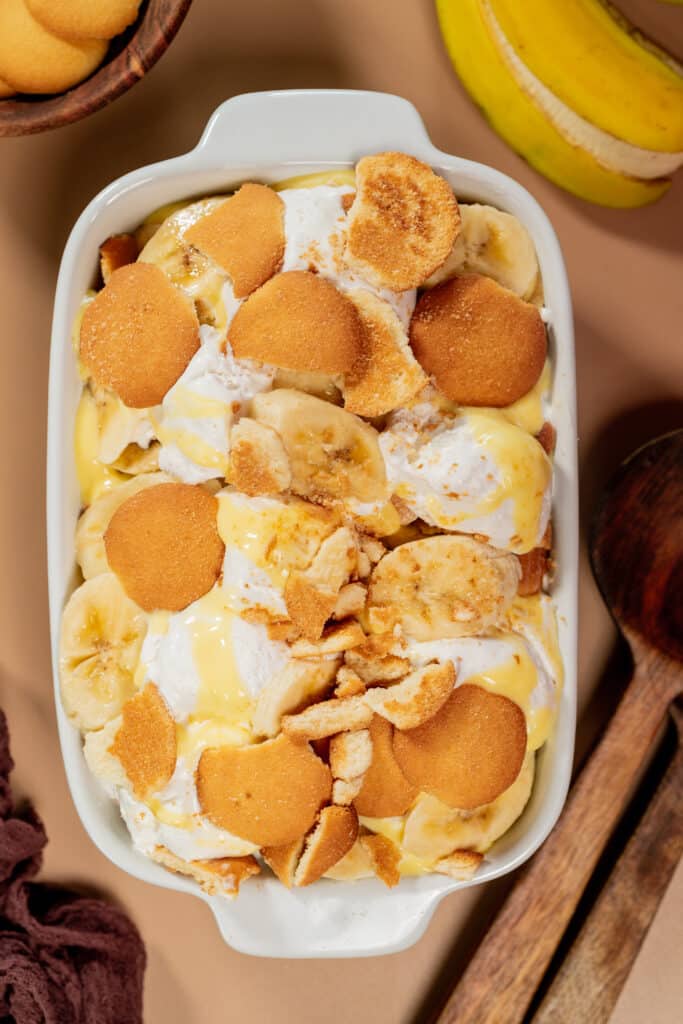 Ingredients for Banana Pudding
Here's what each ingredient brings to the banana pudding recipe:
Vanilla Pudding: Creamy base with a comforting, classic flavor.
Condensed Milk: Adding sweetness and richness to the pudding creates a luscious texture.
Sour Cream: Imparts a pleasant tanginess, balancing the sweetness and providing a creamy consistency.
Cool Whip: Offers a light and airy texture to the pudding while adding a delightful, whipped cream-like taste.
Vanilla: Enhances the overall flavor profile with a subtle, sweet aroma.
Bananas (sliced to your preferred thickness): Infuse natural sweetness and fruity essence, creating layers of flavor and texture.
Nilla Cookies for Layering: It adds a delightful crunch and vanilla flavor to the layers, contrasting the creamy elements.
How to Make Banana Pudding
In a large glass bowl, we'll walk you through the step-by-step process of creating this delectable Southern banana pudding:
Combine the Pudding Mix: First, empty the contents of the two boxes of vanilla pudding into the bowl.
Add the Creaminess: Gradually pour in 2 cups of milk, all while stirring diligently. Keep going until the mixture transforms into a luscious, velvety consistency.
Incorporate Sour Cream: Let's introduce the rich and tangy sour cream. Gently fold in 1 cup of sour cream, ensuring it blends seamlessly into the pudding mixture.
Whip It Good: With the sour cream nicely incorporated, it's time to bring in the cool whip. Gradually introduce 1/2 of the coolwhip and mix it thoroughly. This step will infuse the dessert with a cloud-like, airy texture.
A Dash of Flavor: Add 1 teaspoon of vanilla extract to enhance the flavor profile and give it another good mix.
Sweet Condensed Milk: Here comes the sweet surprise! Incorporate 2 tablespoons of condensed milk into the pudding mixture.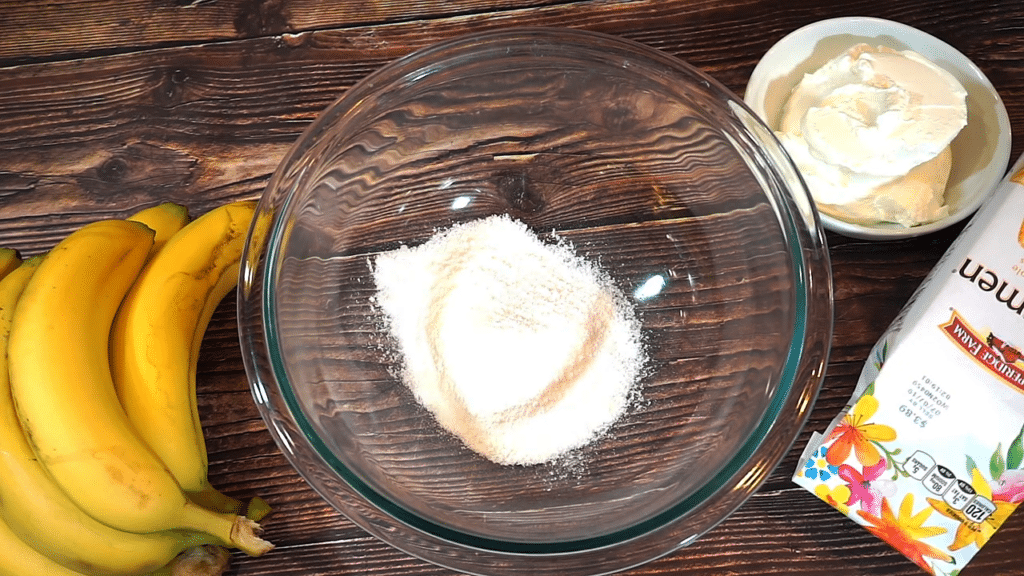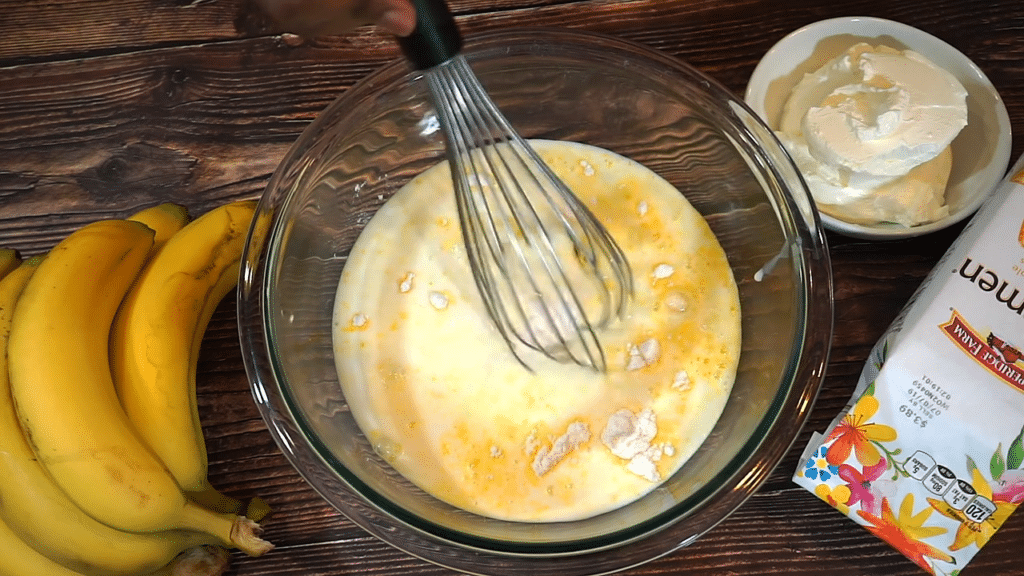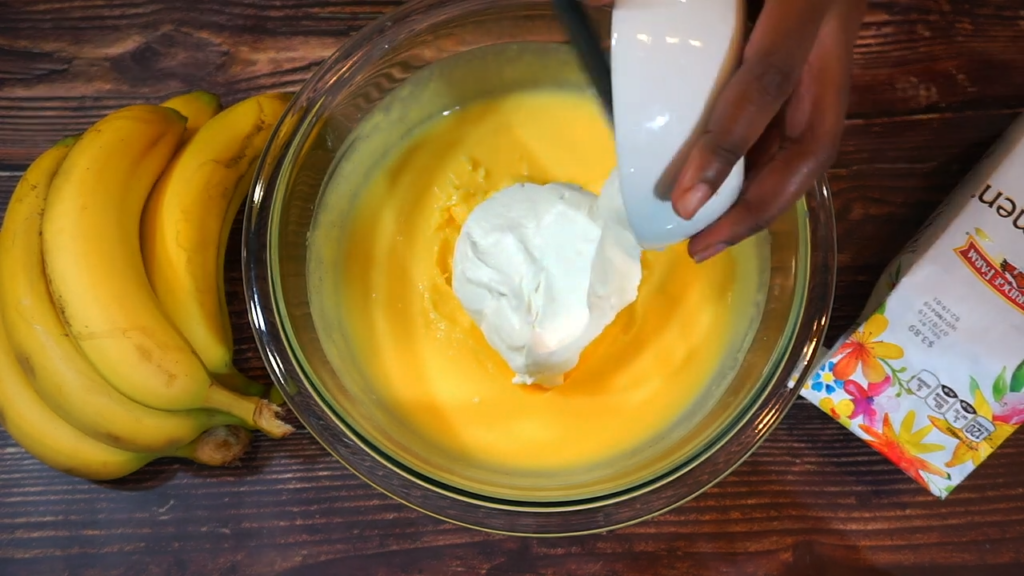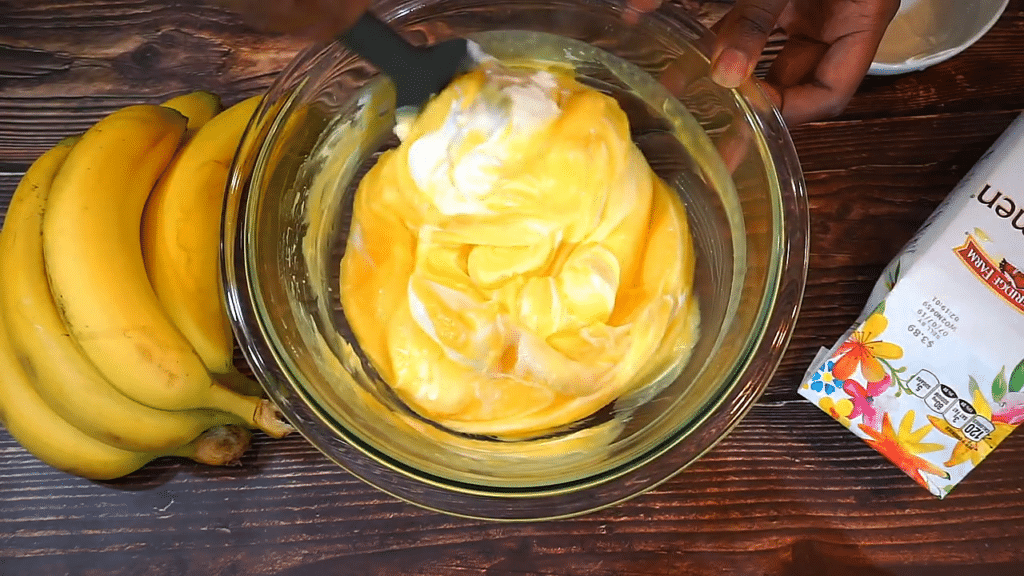 Now, let's move on to the following steps:
Setting It Aside: With the pudding mixture all prepped and bursting with flavor, set it aside momentarily while we prepare the other ingredients.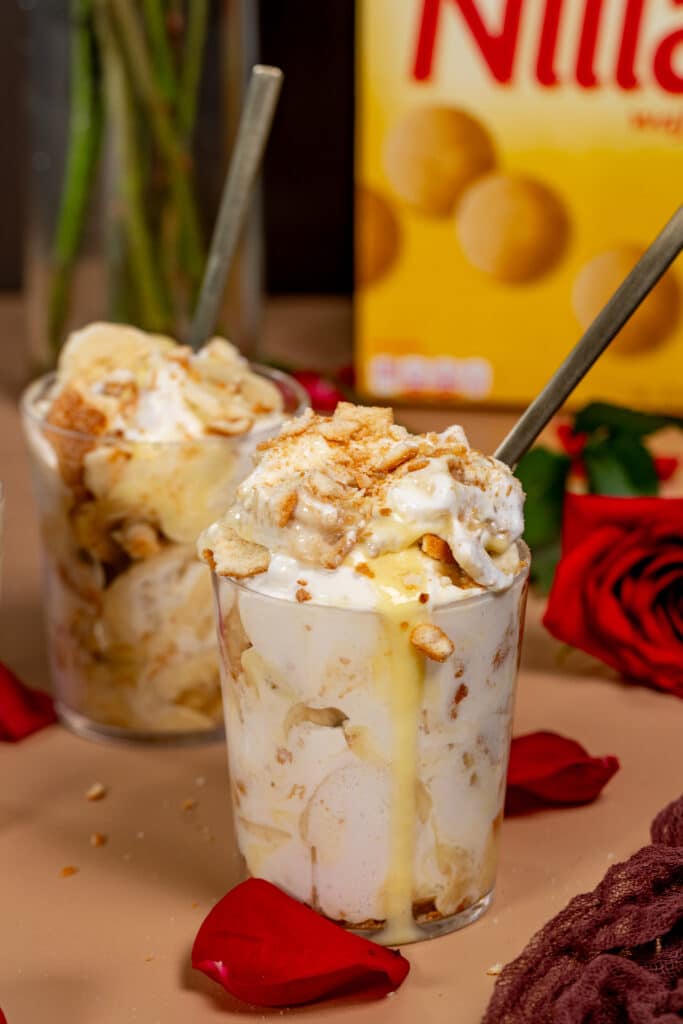 Assembling Layered Banana Pudding:
In a suitable pan for your pudding, let's start crafting layers of goodness:
Begin with a generous layer of Nilla cookies, creating a sturdy foundation.
Add slices of ripe bananas to your preferred thickness, creating a fruity contrast.
Follow up with a layer of our creamy pudding mixture, ensuring each layer is even and sumptuous.
Repeat this tantalizing layering process until you reach the brim of the pan.
The Final Flourish: Top your masterpiece with the remaining 1/2 of the cool whip once the layers are complete. It's like putting a cherry on top, but even better!
Chill for Perfection: Place the pudding in the fridge overnight for the flavors to meld and the texture to set to perfection. This anticipation will be well worth it!
Now, all that's left to do is indulge in your delightful, homemade banana pudding. Enjoy every spooful of this Southern classic!
Classic Southern Banana Pudding In Cups
Assembling banana pudding into cups before serving is a practical and visually pleasing way to serve this beloved dessert. It ensures portion control, minimizes mess, and allows you to elegantly showcase the dessert's layers.
Whether hosting a casual family dinner or a formal event, presenting banana pudding in cups will leave a lasting impression on your guests.
So, get ready to scoop, layer, and delight your taste buds with this classic treat!
Baked Banana Pudding vs. No-Bake Banana Pudding: A Dessert Duel
In one corner, we have the classic and comforting baked banana pudding, known for its warm, custardy texture and caramelized banana goodness.
It's a dessert that often evokes memories of family gatherings and old-fashioned Southern hospitality.
In the other corner, the no-bake banana pudding presents a quick and effortless option. It's a creamy and chilled delight, perfect for those hot summer days when you crave a cool and refreshing treat.
Storing Your Banana Pudding
To keep your banana pudding fresh and delightful:
Refrigeration is Key: Store your pudding in the refrigerator. Cover it with plastic wrap or transfer it to an airtight container or a tumbler.
2-3 Day Shelf Life: Expect your banana pudding to maintain its deliciousness for 2-3 days. During this time, the banana slices may undergo some visual changes, but fear not – their flavor will still be a delight.
Avoid Freezing: It's best to avoid freezing banana pudding. Freezing can alter the pudding's texture, so make a fresh batch when ready for more. Luckily, it's a breeze to whip up another batch!
Toppings Ideas for Banana Pudding
Toasted Coconut: Toasted coconut flakes provide a nutty and slightly crunchy texture and a tropical twist.
Chopped Nuts: Crushed or chopped nuts like pecans or walnuts offer a satisfying crunch and a nutty flavor that pairs well with the bananas.
Chocolate Shavings or Chips: Sprinkle some chocolate shavings or mini chocolate chips for a delightful chocolatey contrast to the banana and pudding.
Caramel Drizzle: Drizzle some warm caramel sauce over the top for an extra layer of sweetness and richness.
Cinnamon or Nutmeg: Dust a pinch of ground cinnamon or nutmeg for a warm, aromatic flavor that complements the banana pudding.
Toffee Bits: Sprinkle toffee bits over the pudding for a sweet buttery crunch.
Fruit Compote: Top with a spoonful of fruit compote, such as raspberry or blueberry, for a burst of fruity goodness.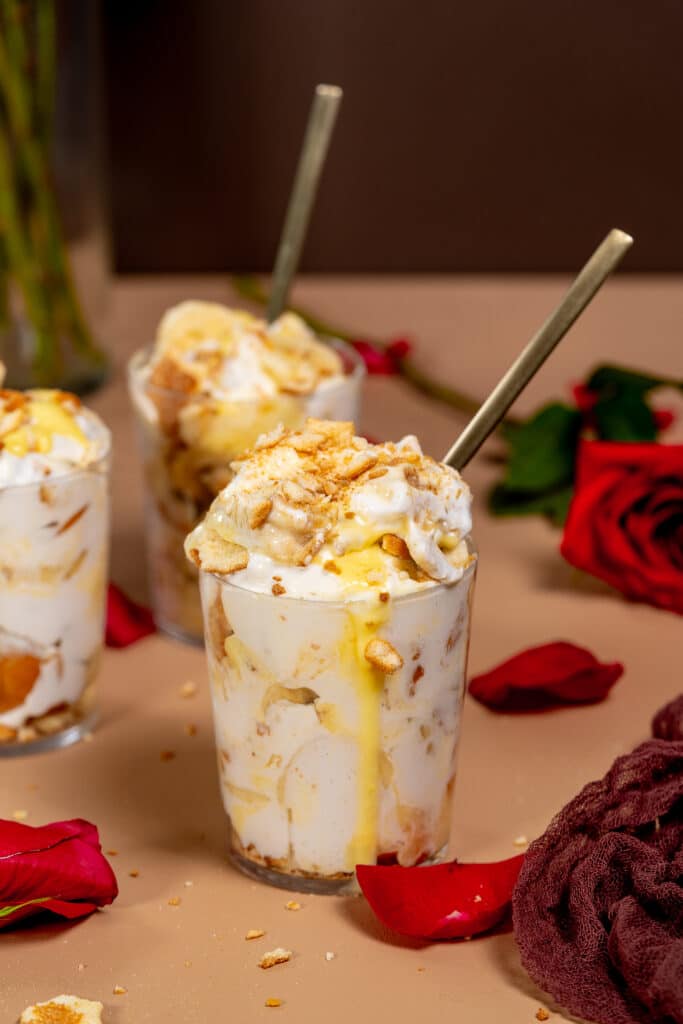 Classic Southern Banana Pudding History
The history of classic Southern banana pudding is a tale steeped in tradition and comfort, much like the dessert itself. This iconic dish has its roots in the heart of Southern cooking, where simplicity, flavor, and family gatherings have always played a central role.
Banana pudding, as we know it today, is believed to have evolved from various custard and bread pudding recipes that were popular in Southern cuisine during the 19th century. The use of bananas, a tropical fruit, added a unique twist to these traditional puddings, infusing them with a delightful sweetness and a hint of exotic flair.
One of the earliest mentions of banana pudding can be traced back to the late 19th century, when cookbooks in the Southern United States began featuring recipes for "banana custard" or "banana pie." These recipes typically included bananas, custard, and some form of pastry or cookie, such as the iconic Nilla wafers.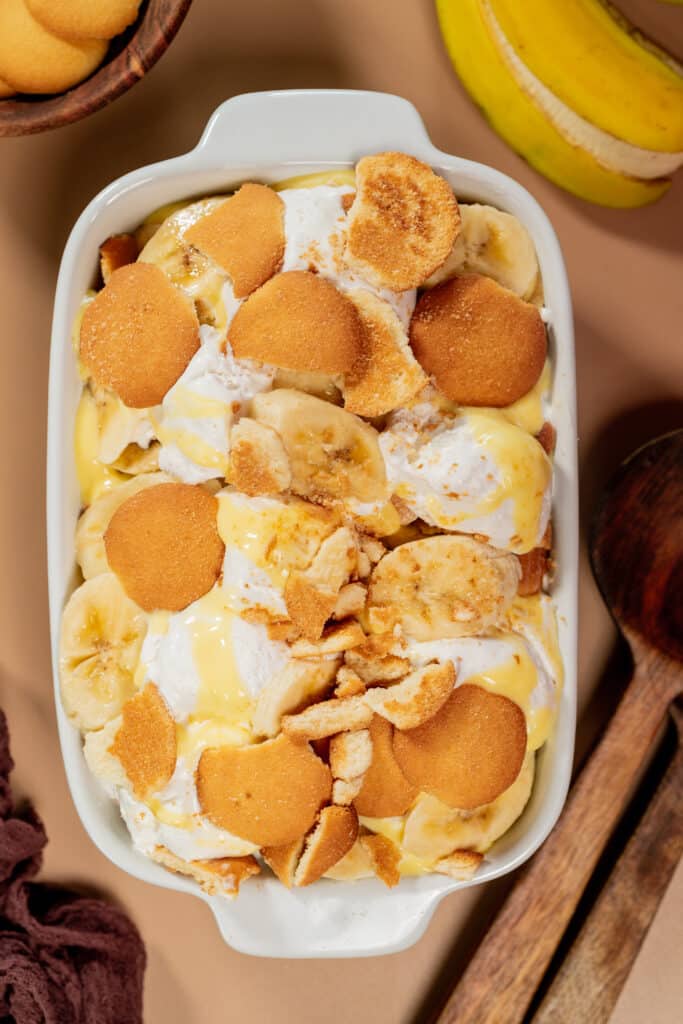 As time passed, banana pudding became a cherished dessert in Southern homes, especially during family gatherings, church picnics, and potluck dinners. Its popularity grew, and by the mid-20th century, it had become a beloved staple at Southern events.
Mix and match these toppings to create your signature banana pudding or offer a variety of options for guests. The possibilities are endless, so have fun experimenting with different combinations!
Would you like to see more? SUBSCRIBE to receive the more recipes! Also, follow me on FACEBOOK, PINTEREST, INSTAGRAM, YOUTUBE or TWITTER.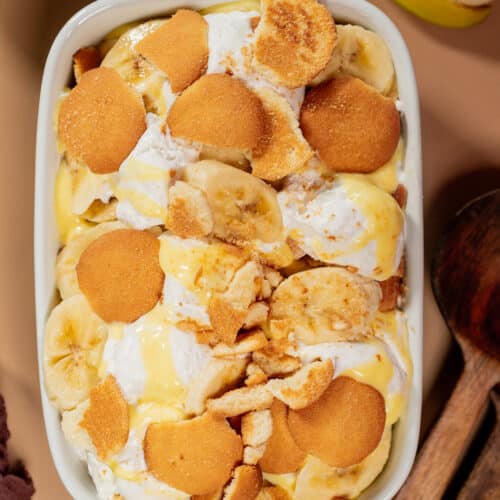 Classic Southern Banana Pudding
Classic Southern Banana Pudding has been a cherished staple in Southern homes for generations. It offers a delightful fusion of creamy textures, bold flavors, and the irresistible allure of ripe golden bananas. 
Ingredients
2

cups

of milk

2

tablespoons

of condensed milk

1

cup

sour cream

1 1/2

cups

cool whip

perserve 1/2 for pudding

1

teaspoon

of vanilla extract

6

bananas

sliced to your preferred thickness

Nillas wafers

one box of cookies for layering
Instructions
Making the Pudding:
In a glass bowl, combine the 2 boxes of vanilla pudding.

Pour in 2 cups of milk and stir until the mixture thickens.

Add your sour cream and fold it in.

Once folded nicely, incorporate the cool whip and mix it thoroughly.

Add 1 teaspoon of vanilla and mix again.
Adding Condensed Milk:
Include the 2 tablespoons of condensed milk and mix it into the pudding mixture.
Setting Aside:
Set the pudding mixture aside while you prepare the other ingredients.
Layering the Pudding:
In a pan for your pudding, begin the layering process:

Start with a layer of cookies.

Add the sliced bananas to your preference.

Proceed with a layer of the pudding mixture.

Repeat the layering process until you reach the top.
Final Touch:
Once you've completed the layers, top it off with cool whip and the remaining cookies.
Chilling: Place the pudding in the fridge overnight to set.
Enjoy your delicious pudding!
Nutrition
Serving:
8
g
|
Calories:
211
kcal
|
Carbohydrates:
31
g
|
Protein:
4
g
|
Fat:
9
g
|
Saturated Fat:
5
g
|
Polyunsaturated Fat:
0.4
g
|
Monounsaturated Fat:
2
g
|
Cholesterol:
28
mg
|
Sodium:
49
mg
|
Potassium:
479
mg
|
Fiber:
2
g
|
Sugar:
20
g
|
Vitamin A:
373
IU
|
Vitamin C:
8
mg
|
Calcium:
138
mg
|
Iron:
0.3
mg
Subscribe to My Youtube
Subscribe to My Youtube Channel to recieve updates on New Videos and Recipes !
How did you like this recipe? Leave a comment and let me know what you think. Looking for another pasta recipe? Try this Salmon Rasta Pasta recipe next!