January 21, 2020 | Last Updated on February 19, 2020 by Patricia Valbrun
This old fashioned Sloppy Joe recipe is a an easy family loving kind of meal. Ground beef crumbles in a sweet and tangy sauce piled on buttery toasted buns.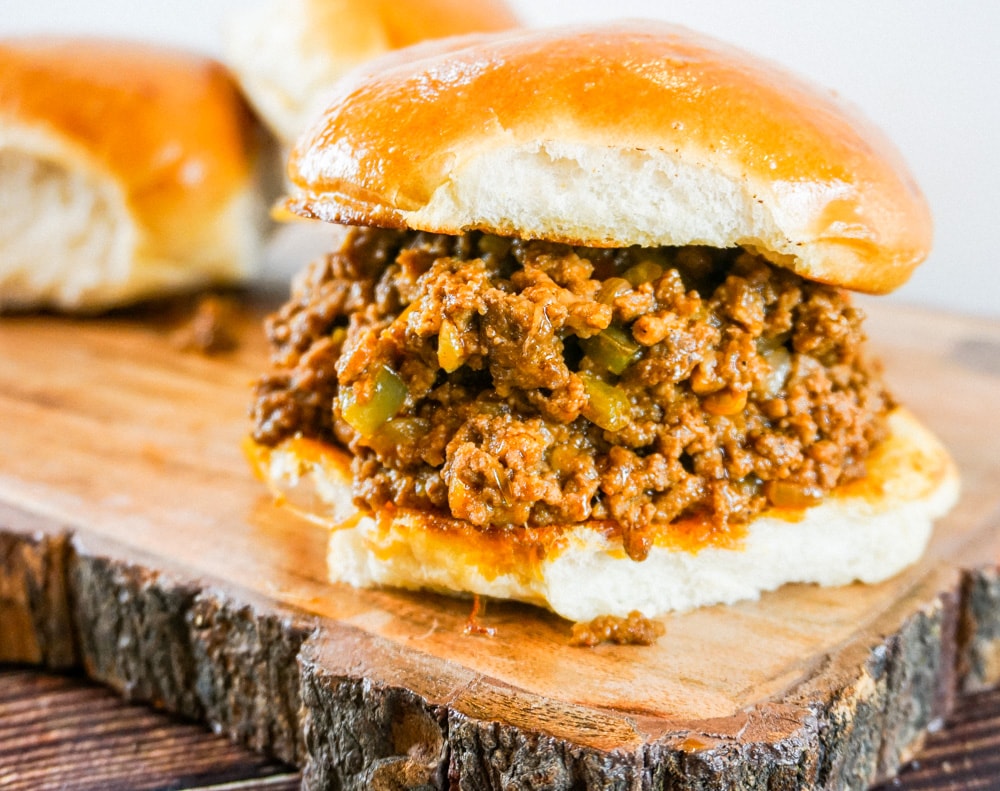 Sloppy Joes in a Classic dish we loved as a young kid! I don't know a kid that would ever turn these down for lunch.
Being a kid there weren't many things we liked in the cafeteria at school but sloppy joes had to be one of our favorites. We later learned that it was even better when it was made at home. It wasn't one of those meals we had very often, so when we did we enjoyed it so much.
How to Make Sloppy Joes
I believe it has the perfect sauce/beef ratio and it's packed with flavor. I switched it up a tad bit using liquid smoke for the extra smokiness and it just adds a kick. Not to mention how incredibly EASY this recipe is.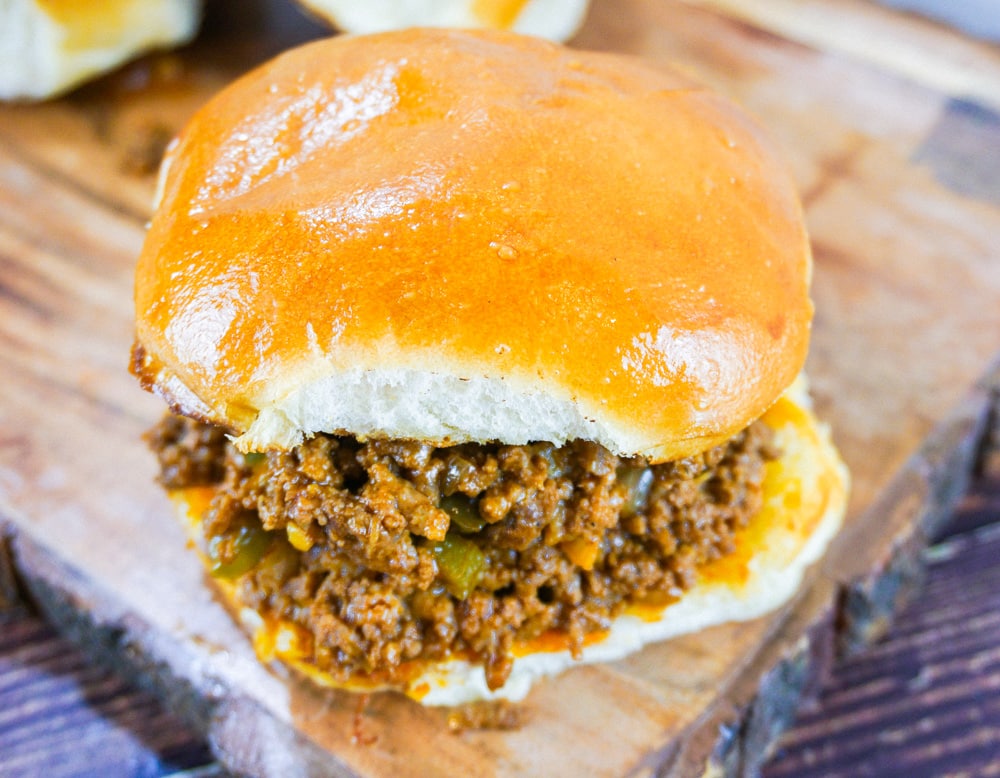 1. Sloppy Joes couldn't be any easier and more delicious! Here's the best way to make sloppy joes.
2. In a cast iron, add the ground beef and cook until browned, breaking down the beef occasionally. Drain liquid and set aside.
3. Sauté the onion, diced bell pepper and garlic in a butter until translucent.
4. Add in the ground beef, tomato paste and all other ingredients.
5. Let the mixture simmer for a few minutes.
Scoop the sloppy joe mixture onto buttered buns and enjoy!
Liquid Smoke vs BBQ Sauce
We love the smokiness liquid smoke add, you can opt out for barbeque sauce instead but you will have to change the recipe a little bit being that a few ingredients in barbeque sauce are already added in.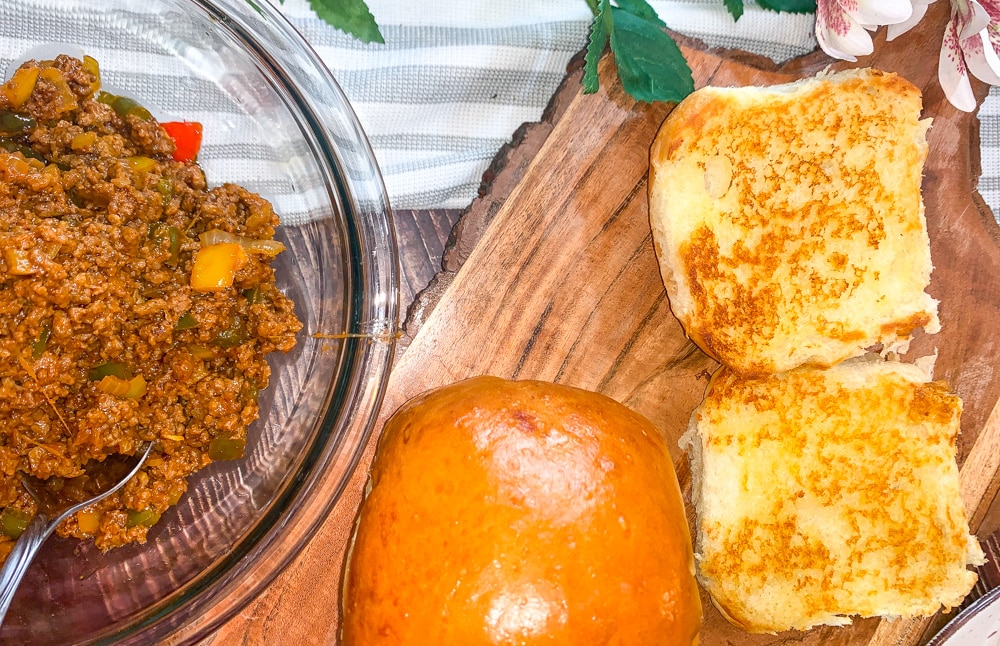 What is a Healthier Opt?
Ground Turkey! You can use pretty much any ground meat you'd like in these easy sloppy joes. If you'd like to use ground turkey in particular minimize the cooking time as you do not want to overcook the turkey.
How to Freeze Sloppy Joes?
Cool the sloppy joes filling completely in the refrigerator before you freeze it. Freeze it in freezer bags and lay it flat in your freezer so you can stack your frozen meals. You can freeze it for 3 – 6 months. When you're ready to eat the frozen sloppy joes filling, place it in the fridge overnight to thaw and then warm it on the stove.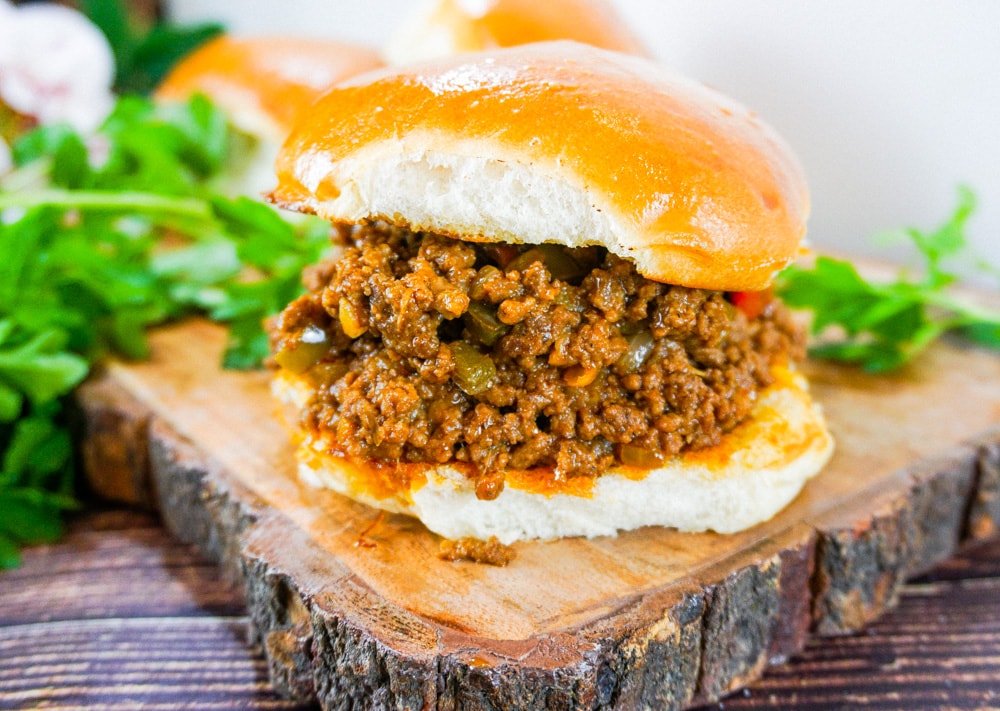 Would you like to see more? SUBSCRIBE to receive the more recipes! Also, follow me on FACEBOOK, PINTEREST, INSTAGRAM, YOUTUBE or TWITTER.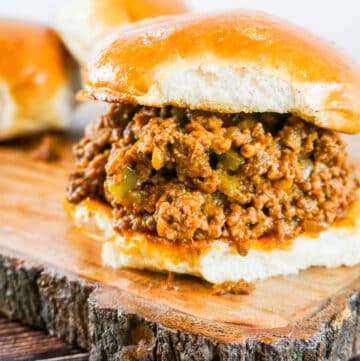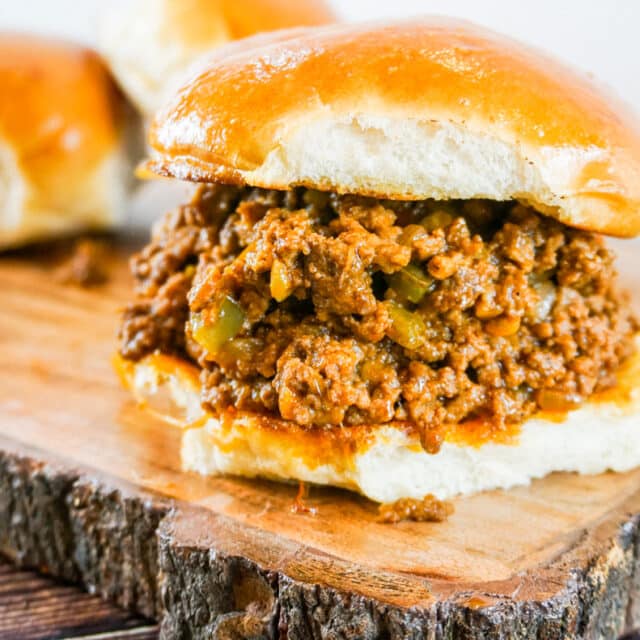 Sloppy Joe
This old-fashioned Sloppy Joe Recipe is a quick and easy family-lovin' kind of meal.  Ground beef crumbles in a tangy-sweet sauce piled on buttery toasted buns.
Ingredients
3

tbsp

butter

1/2

cup

onion

diced

1/4

cup

red bell pepper

green, yellow

1

clove

garlic

minced

1

lb

lean ground beef

1

tbsp

tomato paste

2

tbsp

brown sugar

2

tsp

dijon mustard

1

tbsp

Worcestershire Sauce

3/4

tsp

liquid smoke

1

tsp

paprika

1

cup

ketchup

1

tbsp

vinegar

Salt and Pepper to taste

3

provolone cheese

slices

Buns for serving

type brioche
Instructions
Heat a cast iron oven over medium heat and add oil.

Add ground beef and allow it to brown before moving, then start chopping it up with a wooden spoon. Cook until brown for another 5 mins. Drain liquid and set aside.

In the same pot. Add butter, once melted, quickly add the onion, pepper and garlic and stir occasionally until translucent.

Add the tomato paste and stir. Then add, brown sugar, mustard, Worcestershire, liquid smoke, paprika.

Stir for 30 seconds and then add the ketchup and vinegar.

Allow to cook for 5 minutes, season to taste and serve or cook. The longer it cooks the better the flavor.

Scoop onto buns that have been brushed with butter.
Subscribe to My Youtube
Subscribe to My Youtube Channel to recieve updates on New Videos and Recipes !
How did you like this recipe? Leave a comment and let me know what you think. Looking for another to pair with is one ? Try these Pepper Steak next!