January 17, 2020 | Last Updated on February 3, 2023 by Patricia Valbrun
These delicious Salmon Cakes are a quick and easy classic appetizer done right! Nice and tender on the inside full of salmon flavor and aromatics, yet crunchy and delicious on the exterior from pan frying, you will make these time and time again.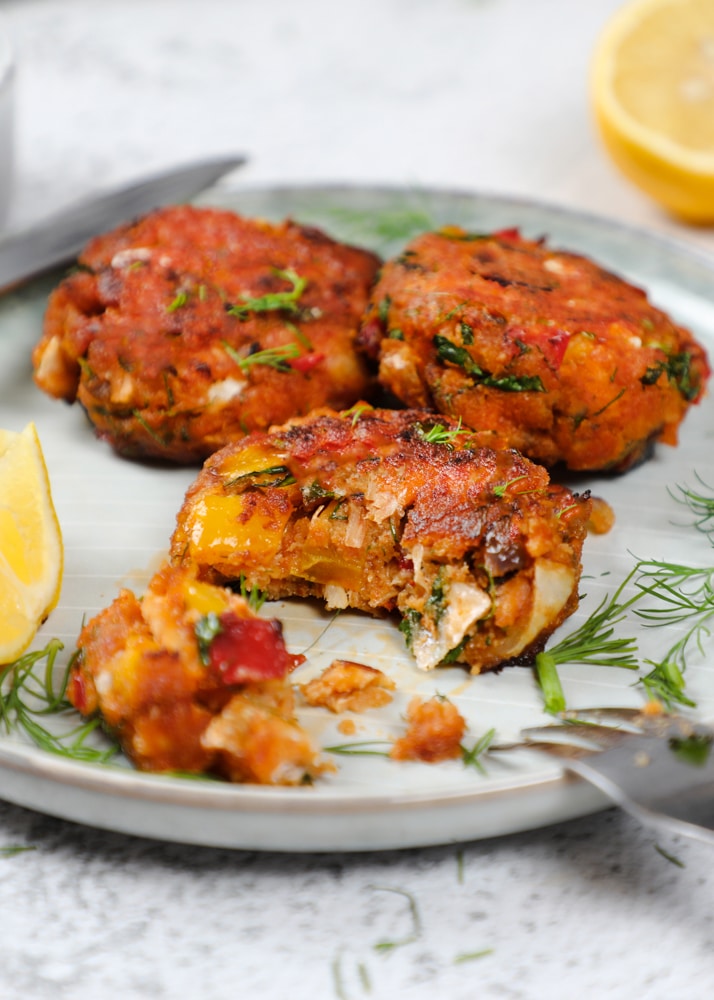 Keep reading to learn how to make the best salmon cakes you'll want all your friends and family to taste. You can easily pair this dish with Grits, Creamiest Mash Potatos or Sweet Potato Souffle.
How to make Salmon Patties ?
This recipe for couldn't be more straightforward. The filling can be mixed easily in one bowl. Just throw everything into a bowl and mix with a fork or even your clean hands to combine the ingredients well.
The salmon filling helps keep the patties moist, tinder and firm, so be cautious of how much of each ingredient you're adding into the mixture. Please don't overdo it!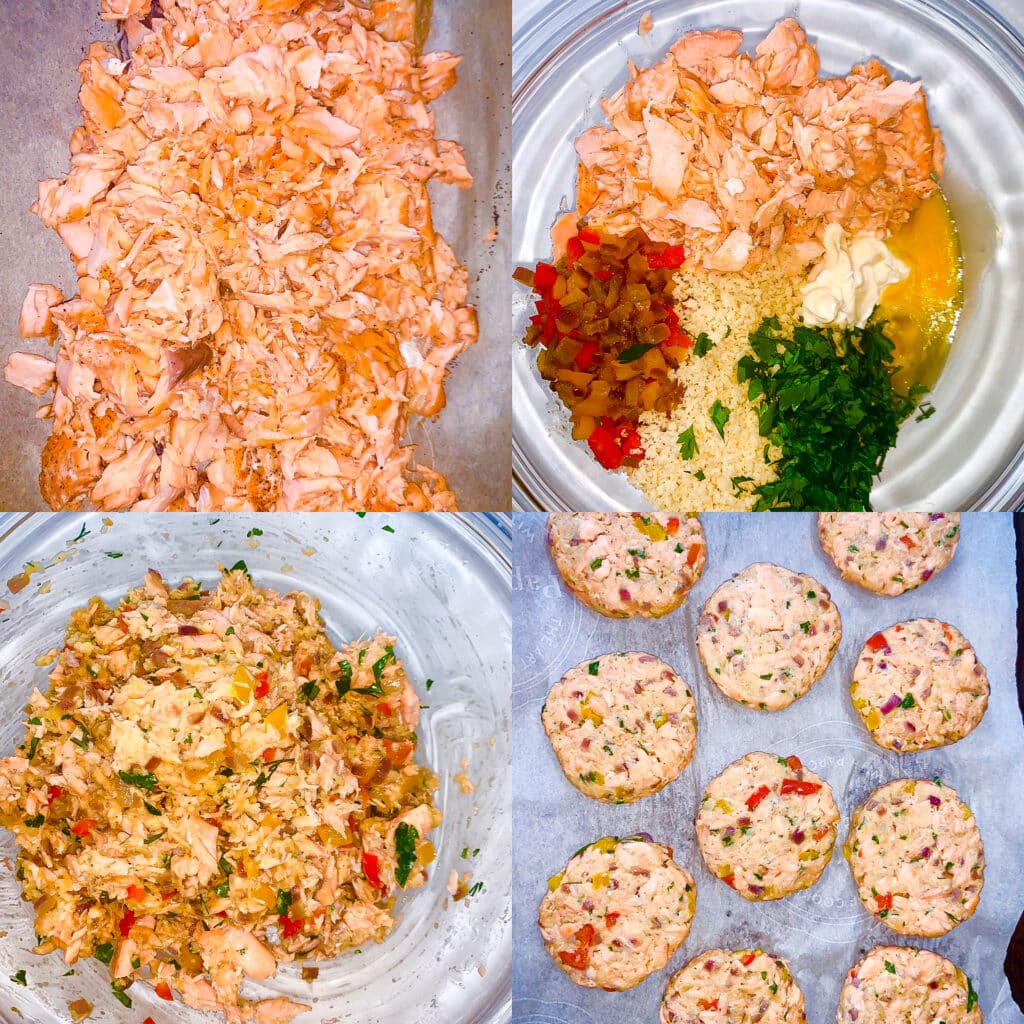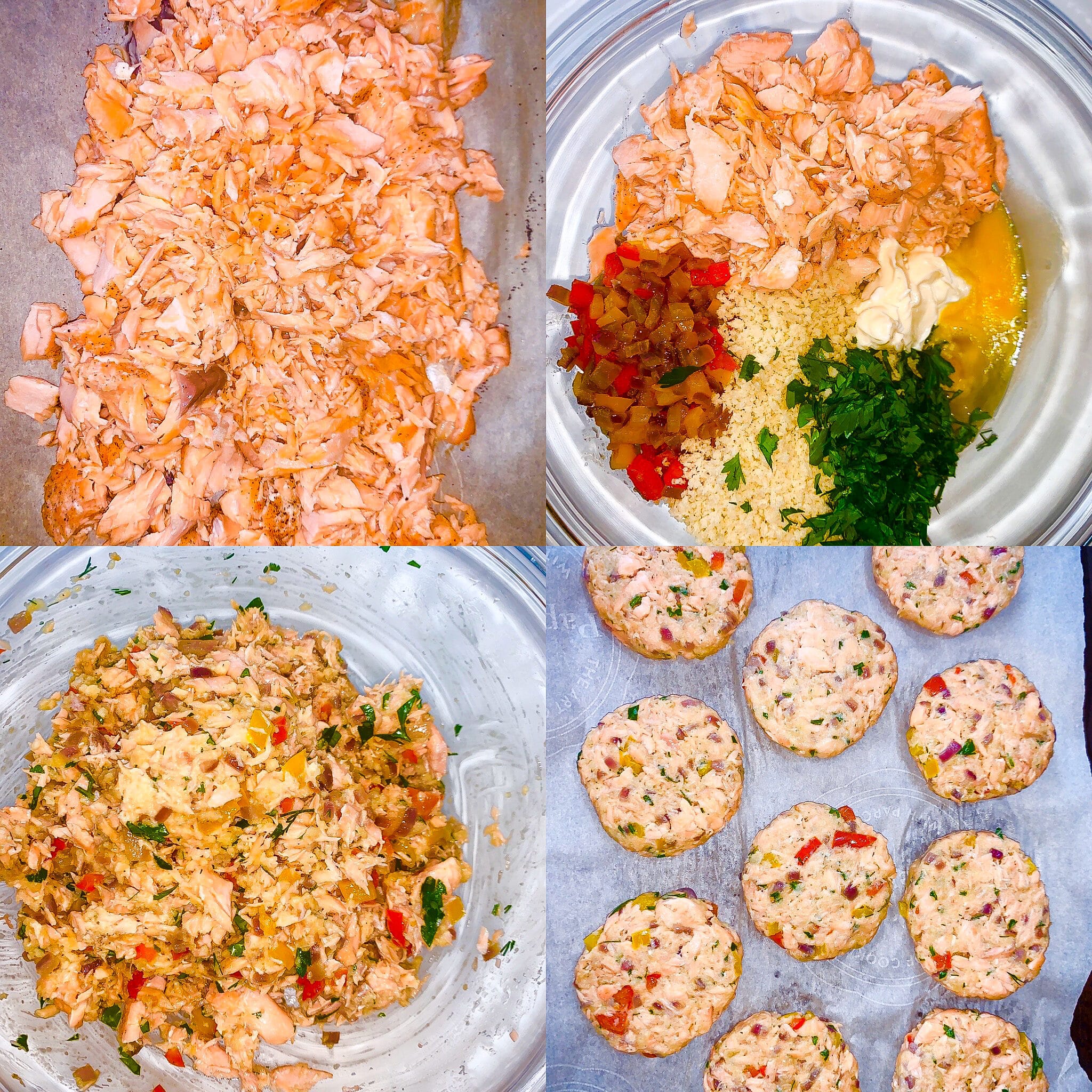 The key to making this salmon cake recipe is finding the perfect balance between a moist and firm patty. Your patties will fall apart if it's too wet and will be dry if fried too long. Honestly, I would leave the same ratios and handle the patties with care.
Next comes the fun part! We gently shape them into medium-sized patties. I don't make them too big because the bigger you make the patties, the harder it is to maneuver them.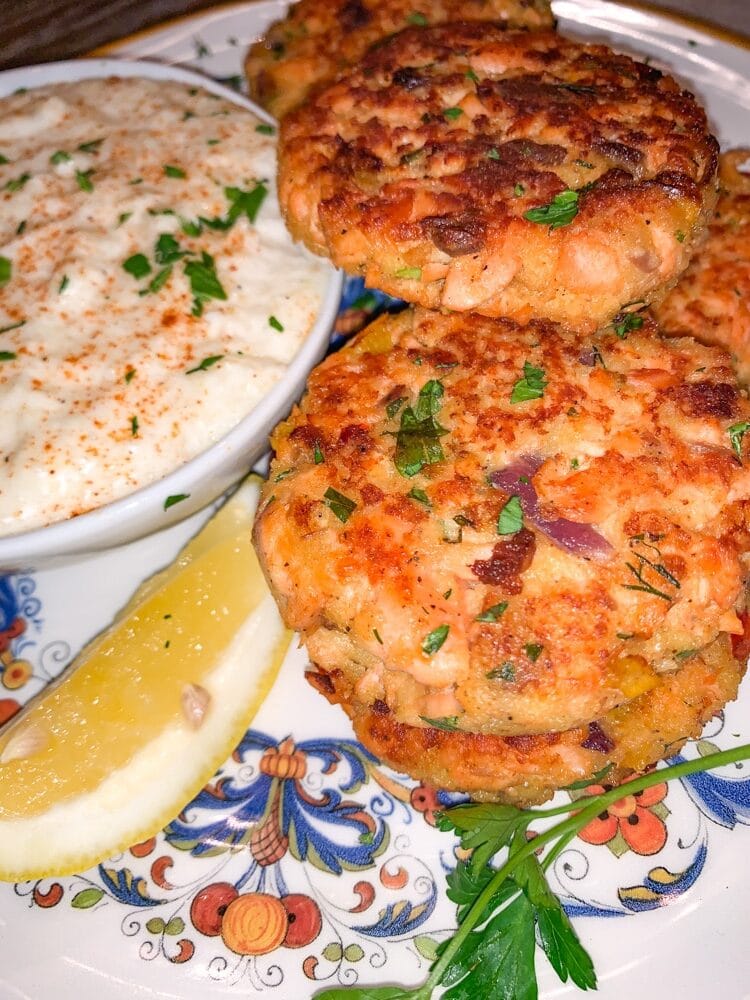 Frying Salmon Patties

Fry using oil and butter will help get that pleasant buttery taste. Not too much oil is needed since you aren't deep frying them but more pan-frying them. Golden brown is what you are looking for, and it doesn't require much time.
You could also make air fryer salmon cakes, but the final taste might vary a little, and you can end up with slightly drier, but the choice is up to you, depending on your preference and diet.
Salmon cakes baked are another option here. You can preheat your oven to 425°F while preparing the patties and then bake them for 15 minutes. After that, turn them around and cook them for an extra 5 minutes to achieve crispy salmon cakes.
Fresh Salmon Vs. Cooked or Canned Salmon?
This easy recipe is meant to be made with fresh salmon, but any time of salmon will also work! Most recipes for salmon cakes call for canned or cooked salmon. I tried making them with both cooked and fresh salmon, and fresh salmon by far has a much better texture and flavor.
Fresh salmon produced much juicier and tasted significantly better. Of course, if you want to use cooked or canned salmon, it will work too, but fresh salmon will have superior results. Canned salmon will still taste great, but a more "natural" option like fresh salmon is recommended.
How To Use Canned Salmon
If you wish to make this salmon patty recipe with canned salmon, here's how to use it.
Canned salmon comes already cooked, and it is effortless to flake apart using a spatula, so you don't need to spare much time before cooking it, just like you would with frozen salmon, for example.
Although canned salmon tastes great in these salmon patties, they usually come with more bones and skin mixed with the meat than most people would like. Don't panic because bones and skin are safe to eat, and you probably won't even notice they're there. Further, they contain high levels of calcium and healthy omega-3 fatty acids that our body needs.
Consider this when deciding which type of salmon to use in this easy and quick recipe to avoid any inconveniences while cooking and add some rich nutrients to your dish.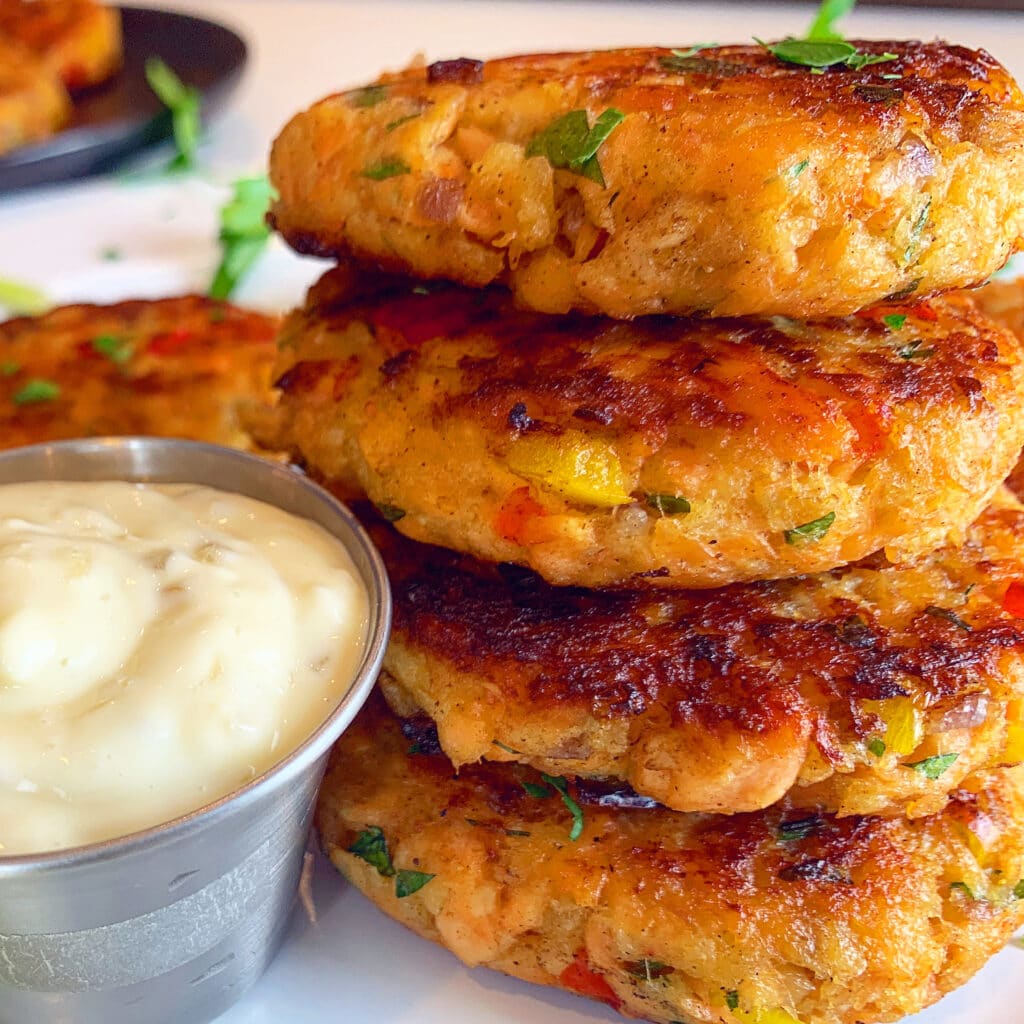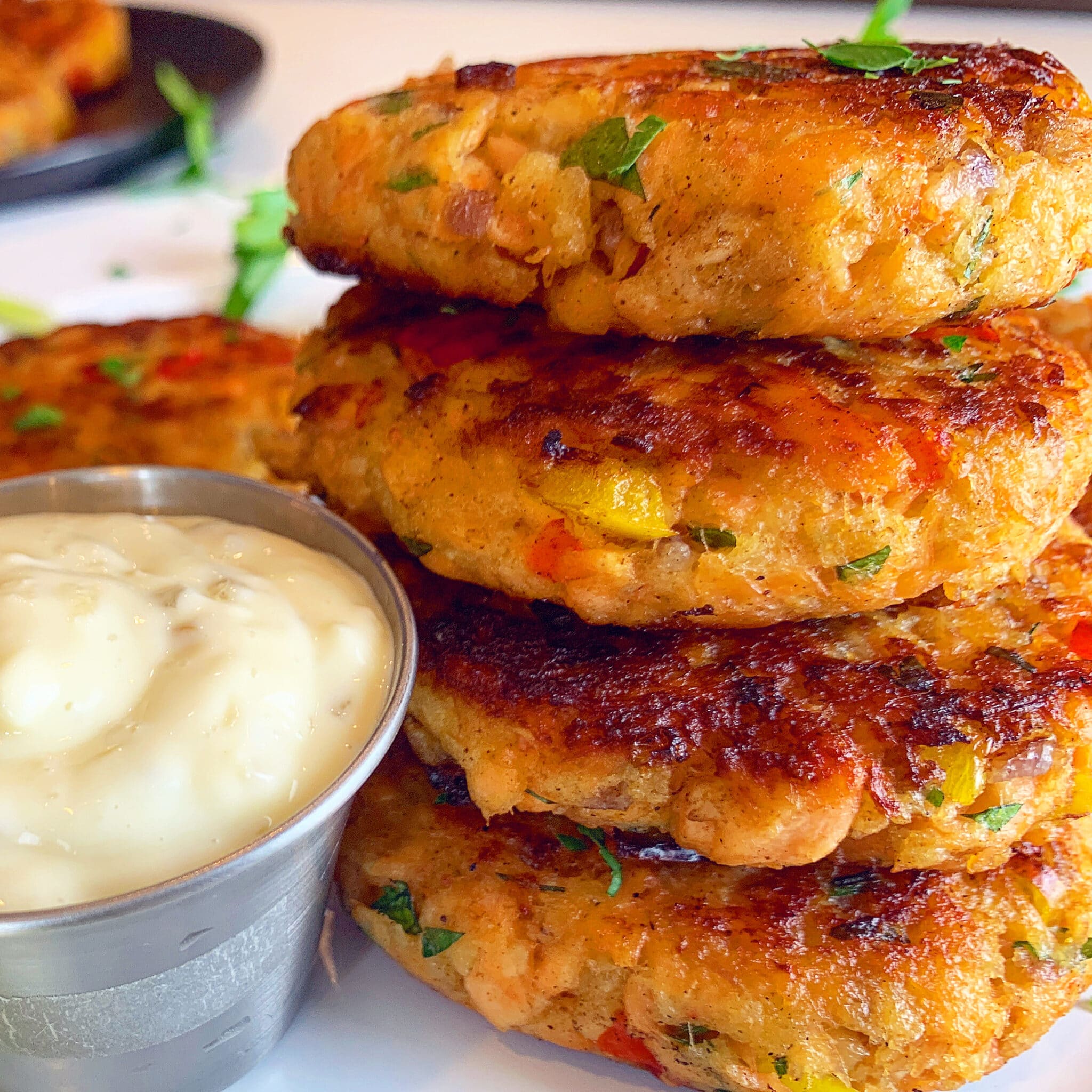 How To Store Leftover Salmon Patties

If you want to cook more salmon patties to store for another day, they are very easy to put away in the fridge while keeping their flavor intact.
You can store them in an airtight container and keep them in the fridge for up to 3 days keeping its original tasty flavor.
You can do so in the microwave or in a lightly oiled skillet over medium heat when it's time to reheat. You can pair salmon cakes and eggs, salmon cakes and rice, as well as salmon cakes and sides in general, and reheat them in your preferred method for a quick and easy leftover meal.
Can I Freeze Salmon Patties?
Freezing baked salmon cakes can result in a loss of flavor. I suggest freezing UNCOOKED salmon patties for up to 3 months. Wrap the patties in plastic wrap and combine them into a freezer bag.
Thaw and cook as directed in the recipe and enjoy your salmon cakes!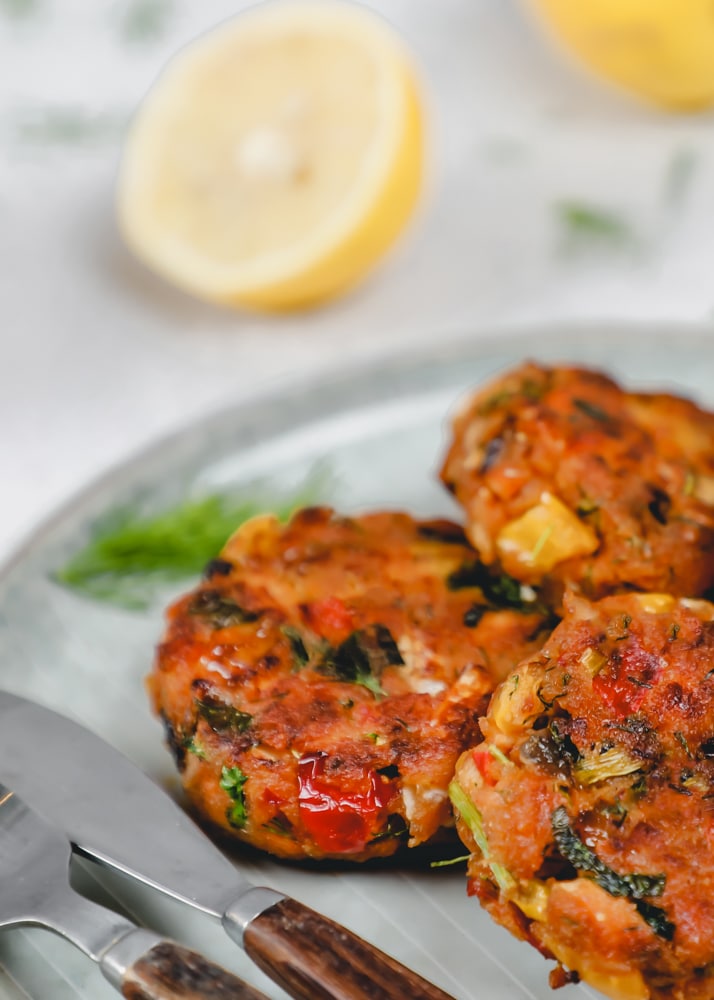 Would you like to see more? SUBSCRIBE to receive the more recipes! Also, follow me on FACEBOOK, YOUTUBE,PINTEREST, INSTAGRAM or TWITTER.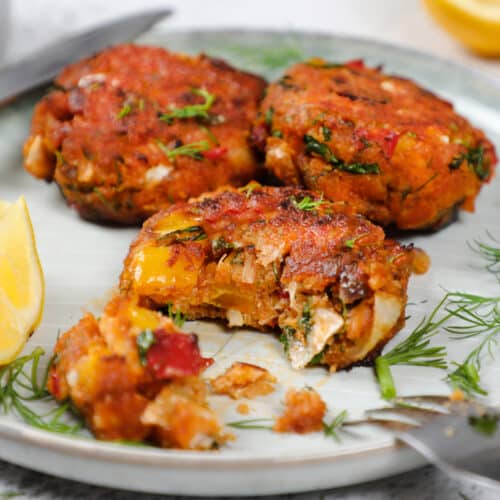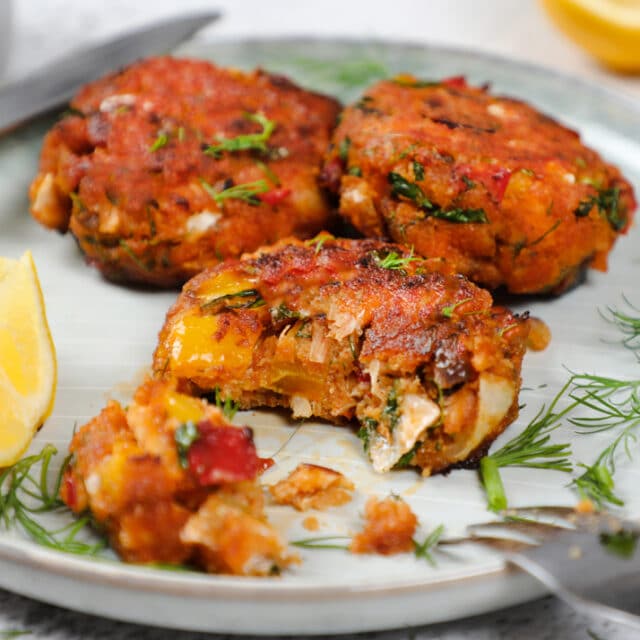 Salmon Cakes
These delicious Salmon Cakes are a quick and easy classic appetizer done right! Nice and tender on the inside full of salmon flavor and aromatics, yet crunchy and delicious on the exterior from pan frying, you will make these time and time again.
Ingredients
1

lb

salmon

you can also use canned or leftover cooked salmon

olive oil

1

tsp

garlic powder

black pepper

1

tsp

salt

3

tbsp

butter

for frying vegetables and salmon cakes

1

cup

plain panko crumbs

FOR Low carb or KETO, use sweet potatos

1

cup

red onion

1/3

cup

red bell pepper

1/3

cup

yellow bell pepper

2

eggs

lightly beaten

2

tbsp

mayo

1

tbsp

sour cream

1

tbsp

chopped fresh dill

2

tbsp

parsley

1

tbsp

fresh lemon juice

1/2

tsp

smoked or sweet paprika

optional

1

tsp

worecheshire
Instructions
Preheat oven to 425˚F.

Clean salmon with lemon and warm water and hand dry with paper towel.

Add, salt, pepper and garlic on salmon. Bake for 10-15 minutes, no longer that this time. Once salmon is done flake salmon immediately and set aside.

In a medium size pan, add olive oil and butter, sauté onions and peppers for 7 minutes or until your desired texture.

In a large mixing bowl combine prepared salmon, panko crumbs, onions, eggs, dill, parsley, lemon juice, worcestshire, mayo, sour cream, paprika (optional), salt and pepper; mix until thoroughly combined.

Form mixture into 10 to 12 patties; you'll need about 1/3 cup of mixture per patty.

On medium heat add olive oil and butter. Fry patties for 4 minutes on each side, or until golden brown and crispy.

Remove from stove set aside.
Subscribe to My Youtube
Subscribe to My Youtube Channel to recieve updates on New Videos and Recipes !
Did you enjoy this Appetizer recipe? Leave a comment and let me know what you think. You can find more Bite Size recipes here.