November 5, 2019 | Last Updated on January 7, 2023 by Patricia Valbrun
This Sausage and Sage Cornbread Dressing Recipe is just YUM! As we're all getting ready for the upcoming Holiday's, I had to make this one for you guys.
The fresh herbs in this dish are the most popular ingredient making it flavorful and delicious. It's enough to feed a crowd and definitely a pleaser.
Making shareable dishes is the highlight when cooking. I guess that's why I've always loved thanksgiving. It's the perfect time for friends and family to come together and enjoy each other's company.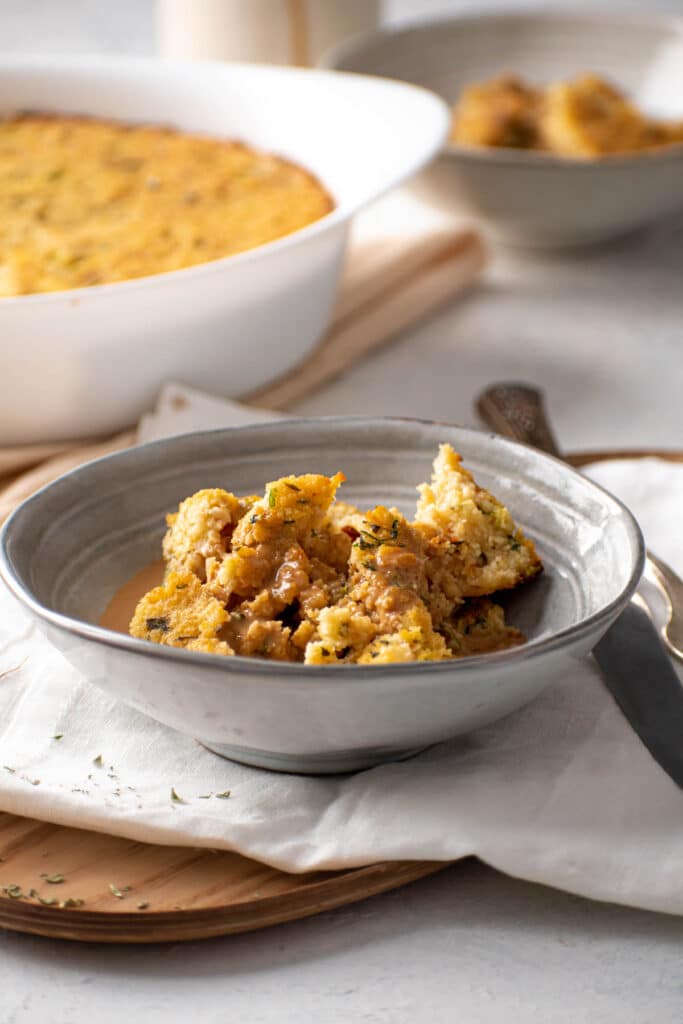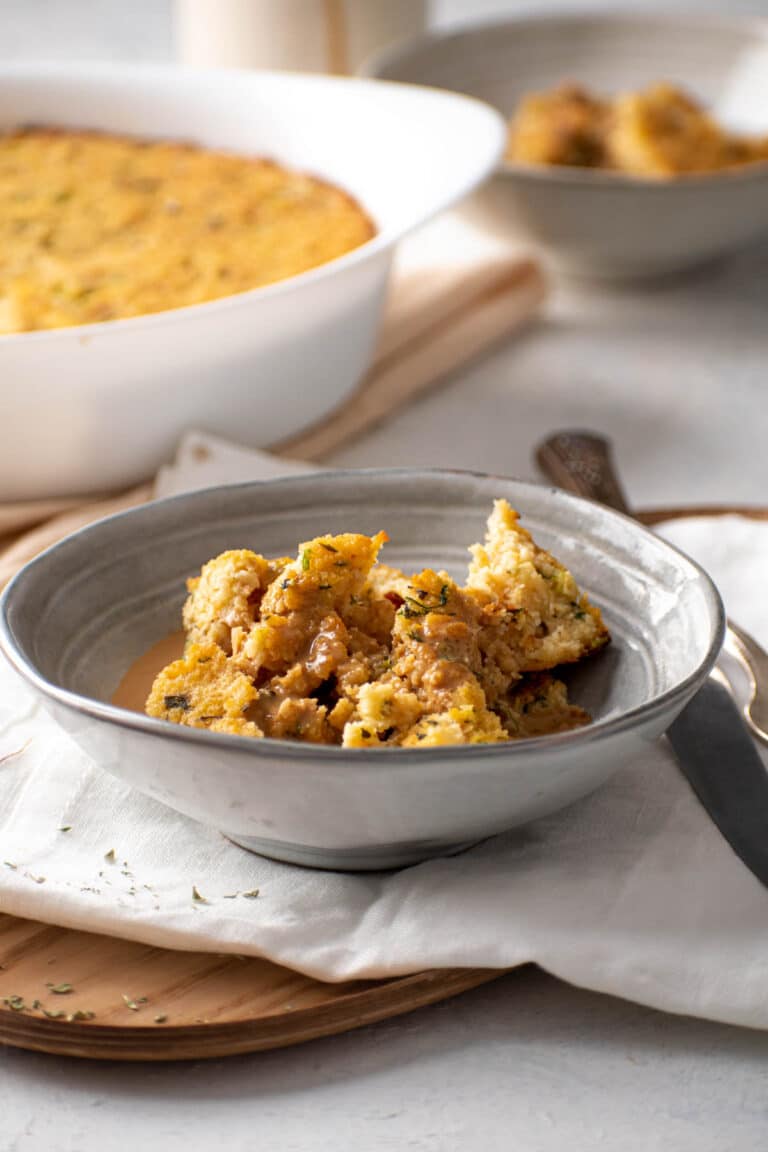 Also, we will not forget those family members that put in their request at the beginning of the year for you to make a specific dish, and of course, you show up but not alone of course. Now, it's time for most of us to get in the kitchen.
Stuffing vs Dressing
These two are the same except for the cooking method. In stuffing, the mixture is stuffed inside a chicken or turkey and cooked. The dressing is cooked separately on a dish in an oven.
When I was younger my mother always made stuffing for thanksgiving, it was honestly one of my favorites. I loved the bread mixed with those fresh vegetables and herbs. I never had it the same as an adult and I still crave it to this day.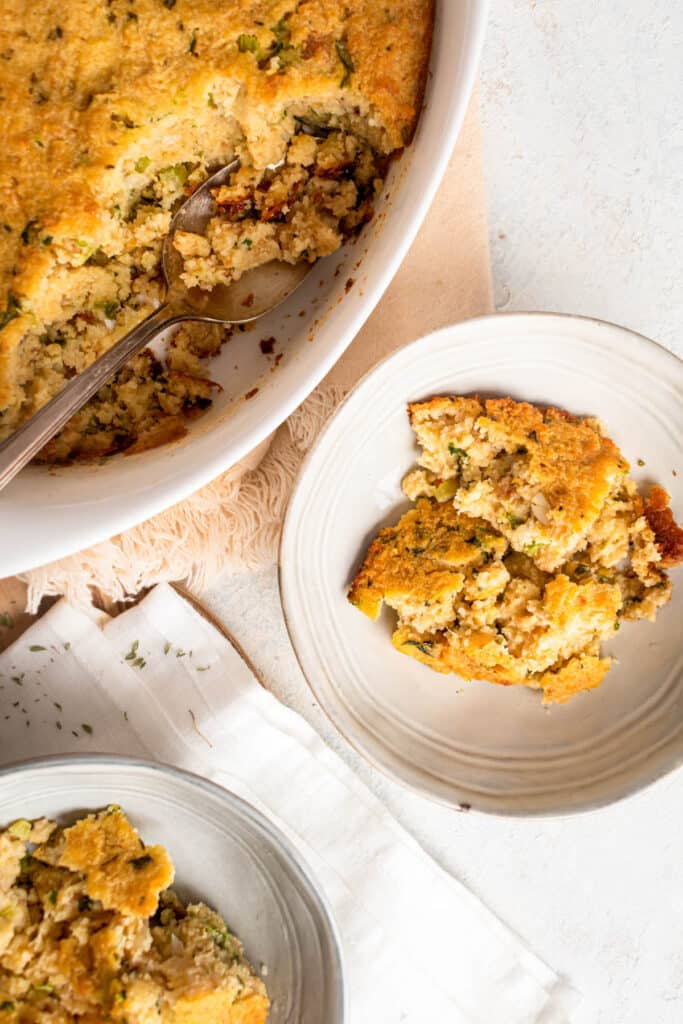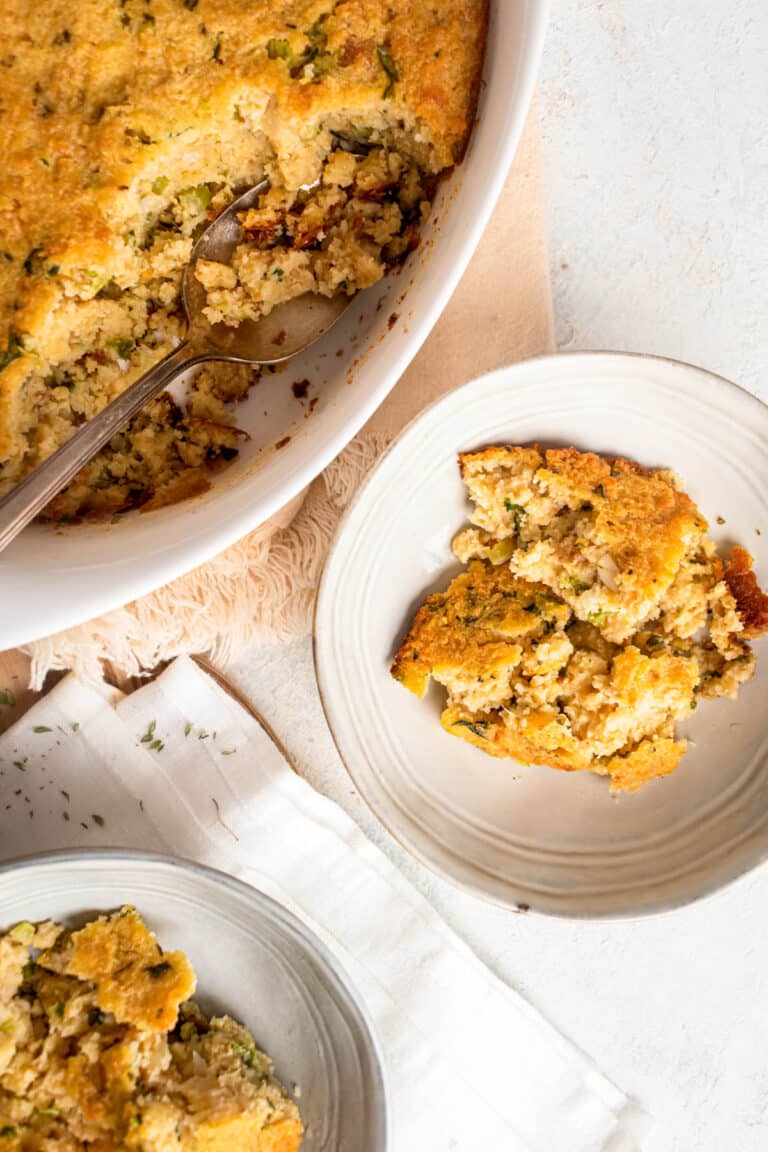 The stuffing reminds me of cornbread dressing, they're pretty much the same thing but aside from the change of bread. Not everyone can make a good cornbread dressing, sometimes it's too salty or mushy but this one, it's right.
Can You Make This Sausage & Sage Cornbread Dressing Recipe Ahead?
Definitely! Bake the cornbread ahead then wrap it in plastic. You can store it on the counter for up to three days or you can also freeze it and thaw when needed. As for the dressing, you can prepare and assemble the ingredients then bake when you're ready to serve them.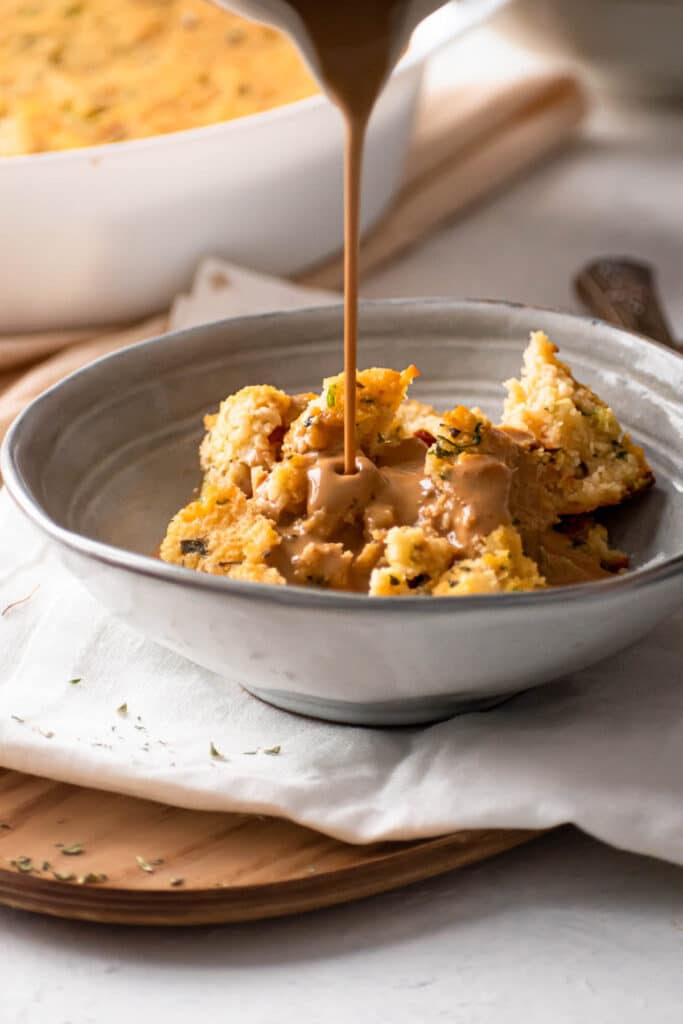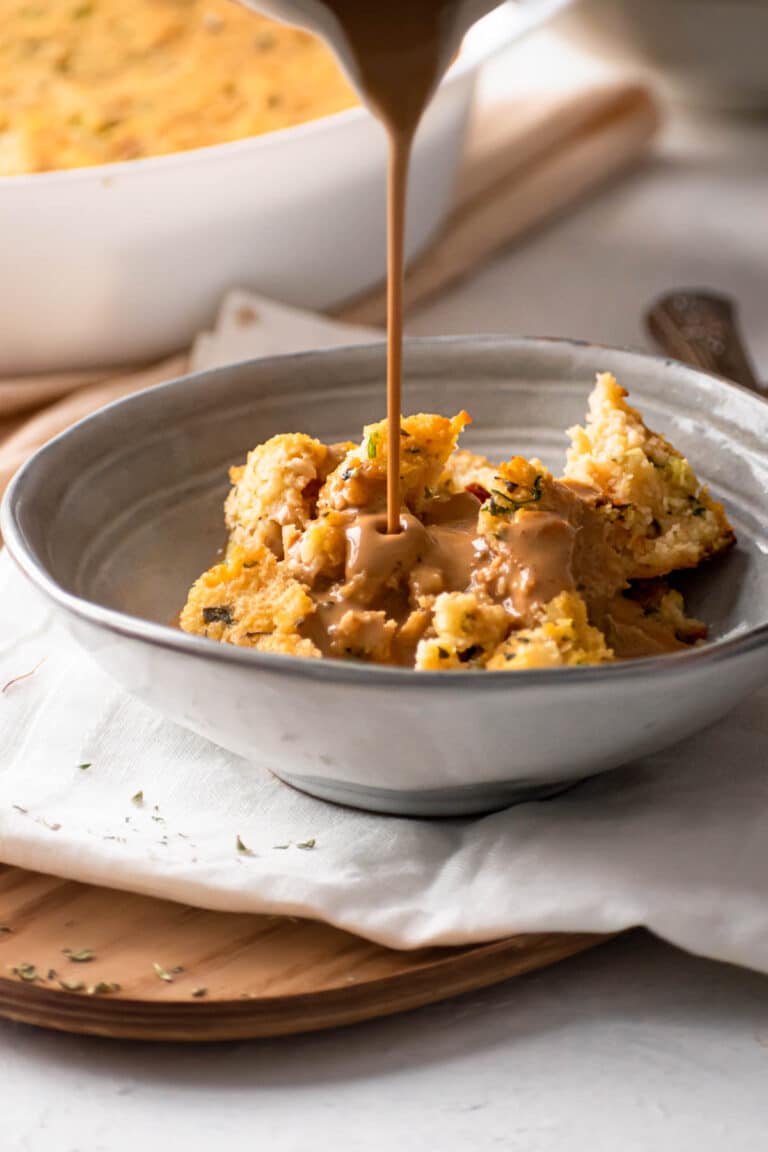 What Do You Eat With This?
This is best paired with recipes like Butterflied Roast Chicken, Baked Lemon Pepper Chicken, Meatloaf, Creamiest Mashed Potatoes, and more. Don't forget to serve this gravy!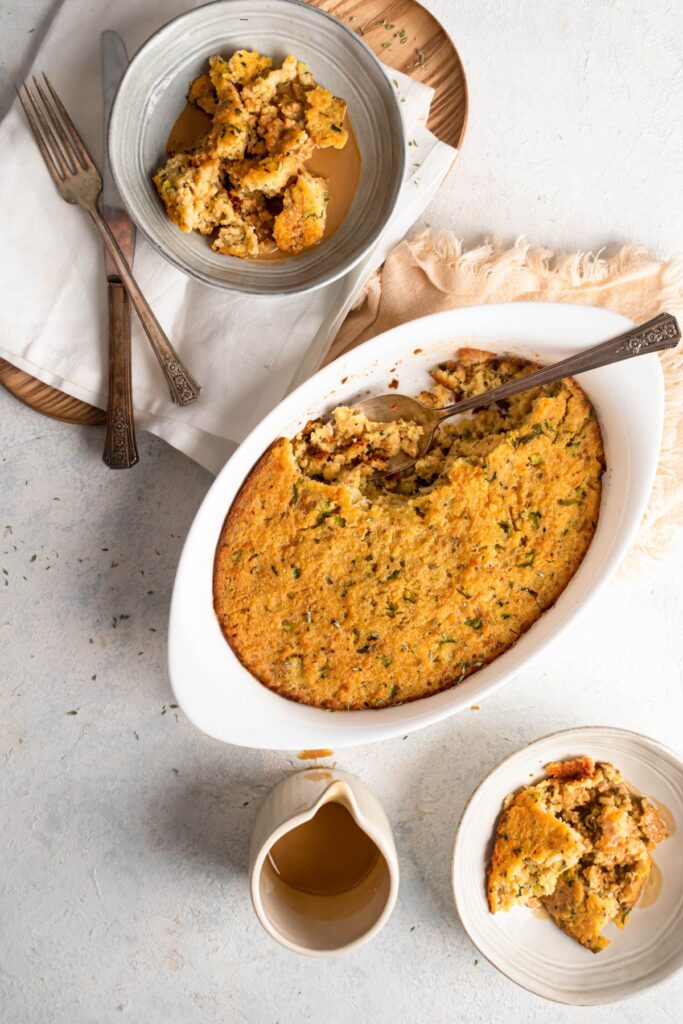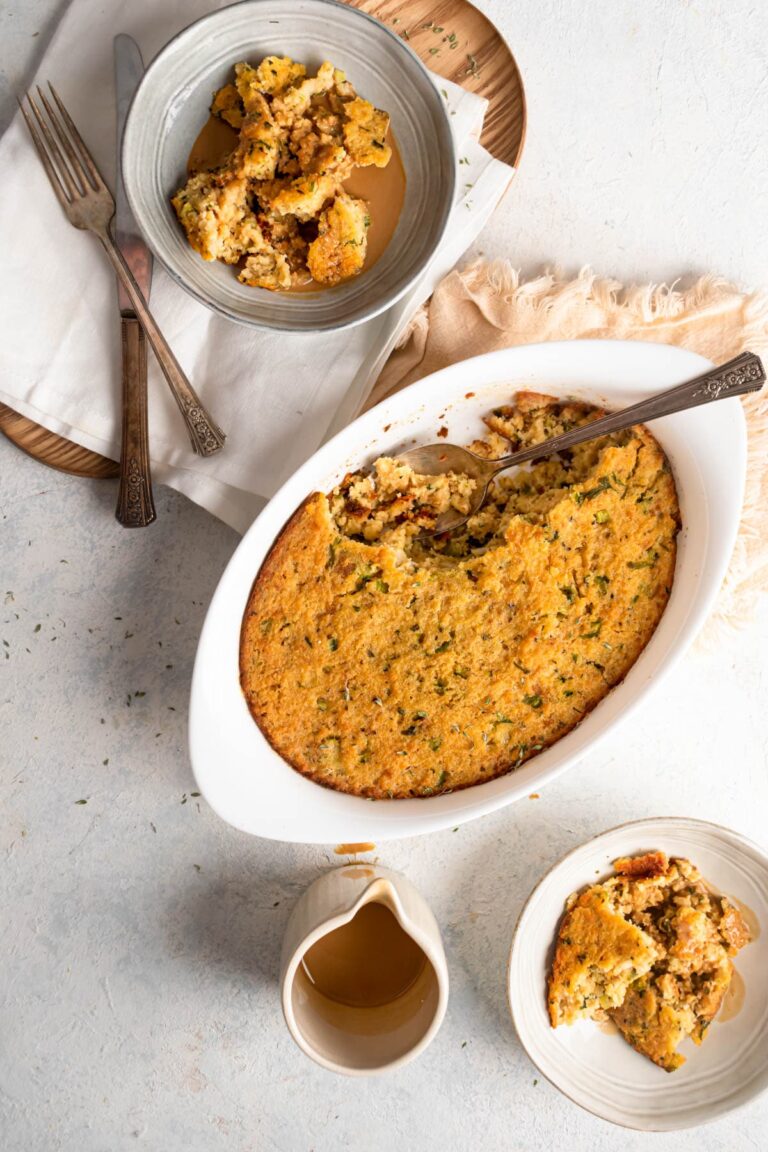 Got Some Leftovers?
Store it in a container or cover in plastic and it should last you around 3-4 days in the refrigerator. If you want this recipe to last you longer, you can freeze it and thaw in the fridge overnight then reheat.
Tips and Substitutions for Making this Recipe:
Sausage – not a fan of Turkey sausage? Replace it with your favorite one! You can use pork, chicken, beef, Italian or whatever you really like. It all boils down to preference.
Don't overseason. It's easy to over-salt this stuffing with the cornbread, sausage, and chicken broth. To avoid over-seasoning, make sure to taste test as you go. You can always add more salt later.
Have some vegan friends? Make this vegan by substituting butter with vegan butter, and replacing the sausage with a vegan option. Alternatively, you can just leave it out.
Add some mushrooms. If you're making the vegan option, you might love adding some mushrooms to this cornbread dressing recipe.
Would you like to see more? SUBSCRIBE to receive the more recipes! Also, follow me on FACEBOOK, PINTEREST, INSTAGRAM, YOUTUBE or TWITTER.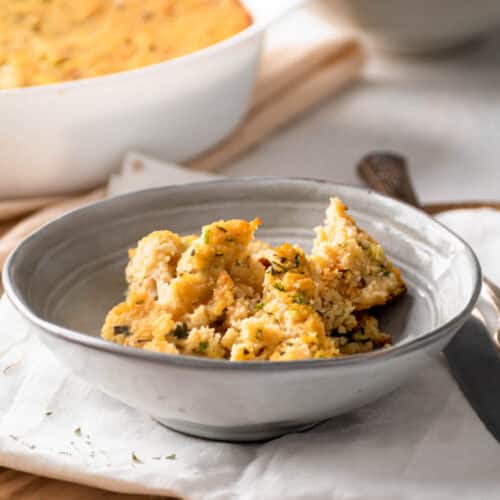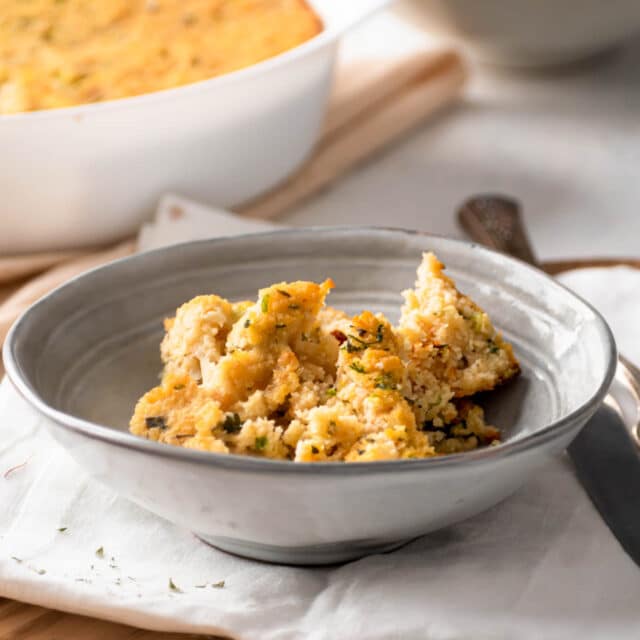 Sausage and Sage Cornbread Dressing
This recipe is soo amazing, the fresh herbs are so popular in this dish making it flavorful and delicious!
Ingredients
Cornbread
2

cups

all purpose flour

2

cups

cornmeal

2

tablespoons

baking powder

3/4

teaspoon

salt

2 1/2

cups

buttermilk

1

cup

vegetable oil

5

eggs

3

tablespoons

melted butter
Cornbread Dressing
turkey sausage

1/2

stick of butter

2

tablespoons

oil

1

cup

onion

1

cup

celery

1

cup

bell pepper

3

garlic cloves

2

tablespoons

sage

1

teaspoon

thyme

1

teaspoon

parsley

1

teaspoon

poultry seasoning

1

teaspoon

seasoning salt

3

eggs

1/4

teaspoon

black pepper

4

cups

broth
Instructions
Cornbread ( cook a day ahead )
Add all ingredients in a large bowl mix together then bake at 375 F for 35-45 minutes .
Cornbread Dressing
In a medium skillet cook sausage then remove. In the same pan add butter and cook onions, celery,bell pepper, thyme, sage, garlic and parsley.

In a large bowl crumble half of the pan of cornbread . Add cooked vegetables, herbs, sausage, eggs, seasoning salt, poultry seasoning and chicken broth mis everything together by hand.

Bake on 375 F uncovered for 1 hour 15 minutes.
Notes
 The fresh herbs stand out in this dressing you can cut it down to 1/2 tsp each if you like. Make the cornbread a day ahead to dry it out. Add more liquid if you don't like it firm .
Nutrition
Subscribe to My Youtube
Subscribe to My Youtube Channel to recieve updates on New Videos and Recipes !
How did you like this recipe? Leave a comment and let me know what you think. Looking for another recipe to serve with this one? Try this Pumpkin Bread with Cream Cheese Filling recipe next!