November 5, 2019 | Last Updated on February 29, 2020 by Patricia Valbrun
The Best Classic Easy Homemade No Boil Lasagna – Traditional lasagna full of pasta, meat sauce and homemade cheese sauce. This is the world's best lasagna recipe!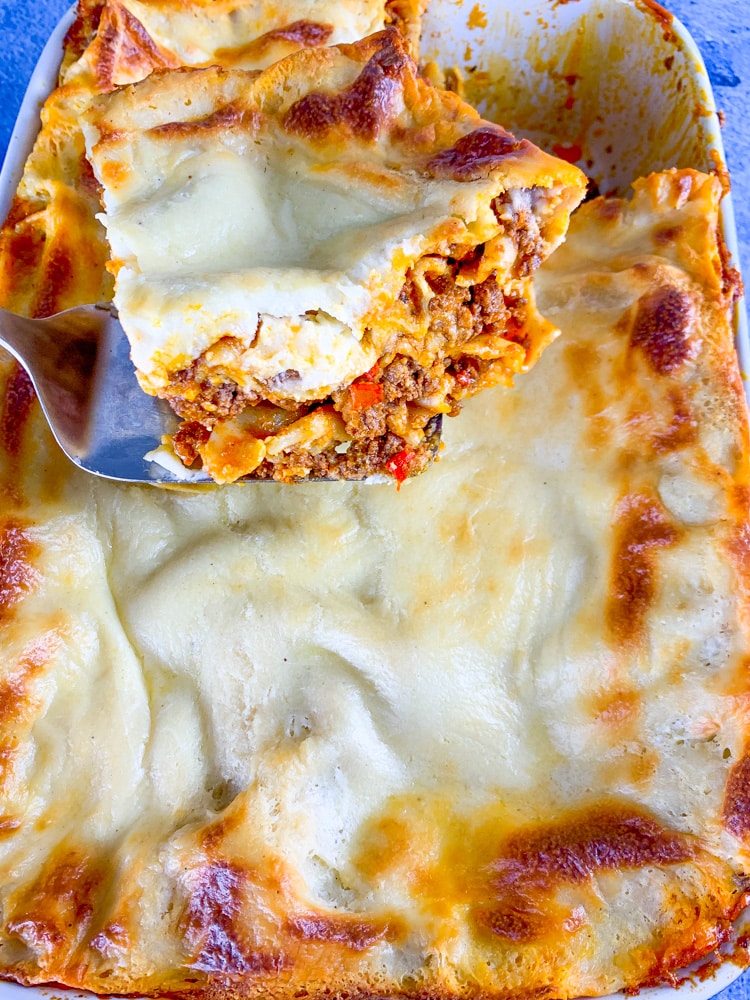 How to Make Lasagna
An easy trick to this Easy Homemade No Boil Lasagna was making the meat sauce a head of time and storing it in the freezer until you're ready to use it. Whether using turkey or beef, don't skimp out on the meat sauce because the more meat the better this recipe gets.
The lasagna ingredients in this recipe are easy to prep and while it does take some time, it's not difficult at all! All you'll need for this easy lasagna recipe is one pan, one bowl, and a 9×13 baking dish!
Here's what to do to prepare for layering lasagna:
Make the meat sauce: Follow the video instructions on my Homemade Meat Sauce and then let it simmer until the liquid has reduced about by half. You want the sauce to still be a bit juicy (so that it will cook the noodles), but not super liquidy.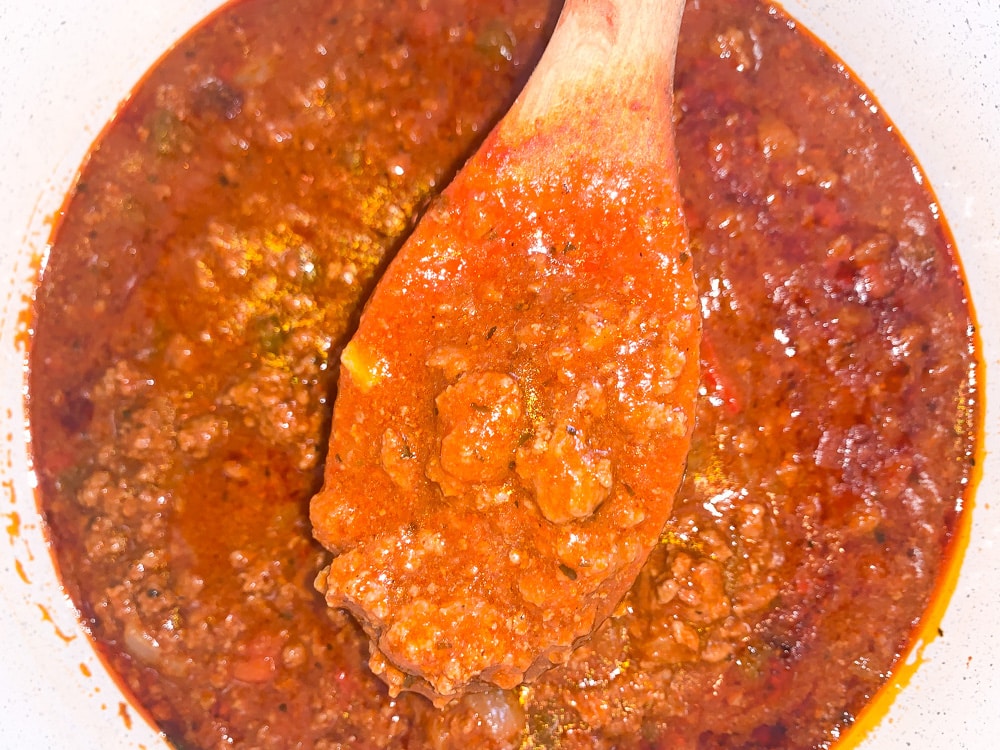 Make the cheese mixture: Stir together butter, flour, milk, garlic and cheese until combined.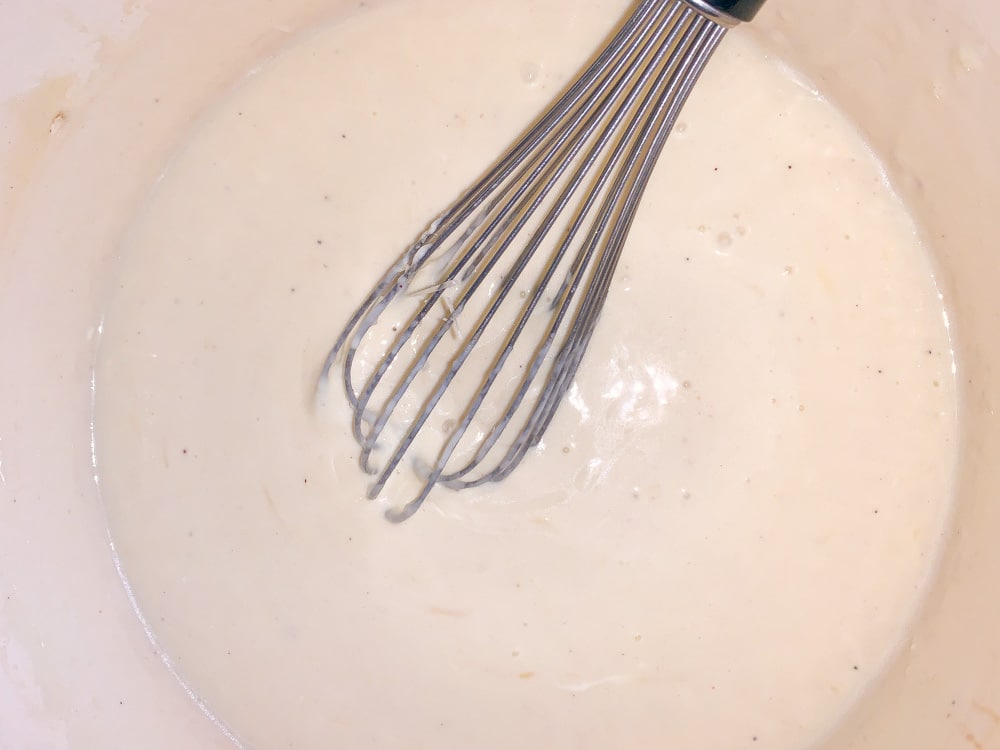 Prep oven and baking dish: Heat the oven to 350°F and mist a 9 x 13-inch baking dish.
Assemble the lasagna: In this order:
First layer: Meat + noodles + meat, cheese sauce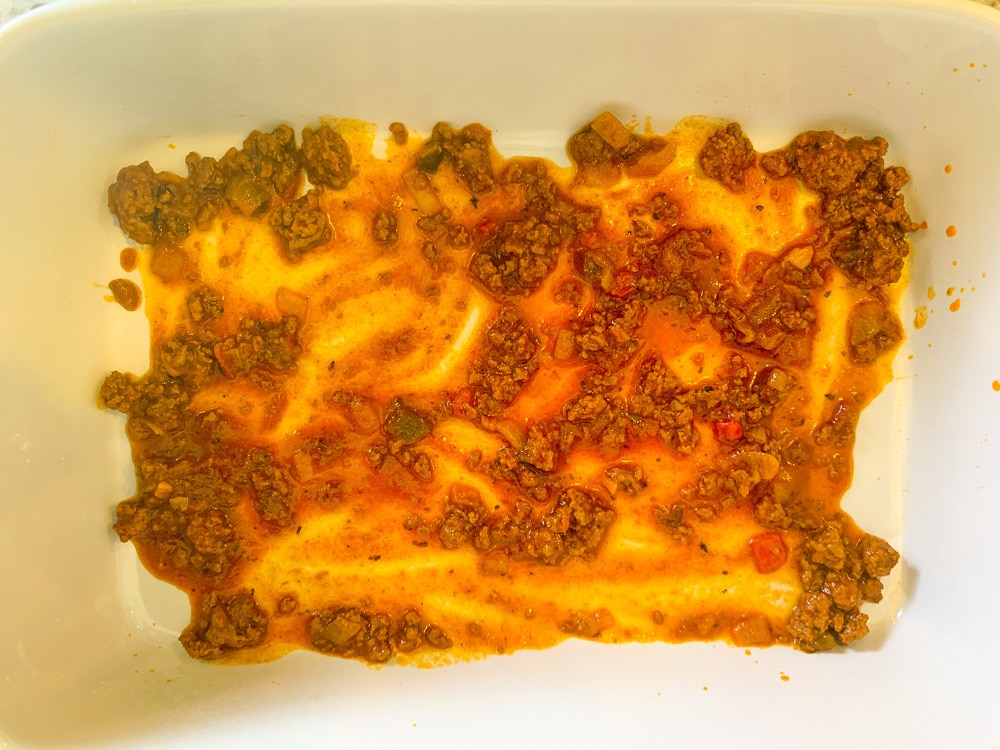 Second layer: noodles + meat, cheese sauce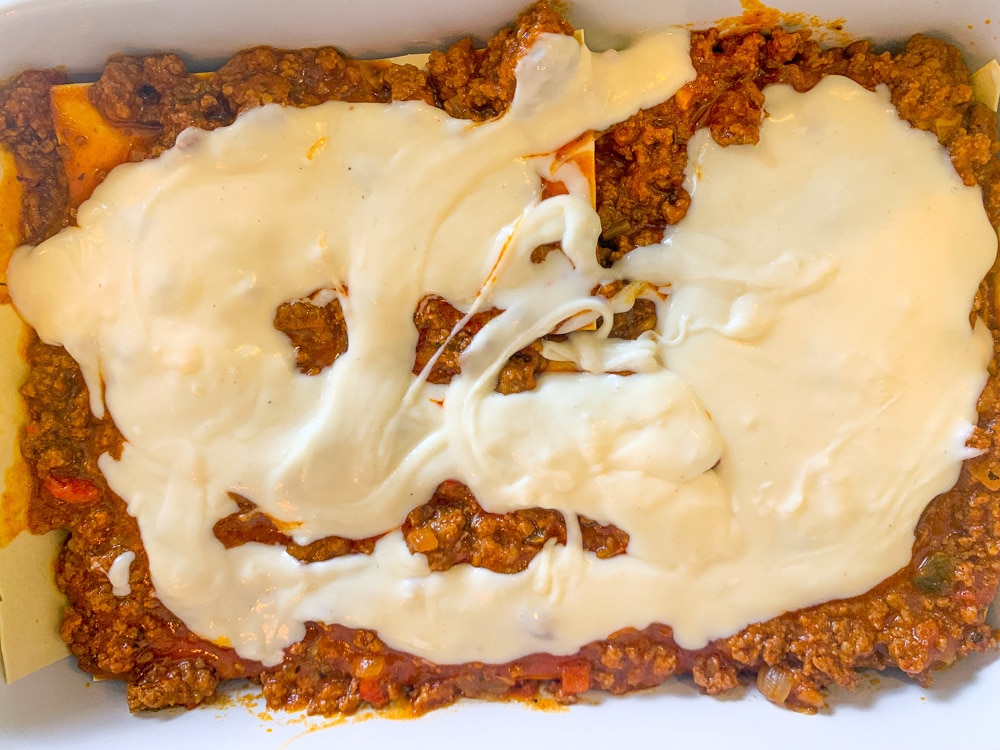 Third layer: noodles + meat, cheese sauce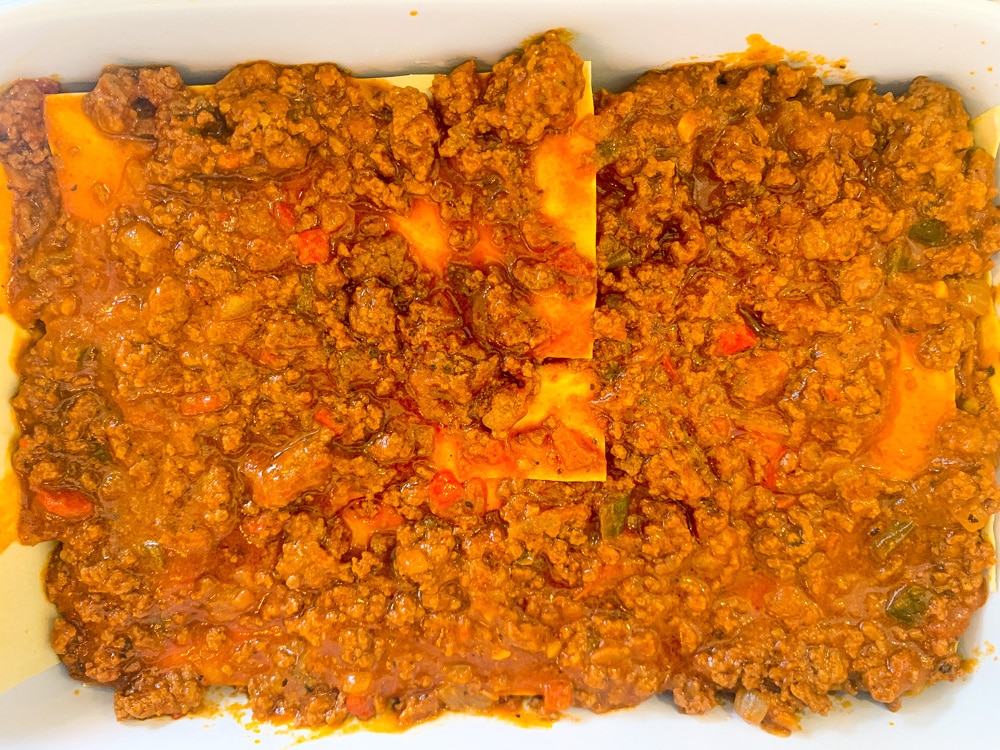 Fourth layer: noodles, cheese sauce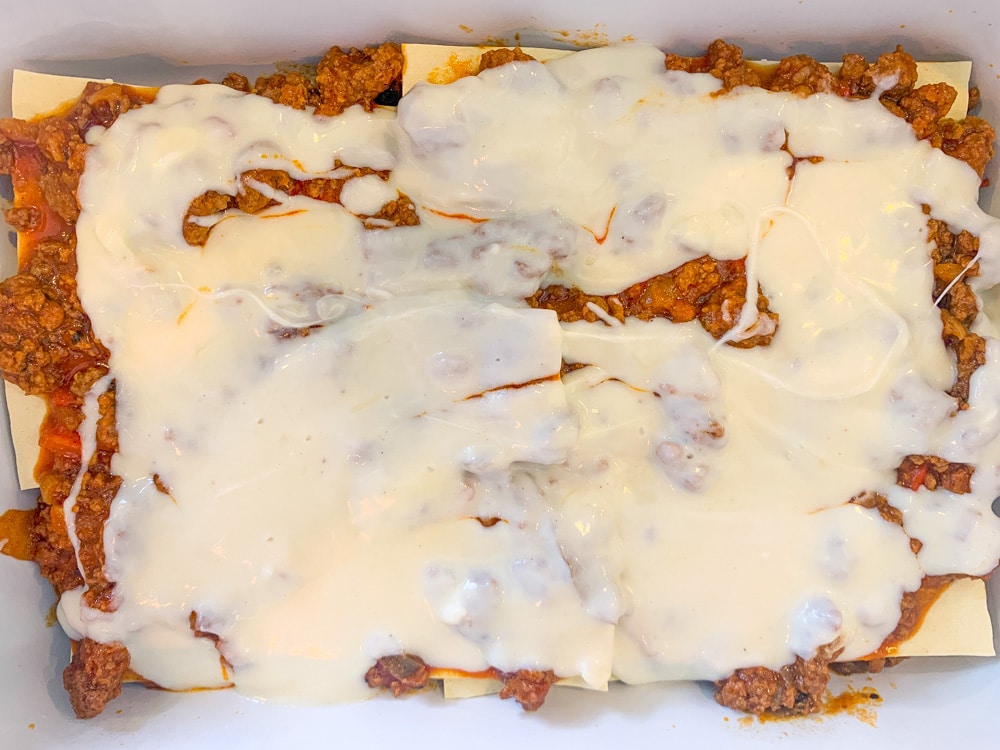 Bake: Bake for 50 minutes uncovered if using no boil pasta. If not, bake for 45 minutes followed by another 15-20 minutes uncovered, until the cheese is melty and golden. Rest for 30 minutes to allow the cheese sauce to settle.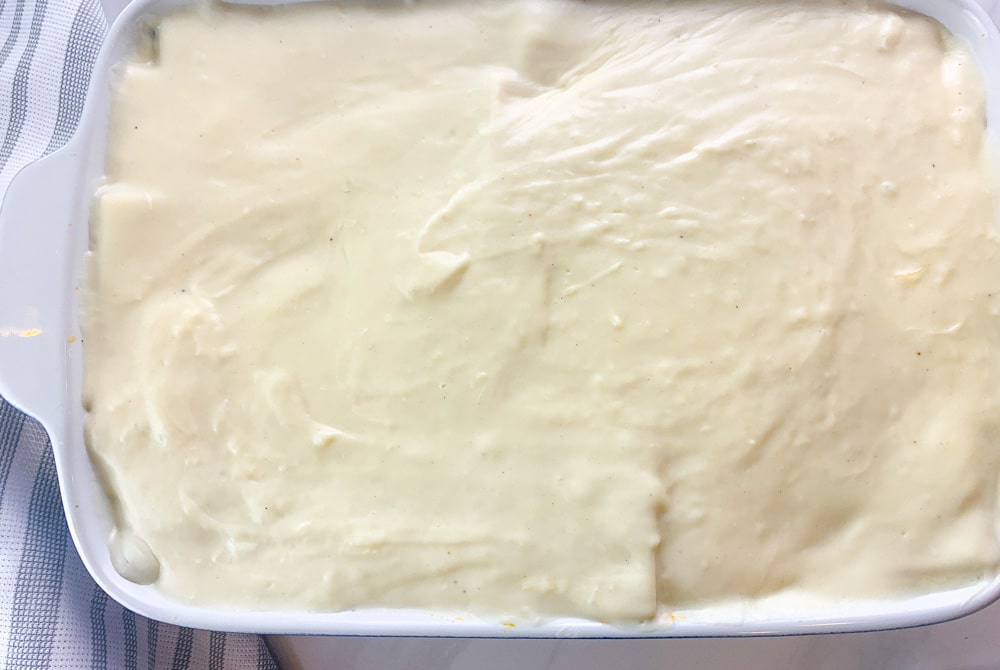 Serve: Sprinkle on your desired toppings, slice, serve warm, and lets eat!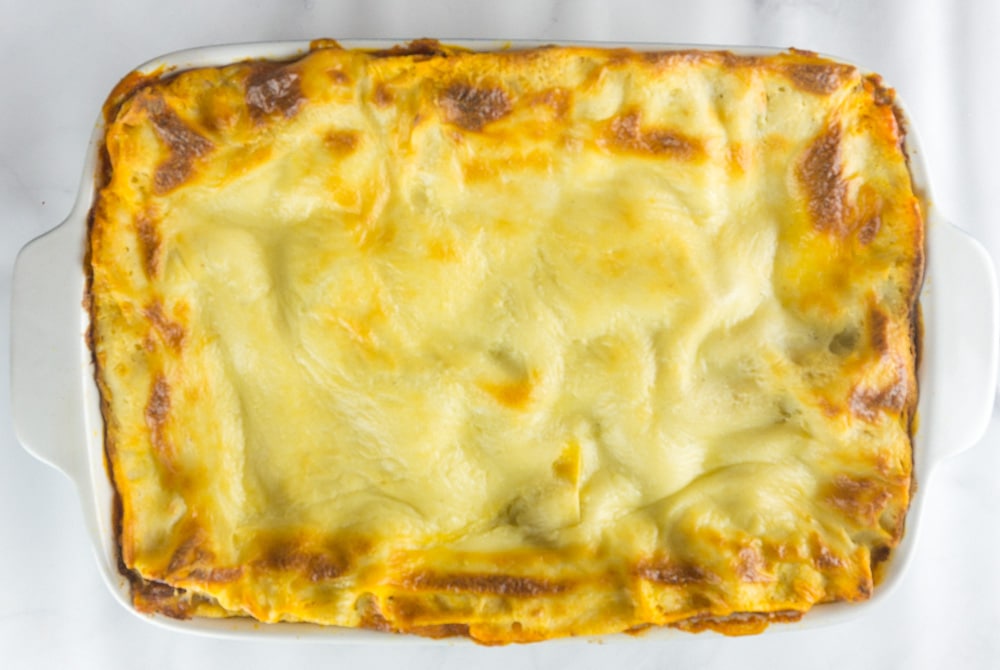 How to make Béchamel Cheese Sauce
It's only right that you make your own cheese sauce for this lasagna. You can make the most Delicious Lasagna with (Béchamel Sauce) Fontina and Mozzarella cheese sauce. Forget about ricotta after this you will be making your own cheese sauce that will change your life! Yes, your whole entire life.
How to Freeze Lasagna
Lasagna is one of the best meals to make ahead and freeze. I love to make two pans of this easy lasagna recipe and save one for another day. You can either divide the already baked lasagna into several portions and pack it in freezer safe containers, or freeze the whole pan.
You can also layer the ingredients then freeze before baking. Defrost in the refrigerator overnight and bake as directed.
How To Reheat Lasagna: If you're baking frozen prepped lasagna, it's best to pull it out the day before you're going to cook it so that it has a chance to defrost before it goes in the oven. This prevents it from burning on the edges and undercooking in the center.Bake at 350°F until the lasagna is heated through (the internal temperature should be around 165°F). Remove the foil and bake for an extra 5-10 minutes to crisp up the top layer, then serve.
WHAT ARE THE BEST NOODLES FOR LASAGNA?
Which one do you choose, No boil lasagna noodles or classic lasagna noodles.
No Boil Noodles. No boil noodles work great for this recipe. I love the texture and the thickness of the noddle's, as I find it holds everything together well. So, if you're doing a very meaty lasagna and short on time the no boil noodles are the way to go!
Classic Noodles. We soak our classic noodles in hot water while the sauce is simmering. They emerge softened and super easy to work with without the risk of tearing. The softened noodles cook completely in the lasagna for the perfect texture every single time.
· WHY IS THERE SUGAR IN THE SAUCE?
Sugar is added to balance the acidity of the tomato. If you prefer to not use sugar, finely chopped carrots are another option, as they are naturally sweet and add another vegetable and flavor to your sauce. Use about a cup in place of the sugar.
· DO I HAVE TO SIMMER THE SAUCE FOR SO LONG?
The sauce develops flavor as it simmers. It needs to be simmered for a minimum of 1 hour to give you the most amazing lasagna, but you can simmer it up to 2-4 hours for maximum flavor results. It's worth every second and doesn't require much effort at all. If you don't want to leave it simmering on the stove, you can always transfer it all to a slow cooker and simmer it in there on high for 4 hours or low for 6 to 8 hours.
NO BOIL LASAGNA TIPS
You can skip adding in the extra cheese on top) thats not included in the cheese sauce) if you make the cheese sauce thicker by adding in more flour. Use 2 cups of flour instead of one and 1/2 stick of butter.
If the cheese sauce is too thick for your liking use add more milk to smooth it down.
Real Mozzarella or Shredded? The second time I made this recipe I used real mozzarella and it made the sauce thicker but it was just as tasty, so your preference.
Make the sauce ahead of time and allow it to simmer for about 3 hours on low heat if making the same day.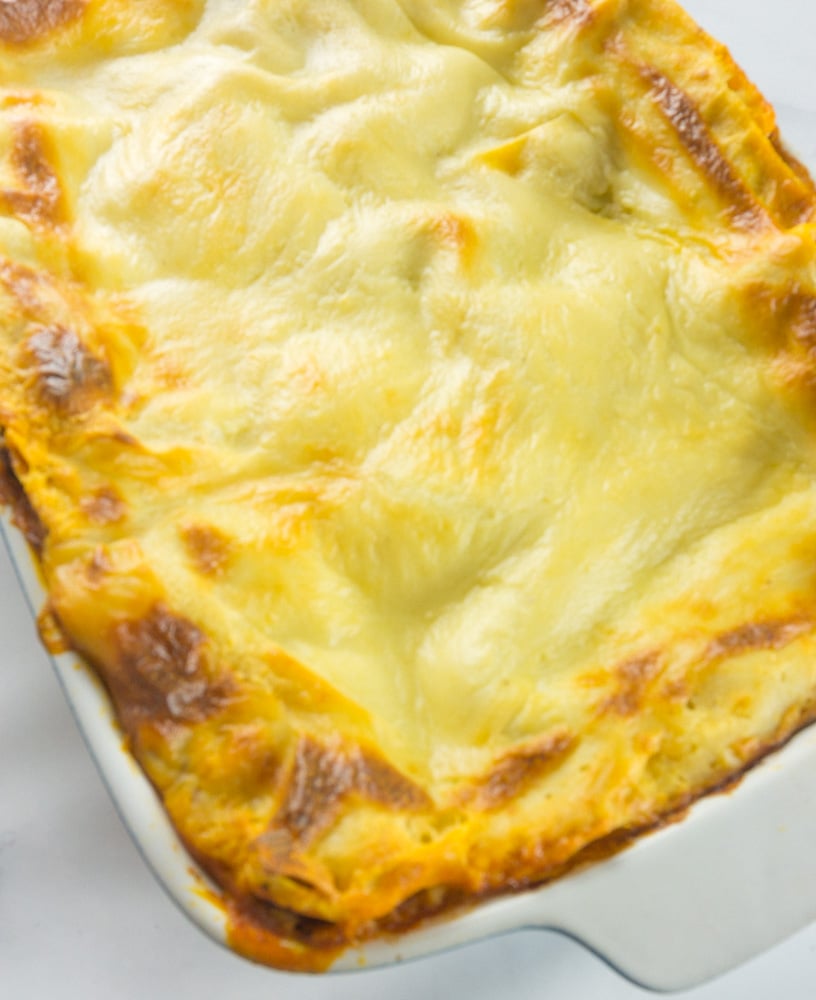 Would you like to see more? SUBSCRIBE to receive the more recipes! Also, follow me on FACEBOOK, PINTEREST, INSTAGRAM, YOUTUBE or TWITTER.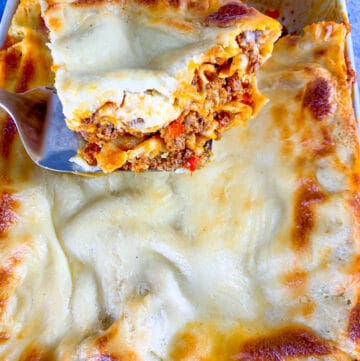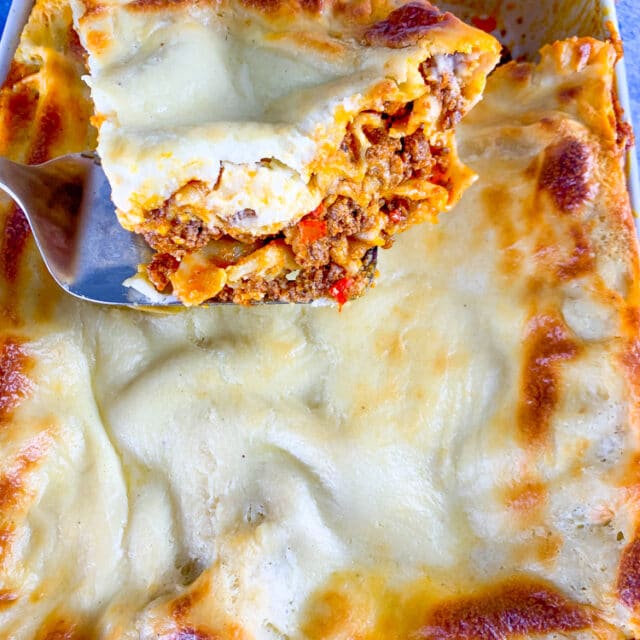 Easy Homemade No Boil Lasagna
The Best Classic Easy Homemade No Boil Lasagna – Traditional lasagna full of pasta, meat sauce and homemade cheese sauce.  This is the world's best lasagna recipe!
Ingredients
2

boxes

oven ready lasagna

2-3

cups

mozzarella

2

cups

parmesan
Cream Sauce
1

stick butter

1

cup

all purpose flour

4

cups

milk

2

cups

fontina

1

cups

mozzarella

1

tsp

salt

1

clove

garlic

minced

dash pepper

dash nutmeg
Instructions
Preheat oven to 350 F.

In a medium pot melt butter , slowly mix in flour on low hear . Cook for about a minute then add in milk.

Add the cheese, fontina and mozzerella and minced garlic, nutmeg and stir.

Slowly add in the milk while stirring and allow the milk to warm up before adding the cheese.

Start layering lasagna . Meat sauce, pasta, meat, cheese sauce ending with the last layer with pasta and cheese sauce.

Bake on 350F uncovered for 50 minutes. Allow to the cheese sauce to rest for another 20 minutes before cutting.
Nutrition
Subscribe to My Youtube
Subscribe to My Youtube Channel to recieve updates on New Videos and Recipes !
How did you like this recipe? Leave a comment and let me know what you think. Looking for another amazing recipe ? Try this Baked Ziti next!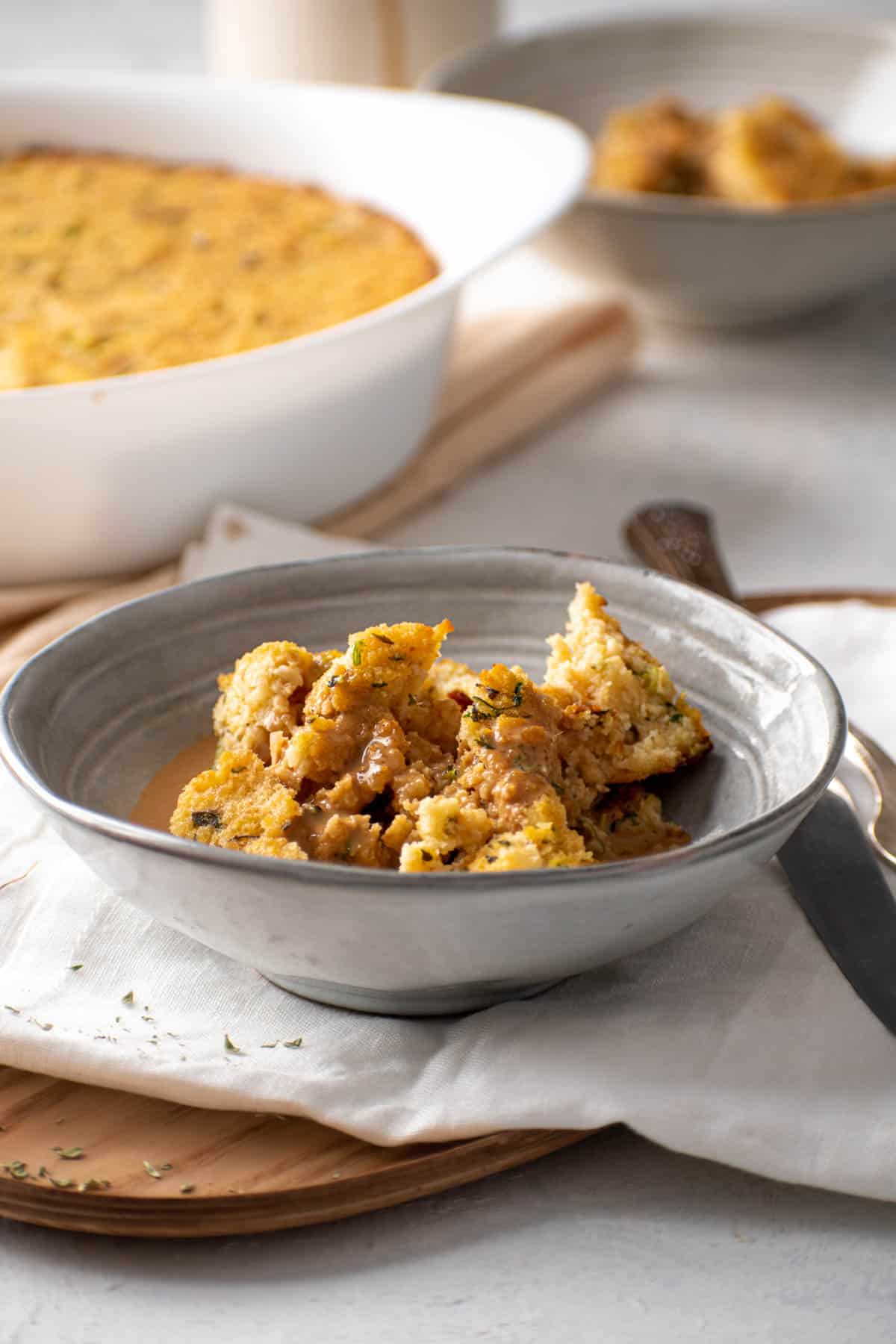 This Sausage and Sage Cornbread Dressing Recipe is just YUM! As we're all getting ready…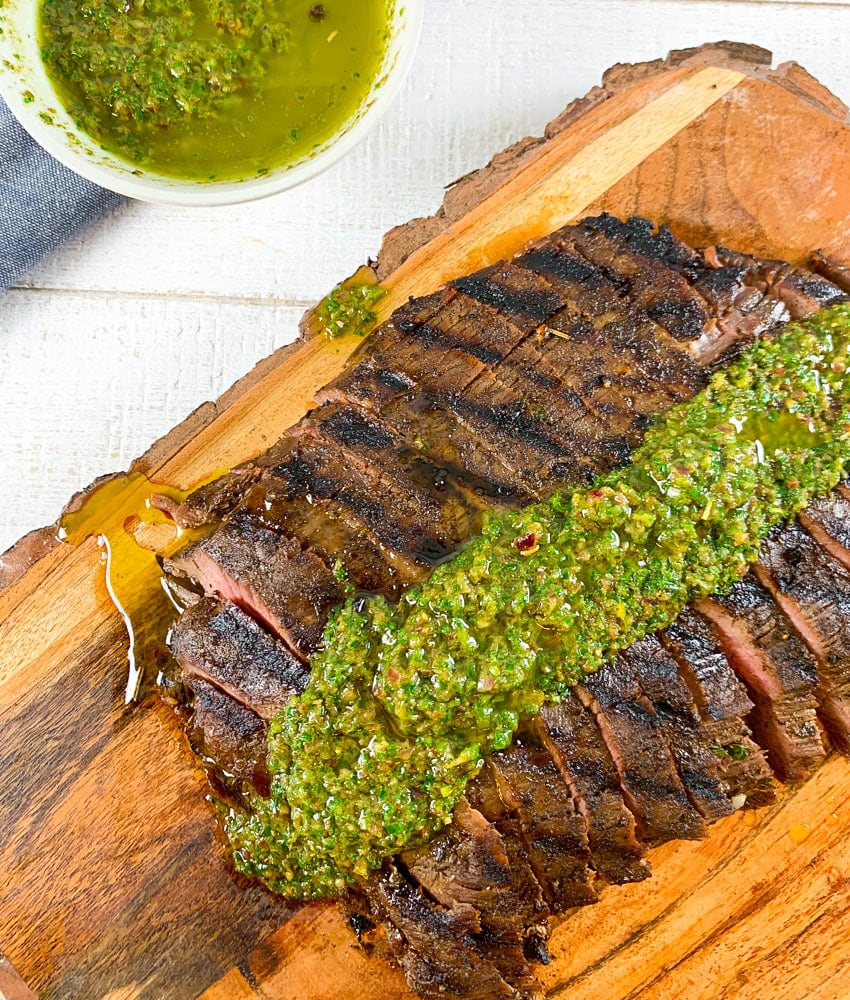 The best grilled Easy Flank Steak Recipe ever for delicious juicy flank steak or skirt steak…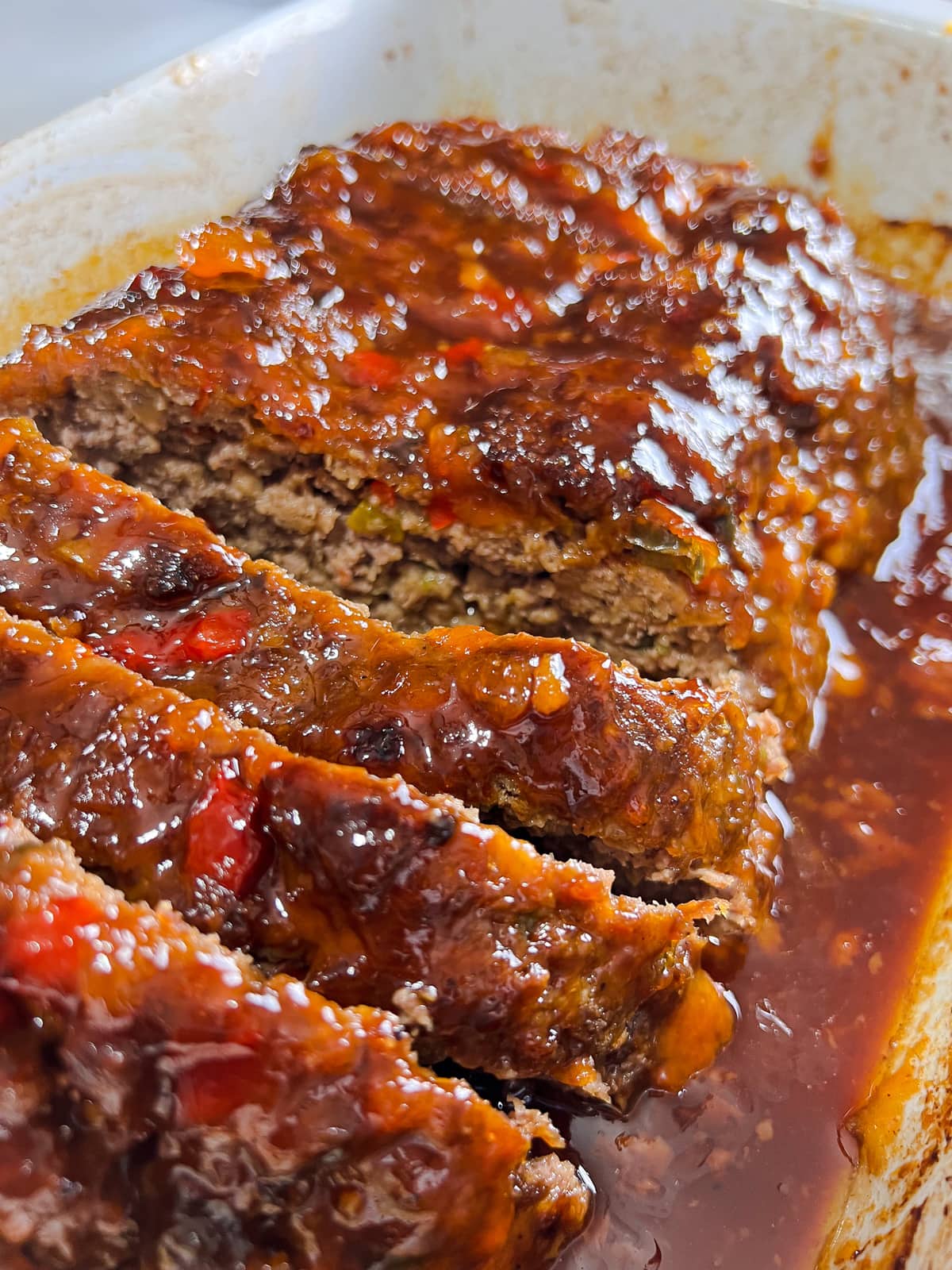 Homemade Bourbon Glaze Meatloaf for the win! This recipe is going to blow you away….