November 7, 2019 | Last Updated on February 17, 2021 by Patricia Valbrun
These Homemade Yeast Rolls are buttery, soft, fluffy and just sooo delicious. Baking bread in your home has to be one of the best things ever and they turn our perfect everytime!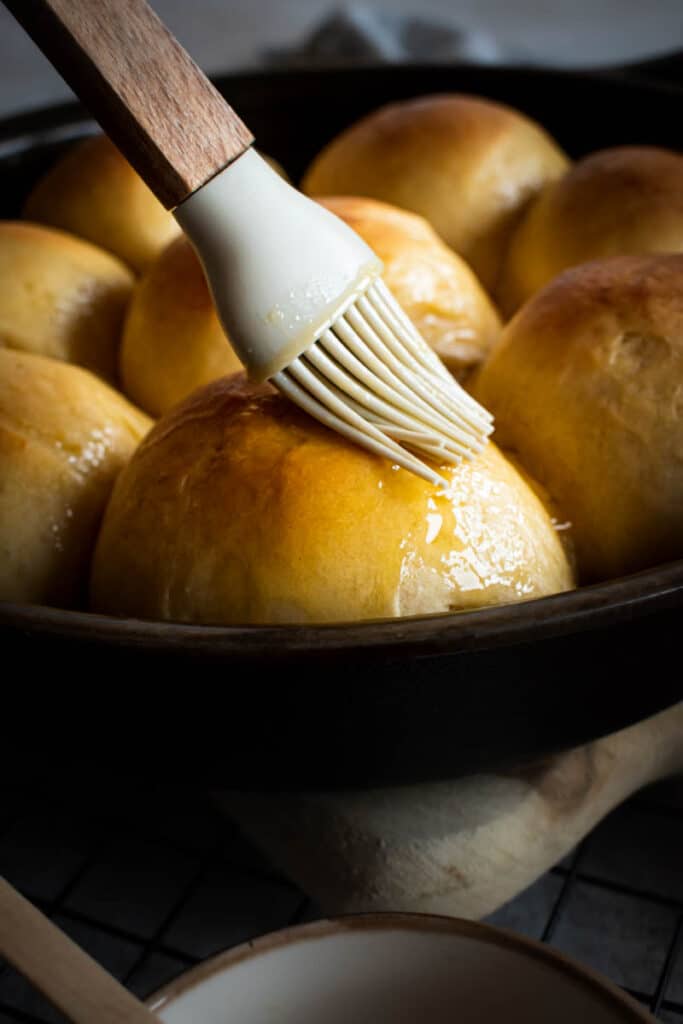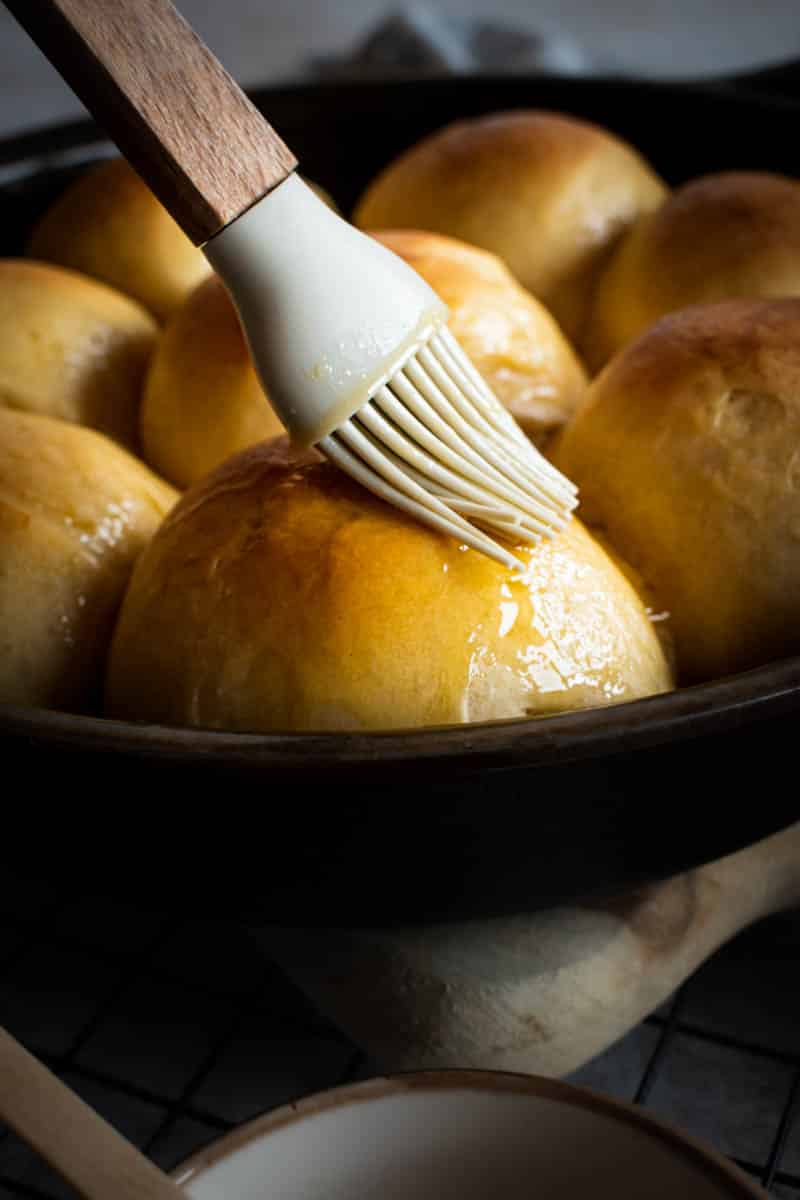 I promise, you will literally eat all these yeast rolls by yourself if no one else is around to enjoy them with you, yea I'm guilty. The aroma overcrowds you and the taste it just indescribable!
OH and that honey butter hits the spot hunny! Trust me, this is one for every gathering or holiday dinner to please your friends and family.
HOW TO MAKE THE BEST HOMEMADE DINNER ROLLS:
Warm MILK & HONEY. Using milk and honey is going to add moisture and a slight sweetness to the rolls.
Instant YEAST & PROOF. Remember to always use fresh yeast. Instant yeast works right away and you will know the yeast is working when it starts to form a creamy foam on the surface.
Use BUTTER and EGGS. The butter and eggs are what adds richness to the homemade roll's dough.
HAND vs STAND MIXER. If you don't own a stand mixer, you can knead the bread dough by hand, which worked great for me. You still want the dough to be slightly sticky but begin to pull away from the sides.
1hr RISE until DOUBLE in size. This can be done in a warm place. I put my oven setting on proof, cover my rolls with a damp towel and set it inside for 1 hour. This expedites the rising process and cuts the time in half.
Roll into BALLS and brush with honey BUTTER. Roll into desired size and place in cast iron pan. Place close together so as the rolls rise, they rise upwards and not out. It keeps them from spreading. Brush with softened butter.
BAKE until GOLDEN BROWN. Heat the oven to 350 degrees and bake until light golden brown. Remove from oven and spread butter over top of rolls to give moisture and shine.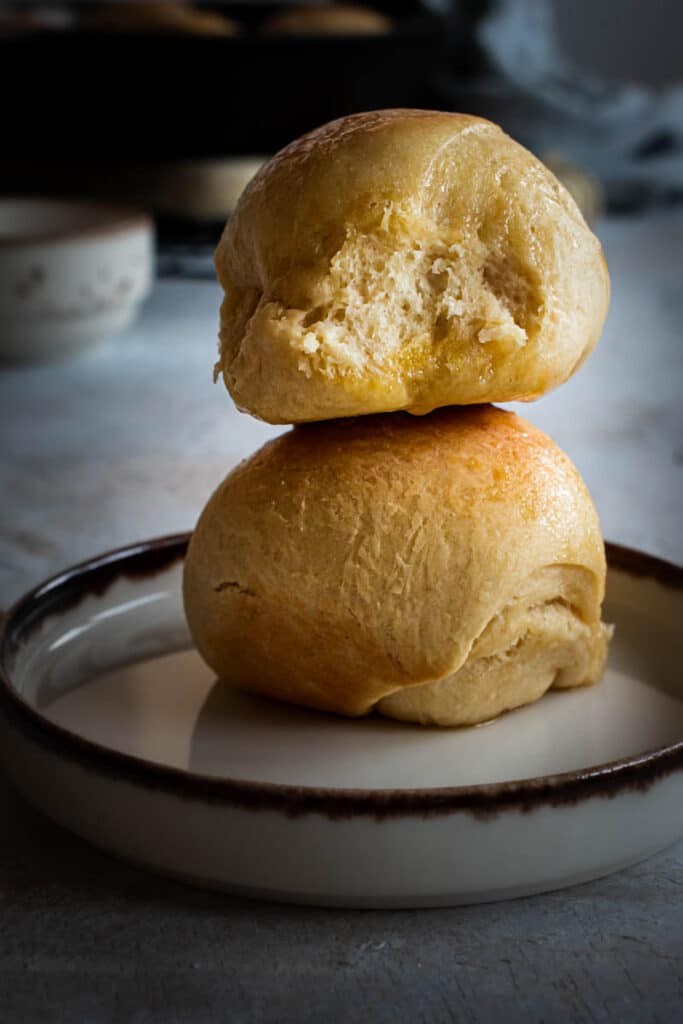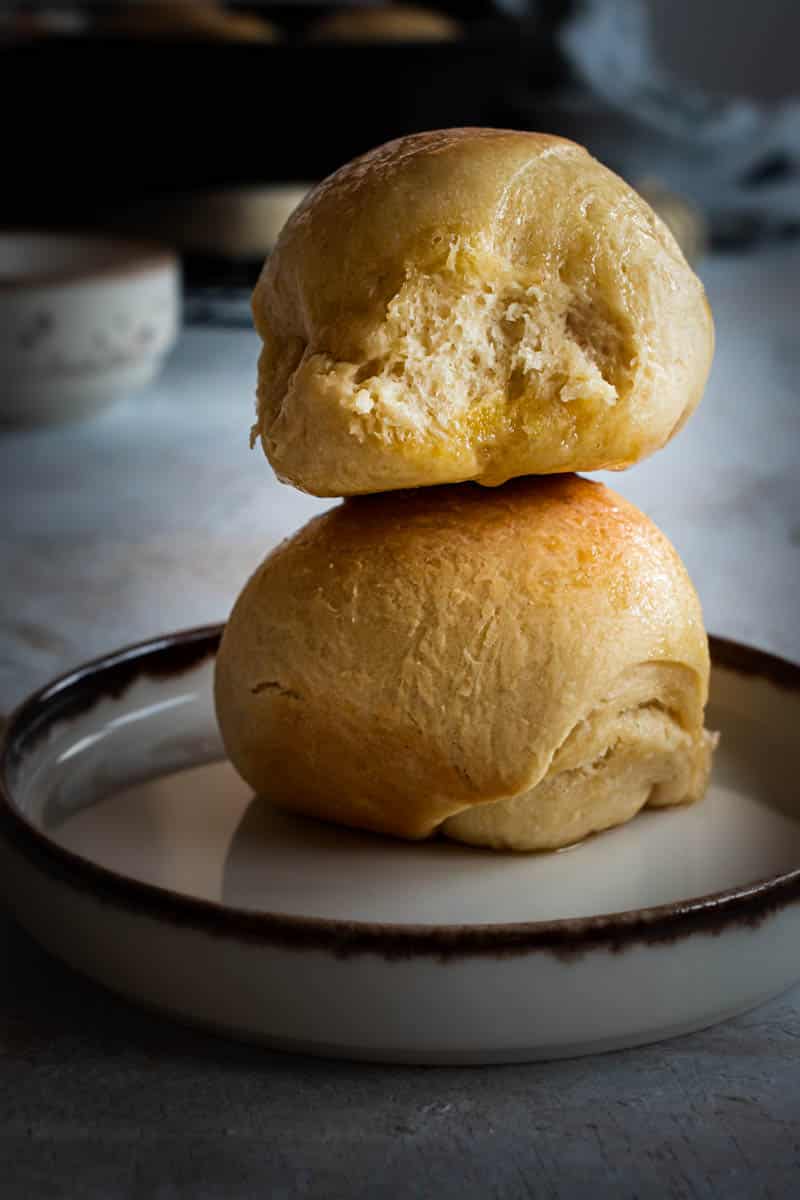 DIFFERENT KIND OF YEAST BESIDES INSTANT DRY YEAST?
Yes, all yeasts will work in this recipe, it's simply a matter of understanding how each kind of yeast works and differs. Instant dry yeast can be added straight to dry ingredients and doesn't require any sitting or proofing. It also rises a bit quicker.
Active dry yeast is a bigger size of granule and generally needs to be dissolved in a liquid before adding to a recipe. It activates a bit slower so expect 10-15 minutes extra in rise time.
There are so many different types of breads I could name a bunch, but I won't. Bread is such a universal thing to make. I mean because who doesn't eat bread?
Everything in moderation, they say and it's true. Everything in moderation. So, get your hands, pans ready and let's bake.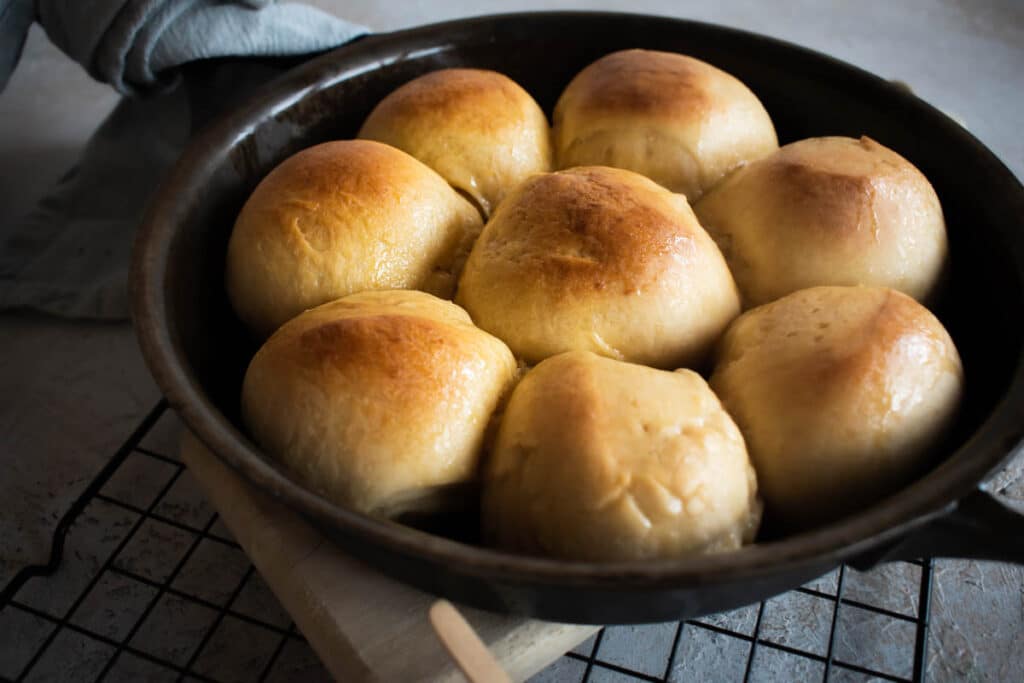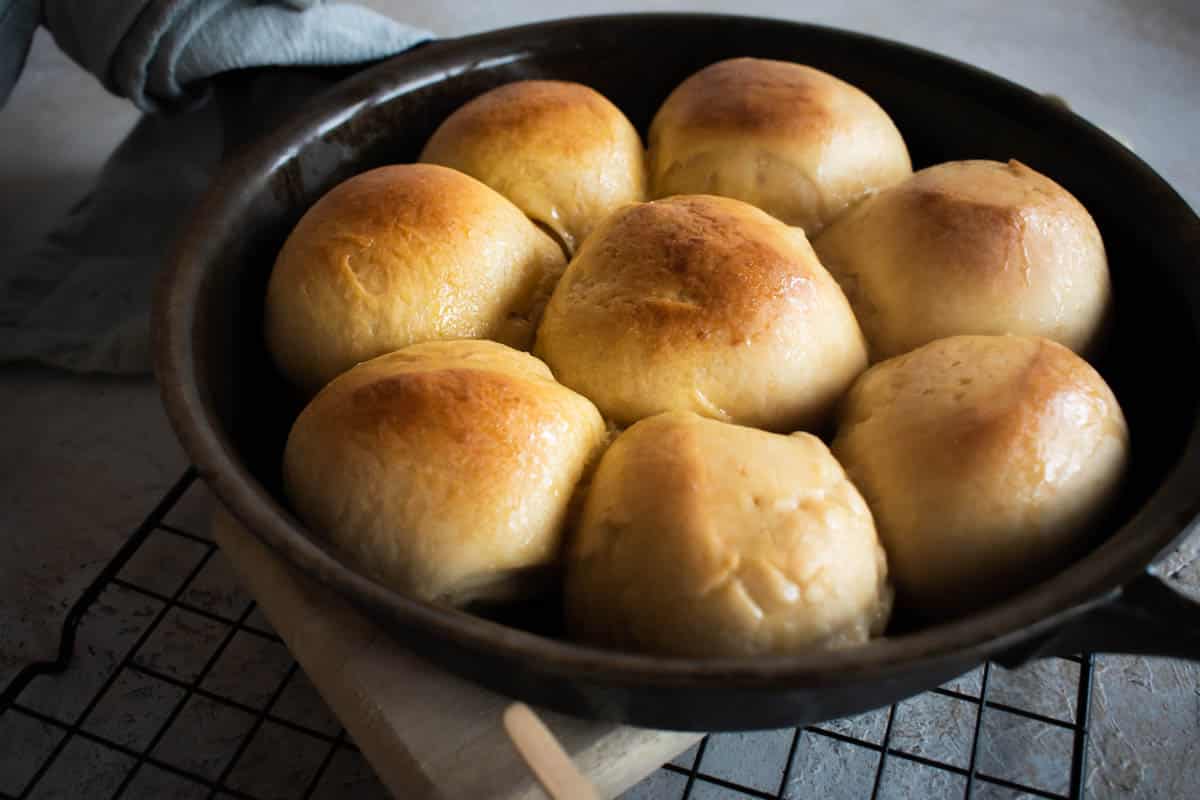 TIPS FOR HOW TO MAKE HOMEMADE DINNER ROLLS
A few helpful tips to keep in mind:
•Check expiration date. Double-check the expiration date on any yeast that may be hanging out in your pantry. This is one of the most common reasons for why a batch of bread dough does not rise. If the yeast does not begin to puff and bubble up after 5 minutes once it has been added to the wet ingredients, toss out the batch and start over with new yeast.
•Double-check the temperature of the ingredients. When heating the liquid ingredients (water, melted butter, milk and honey), it's essential that they be within the temperature range of 100-110°F. If the mixture is too hot, it can kill the yeast. If it is too cool, the yeast may not activate. The mixture should feel warm and not hot to the touch.
•Don't skip rise times. They are essential to helping the dough rise and create that soft and fluffy texture we're going for.
•No worries about perfection. When portioning the dough into 11-20 rolls, don't worry about them all being perfectly equal in size. They will all bake up together in the pan, and if some are slightly larger or smaller.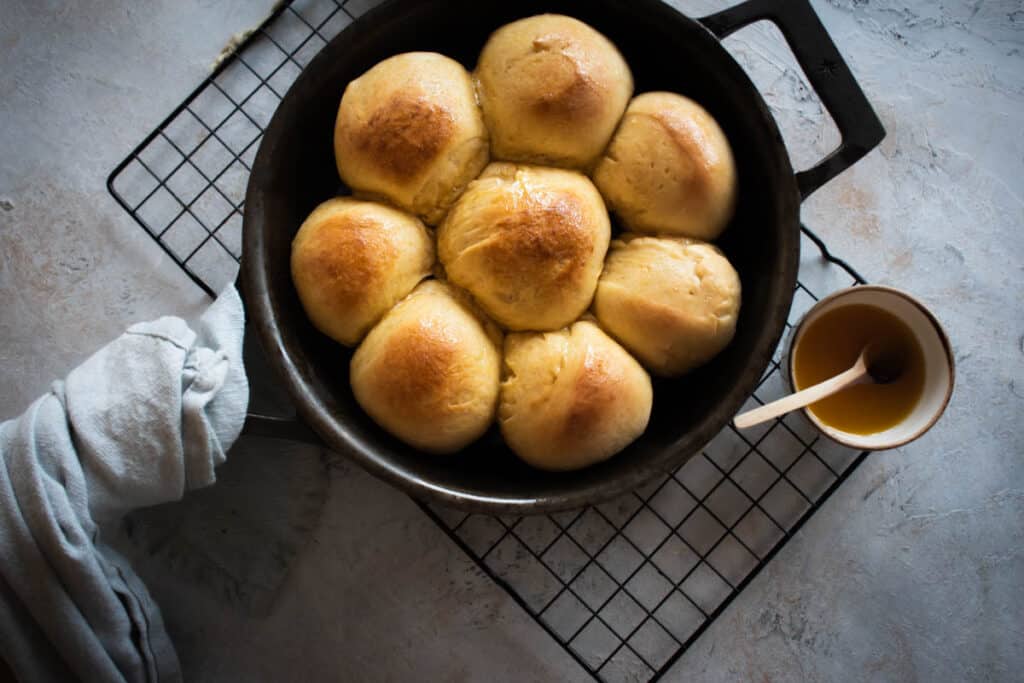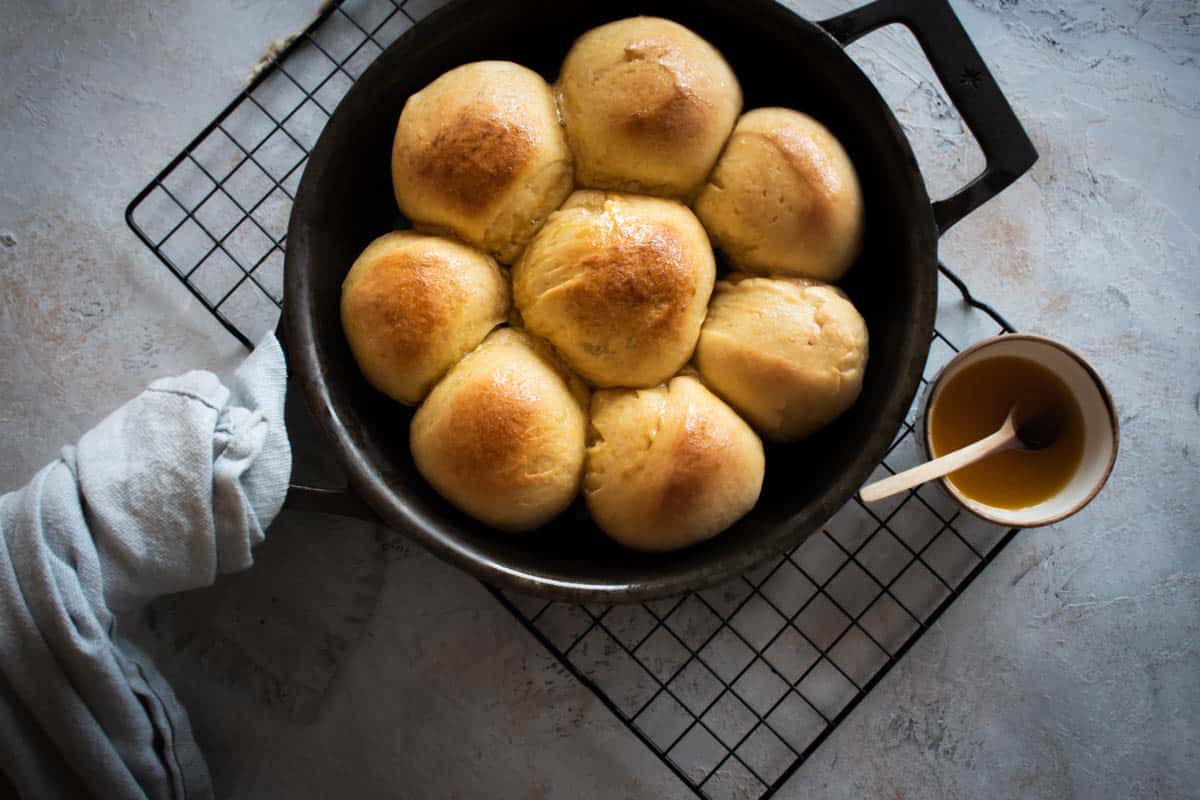 Would you like to see more? SUBSCRIBE to receive the more recipes! Also, follow me on FACEBOOK, PINTEREST, INSTAGRAM, YOUTUBE or TWITTER.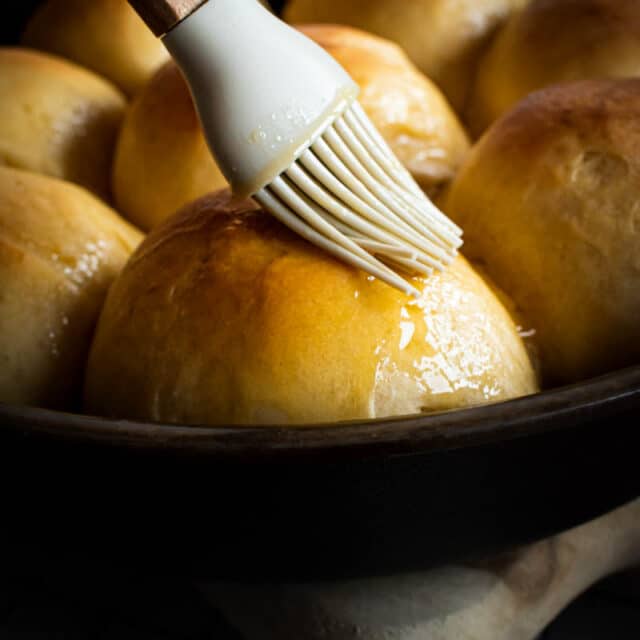 Homemade Yeast Rolls
These Homemade Yeast Rolls are buttery, soft, fluffy and just sooo delicious. Baking bread in your house has to be one of the best things ever and they turn our perfect everytime. The aroma overcrowds you and the taste it just indescribable!
Ingredients
6

cups

all purpose flour

2

cups

warm milk

3

tsp

active yeast

1/2

cup

honey

1

tsp

salt

1

stick butter

soften

2

egg yolk

1

tbsp

oil
Instructions
In a large bowl add flour, warm milk, active yeast, honey, salt, butter, egg yolk

Mix everything together using hand or rubber spatula

On a flat surface add flour to surface and on hands and pour flour mixture to start kneeing dough. Knee dough until its well combined and the consistency of clay. Add flour to hands on dough if its too sticky.

Once dough is well combined . Add it to a greased bowl an cover it for 1 hour to allow it to rise.

While your dough is resting lets start making the Honey Butter. Add, honey and butter to a small pan and simmer until it thicken. Remove from stove and set aside to later.

After 1 hour. Grease your cask iron skillet with butter and start forming 11-20 round ball with your dough.

Rest dough again for 15-20 minutes. Set oven to 375 F allow it to preheat until your dough is ready to cook

After 15-20 minutes glaze rolls with honey butter and cook rolls for a 15 mins or until golden brown . After 15 minutes cover rolls and cook for another 15-20 minutes until done ( insert with a tooth pick and it comes out clean) .

Glaze again with Honey butter and youre all done . Enjoy !
Notes
 TIP: You can make from 11-20 rolls total. I made a total of 12 rolls so my instructions is based on that. Your cook time will vary depending on how big your rolls are . Once they become golden brown if its not cooked all the way make sure you cover with aluminum foil so it only cooks inside .
Nutrition
Subscribe to My Youtube
Subscribe to My Youtube Channel to recieve updates on New Videos and Recipes !
How did you like this recipe? Leave a comment and let me know what you think. Looking for another to pair with is one ? Try this Baked Ziti next!