July 6, 2021 | Last Updated on January 7, 2023 by Patricia Valbrun
This Creamy Cajun Chicken recipe is creamy, delicious, and ready in less than 20 minutes! Juicy, golden, pan-fried chicken in a Cajun Spiced Cream Sauce for a perfect weeknight dinner that the whole family will enjoy.
If you're looking for other easy chicken recipes, why not also try my Creamy Mashed Potatoes or Stuffed Seafood Potatoes.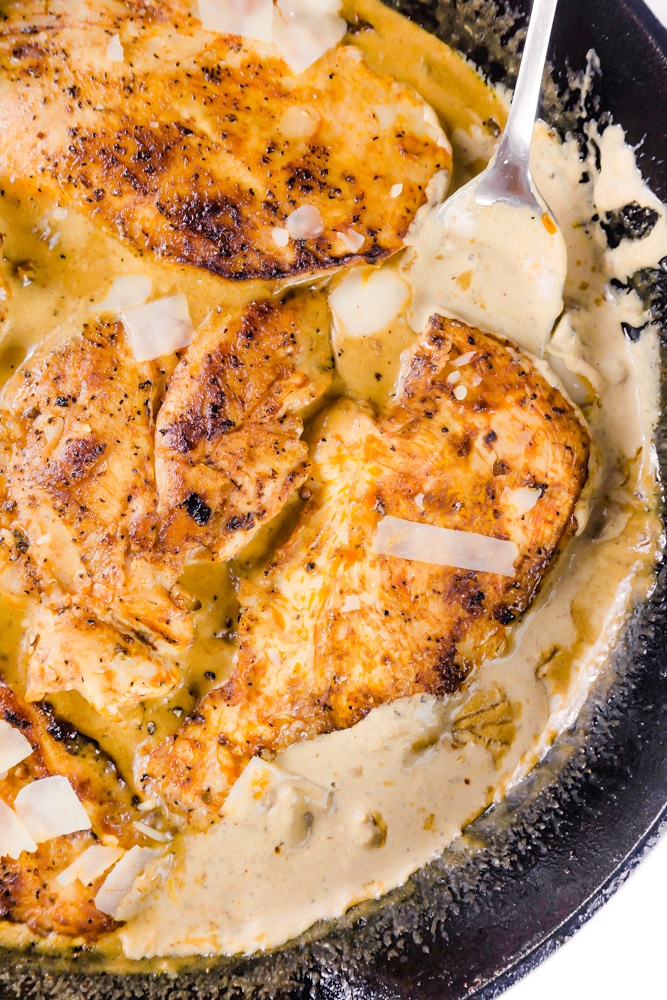 HOW TO MAKE CREAMY CAJUN CHICKEN
Creamy Cajun Chicken is made with chicken cutlets dredged in a velvety cream sauce that covers crispy chicken, all topped with Parmesan. There's something amazing about creamy chicken that's just so satisfying.
Clean chicken and pat dry.
Season chicken (check recipe below).
Brown chicken in a pan then set aside.
Sauté butter with minced garlic, sundried tomatoes until softened and stir in heavy cream, chicken stock, cajun seasoning and parmesan.
Simmer a few minutes and add chicken until heated through.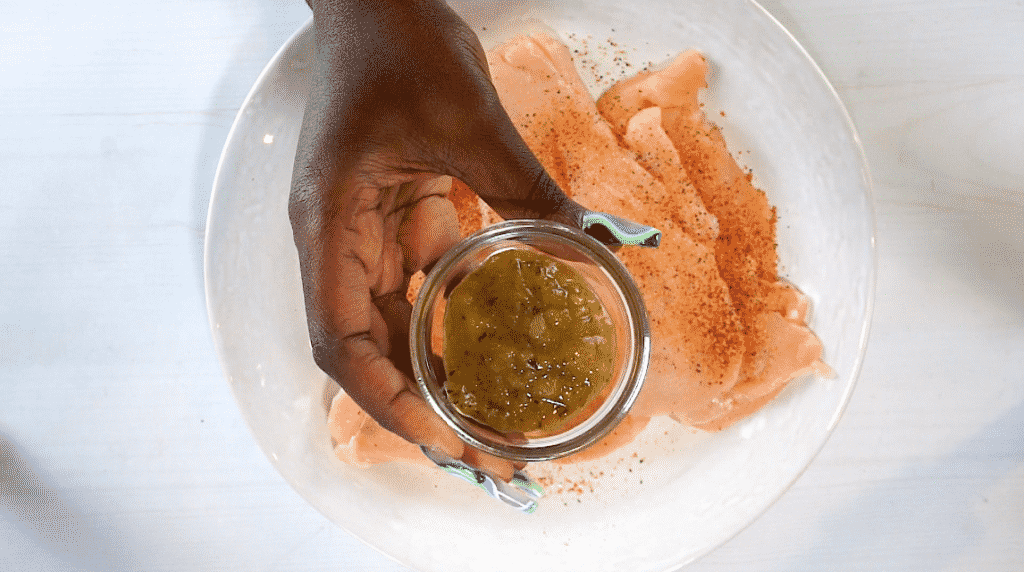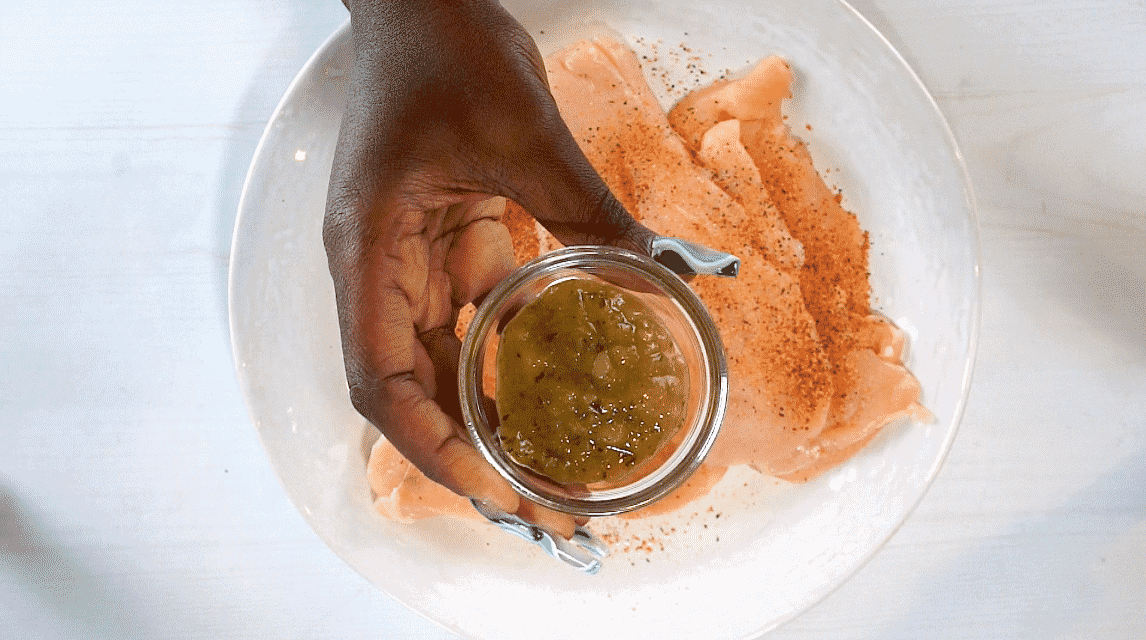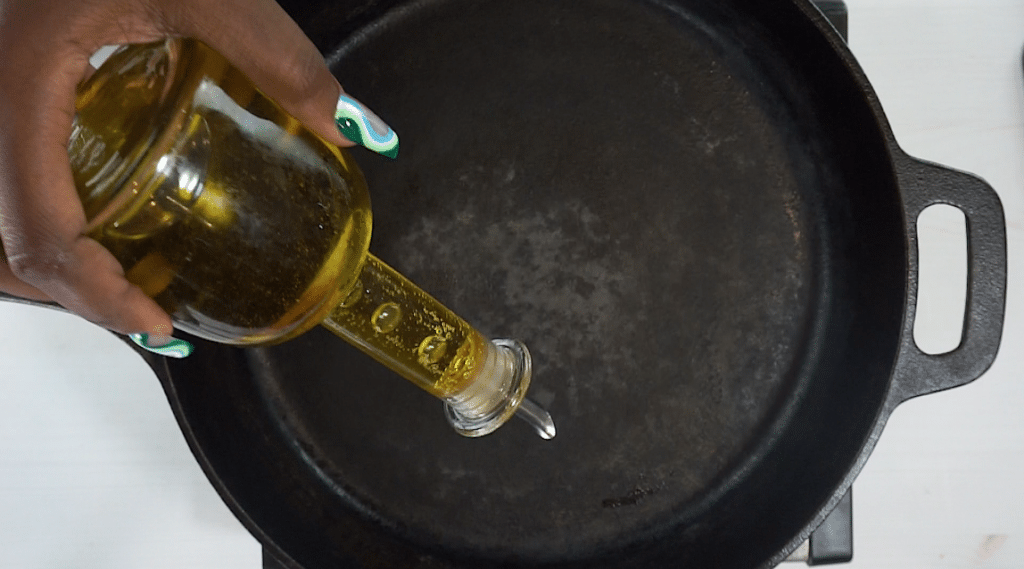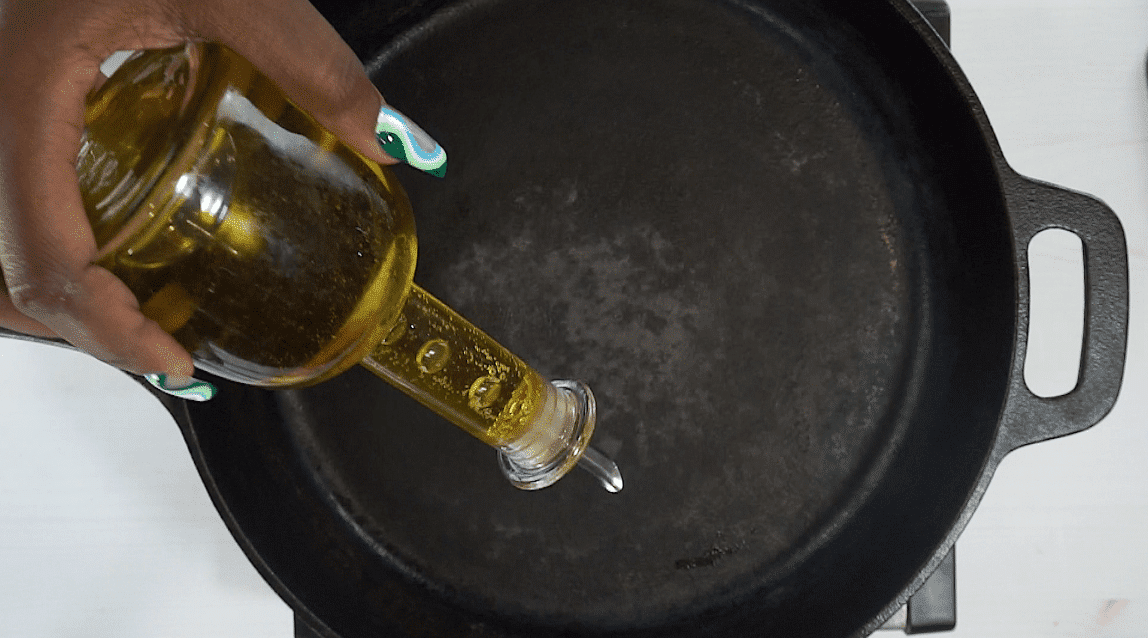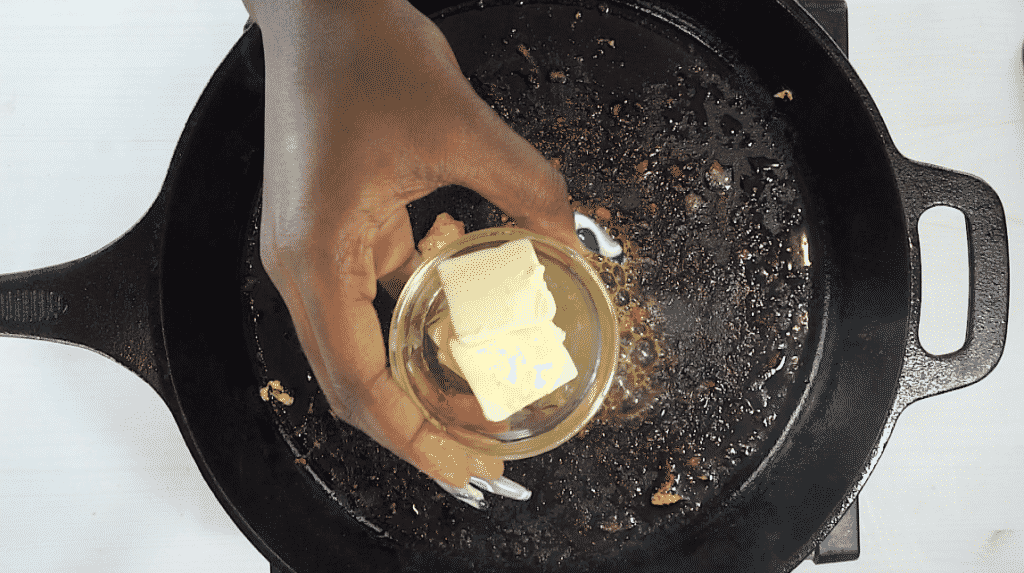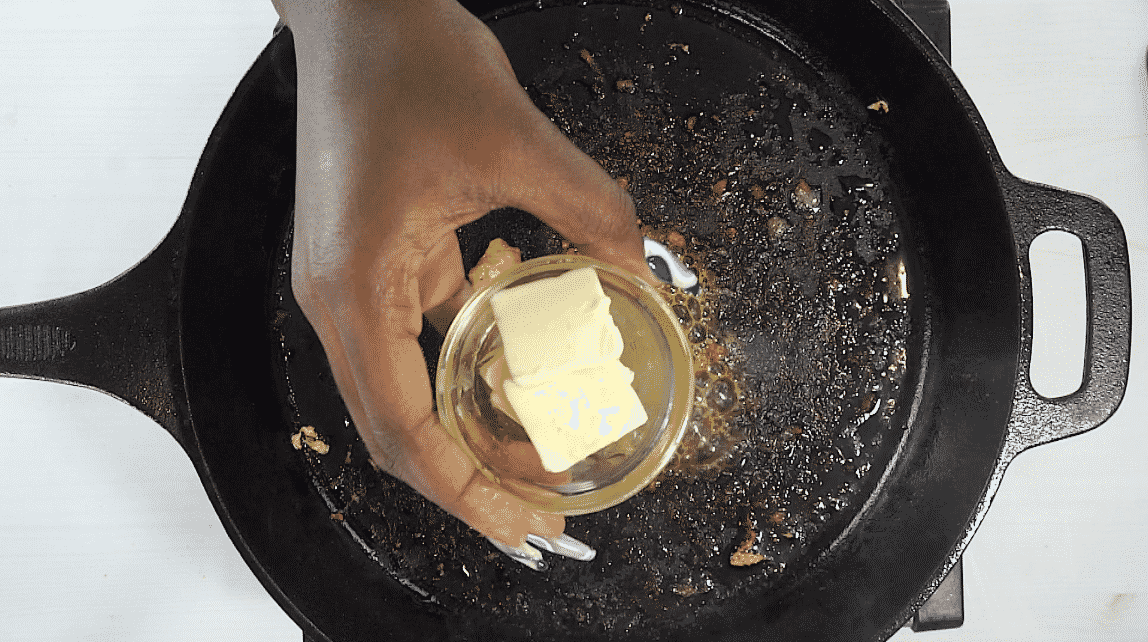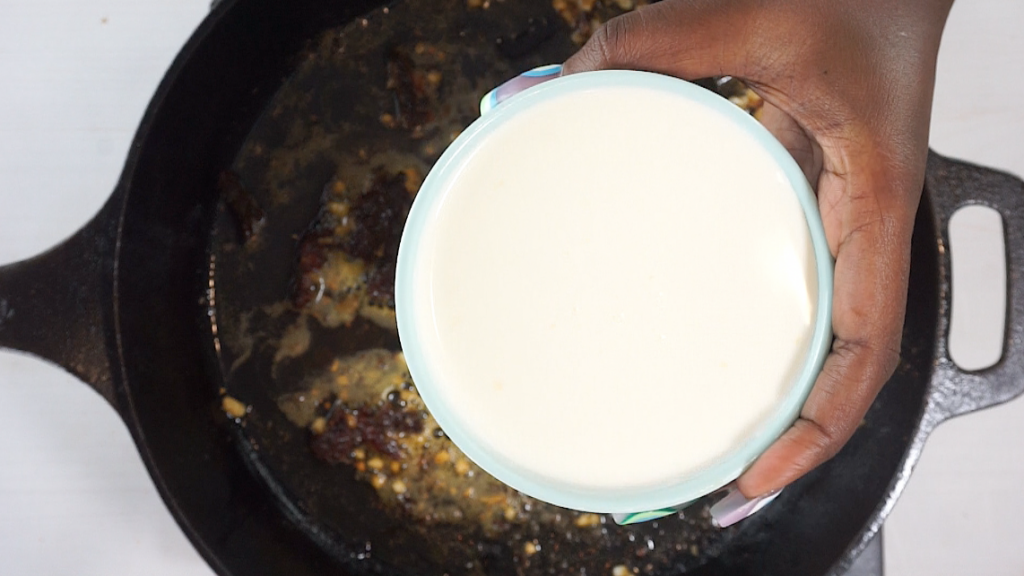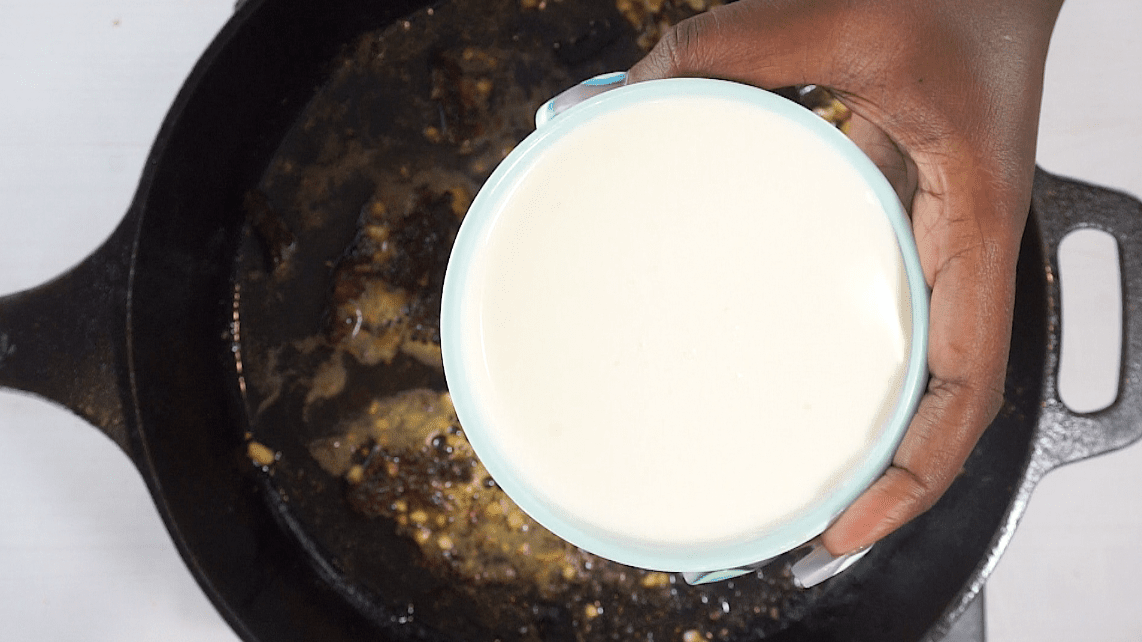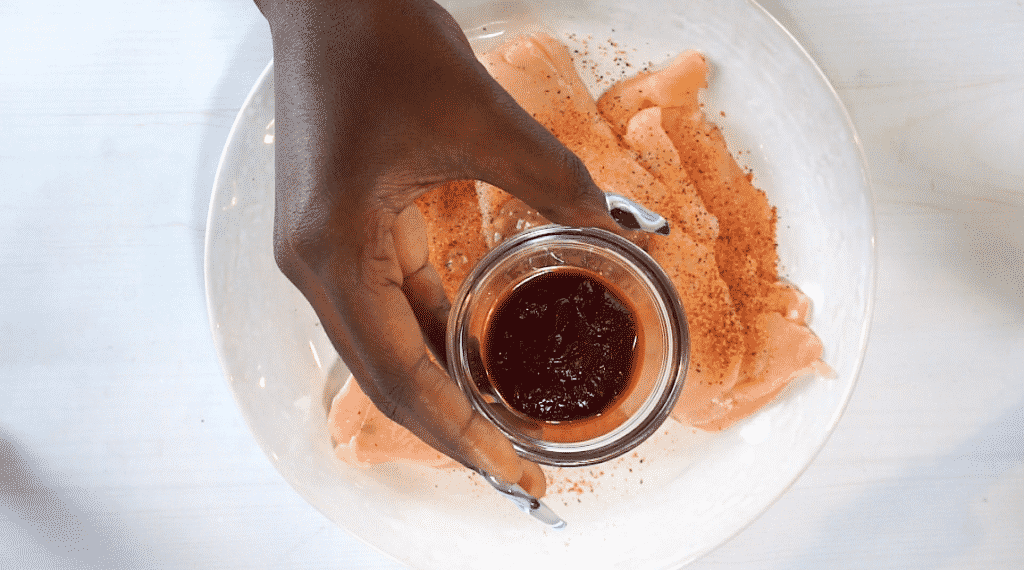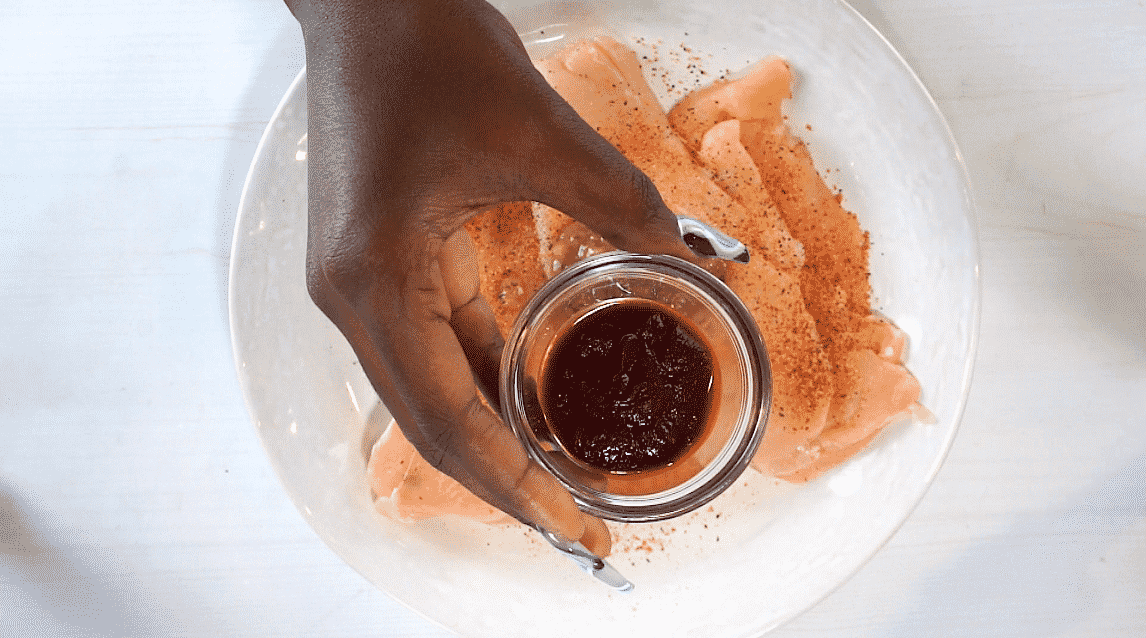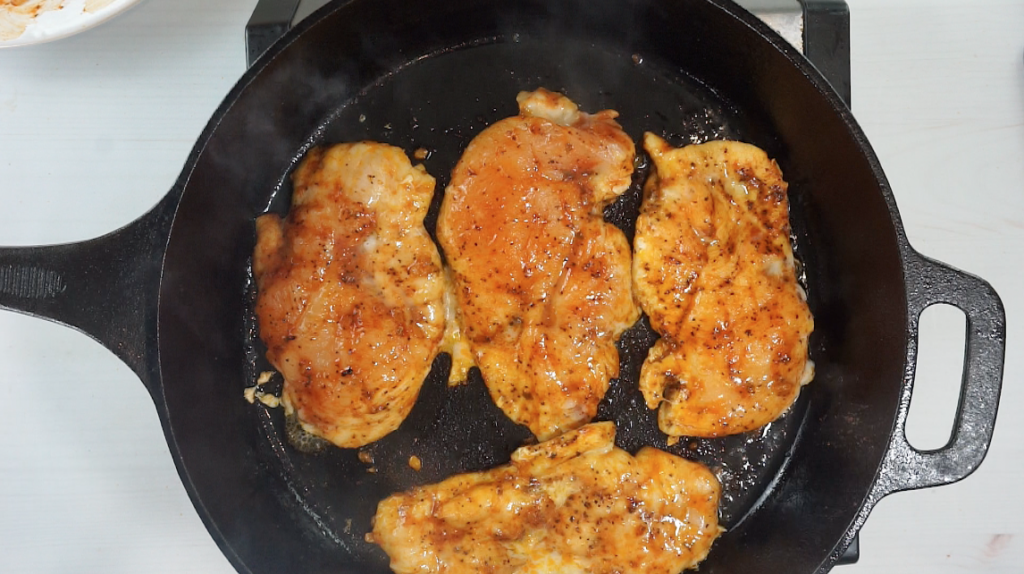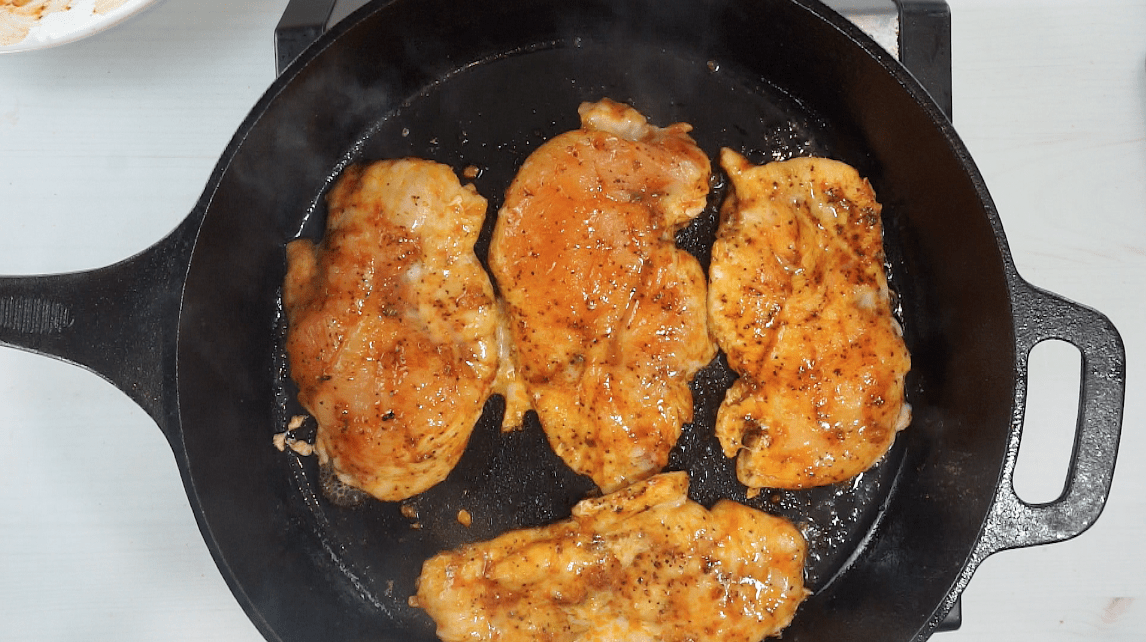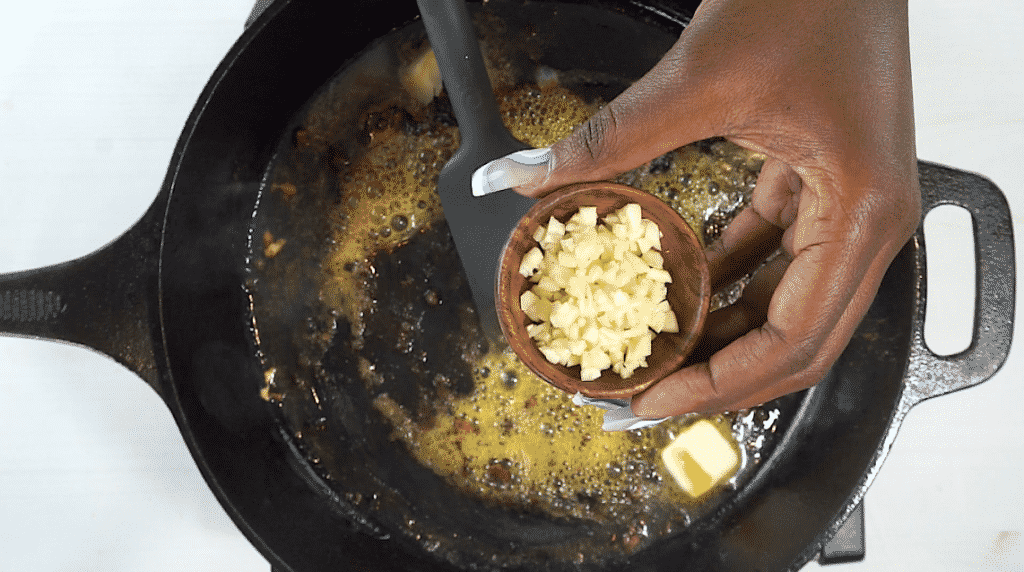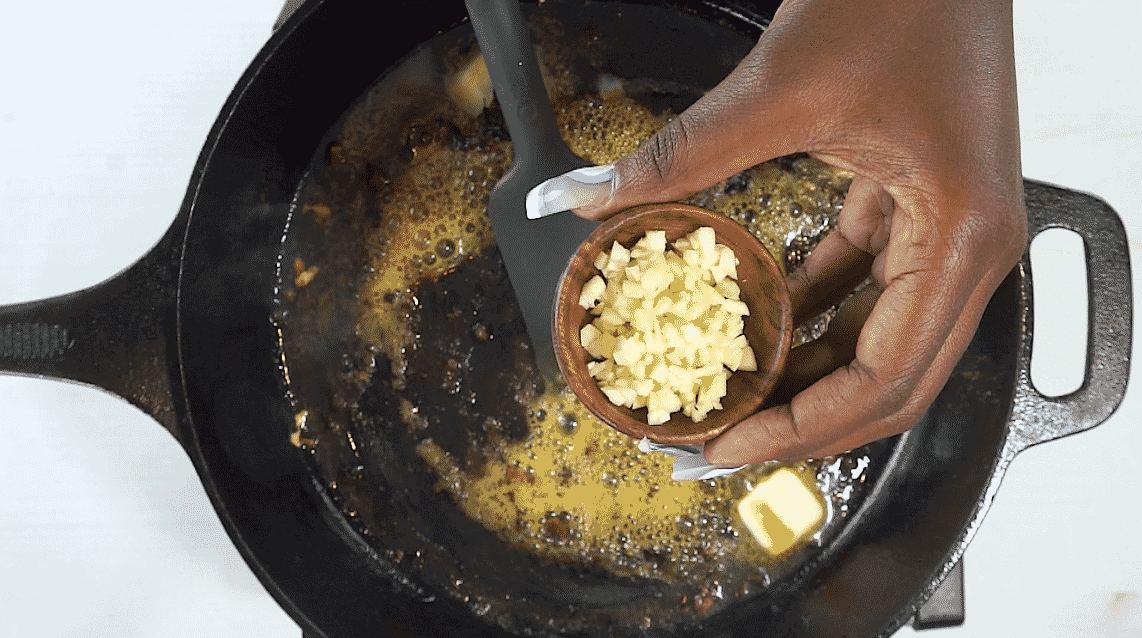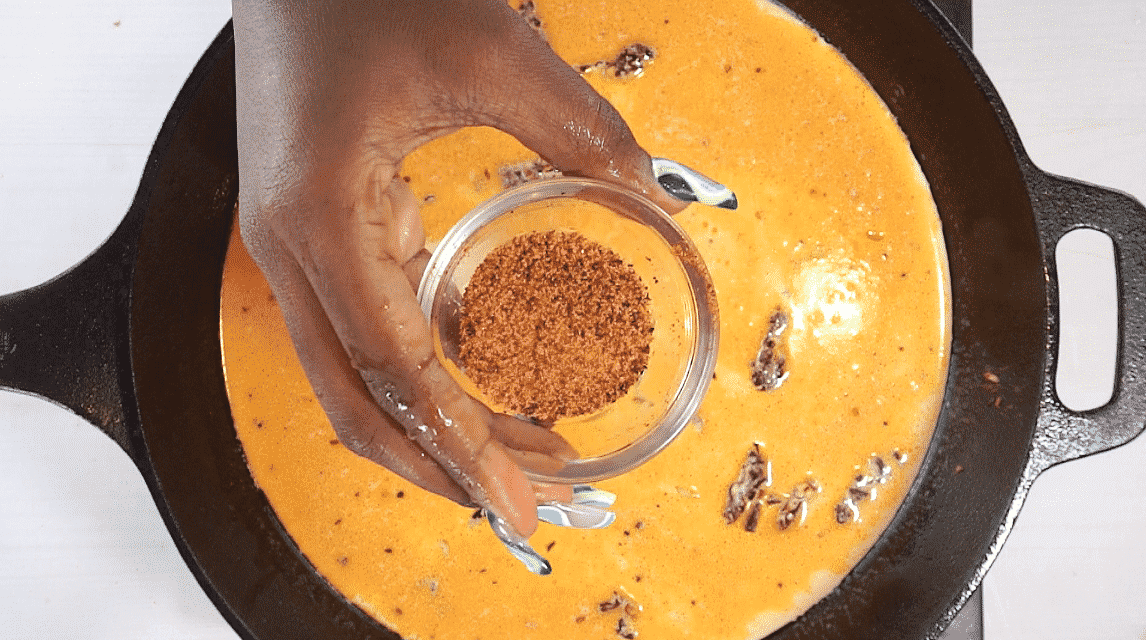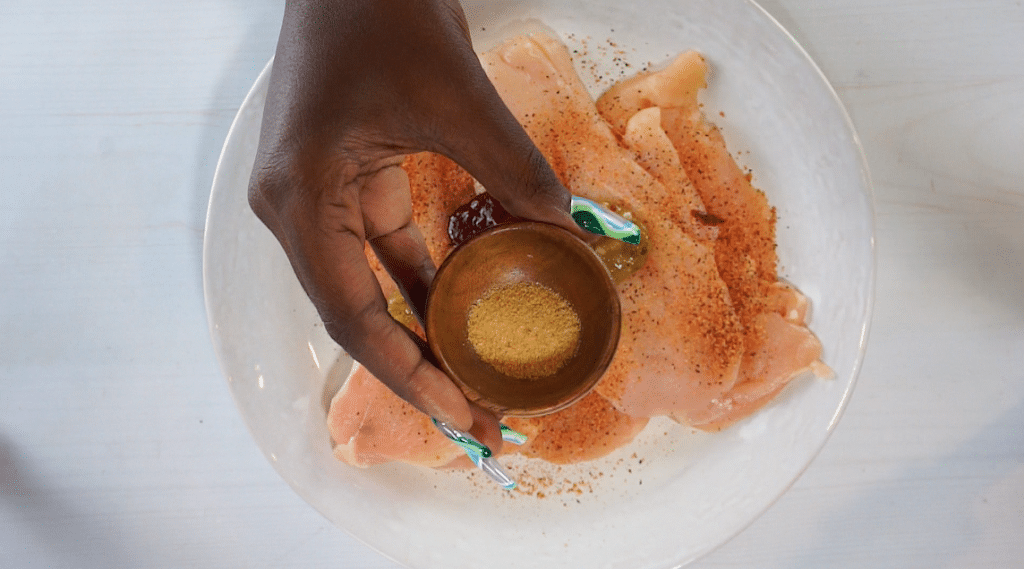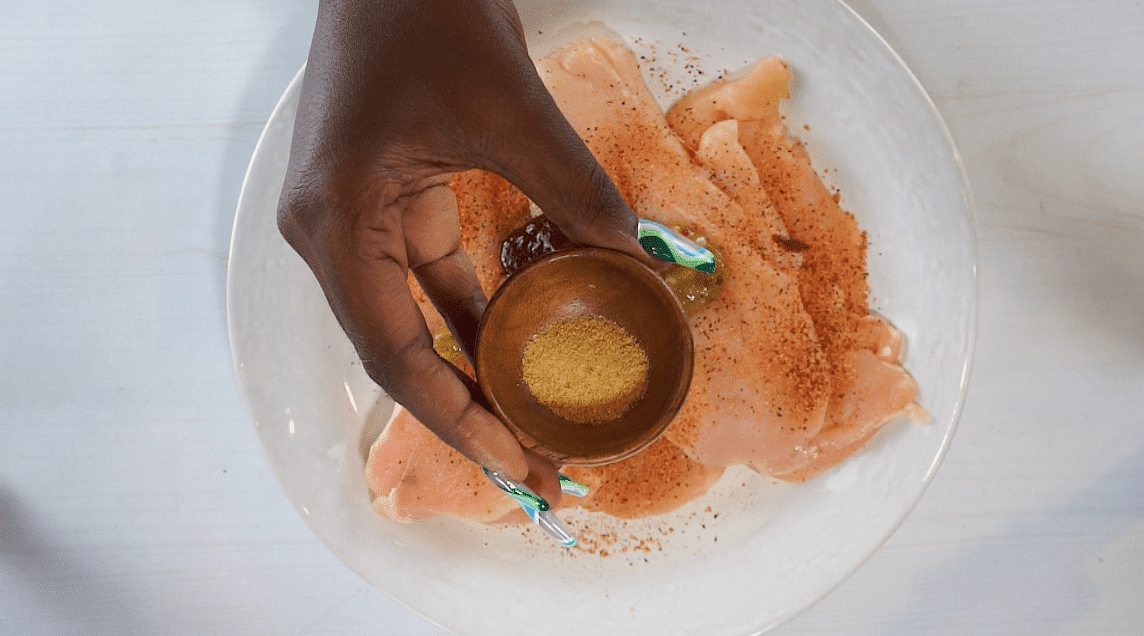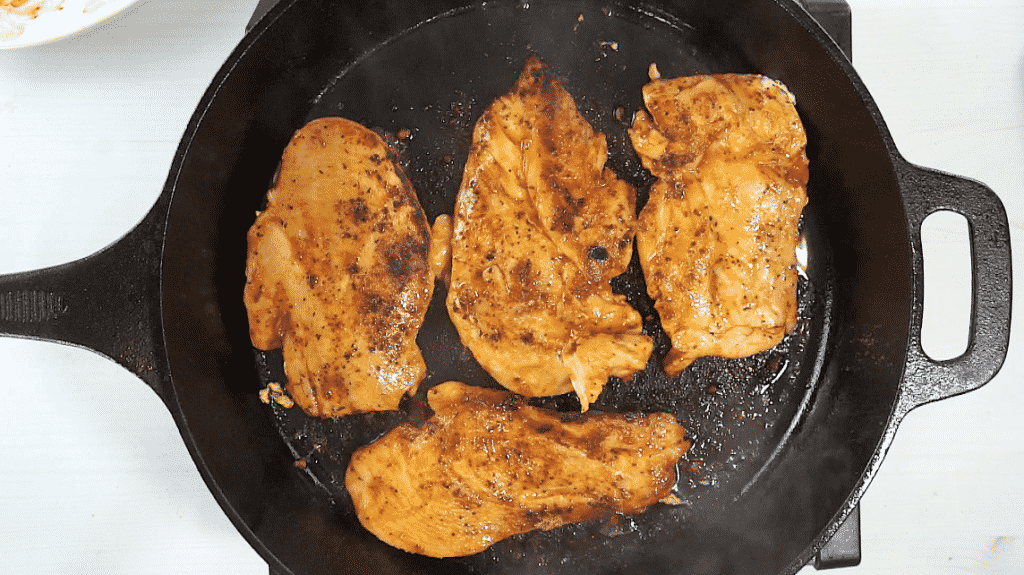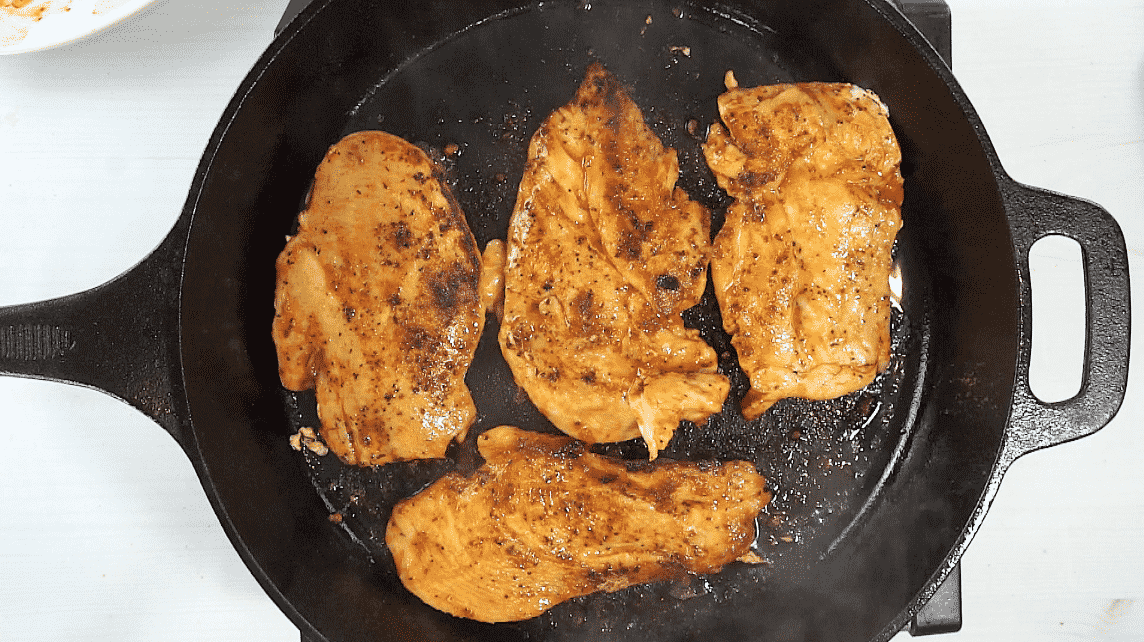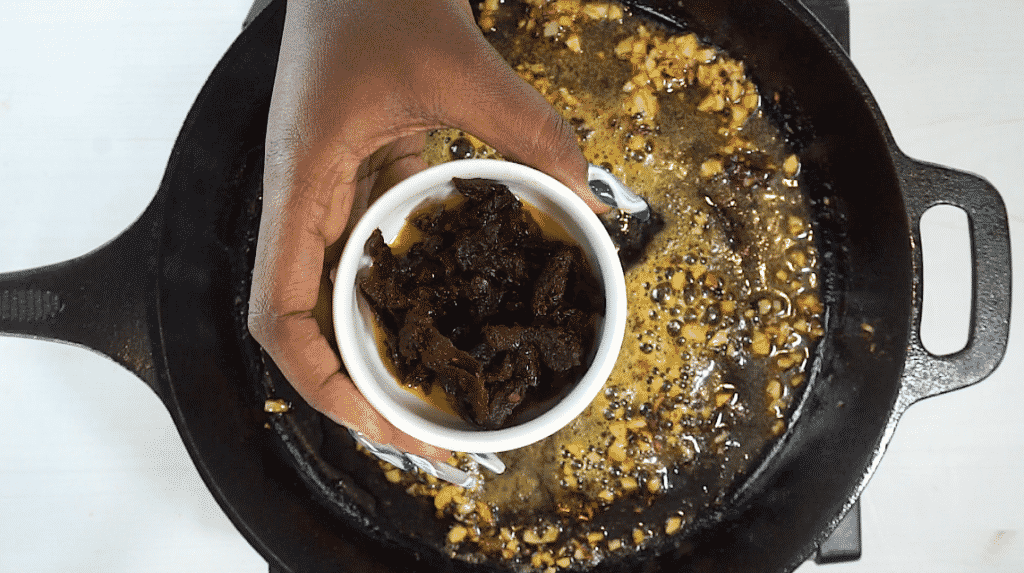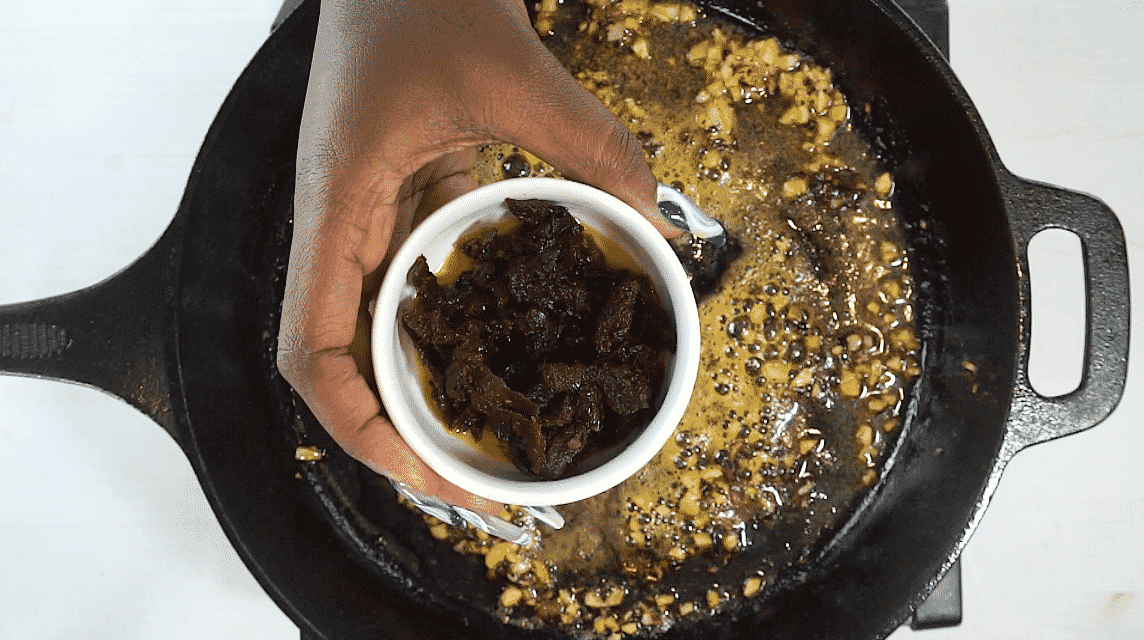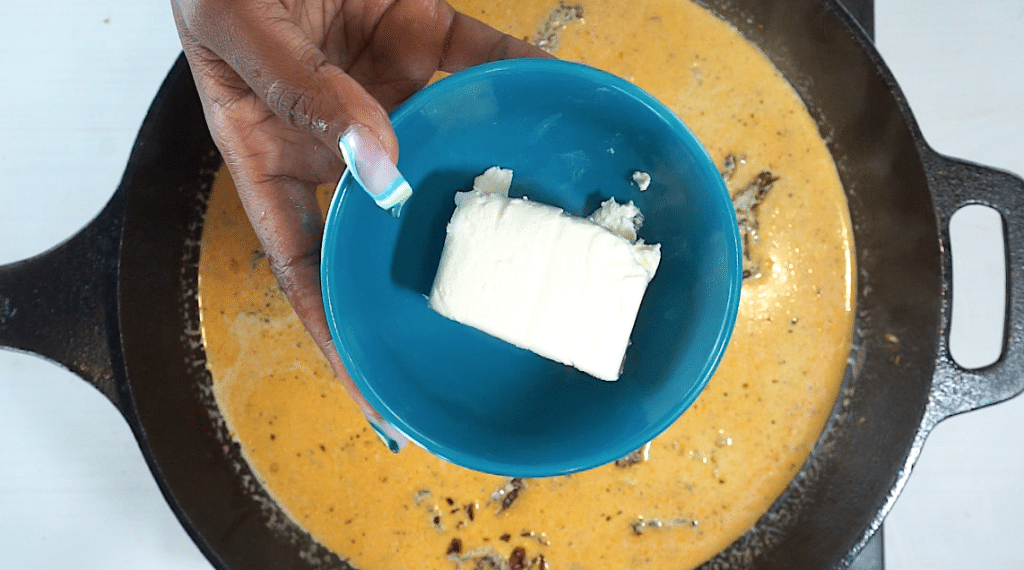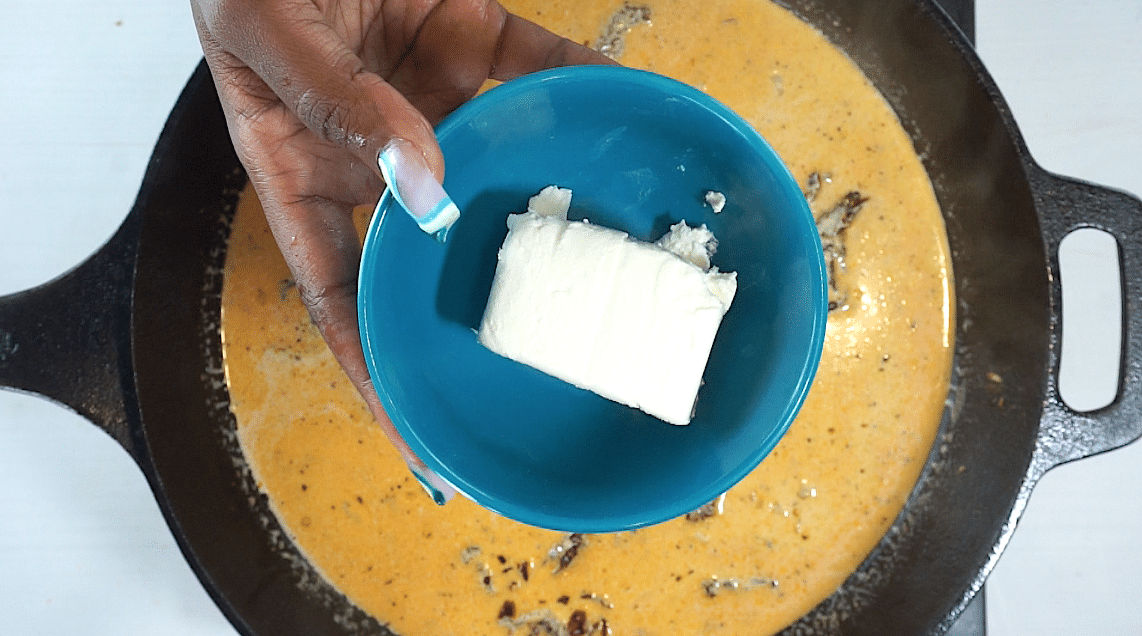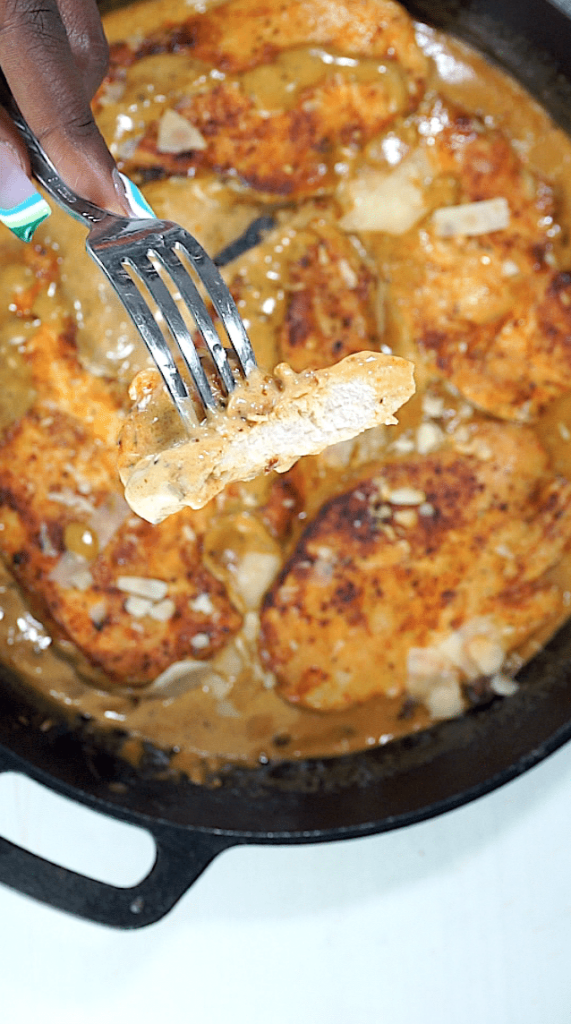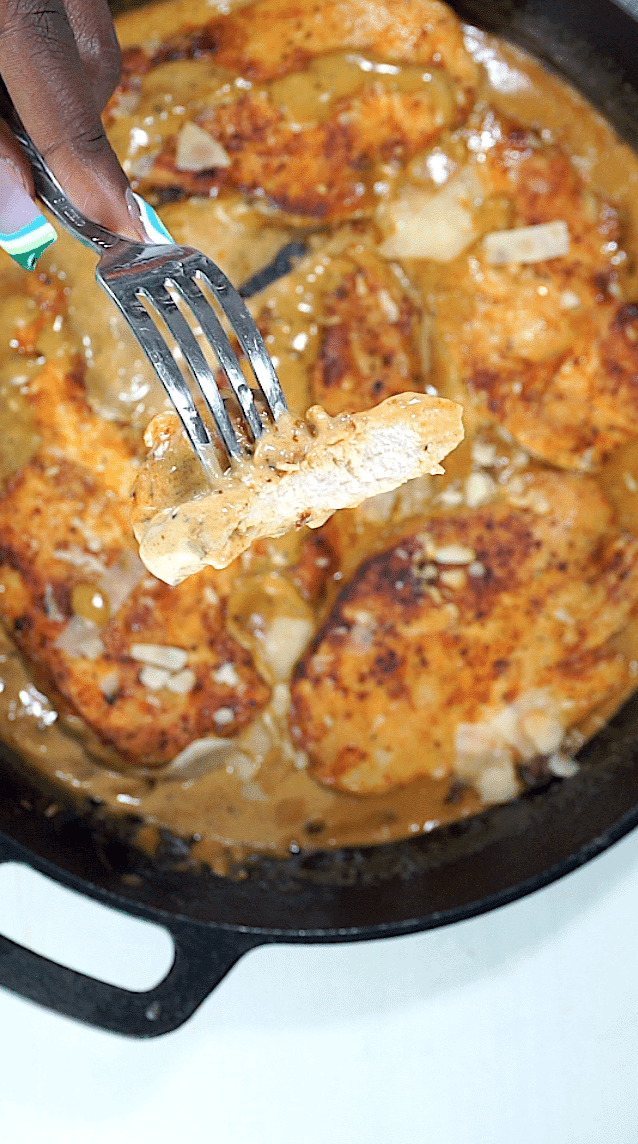 WHAT IS CAJUN CREAM SAUCE MADE OF?
Cajun cream sauce is made of heavy cream, chicken broth, butter, minced garlic, sundried tomatoes, cream cheese, and parmesan cheese. It is seasoned with cajun seasoning and other spices such as recaito and aji panca.
HOW CAN I MAKE MY CHICKEN MORE FLAVORFUL?
To make your chicken more flavorful, you could try marinating it in the seasoning mixture provided in this recipe for a few hours. The recipe contains all the spices and herbs you need to infuse the chicken with flavor. No additional seasonings are necessary to achieve a delicious and flavorful result.
WHAT IS THE SECRET TO MOIST CHICKEN?
Brining: Soaking the chicken in a mixture of water, salt, and sometimes sugar before cooking can help to add moisture and flavor to the meat.
ADD IN'S OR SUBSITUTES
You can easily jazz up this recipe by adding in a few toppings that will take this recipe to the next level. Below are some ideas but feel free to add whatever you desire.
Bacon. salty, smoky flavor and a crispy texture to a recipe.
Turkey Sausage. savory, slightly spicy flavor to a recipe. It is lower in fat and calories than pork sausage, but has a similar texture and flavor.
Shrimp. delicate, sweet flavor and a tender, slightly chewy texture to a recipe. s.
Green Peas. sweet, slightly vegetal flavor and a tender, slightly crunchy texture to a recipe. .
Artichokes. slightly nutty, slightly bitter flavor and a tender, slightly fibrous texture.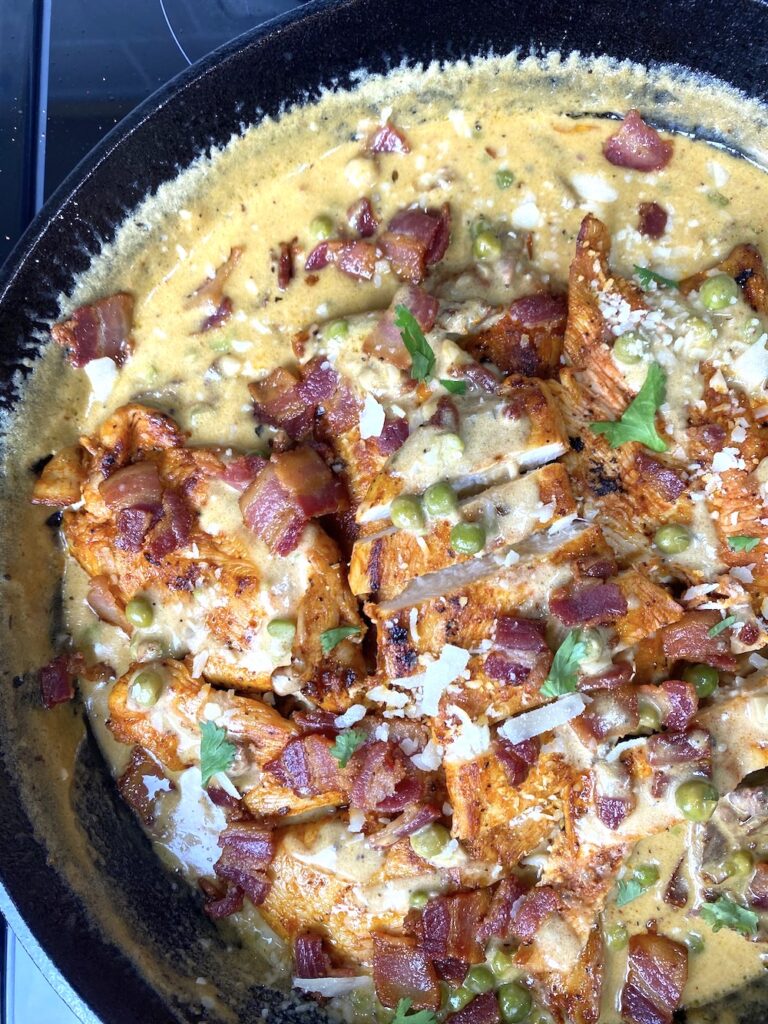 Expert Tips and Tricks for Perfecting Your Recipe
You can also use boneless, skinless or any other type of chicken but adjust the cooking time as needed.
If your chicken breasts are on the thick side, slice them lengthwise so that you have 2 pieces that are half as thick or to make it easier purchase cutlets.
To check your chicken is done it's always best to use a meat thermometer. Stick the thermometer into the thickest part of the chicken, if it reads 165F then it's done.
Opt for low salt Cajun seasoning, to control your sodium intake.
You can use full-fat or low-fat cream cheese or leave it out .
It's best to use a deeper pan/skillet, so your sauce doesn't overflow!
Top with some fresh cilantro for freshness.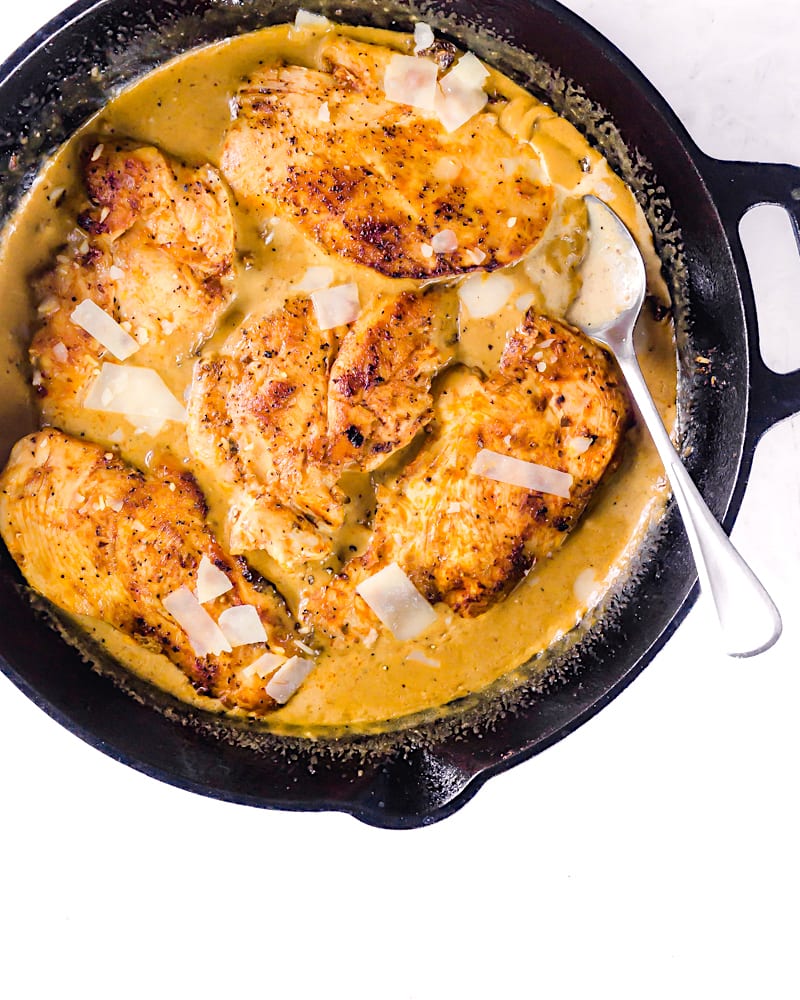 MOST QUESTIONS ASKED 
Where can I buy Slap Yo Mama Cajun Seasoning?
You can find this seasoning at your local grocery store, we have publix here in Florida, or, you can use any cajun seasoning you have on hand.
What is Aji Panca and where can I buy it ?
Aji Panca is hot pepper pure . You can find Aji Panca at a Latin store, if you have any around. If you can't find it you can use any pure chili pepper.
What is Recaito known as green seasoning?
Recaito is a cilantro base mix. It's similar to sofrito or epis, you can find this at any local grocery store (sofrito and recaito).
Do I have to use cream cheese?
If you can't do cream cheese, you can easily leave it out. For a healthier option use lite coconut milk/cream.
What to serve with this Creamy Cajun Chicken recipe
Serve it over pasta, rice or potatoes. To keep things on the lighter side, serve it with a vegetable or side salad. For low carb options, try cauliflower rice or zoodles.
What to do with leftovers?
You can store the leftover Cajun Chicken in the refrigerator for up to 3-4 days.
Would you like to see more? SUBSCRIBE to receive the more recipes! Also, follow me on FACEBOOK, PINTEREST, INSTAGRAM, YOUTUBE or TWITTER.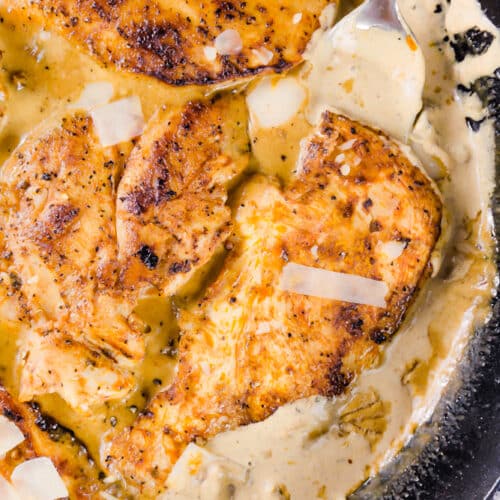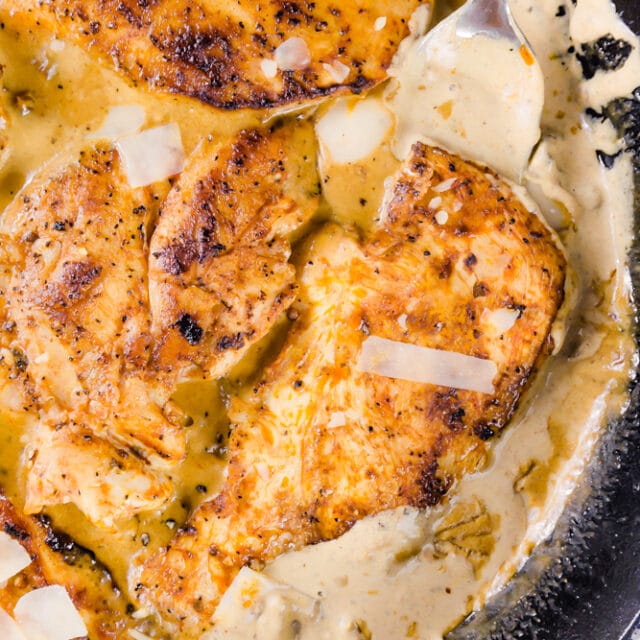 Creamy Cajun Chicken Recipe
This Creamy Cajun Chicken recipe is creamy, delicious, and ready in less than 20 minutes! Juicy, golden, pan-fried chicken in a Cajun spiced cream sauce for a perfect weeknight dinner that the whole family will enjoy.
Ingredients
5

chicken breasts

thin sliced

1

tablespoon

olive oil

2

tablespoon

recaito

green seasoning

1

tablespoon

aji panca

1

teaspoon

cajun seasoning

slap yo mama

1/4

teaspoon

garlic powder

2

tablespoon

butter

3

garlic cloves

minced

1/4

cup

sun-dried tomatoes

1/4

cup

chicken broth

1

cup

heavy whipping cream

1/4

cup

cream cheese

1/2

cup

parmesan cheese

freshly grated

salt and pepper to taste
Instructions
Rinse and clean chicken and pat dry.

Season the chicken with recaito, aji panca, cajun seasoning and garlic powder.

Heat one tablespoon of oil in a heavy skillet over medium-high heat.

Once hot add the chicken and sear for about 5 minutes per side, or until golden brown and cooked through.

As soon as the chicken is done, set aside on a plate and cover to keep warm. Add butter, minced garlic and sundried tomatoes. Sauté until fragrant.

Pour the heavy cream, chicken broth, reduce the heat to low and let simmer for few minutes, about 2-3 minutes.

Stir in remaining of cajun seasoning, cream cheese and parmesan, mix well.

Add cooked chicken and let it simmer until sauce is slightly thickened and chicken is cooked through.

Once done, remove from the heat and add more parmesan cheese. Mix well and spoon the cheesy sauce on top of the chicken to coat well.

Taste and adjust the salt and pepper, if needed.
Nutrition
Serving:
4
g
|
Calories:
728
kcal
|
Carbohydrates:
8
g
|
Protein:
68
g
|
Fat:
46
g
|
Saturated Fat:
24
g
|
Polyunsaturated Fat:
3
g
|
Monounsaturated Fat:
14
g
|
Trans Fat:
0.3
g
|
Cholesterol:
286
mg
|
Sodium:
696
mg
|
Potassium:
1395
mg
|
Fiber:
1
g
|
Sugar:
5
g
|
Vitamin A:
1729
IU
|
Vitamin C:
7
mg
|
Calcium:
230
mg
|
Iron:
2
mg
Subscribe to My Youtube
Subscribe to My Youtube Channel to recieve updates on New Videos and Recipes !
How did you like this recipe? Leave a comment and let me know what you think. Looking for another recipe to serve with this one? Try this Creole Fried Shrimp recipe next!•